Best Parking Deals For Fresno Yosemite Airport (FAT)
Book FAT Airport Parking with confidence and save up to 70% off
Fresno Yosemite (FAT) Parking Reservations
Most Popular FAT Off-Site Parking Lots
Fresno Airport (FAT) Parking Guide
Since travel resumed after quite a long pandemic pause, Fresno Yosemite International Airport (FAT) has seen a noticeable increase in passenger traffic. Soon, the leisure brand "Aha!" by ExpressJet Airlines will be flying between FAT Airport and the Reno/Lake Tahoe area. This will undoubtedly boost traffic in the on-site parking lots. Therefore, it will be helpful to be informed of the on-site parking possibilities when departing from Fresno Airport.
Our guide will be especially useful in such a case: since the airport plans to enlarge its terminal and provide more parking alternatives, one is expected to face longer checks, additional gates, and crowded dining spaces. What parking alternatives are actually available at the FAT Airport? How much does parking at the Fresno airport cost? Let's explore all the key details about Fresno International Airport parking, its rates, and more together!
About Fresno Yosemite International Airport 
Before the pandemic, Fresno Airport handled around 1.4 million passengers annually. The distance between both the civil and military airport and Downtown Fresno is around seven miles. Three national parks – Yosemite, Kings Canyon, and Sequoia – and the San Joaquin Valley use FAT as their primary airport. Due to its strategic location inside the state, the airport is the place for several firefighting, military, law enforcement, and medical flying units.
Fresno Airport, which covers approximately 1,728 acres, serves as a key operating hub for Skywest Airlines. It offers regular passenger service to Mexico, as well as several of the major airline hubs in the US. The airport has two runways and a single terminal. 2019 was the biggest yearly traffic at FAT Airport, with 1.96 million passengers passing through the terminal.
Getting to Fresno Airport
Driving your own vehicle, using public transit, or taking a taxi or ride-sharing service will all bring you to FAT Airport. It'll take just 10 to 20 minutes to drive from Downtown Fresno to the airport. It's also separated by nearly a mile from California State Route 180. To link from the freeway to Fresno Airport, you can take Peach Avenue. Additionally, Route 180 connects to other freeways in the Fresno region, including California State Routes 41, 99, and 168.
It's advisable to get to the airport by your own car ONLY if you're sure there are free parking lots. To ensure a hassle-free experience, it's better to book a free parking spot in advance to avoid circling the parking lot just before your departure.
Using public transportation service to get to Fresno Airport
The most affordable way to get to the airport is by using public transit. The two public transportation options that connect you to the airport are Fresno Area Express (FAX) and the City of Visalia's V-Line bus service – the first one that operates every 30 minutes. The airport and North Fresno are served by Route 26 Palm/Butler through Southeast and Downtown as opposed to Route 39 FYI/Clinton, which provides transportation between West Fresno and the airport. The airport and Visalia Transit Center are connected by Visalia's V-Line bus service. On average, utilizing public transportation will cost you between $1 and $2 to get to the airport.
Reaching Fresno Airport by taxi/rideshare services
The quickest way to get to FAT Airport from Downtown is to take a cab or use a ride-sharing service. You may use any service you like – Yellow Cab, Fresno Cab, or Alpha Cab. A ride from Downtown to the airport usually takes from 8 to 15 minutes. If you take a taxi to the airport, the budget may vary from $15 to $20.
The two major ridesharing companies that get you to the airport are Lyft and Uber. Both the ride type you select and the time of booking will always affect the price. Typically, if you use a Lyft service, it'll cost you $12-21; if you choose an Uber service, you'll pay from $12 to $16 to get from Downtown to FAT. Be aware that during busy times and seasons, ridesharing prices might significantly increase. Therefore, it's worth carefully verifying the prices before you reserve a ride.
FAT Airport parking options
The airport offers an extensive parking area with distinct short-term and long-term parking sections. There are around 283 short-term and 1,879 long-term parking lots available.
The airport's Economy Lot has the most affordable long-term FAT parking. Two short-term spots in the on-site lot are close to the terminal. At Short-Term Lot 1, people can use the two payment options: cash and credit card. For the first five minutes, parking is free in every lot.
Do you want to take more free parking time? In this case, utilize the airport's Cell Phone Lot, which gives free parking for up to 60 minutes.
How much is parking at Fresno Airport?
The lot you pick for parking and the time period will impact the cost of FAT Airport parking. Starting at $3 per hour, parking at FAT Airport may cost up to $14 per day.
How much is long-term parking at Fresno Airport?
Depending on the parking lot you select, the cost at the Fresno Airport varies. As you can see in the table below, there are three common options:
- The cheapest one is to search for the parking spots at the nearby off-site garages or hotel parking lots. It also usually includes providing a shuttle, which will take you to the airport at the appropriate time.
- The Economy Lot is also quite low-priced.
- The last option is to use Short-Term lots as a Long-Term one.
How much is short-term parking at Fresno Airport?
There are two short-term parking areas close to the terminal. There, you can park for free for the first five minutes, then – 3$ per hour for the next 5 hours. After that, parking in these lots will cost you a maximum of $14 a day. Do you want to park cheaply for a brief period of time at Fresno International Airport? Again, consider the perfect opportunity to use nearby off-site garages or hotel parking lots!
Things to do at FAT Airport
Dining and shopping at Fresno Airport
There are a few places at the airport where you can eat and go shopping. However, you can still enjoy something while waiting for your next flight.
Hudson News is a good choice for shopping and light meals in the pre-security and post-security areas. Visit the stores if you wish to try out some nice sweets and candies, get bottled drinks, or buy necessities for your trip. Electronics, souvenirs, bestsellers, magazines, regional gifts, travel convenience goods, and accessories for health and beauty are also available. Do you enjoy a draft beer? Or are you rather dreaming of a tasty burger or quesadilla? If so, walk into the John Muir Tavern establishment close by security. Additionally, there are two Starbucks locations in the pre- and post-security areas that provide coffee drinks, grab-and-go food, and juices.
Other amenities at FAT Airport
What do you think about playing golf before taking off? Or, probably, you'd like to get your hair styled prior to your flight? A salon service is also available at the airport from Tuesday through Saturday. In addition, near the airport is the Airways Municipal Golf Course, which welcomes players of all ages and abilities. Between gates 1 and 3, there is even a space for nursing moms. Mobile phone charging stations are available as well.
Fresno Airport parking map 
Take a closer look at the map below – it shows all the on-site parking locations at FAT Airport, including the most affordable long-term parking lots.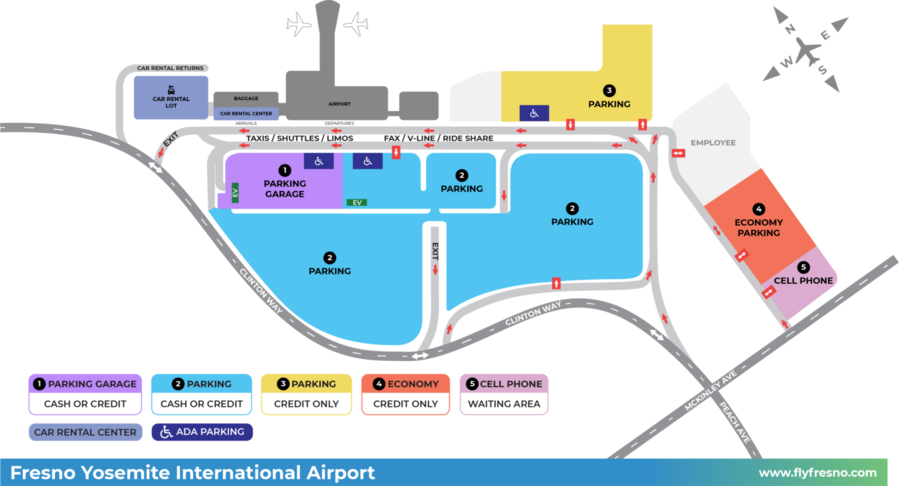 Fresno Airport parking guide
Let's summarize a bit of all the things written above. The first five minutes of parking in each on-site lot are free. The greatest long-term parking option at the airport is the Economy Lot, where daily parking is limited to $8. The cost of parking in short-term lots close to the terminal is $3 per hour. After five hours of parking, the daily maximum cost amounts to $14. These parking lots include EV charging stations, as well as accessible parking spaces.
Fresno Airport parking information, coupons, and discounts  
During busy times and on holidays, it might be difficult to find an on-site parking space. As a result, it's usually a good idea to check the availability of a parking lot while making your trip plans. Considering the off-site garages and hotel parking lots is the simplest way to guarantee a parking spot for your upcoming journey. Get a free parking space, along with hassle-free and affordable service by choosing our smart booking platform – ParkingNearAirports.io. You may reserve a long-term parking space with PNA for the best possible price. Our parking service offers our clients several amenities like a free round-trip shuttle, friendly parking lot staff, affordable/competitive rates, and more. So, if you're looking for a perfect parking option for your next trip, choose us, ParkingNearAirports.io, park smart, and enjoy your travels fully!
FAQ
Where is Fresno Yosemite International Airport?
FAT Airport is located at 5175 E Clinton Way, Fresno, CA 93727.
What airlines fly out of Fresno Airport?
Alaska Airlines, American Airlines, United Airlines, Delta Connection, Southwest Airlines, and many others. You can find a full list of the airlines operating at FAT Airport on its official website.
How far is Fresno Airport from Yosemite?
The FAT airport is around 65 miles away from Yosemite National Park.
How far is Fresno Airport from Sequoia National Park?
The FAT airport is around 83 miles away from Sequoia National Park.
How far is Fresno Airport from Kings Canyon National Park?
The FAT airport is around 59 miles away from Kings Canyon Park.
Is there free parking at Fresno Airport?
Yes. The on-site lots offer free parking for the first five minutes. Also, you can park at the Cell Phone Lot for free for up to 60 minutes.
Is accessible parking free at Fresno Airport?
When utilizing these parking spaces, you'll enjoy the first two hours of complimentary parking. Accessible parking spots can be found in the Short-Term lots. After the initial two-hour period, parking is priced at $3 per hour, with a daily rate of $14.
How can you pay at the Fresno parking lots?
At the Economy Lot, you can make the payments only via credit card. Short-Term Lot 1 accepts cash and credit card payments. Payments at Short-Term Lot 2 are also possible only via credit cards.
Fresno Airport Long Term Parking
If you are planning to fly out of Fresno Airport, you might be wondering about the best parking options for your vehicle. Parking onsite at the airport can be very expensive, especially if you are going away for a long time. According to the official website, short-term parking rates start at $1 per 20 minutes, with a maximum daily rate of $12. Long-term parking rates start at $1 per 20 minutes for the first day, with a daily rate of either $8 or $12, depending on which lot you choose.
Fortunately, there are better off-site parking options for Fresno Airport that can save you money and hassle. At ParkingNearAirports.io, you can compare and book top parking lots near the airport that offer secure, convenient and affordable parking services. Whether you need self-park or valet parking, covered or uncovered parking, shuttle or curbside service, you can find it all at ParkingNearAirports.io.
Some of the benefits of booking with ParkingNearAirports.io are:
- Guaranteed parking spot at a low price
- Free cancellation and modification up to 24 hours before departure
- Free shuttle service to and from the airport
- 24/7 customer service and support
- Trusted parking providers with high ratings and reviews
Don't pay more than you have to for Fresno Airport parking. Book your parking spot online with ParkingNearAirports.io today and enjoy a stress-free travel experience.