Find The Best Deals For Fort Lauderdale Airport Parking Now
Book FLL Airport Parking with confidence and save up to 70% off
Fort Lauderdale (FLL) Parking Reservations
Today's Most Popular FLL Parking Lots
Fort Lauderdale Airport Parking Rates

Almost every time you're going on a journey, the question of where to park your vehicle cheaply and securely comes up. And actually, not without reason – most US and Canadian airports offer travelers outrageous prices, which is a real pain for everyone. As a result, parking your car at the airport for your entire trip could end up costing you a fortune. Moreover, given how shocking the parking prices are, even the cost of your air tickets will seem affordable to you. Here are the airport parking rates of Fort Lauderdale Airport – let's have a look at it and see the difference with our own eyes:
| | |
| --- | --- |
| Parking Type | Parking Rates (per day) |
| Long-Term (Hibiscus Garage Levels 3-7, Palm Garage Levels 2-4, and Cypress Garage Levels 6-9) | $15.00 |
| Short-Term (Hibiscus Garage Level 2 and Palm Garage Level 1) | $36.00 |
| Curbside Valet | $25.00 |
| Overflow | $10.00 |
*The rates are valid at the moment of publishing. Please refer to the official website.
We guess you've already understood that even the most affordable parking option will set you back at least $10.00 daily – and that's actually not the worst case. Keep in mind one key thing as well – usually, on-site airport parking has limited availability, so it'll be a real challenge for you to find a free spot for your vehicle.

Thankfully, our smart booking platform, ParkingNearAirports.io, will be your perfect solution – we provide our customers with an opportunity to choose from off-site parking lots that are just a few miles away from the airport they're flying from. You'll be offered the best parking rates among the competitors and high-quality services, including long-term parking near Fort Lauderdale Airport. If you choose us exactly, you'll enjoy:
- High-quality service,
- Convenient locations,
- A free speedy shuttle to and from airport terminals,
- Valet service,
- Free luggage assistance, and much more.

Be wise and don't let airports take your entire budget at the beginning of your journey – better look at our prices above and ensure that airport parking may cost you up to 70% less! So Park Smart & Choose Convenience together with us!
FLL Parking Map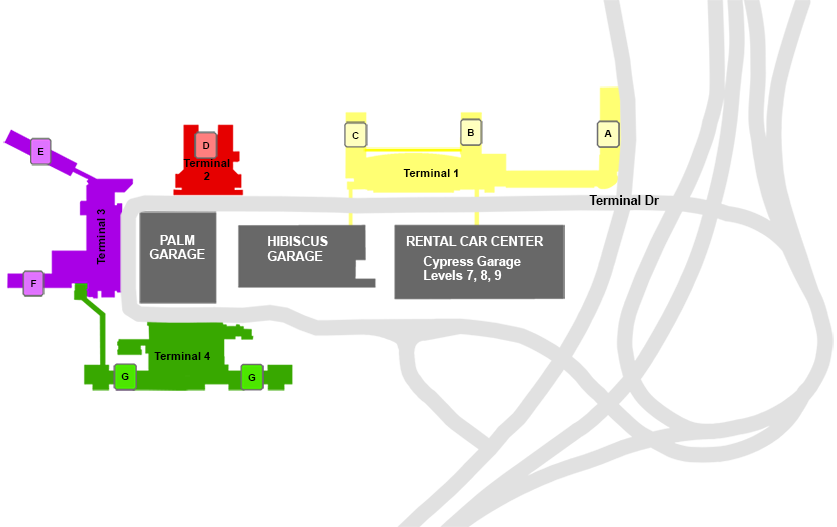 Parking at Ft. Lauderdale Airport
The primary airport for Miami and Fort Lauderdale, Fort Lauderdale International Airport is a busy transport hub for the region and one where getting parking might be the worst of your problems! But rest assured, we are here to save the day and offer you the very best in secure, safe and convenient Fort Lauderdale International Airport parking solutions, and at rates that we believe you will find very attractive indeed.

It will take you just a couple of minutes using our simple online booking system to secure a spot in one of our convenient off-airport parking lots, where you can take advantage of valet parking or, as many clients prefer, self-park your vehicle for the duration. We will help organize transfers from the lot to the airport or your hotel, and you can rest assured that your vehicle will be safe for when you return.

Where to Stay Near Fort Lauderdale International Airport
In the immediate vicinity of the airport are many popular hotels, among which the Hyatt Place Fort Lauderdale is one of the most highly recommended. With comfortable rooms and great facilities, it is just under two miles from the airport. The Ramada by Wyndham and the Quality Inn are also great choices, with sensible rates and each within reach of the airport.
What to Do at Fort Lauderdale International Airport
Fort Lauderdale International Airport is a major airport with facilities to match. There are many eateries across the four terminals, and a wide range of vending machines for when the outlets are closed. Bars can be found in various places and in the airport lounges. Wi-Fi is free throughout the airport and there are several shops in each terminal, some with late night openings. Local art is on display throughout the airport, and there are live music shows on a regular basis.