The earliest inhabitants of Utah were the Ute, Goshute, Southern Paiute, and Navajo Indians. The state's name comes from the Ute language, which means "People of the Mountains." A large wave of people arrived here in 1847 and settled where Salt Lake City is now. They were of the Mormon faith and founded the Church of Jesus Christ. By 1852 15,000 Mormons were living in the area. The United States acquired the region in 1848, which had previously belonged to Mexico. Later, in 1849, the people of the region named the area the State of Deseret. Finally, by 1896, the United States government designated the area as the state of Utah.
Interesting Facts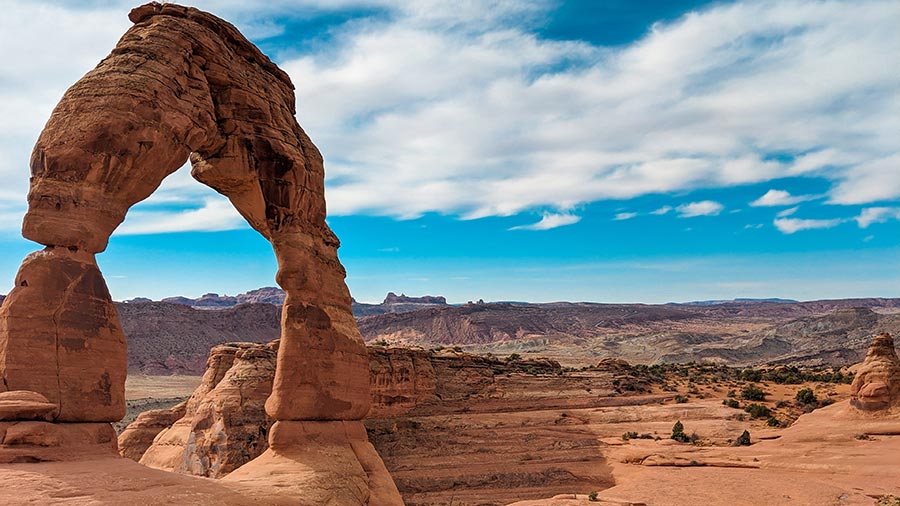 Utah is the 11th largest state in the United States.
The beehive is the official state coat of arms. It represents the values of thrift and perseverance.
The capital of the state is Salt Lake City. Other famous cities are South Jordan, Lehi, Riverton, Syracuse, and Provo.
Utah has much to offer to those looking for wildlife and adventure. There are five grand national parks: Arches, Bryce Canyon, Canyonlands, Capitol Reef, and Zion. Landscape Arch, 291 feet from one end to the other and rises about 100 feet above the ground, is a natural wonder, along with many other impressive rock formations. The southeastern part of the state is punctuated by challenging mountain biking trails. Slickrock, the world-famous route, challenges even experienced riders.
Utah hosted the Winter Olympics in 2002. The center's natural snow-covered slopes attract visitors every year, and many luxury ski resorts are located in northern Utah, near Salt Lake City, Park City, Ogden, and Provo. The U.S. ski team hails from this state.
Utah's cultural experiences are diverse and include the Sundance Film Festival and the Utah Shakespeare Festival. The Sundance Film Festival is held in January and shows the work of American and international independent filmmakers. When we are talking about a feast for lovers of literature and theater, this festival brings literary masterpieces to life.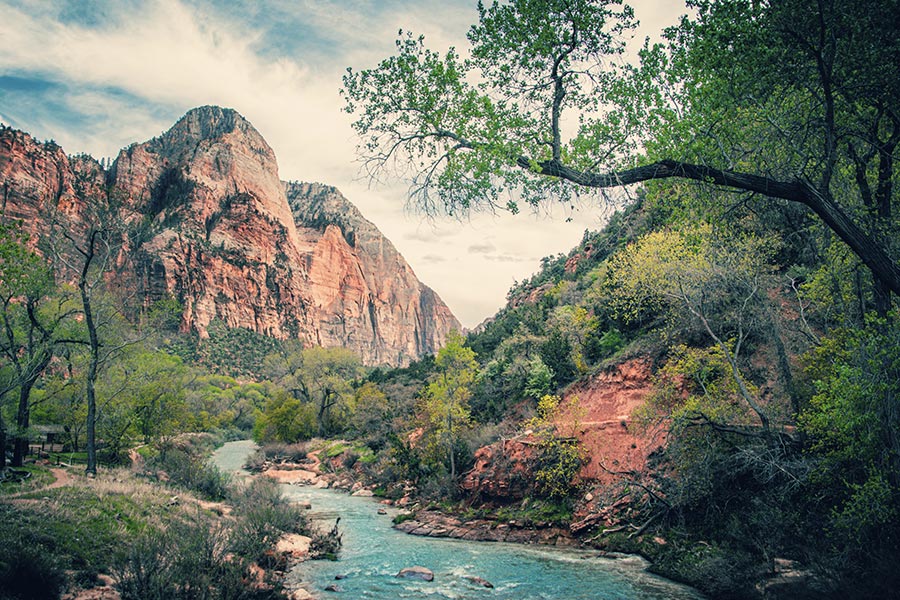 Utah's large Mormon population has influenced its lifestyle and legislation. It was estimated in 2007 that about 60 percent of the population were members of The Church of Jesus Christ of Latter-day Saints. The church is headquartered in Temple Square in Salt Lake City. There are several buildings, and the Salt Lake Temple, the 16th most visited tourist attraction in the United States, bringing more than five million visitors each year.
Utah's natural splendor extends to the Grand Staircase of Escalante National Monument, Monument Valley, Bonneville Salt Flats, Lake Powell, and the Great Salt Lake. The Great Salt Lake lives up to its name and is considered so salty that swimmers float over the water like buoys.
Utah has several cultural institutions with broad reputations. They include the Utah Symphony, the Mormon Tabernacle Choir, the Utah Opera Company, and the Utah Opera Festival (Logan).
Some of the giant dinosaur footprints in the world can be found in Utah.
The highest point in Utah is King's Peak, which rises at 13,528 feet in the Uinta Mountains in Dutchess County in the northeastern part of the state. The Beaver Dam Wash hotel is located in St. George in Washington County and is the lowest point at 2,350 feet.
Utah is quickly becoming a leader in information technology. In a constantly evolving modern state, its opportunities are continually increasing, as is its population. Consequently, Utah also faces challenges stemming from progress. How Utah solves all of these problems will determine its position among other advanced American states.
Useful Tips for Travelers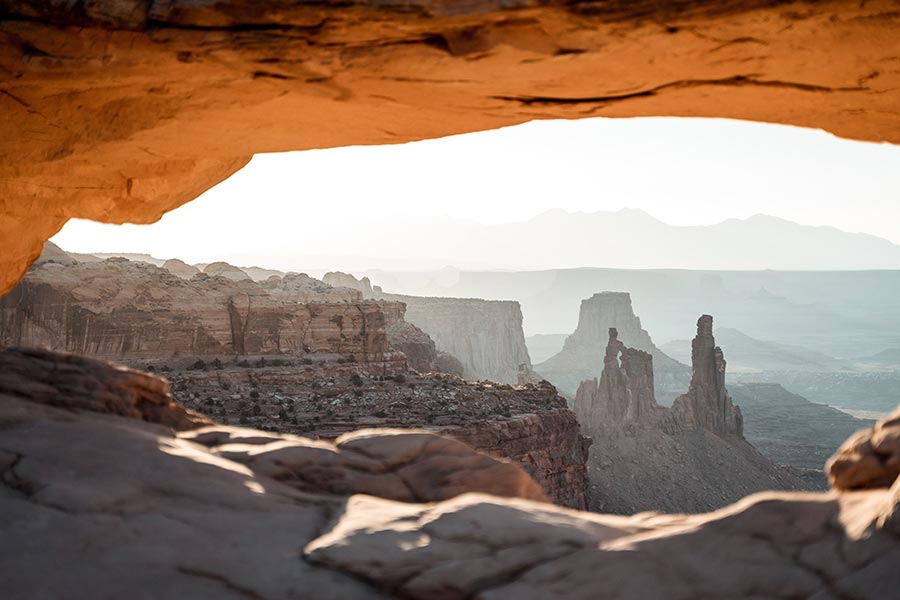 If you're planning a trip to Utah, we have some helpful information for you.
Everyone knows that it's vital to find a safe parking space for a vehicle and drop it off for the duration of a trip. However, in most cases, people aren't ready to spend a lot of money on this. It is a common problem among travelers, as they know that on-site parking (it may seem that it is the best option for this case) is pretty costly. So what can we do then?
We are glad to inform you that our booking platform, ParkingNearAirports.io, offers travelers online reservations for parking just outside airports that are convenient and affordable. Its experienced team is dedicated to providing travelers parking options at over 100 airports in the U.S. and Canada. In addition, the app allows customers to search and compare parking rates at up to 70 percent savings compared to the cost of on-site parking at all major airports.
Being nearby doesn't always mean convenience when it comes to airport parking. Being in terminal parking is not convenient at all. Travelers have to find a spot in a crowded lot, carry their luggage throughout the parking lot, and pay high fees without great service. The off-airport parking provides excellent service with their award-winning customer service representatives available 24/7. In addition, the app looks for lots that offer baggage assistance and 24-hour security for peace of mind.
With our platform, it only takes a few clicks in the app to reserve a parking spot. Guests receive a booking confirmation and a guaranteed parking space upon arrival at the off-airport parking. In addition, the app helps customers locate the most convenient lots to the airport. Cancellations are easy if plans change with hassle-free, refundable cancellations.
Off-airport parking lots often provide free shuttle going back and forth between the parking lot and the airport, removing any worry of traveling to and from the airport or getting stuck in traffic on the way to the airport during peak hours. Arrive on time for flights and receive significant savings with airport parking.
Besides this, we also offer services for top cruise ports in Florida, Louisiana, Maryland, New Jersey, and Texas.
Let's take a good example. Imagine that you live in Seattle. If you're planning a trip to Utah, you can choose cheap
Seattle airport parking
. If you're coming from Salt Lake City, Utah, the situation is the same - you can use
SLC airport economy parking
. So it depends just on where you are flying from.
Also, please don't forget about the
airport parking coupons
. Such a coupon can easily help you save money at the beginning of your trip, making the price for parking almost two times less.
You can find the best deals, airport parking rates, and other information connected with parking near U.S. and Canadian airports on our official website.