New Year's Eve is one of the most popular holidays in the United States. All big cities celebrate the event all night long. However, the program in each town is different. From downtown Times Square in New York City to crazy Las Vegas, here are the most amazing places to make the New Year's Eve experience unforgettable.
New York City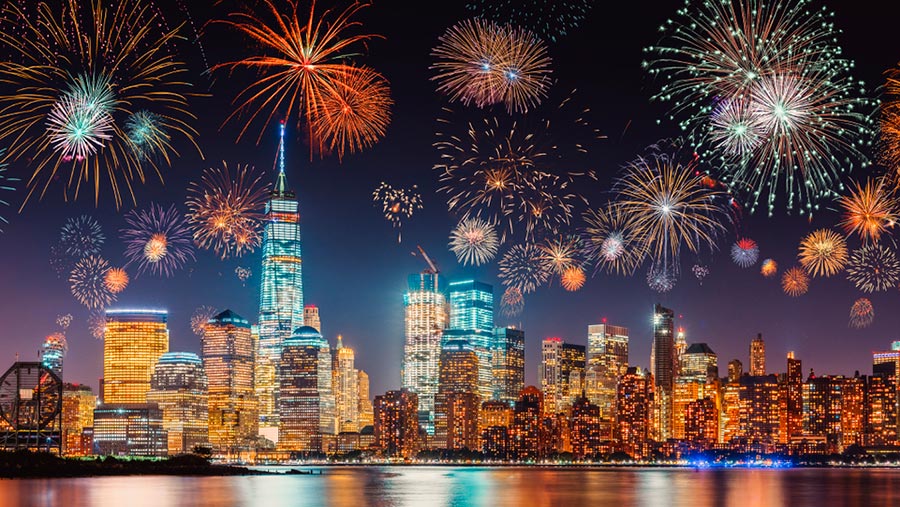 New York City is undoubtedly the most famous place to spend New Year's Eve. We can say so thanks to the legendary party, which traditionally takes place in Times Square on December 31. People get there together to watch the countdown and the fall of a giant crystal ball at exactly midnight.
Actually, this tradition is more than 100 years old. A million locals and tourists gather there to enjoy the show.
Walt Disney World, Orlando, Florida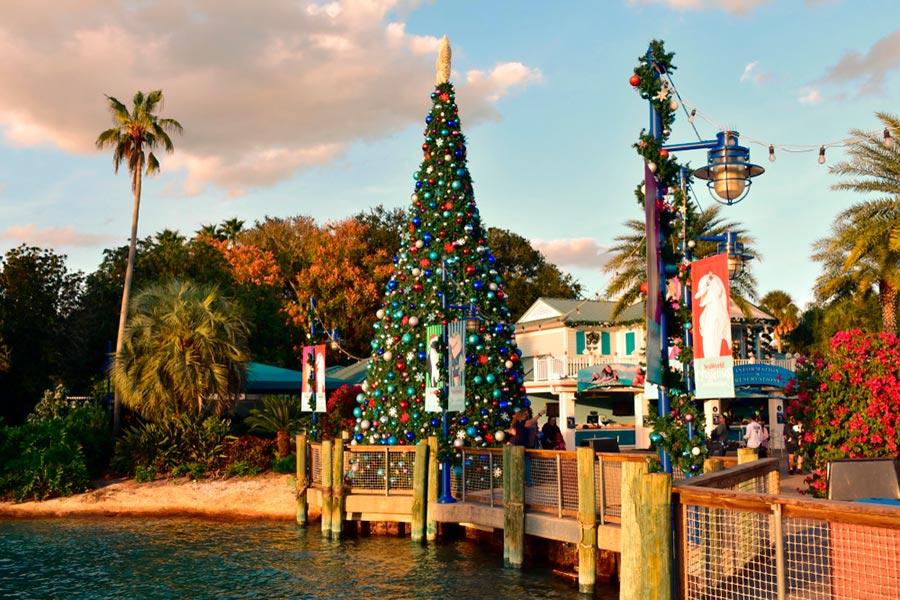 Warm Florida is also a good choice for a New Year's Eve celebration.
Moreover, Walt Disney World in Orlando knows how to organize a big New Year's Eve party for kids and adults! Every December 31, Walt Disney World prepares unique holiday offerings at the park's various hotels. One of the most popular options for welcoming New Year is dinner while watching California Grill's Magic Kingdom fireworks display at Disney's Contemporary Resort. Besides, you can celebrate New Year's Eve with music, tasty treats, great cheer, and a wave of Disney magic at the Atlantic Dance Hall at Disney's BoardWalk Resort entertainment complex.
Don't have kids? No problems - you can visit a New Year's Eve party in Orlando. Pointe Orlando organizes adult-oriented parties at several of its venues. Universal Orlando Resort provides its annual New Year's Eve celebration, including all-night dances.
In addition, SeaWorld offers a musical feast and fireworks display perfect for all ages. Furthermore, there you'll find interactive DJ stations as well as craft beer and delicious food.
Los Angeles, California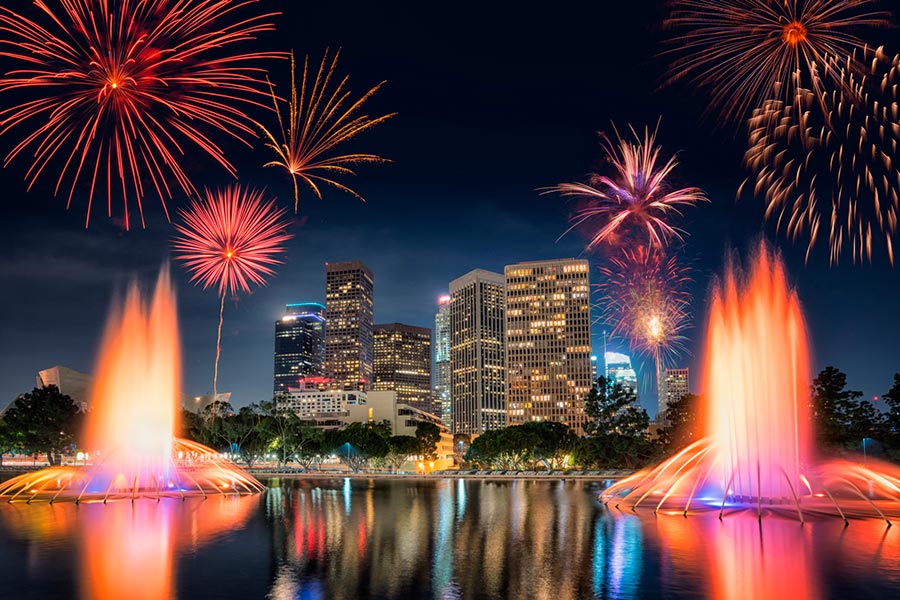 California, in turn, will offer you cool breezes and a warm New Year's Eve. Here you'll be able to enjoy an unforgettable show - the Pasadena Rose Parade. This festival of flowers takes place every year on January 1, with more than a million participants.
On New Year's Eve in Los Angeles, you can attend any event following your preferences - from the Cleopatra Ball at the famous Egyptian Theater to EVE at Universal Studios in Hollywood.
In addition, you can visit Marina del Rey, where you'll find the Glow Party & Fireworks. This free, family-friendly event will include DJ performances, a circuit breaker robot, face painting, a photo booth, giveaways, and fireworks.
Las Vegas, Nevada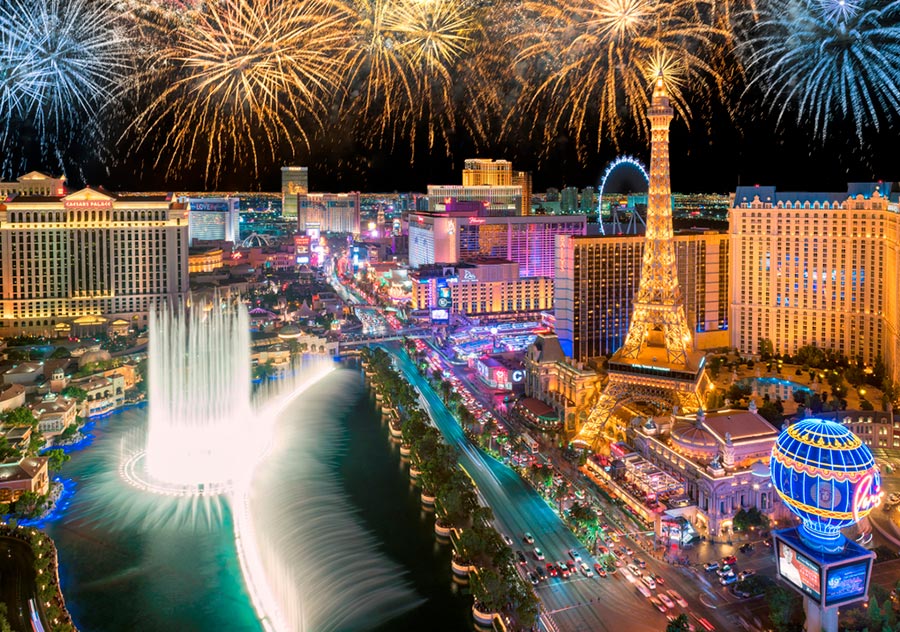 As for famous Las Vegas, this city will turn into an all-out New Year's Eve party on December 31. Everything will work, as people are craving fun and noise - from the nightclubs and bars to bowling alleys. Probably, there you'll celebrate your best New Year's Eve party ever.
The entire Las Vegas Strip (the city's main street) will be closed to car traffic and become a place for one giant party for 300 thousand people. Then, at midnight, the casinos will launch the fireworks.
Looking for a New Year's Eve adventure? In this case, Sundance Helicopters will provide a limo to take you to a helicopter. With the help of this helicopter, you'll be able to welcome the New Year with champagne while flying over the Las Vegas Strip and watching the holiday fireworks from a bird's eye view.
Travelers, you'll find some helpful tips here!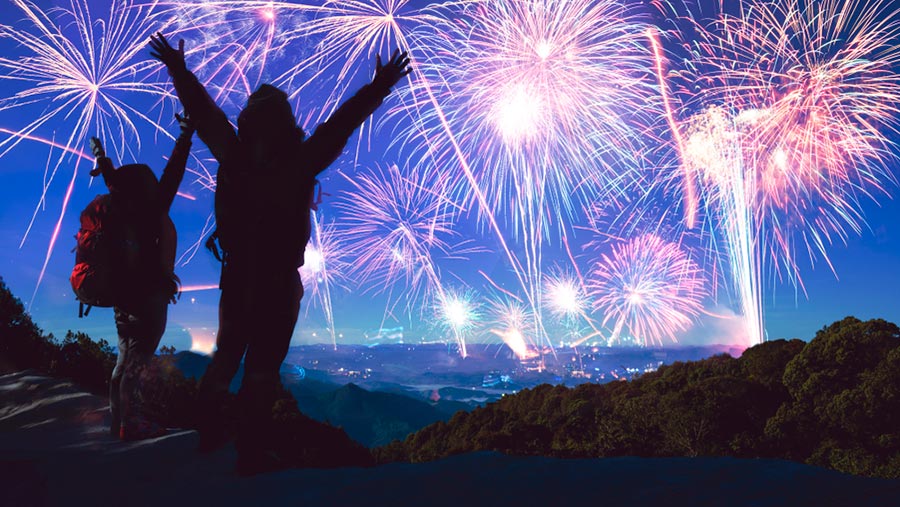 Have you ever heard something about off-site parking? If not, we recommend you take a closer look at this part of the article, as this information will be handy for those who prefer to travel by air and get to the airport by their own car.
Most people suppose that parking at the airport is the fastest and most convenient option for them. However, it's not actually true. We'll explain to you why.
To be true, being in a terminal parking lot isn't convenient at all. Although on-site airport parking is the nearest place where you can leave your vehicle for the period of a trip, you can face the following difficulties:
You will need to find a spot in a crowded lot,
You will need to carry the luggage all the way through the parking lot,
You must pay expensive fees without great service.
Sounds not good, right? However, we found an excellent solution for you - in this case, off-site parking can become a savior for you. So if you're trying to find a parking spot with great service nearby the airport you're flying from and don't want to leave there the most significant part of your budget, pay attention to this option.
How does it work?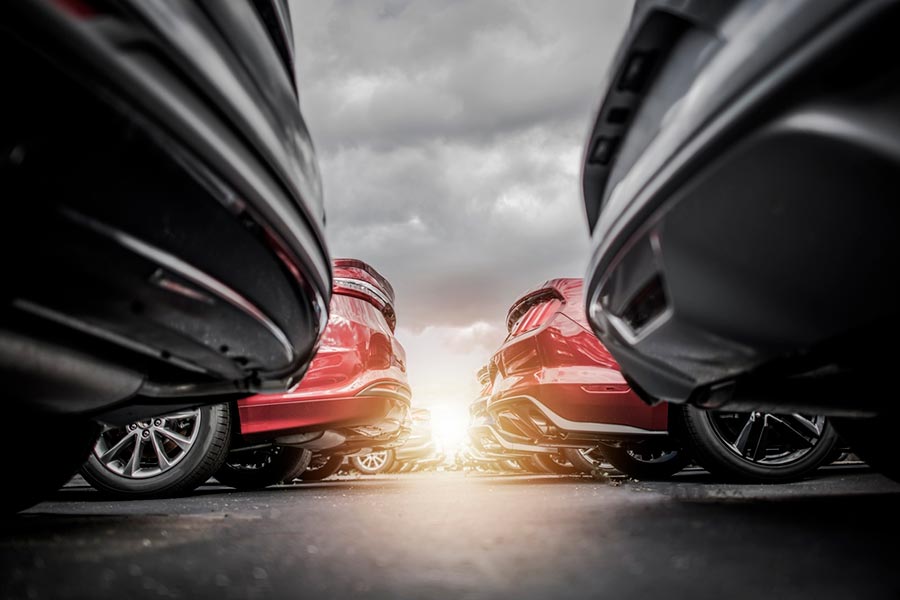 Obviously, people who chose a car as a way to get to the airport want to leave their vehicle safely while traveling and not to face the problems we described above. So what can off-site airport parking offer its customers?
Although a few miles usually separate such parking from the airport, you shouldn't worry about this. Off-site parking provides free shuttles going back and forth between the parking lot and the airport. Thanks to this, it removes any worries about getting stuck in traffic on the way to the airport during peak times. So all you need to do is choose the best time for you and inform the parking lot staff.
How does it work? Actually, everything is straightforward: when you come to the entrance, the staff will remove your luggage from your car and load it onto the shuttle, which will take you and your bags to the terminal. Then, the vehicle will be parked securely.
In addition, this type of parking is much cheaper, and this is good news, as nobody wants to waste money. Therefore, off-site parking is the perfect option to receive excellent service and save money at the same time.
Want to find some great offers? You don't need to go somewhere - just find it right here!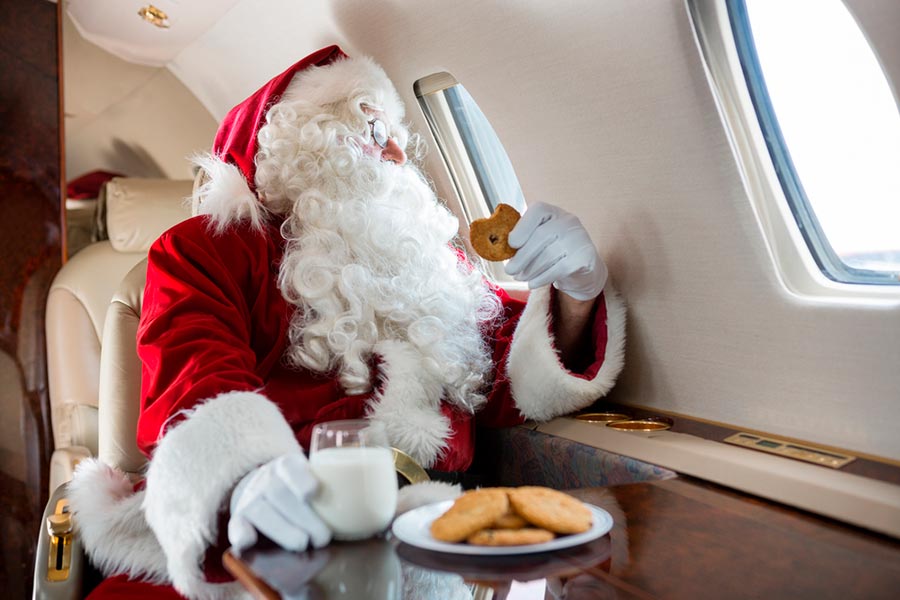 We're glad to inform you that you can find this solution right here. Our booking platform, ParkingNearAirports.io, offers the best prices on airport car parking and bundles hotel and parking packages. Besides, we provide the services for top cruise ports in Florida, Louisiana, Maryland, New Jersey, and Texas.
Our platform allows you to reserve a parking spot through a few clicks within the application. As a result, customers receive a booking confirmation and a guaranteed parking spot upon arrival at the off-airport lot. Besides, if plans change, you can cancel hassle-free and receive a refund.
To understand it better, we would like to give you an example. Let's imagine that you live in NYC. If you're planning a trip to Orlando, Florida, you can use the services of cheap
MCO off-site parking
. If you're coming from Las Vegas, Nevada, the situation is the same - you can choose affordable
LAS long-term parking
. So it just depends on the place you're flying from.
Also, ParkingNearAirports.io offers its customers special
airport parking reservations coupons
. With the help of these coupons, you can make the price for parking even two times less. So don't forget to use them to save as much money as possible.
You can find all the necessary and helpful information connected with the off-site airport parking on our official website. Enjoy traveling!