Along with its landscape that is impacted by the rocky coasts, craggy mountains, and wild forests, New England's regional cuisine is pretty diverse. States in the Northeast are home to vast fishing fleets, self-pick berry farms, and miles of apple orchards – they are actually the birthplace of creators of delicious ice creams, sweet treats, and hearty pastries.
If you've never been to New England, but are planning to set out on a journey there soon, we'd like to tell you something exciting – below you'll find the top 5 New England foods you should definitely taste while visiting. So let's not waste time and check!
1. New England Clam Chowder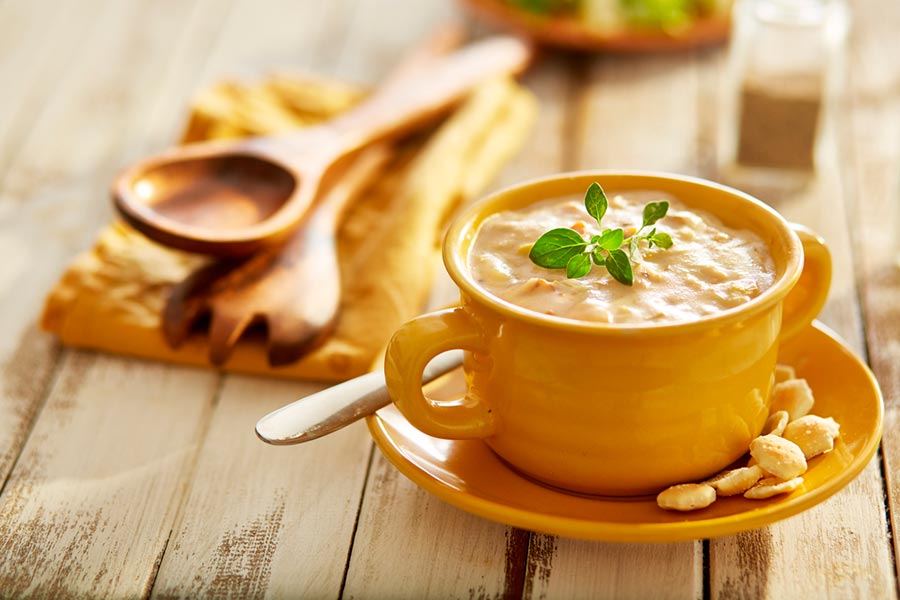 Source – Shutterstock. New England clam chowder with oyster crackers in yellow bowl
Clam chowder is as popular in New England as beach visits, which are always followed by cups or bowls of soup. Clams, potatoes, celery, onion, salt pork, and other vegetables are frequently combined with a rich, hearty broth to make New England clam chowder. Clam chowder, which has been served in the region since the early 1700s, gained popularity in Boston in the 1830s when it was offered at the renowned Union Oyster House. This seafood stew is delicious on any day and is really addictive.
---
2. Lobster Rolls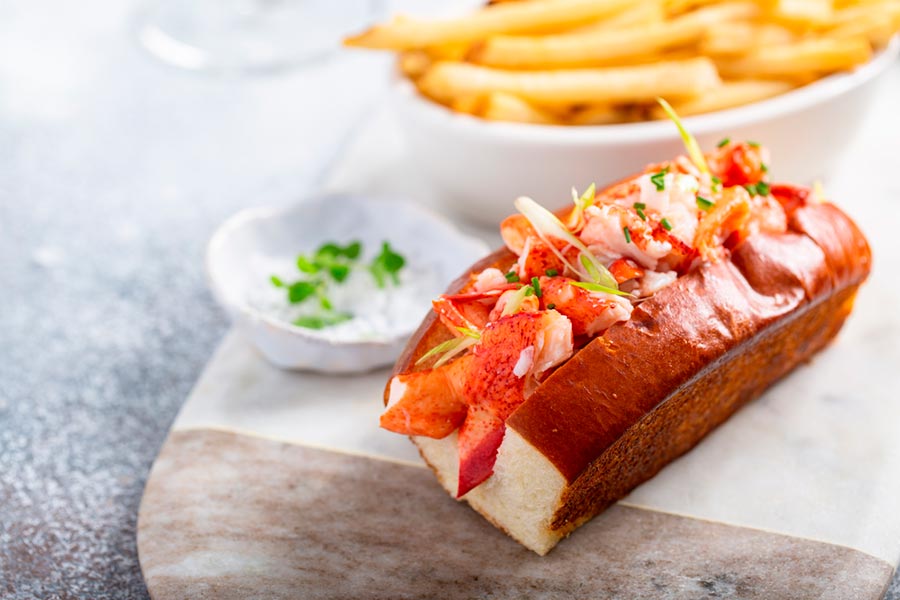 Source – Shutterstock. Lobster roll on a brioche bun with fries on a marble board
The "cockroaches of the sea" were a popular food for the working class (or even fertilizer) in early America when lobsters piled up on beaches. Things had significantly changed by the Second World War, and shellfish were unquestionably a delicacy. Lobster rolls have come to be associated with New England. This coastal luxury is offered at almost every seafood restaurant in the region and is served on a grilled bun. They're delivered warm, dripping with butter, lemon juice, salt, and pepper – as lobster rolls. Even chopped celery and mayonnaise are acceptable toppings.
---
3. Baked Beans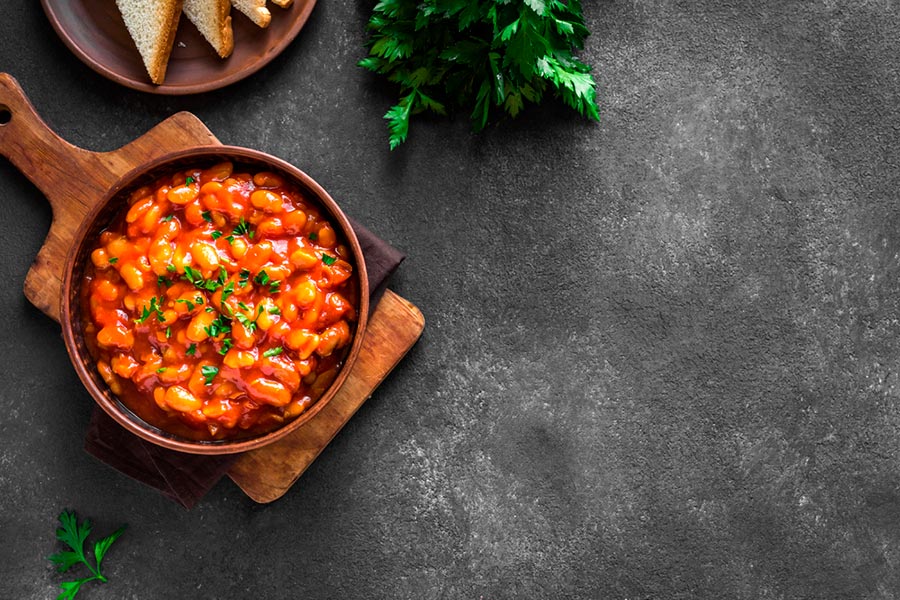 Source – Shutterstock. Chili beans on black table
As opposed to the brown sugar sweetener used in traditional English baked beans, molasses is featured in Boston (or Beantown) baked bean recipes. A rich, honeyed flavor that has been present in the region for ages makes a difference. Originally cooked all over New England, it became a mainstay of the Pilgrim diet starting in the 1620s. In restaurants around coastal Massachusetts and elsewhere, baked beans are offered as a side dish and occasionally accompanied by brown bread (another New England specialty).
4. Fluff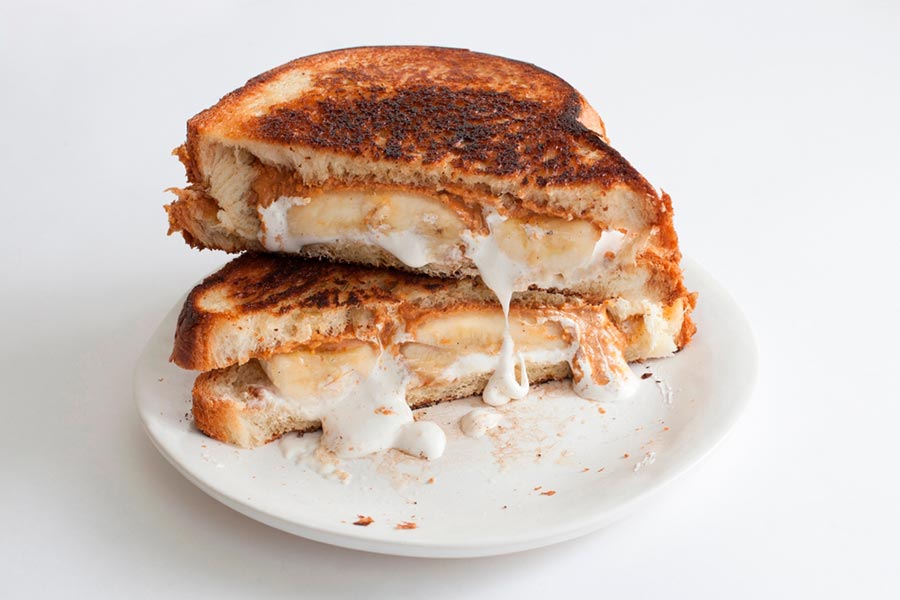 Source – Shutterstock. Messy gooey grilled peanut butter, banana and marshmallow Fluff sandwich
Fluff is a well-known jar of marshmallow mousse spread that was developed in the 1920s by two Massachusetts citizens and is now found in most grocery stores. Anyone who has ever cooked marshmallows over a campfire and sneaked a few of the snow-white cylinders will recognize the taste, but the consistency is completely different. This spreadable treat can be had on its own, but for the whole New England experience, a Fluffernutter sandwich should be made with a layer of Fluff on one slice of bread and a generous layer of peanut butter on the other (allergy permitting).
---
5. Whoopie Pie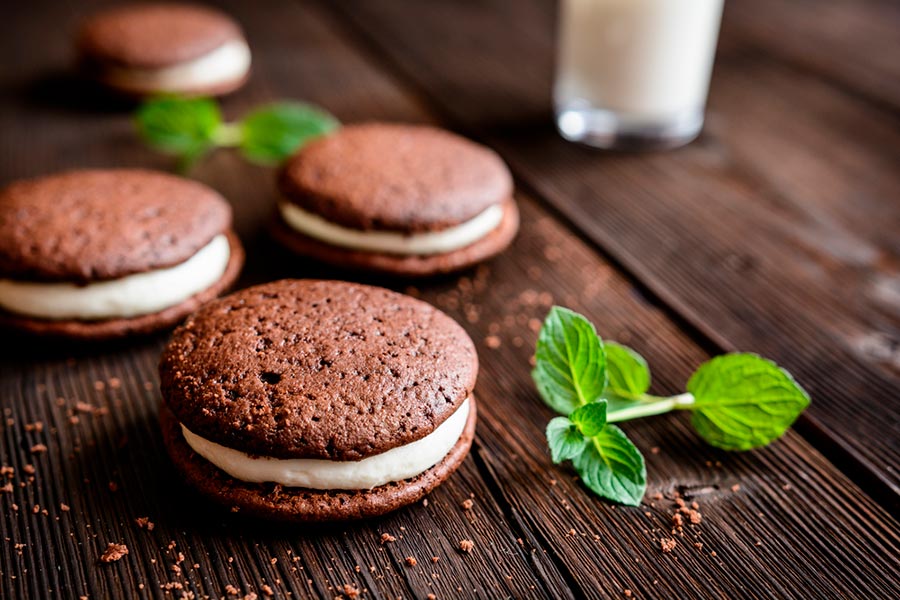 Source – Shutterstock. Traditional chocolate Whoopie pies filled with vanilla buttercream
Outside of New England, saying "whoopie pie" provokes some curious looks. The easiest way to describe this cake-like treat is as a kind of delicious sandwich, with two mound-shaped cake pieces on the outer and a generous layer of cream on the inside. There are many flavors of whoopie pies, but the most common is a chocolate cake whoopie pie with white cream filling. Whoopie pies come in seasonal tastes throughout the year, such as pumpkin in the fall and peppermint cream in the winter.
---
Willing to travel to New England? Then check out our helpful tips before your departure!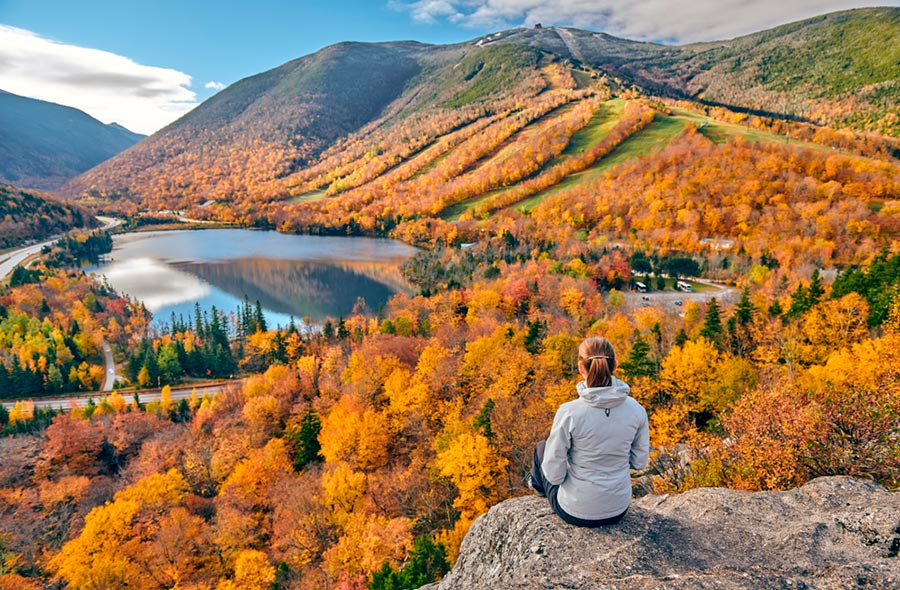 Source – Shutterstock. Woman, hiking at Artist's Bluff in the fall
Have you ever heard something about off-site parking? If not, we recommend you take a closer look at this part of the article, as this information will be handy for those who prefer to travel by air and get to the airport by their own car.
Most people suppose that parking at the airport is the fastest and most convenient option for them. However, it's not actually true. We'll explain to you why.
To be true, being in a terminal parking lot isn't convenient at all. Although on-site airport parking is the nearest place where you can leave your vehicle for the period of a trip, you can face the following difficulties:
You will need to find a spot in a crowded lot,
You will need to carry the luggage all the way through the parking lot,
You must pay expensive fees without great service.
Sounds not good, right? However, we found an excellent solution for you - in this case, off-site parking can become a savior for you. So if you're trying to find a parking spot with great service nearby the airport you're flying from and don't want to leave there the most significant part of your budget, pay attention to this option.
How does it work?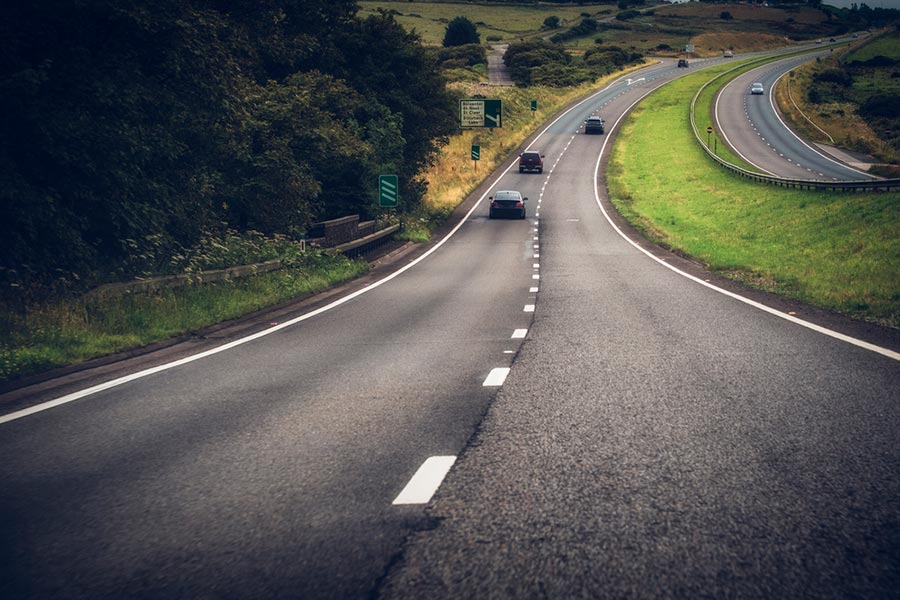 Source – Shutterstock. Traveling by car all over the world
Obviously, people who chose a car as a way to get to the airport want to leave their vehicle safely while traveling and not to face the problems we described above. So what can off-site airport parking offer its customers?
Although a few miles usually separate such parking from the airport, you shouldn't worry about this. Off-site parking provides free shuttles going back and forth between the parking lot and the airport. Thanks to this, it removes any worries about getting stuck in traffic on the way to the airport during peak times. So all you need to do is choose the best time for you and inform the parking lot staff.
How does it work? Actually, everything is straightforward: when you come to the entrance, the staff will remove your luggage from your car and load it onto the shuttle, which will take you and your bags to the terminal. Then, the vehicle will be parked securely.
In addition, this type of parking is much cheaper, and this is good news, as nobody wants to waste money. Therefore, off-site parking is the perfect option to receive excellent service and save money at the same time.
Want to find some great offers? You don't need to go somewhere - just find it right here!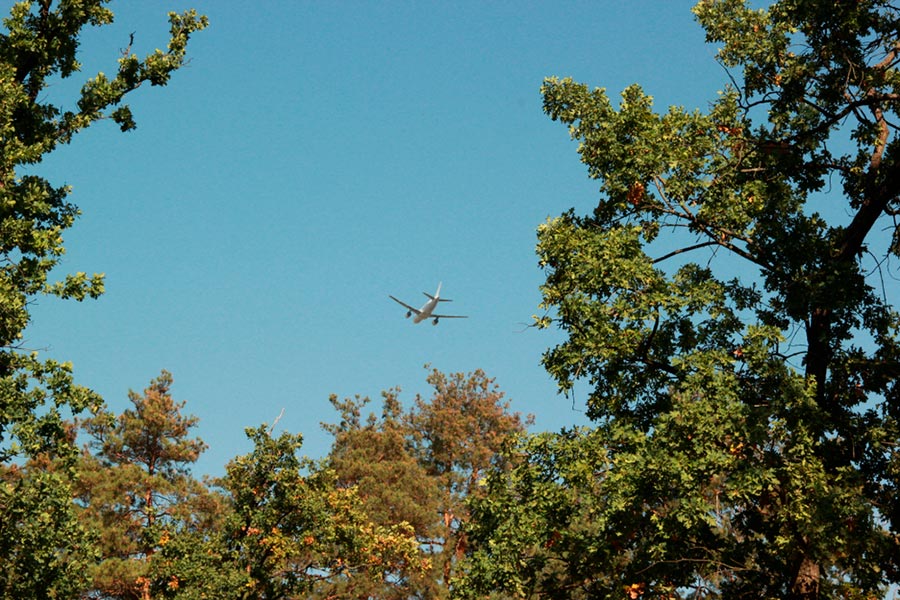 Source – Shutterstock. Flying plane over trees
We're glad to inform you that you can find this solution right here. Our booking platform, ParkingNearAirports.io, offers the best prices on airport car parking and bundles hotel and parking packages. Besides, we provide the services for top cruise ports in Florida, Louisiana, Maryland, New Jersey, and Texas.
Our platform allows you to reserve a parking spot through a few clicks within the application. As a result, customers receive a booking confirmation and a guaranteed parking spot upon arrival at the off-airport lot. Besides, if plans change, you can cancel hassle-free and receive a refund.
To understand it better, we would like to give you an example. Let's imagine that you live in Newark, New Jersey. If you're planning a trip to New England, you can use the services of cheap
airport parking near Newark Airport
. If you're coming from Miami, Florida, the situation is the same - you can choose
economy parking Miami Airport
. So it just depends on the place you're flying from.
Also, ParkingNearAirports.io offers its customers special
airport parking coupons
. With the help of these coupons, you can make the price for parking even two times less. So don't forget to use them to save as much money as possible.
You can find all the necessary and helpful information connected with the off-site airport parking on our official website. Enjoy traveling!