Europe has been considered a beloved tourist destination thanks to its diversity of natural landscapes, large cities, and vibrant cultures. This continent is actually ideal for a retreat for every traveler because it's full of adventure, history, and natural beauty. There is a place that is perfect for you, whether you prefer the tranquility of the countryside or the bustle of the metropolis. Below are our own recommendations for the top travel locations in Europe. So let's get started!
1. Best For Families – Cornwall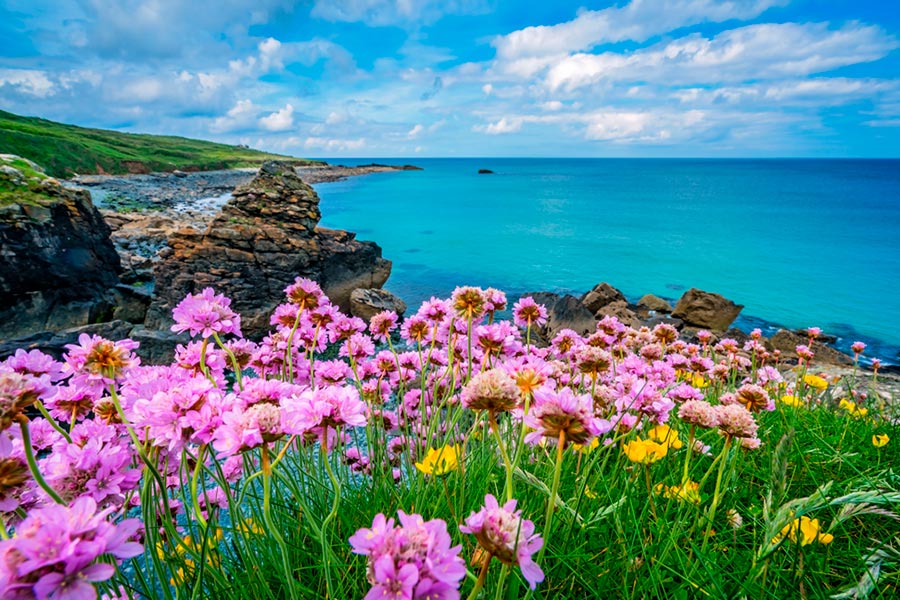 Source – Shutterstock. Pink sea flowers on a wonderful coastline in St. Ives, Cornwall, England, UK
A children's paradise can be found in England's southwestmost county. Sandcastles of epic size may be constructed on miles of sandy beaches, and there are numerous protected coves hidden down winding alleys that are perfect for surfing and rock pooling. According to legend, the magician Merlin's cave is close to Tintagel Castle, where King Arthur is said to have been born. Another family-friendly destination is the Eden Project, where thrill-seekers may experience the excitement of SkyWire, England's longest zipline. Families traveling to the UK will also enjoy adding London to their schedule because of its rich history, pomp, and ceremony, as well as the opportunity to see Harry Potter in neighboring Watford.
2. Best For Beach Lovers – Croatia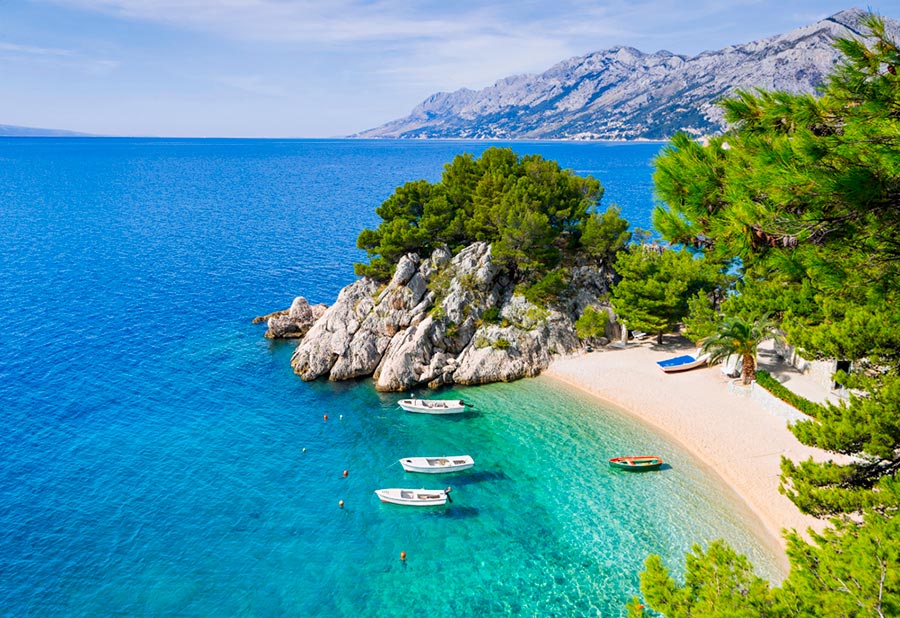 Source – Shutterstock. Beautiful beach near Brela, Dalmatia, Croatia
The most popular beaches in the Mediterranean region are also some of their best. Smart beachgoers know to head east, to the lovely Adriatic, to avoid the crowds at hotspots along the Mediterranean. Zlatni Rat in Croatia, a finger of white sand reaching into a turquoise sea just a short stroll from the town of Bol on Brac Island, is the poster child for the region. Before getting on the sea and exploring Croatia's wide coastline by island hopping, spend the day in Dubrovnik.
3. Best For Off-the-Beaten-Path Explorers – Extremadura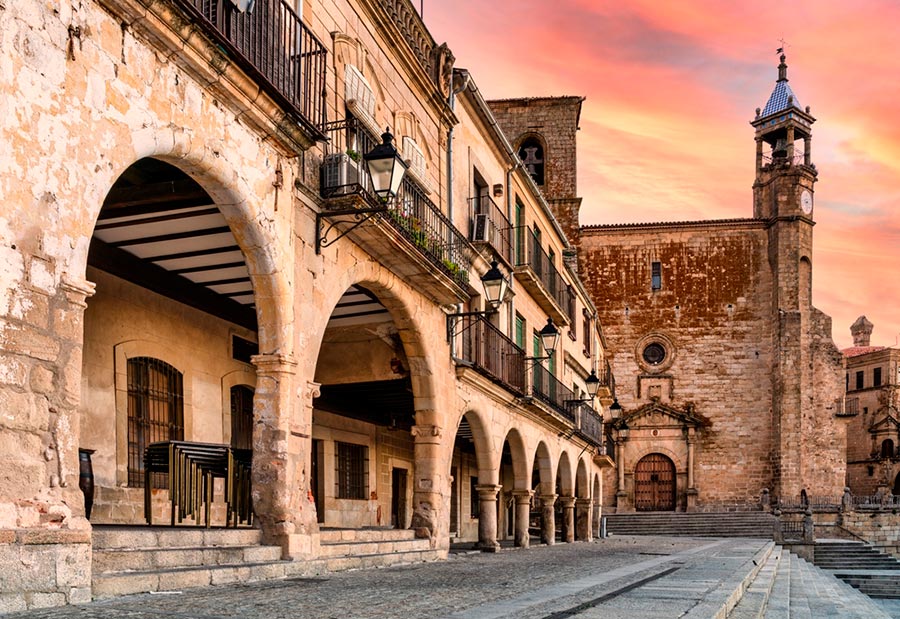 Source – Shutterstock. View of the arches and church from the main square of Trujillo, Extremadura, Spain – sunset sky
Spanish regions Andalusia and Catalonia are popular all year round, yet neighboring Extremadura somehow manages to escape notice. The historic cities of Trujillo, where the conquistadors lived, and the medieval city of Caceres are highlights of this Spanish province. Go birdwatching in Monfragüe National Park or the charming tiny towns of La Vera valley when you've had enough of the metropolis. Drive across the countryside, stopping at wineries for wine tasting or going on a hike through rising hills after visiting Roman remains in Merida. You will have lots of space to go around and enjoy yourself since these regions of Spain are the least populated.
4. Best For Solo Travelers – Berlin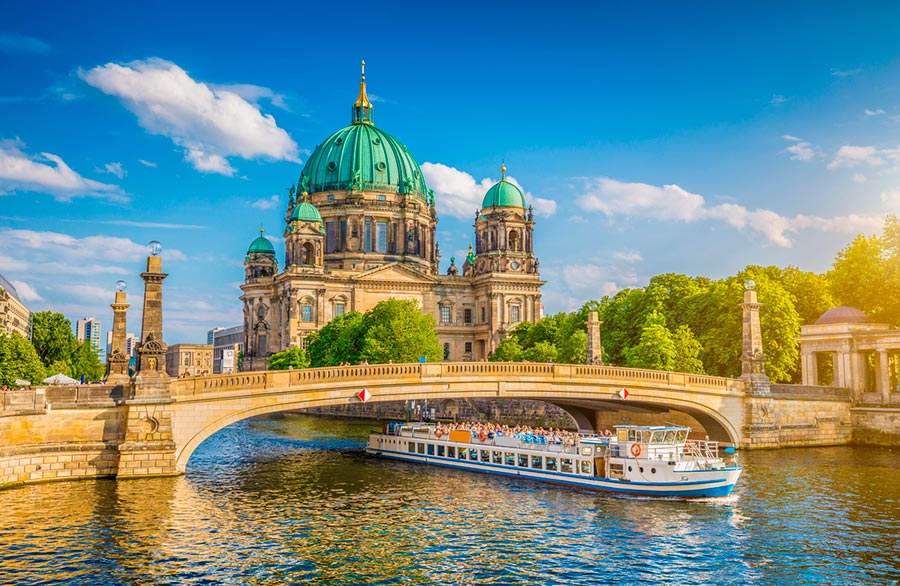 Source – Shutterstock. An incredible view of the Berliner Dom in Berlin, Germany
The best destination for solo travelers is Germany's capital. You won't require a traveling buddy to take a photo at Checkpoint Charlie, explore the Brandenburg Gate, or hop behind the wheel of a vintage Trabant to view what's left of the Berlin Wall. There is a lot to do at night because of the thriving art, culture, and music scenes. Grab a refreshing beverage and mingle with other tourists and residents in a beer garden. The cheaper prices in Eastern Europe and Berlin's proximity to other treasures like Romania, Poland, or Bulgaria will also delight solo travelers.
5. Best For Nature Lovers – Norway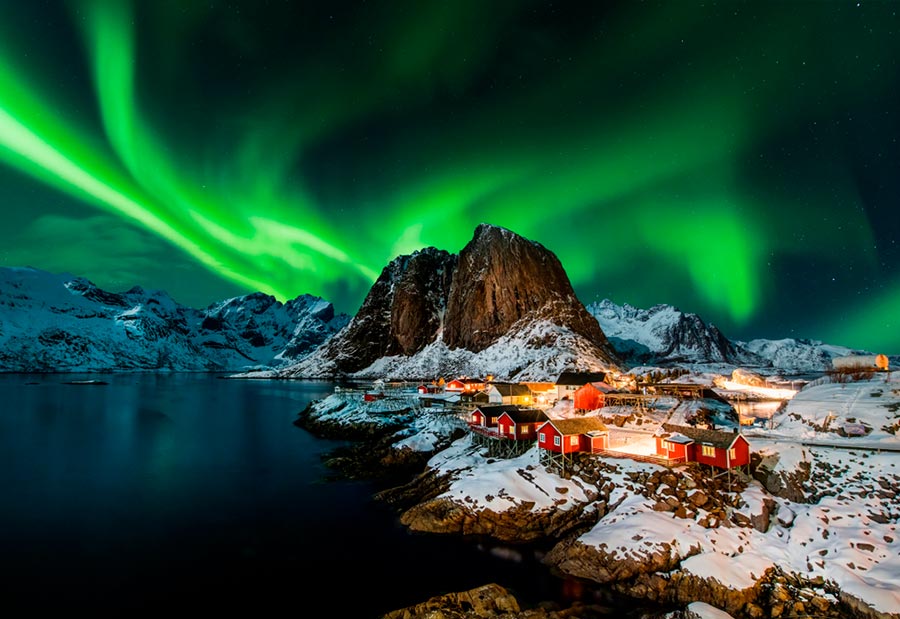 Source – Shutterstock. Northern Lights over Hamnoy in Norway
Even the most experienced nature lovers will be amazed by the Norwegian coastline. Drama is provided by magnificent fjords, glaciers, waterfalls, and mountain summits, but there is just as much joy to be had by taking a calm route through a flower-filled meadow. Of course, nature is not just limited to the land and the water. You might be fortunate enough to see the northern lights from September to April and the midnight sun in June. Take a cruise along the coast or travel on foot to attractions like Trolltunga for breathtaking vistas.
6. Best For Art/History Lovers – Florence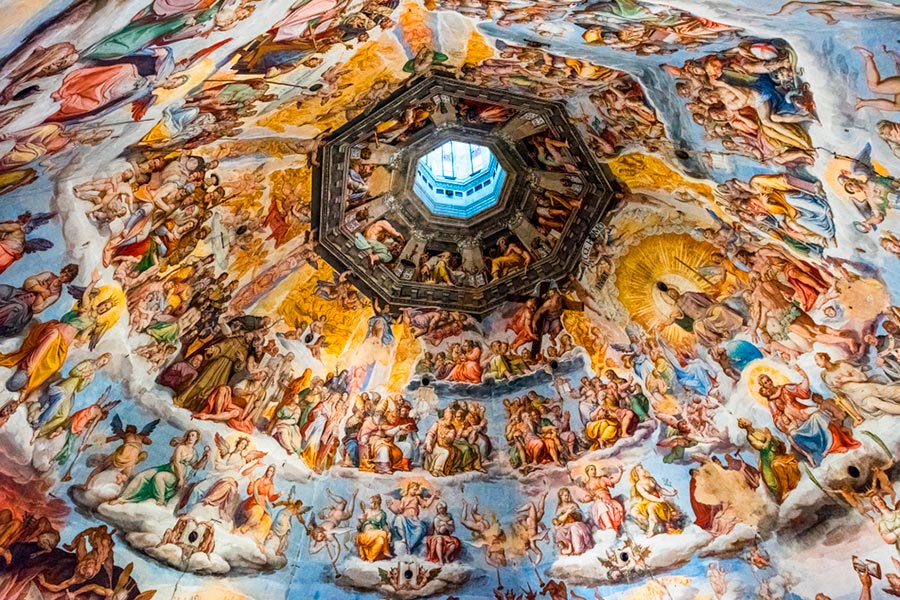 Source – Shutterstock. Ceiling detail of Duomo di Firenze Cathedral, Cathedral of Saint Mary of Flower, Florence, Italy, Europe
No other country in Europe creates art as well as Italy, which is led by Florence. The Birth of Venus by Botticelli, along with artworks by Raphael and Leonardo da Vinci, may be found in the Uffizi Gallery. The genuine David by Michelangelo is located close by at the Galleria dell'Accademia. Numerous additional locations, such as the Boboli Gardens, Piazzale Michelangelo, and the city's cathedral, will be enjoyable. All culture vultures will be in heaven if you combine this art with a rich past and the fascinating tales that lie hidden in every alley.
Attention! Each traveler should see our helpful tips to travel in complete comfort!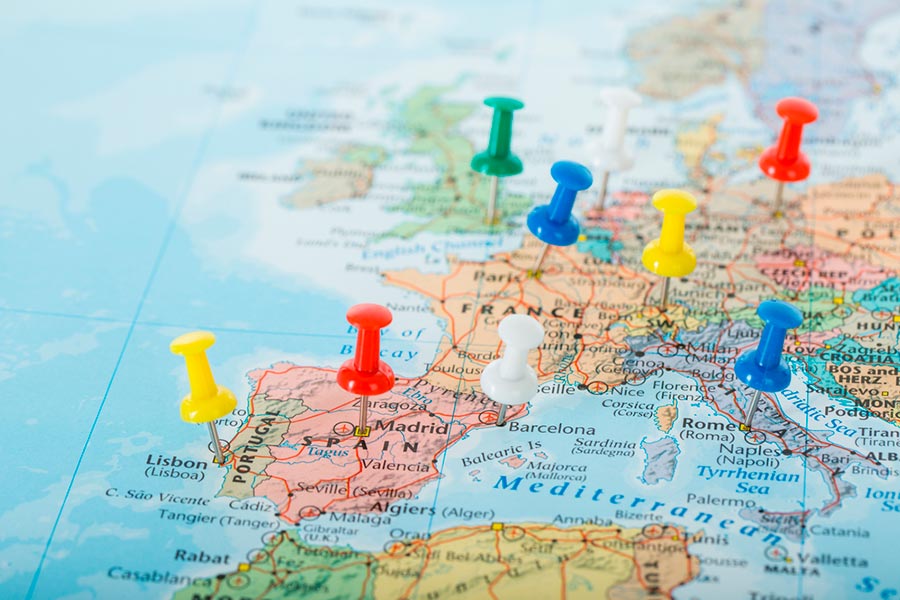 Source – Shutterstock. Map of Europe – travel pins for planned trip
Have you ever heard something about off-site parking? If not, we recommend you take a closer look at this part of the article, as this information will be handy for those who prefer to travel by air and get to the airport by their own car.
Most people suppose that parking at the airport is the fastest and most convenient option for them. However, it's not actually true. We'll explain to you why.
To be true, being in a terminal parking lot isn't convenient at all. Although on-site airport parking is the nearest place where you can leave your vehicle for the period of a trip, you can face the following difficulties:
You will need to find a spot in a crowded lot,
You will need to carry the luggage all the way through the parking lot,
You must pay expensive fees without great service.
Sounds not good, right? However, we found an excellent solution for you - in this case, off-site parking can become a savior for you. So if you're trying to find a parking spot with great service nearby the airport you're flying from and don't want to leave there the most significant part of your budget, pay attention to this option.
How does it work?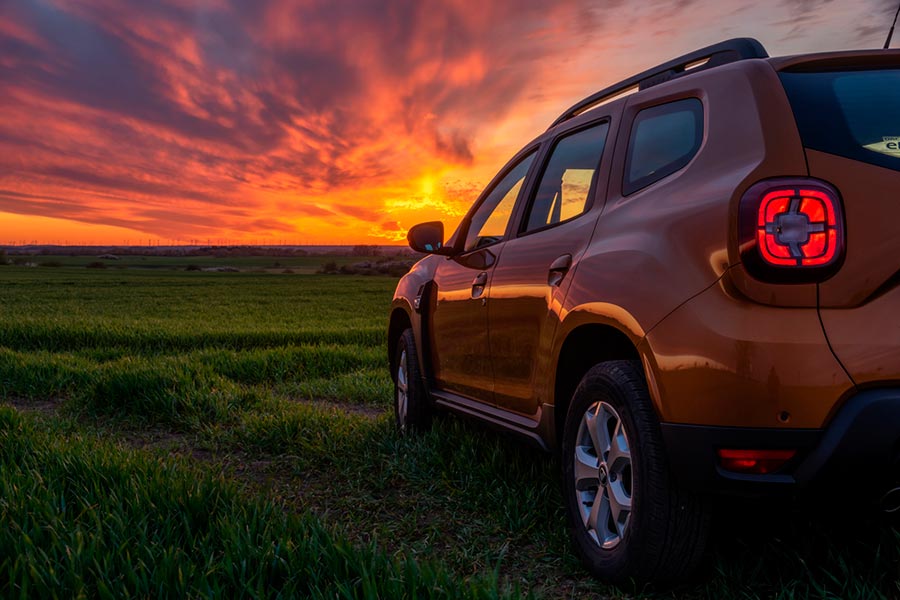 Source – Shutterstock. Dacia Duster SUV standing on a dirt road during a spectacular sunset
Obviously, people who chose a car as a way to get to the airport want to leave their vehicle safely while traveling and not to face the problems we described above. So what can off-site airport parking offer its customers?
Although a few miles usually separate such parking from the airport, you shouldn't worry about this. Off-site parking provides free shuttles going back and forth between the parking lot and the airport. Thanks to this, it removes any worries about getting stuck in traffic on the way to the airport during peak times. So all you need to do is choose the best time for you and inform the parking lot staff.
How does it work? Actually, everything is straightforward: when you come to the entrance, the staff will remove your luggage from your car and load it onto the shuttle, which will take you and your bags to the terminal. Then, the vehicle will be parked securely.
In addition, this type of parking is much cheaper, and this is good news, as nobody wants to waste money. Therefore, off-site parking is the perfect option to receive excellent service and save money at the same time.
Want to find some great offers? You don't need to go somewhere - just find it right here!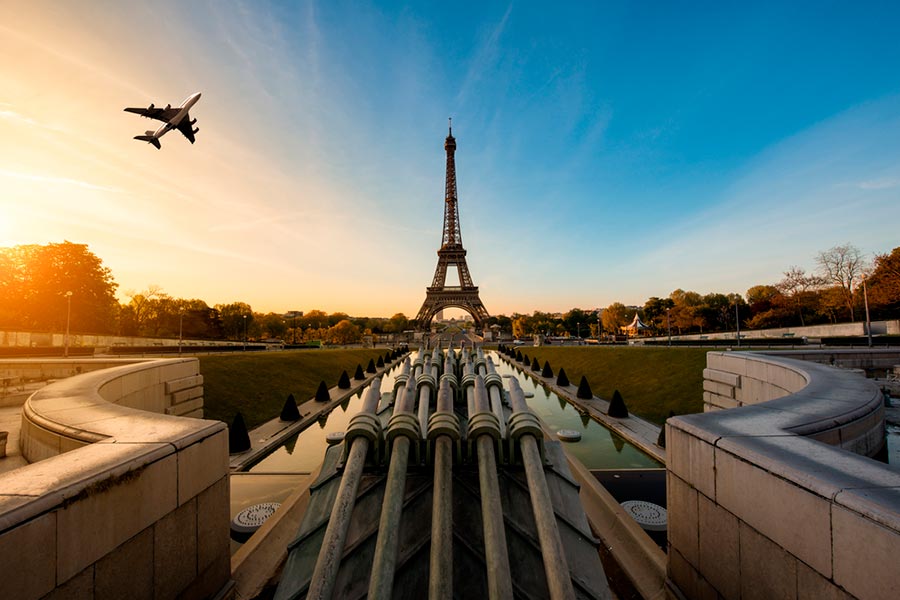 Source – Shutterstock. Airplane flying over Eiffel Tower in morning, Paris, France
We're glad to inform you that you can find this solution right here. Our booking platform, ParkingNearAirports.io, offers the best prices on airport car parking and bundles hotel and parking packages. Besides, we provide the services for top cruise ports in Florida, Louisiana, Maryland, New Jersey, and Texas.
Our platform allows you to reserve a parking spot through a few clicks within the application. As a result, customers receive a booking confirmation and a guaranteed parking spot upon arrival at the off-airport lot. Besides, if plans change, you can cancel hassle-free and receive a refund.
To understand it better, we would like to give you an example. Let's imagine that you live in Detroit, Michigan. If you're planning a trip to Europe, you can use the services of
cheap parking near Detroit Airport
. If you're coming from Las Vegas, Nevada, the situation is the same - you can choose an
economy lot McCarran Airport
. So it just depends on the place you're flying from.
Also, ParkingNearAirports.io offers its customers special
airport parking reservations coupons
. With the help of these coupons, you can make the price for parking even two times less. So don't forget to use them to save as much money as possible.
You can find all the necessary and helpful information connected with the off-site airport parking on our official website. Enjoy traveling!