Usually, people smile while watching a rainbow in the sky. When light and water merge to give out the whole range of colors, it's almost like a sign that your day is going to be nice. Although rainbows can be rare, fortunately, these places always display plenty of hues. Starting from fields of flowers and finishing with oddly-shaped geysers – our lovely nature has outdone herself on these colorful destinations. Let's see everything with our own eyes!
1. Keukenhof Tulip Fields – Holland, Netherlands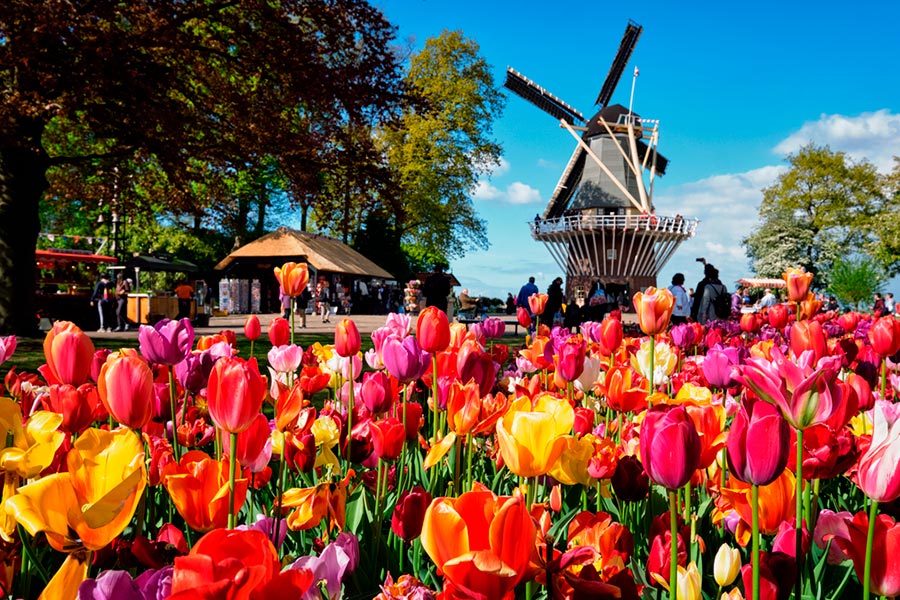 Source – Shutterstock. Blooming pink tulips flowerbed in Keukenhof garden, aka the Garden of Europe, one of the world largest flower gardens & windmill & tourists – Lisse, Netherlands
Keukenhof has been showcasing Dutch floriculture since 1950 by planting more than 7 million flowering bulbs. Walking through these gardens is like stepping into a different universe filled with windmills and rainbow blossoms. You should prioritize visiting this endearing and unique location on your bucket list.
2. Zhangye Danxia – China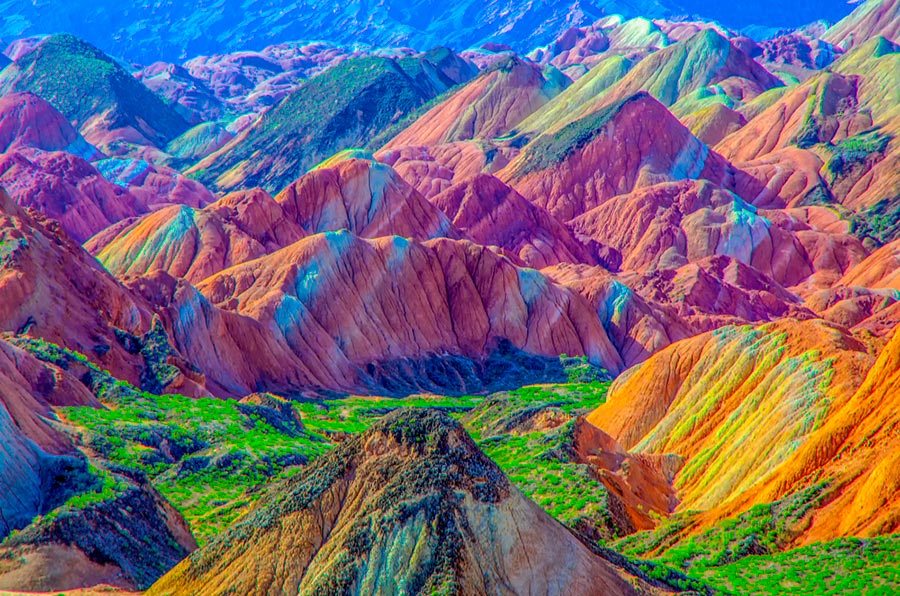 Source – Shutterstock. Zhangye Danxia – colorful landform scenic spot
The multicolored sandstone landform known as China's "Rainbow Mountains" resembles a watercolor painting. This geopark is among China's most beautiful natural wonders thanks to its striped yellow, red, orange, and blue colors, which is saying a lot.
3. Grand Prismatic Spring – Wyoming, USA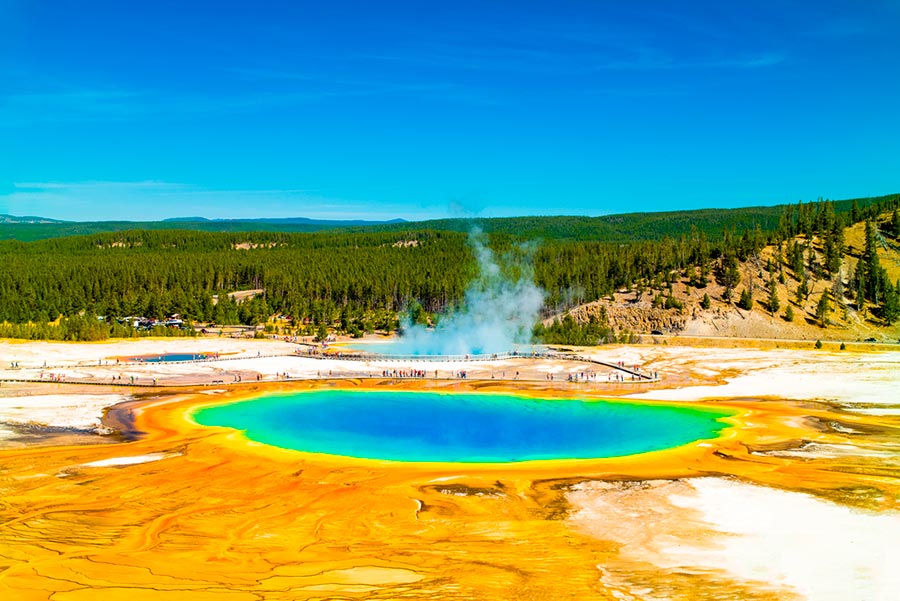 Source – Shutterstock. Yellowstone National Park. Grand Prismatic Spring – elevated view
Thousands of people come to this bizarre hot spring in Yellowstone National Park each year. Microbial mats along the water's edge are what cause the unfathomably vivid colors. It's not only a miracle of color but also the third-largest hot spring in the world!
4. Caño Cristales – Colombia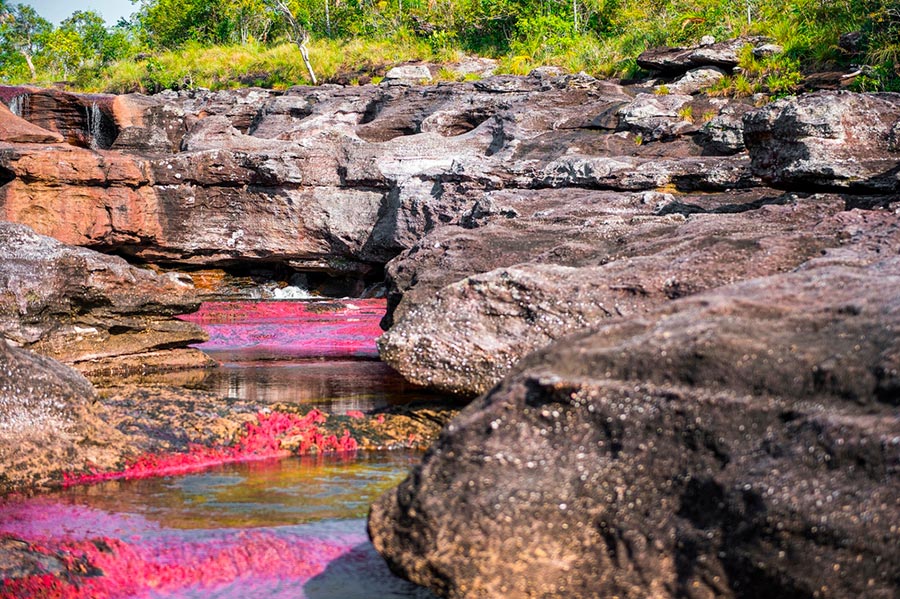 Source – Shutterstock. Caño Cristales – a river in Colombia that is located in the Sierra de la Macarena, in the department of Meta
Caño Cristales, also known as the "River of Five Colors" and the "Liquid Rainbow," flows through a once inaccessible region of Colombia. However, the unrest in this area has decreased recently, making this magnificent river accessible for exploration. Although the vivid plants that are blooming on the river's bottom may be the source of the colors, all we can see when we look at this river is a living rainbow.
5. Fly Geyser – Washoe County, Nevada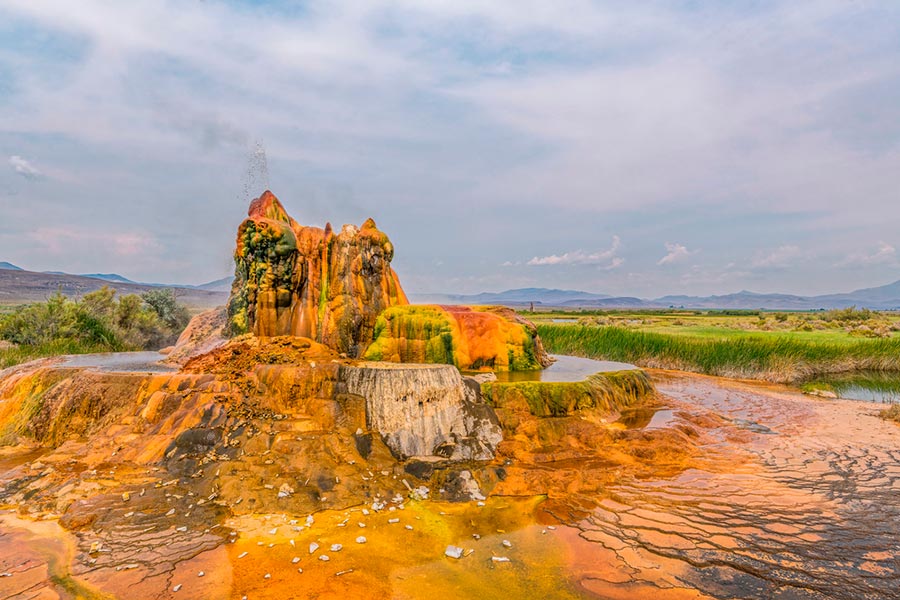 Source – Shutterstock. Fly Geyser, Washoe County, Nevada
Fly Geyser in Nevada resembles a child's sculpture made of multicolored Play-Doh, making it one of the list's stranger destinations. The geothermal geyser is coated with algae that, when exposed to the hot, humid environment, turns green and red, giving the bizarre landform an amazing hue.
6. Vinicunca – Peru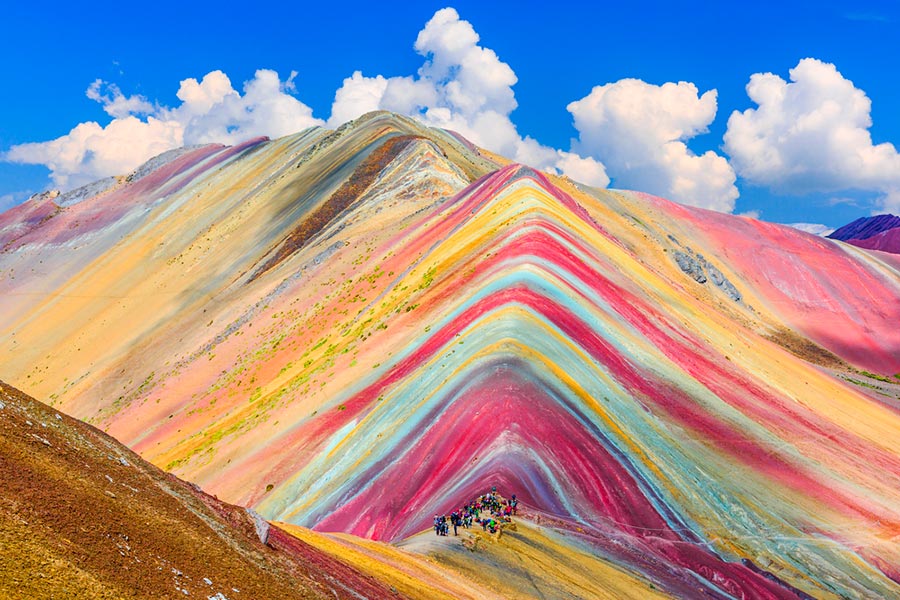 Source – Shutterstock. An incredible view of Vinicunca in Peru
These mountains in Peru, like the Rainbow Mountains in China, have rainbow sedimentary stripes that make the environment look like the setting for a picture book. These mountains are difficult to get since they are located deep in the desert, but the reward for six days of hiking is a panorama unlike any other in the world.
7. Victoria Falls – Zambia and Zimbabwe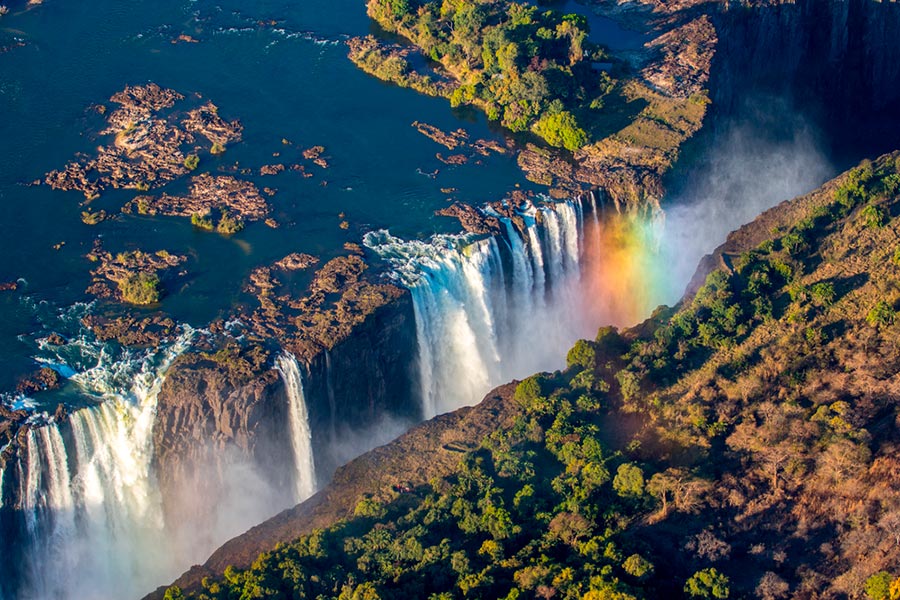 Source – Shutterstock. Victoria Falls in Zambia and Zimbabwe – an impressive view of a rainbow
Victoria Falls, the biggest waterfall in the world, is a never-ending sheet of water flowing, creating ideal circumstances for genuine, nearly continual rainbows. Lunar rainbows, a rare occurrence caused by moonlight bouncing off of water molecules, are another distinctive aspect of Victoria Falls. No matter from which angle you see this enormous waterfall, you'll undoubtedly catch a glimpse of shimmering, vivid rainbows, even if you don't discover a pot of gold at the end.
Travelers, below you'll find some helpful tips for your next journey!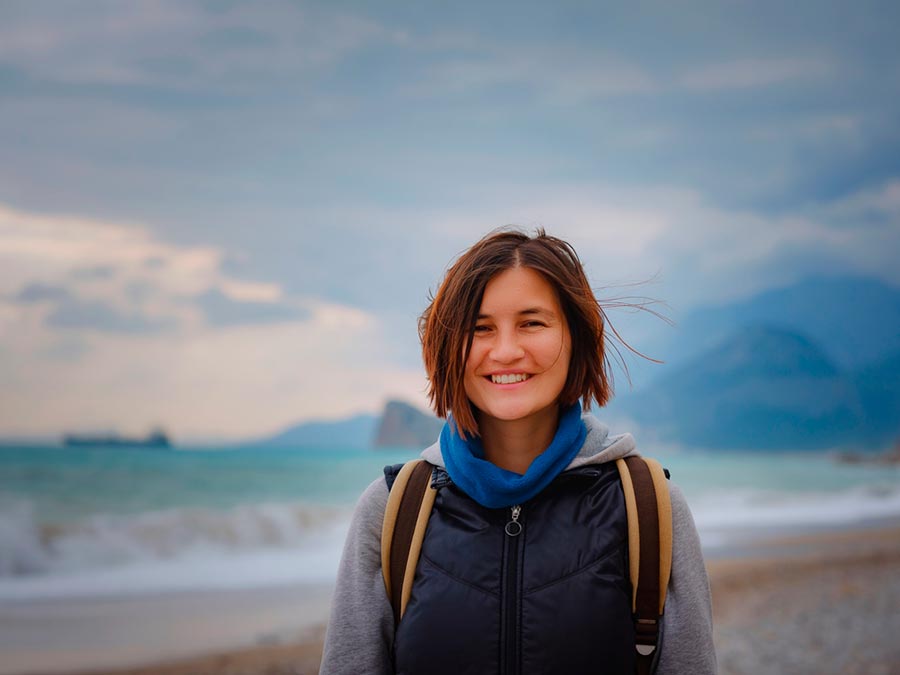 Source – Shutterstock. Attractive young woman standing on a windy cold beach
It's pretty clear that everyone wants to save as much money as possible and get excellent services at the same time, especially while traveling. Prefer to get to the airport by your own car? If so, please draw special attention to this part of the article.
We suppose you have used to choose on-site parking if you prefer to get to the airport by your own vehicle. Most people think that it's much more convenient and faster, as it's the nearest area to the place a plane is flying from. However, they probably forget that this type of parking is too costly. Besides, you will have to face the following unpleasant moments:
You will need to find a spot in a crowded lot,
You will need to carry the luggage all the way down the parking lot,
You must pay expensive fees with no service.
Sounds terrible, right? Is there any solution in such a situation, you may ask? We're happy to say – of course, there is one! If you choose to use the services provided by off-site parking, you won't definitely regret it. So let's take a closer look at this parking type.
What is actually off-site parking?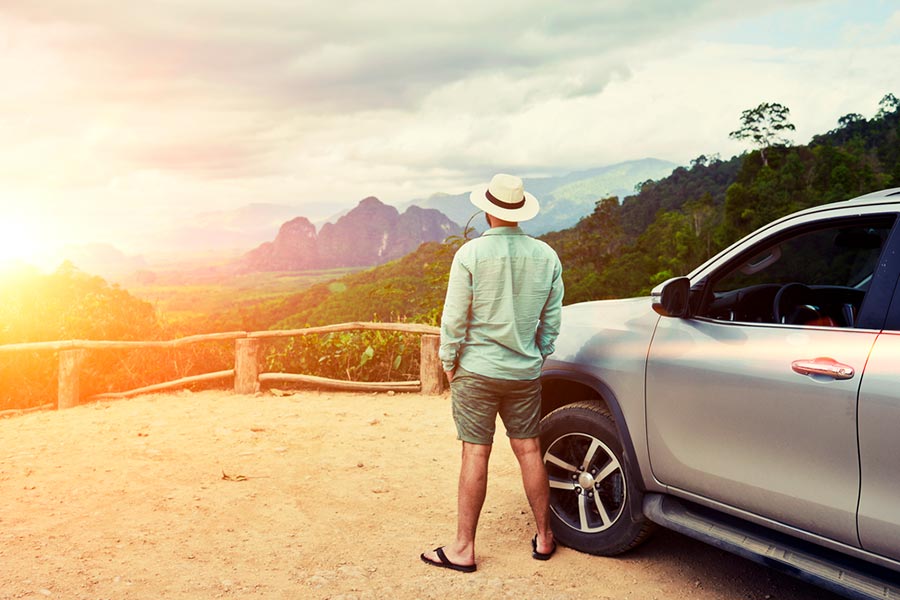 Source – Shutterstock. Young male traveler enjoying the beautiful scenery while riding in an SUV
Obviously, no one wants to face all of such difficulties we described above, and you can easily avoid them if you choose an off-site parking option. So let's take a look at how it works.
When you come to the entrance, the staff member pulls your baggage out of your car and loads it to the shuttle, which will take your bags and you later to the airport you're flying from. Then they will find a parking spot and park your car there for you.
Please don't worry about the few miles, which usually separate the parking lot and the airport. Off-site parking usually provides free shuttles to and from the airport for its customers. Thanks to this, you have no worries about getting stuck in traffic on the way to the airport during the peak times. So all you need to do is choose the best time for you and inform the parking lot staff.
In addition, this type of parking is much cheaper, and this is good news, as nobody wants to waste money. Therefore, off-site parking is the perfect option to receive excellent service and save money at the same time.
You can find the best deals right here!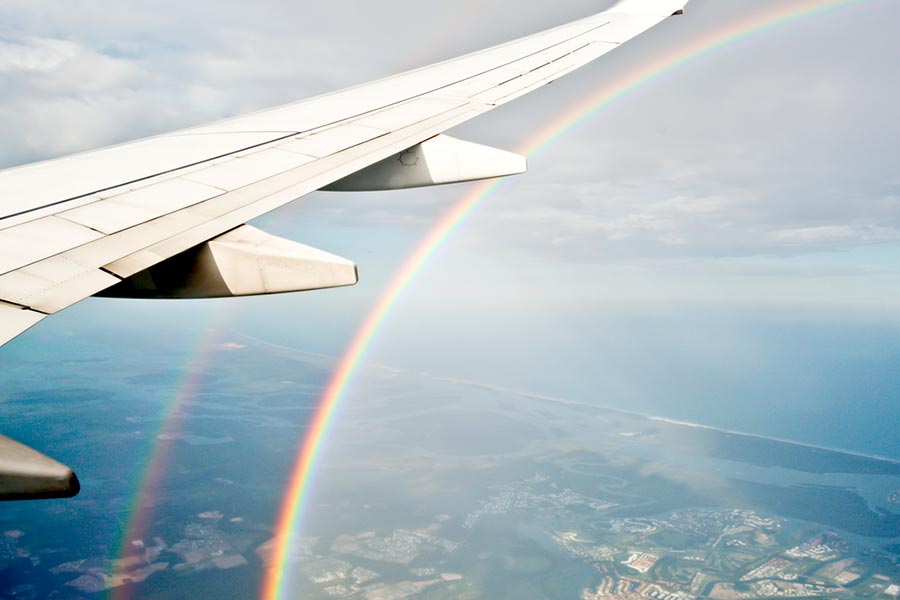 Source – Shutterstock. Rainbow from a plane window
If you're looking for the best deals for airports, you're in the right place.
We are glad to inform you that our booking platform, ParkingNearAirports.io, offers the best prices on airport car parking and bundles hotel and parking packages. Besides, we provide the services for top cruise ports in Florida, Louisiana, Maryland, New Jersey, and Texas.
Our partners are the most reliable parking providers outside the major airports in the United States. We offer their services for passengers who are looking for safe and secure parking for their vehicles.
In addition, we can arrange valet parking, self-parking, or a vehicle to pick you up from the hotel to the terminal and vice versa. Just let us know the dates, choose your preferred services, and we'll get it done for you.
It only takes a few minutes to make a reservation. Get the most affordable rates and experience hassle-free off-site parking.
To understand it better, we would like to give you an example. If your trip starts in Las Vegas, Nevada, you can use the services of cheap
overnight parking McCarran Airport
. If you're flying from the Nashville International Airport, you can choose
Nashville Airport car parking
. So it just depends on the place you're leaving from.
Also, ParkingNearAirports.io offers its customers special
parking coupons
. With the help of these coupons, you can make the price for parking even two times less. So don't forget to use them to save as much money as possible.
You can find all the necessary and helpful information connected with the off-site airport parking on our official website. Enjoy traveling!