Ghost towns, deserted villages, and medieval ruins have always attracted avid travelers – such places seem to be frozen in time, which lets us have a look at the past with incredible history about their previous inhabitants and their exodus. Below are the top 3 spots worldwide that are abandoned and almost destroyed, but still available for visitors. Let's get to the point!
1. Kolmanskop, Namibia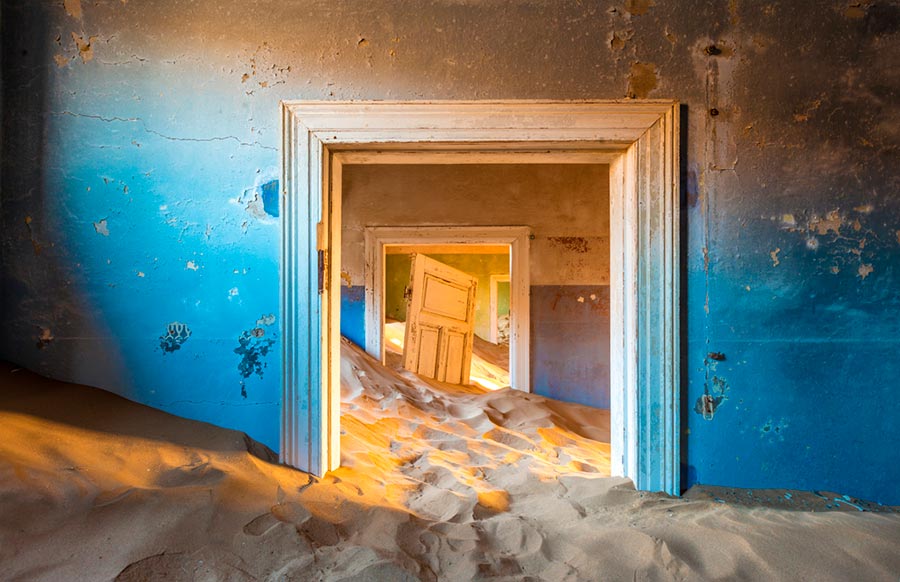 Source – Shutterstock. Abandoned building being taken over by encroaching sand – Kolmanskop ghost town, Namib Desert
Kolmanskop was formed after diamonds were found in the Namib desert in 1908, and many people flocked there to take advantage of the lucrative opportunity. The land had been destroyed and the mines were exhausted after 20 years. The residents of the town left much of their possessions behind when a larger mine was found to the south. The mining city of Kolmanskop is now a favorite among travelers who make the trek to see it covered with desert sand.
2. Kennecott Mines, Alaska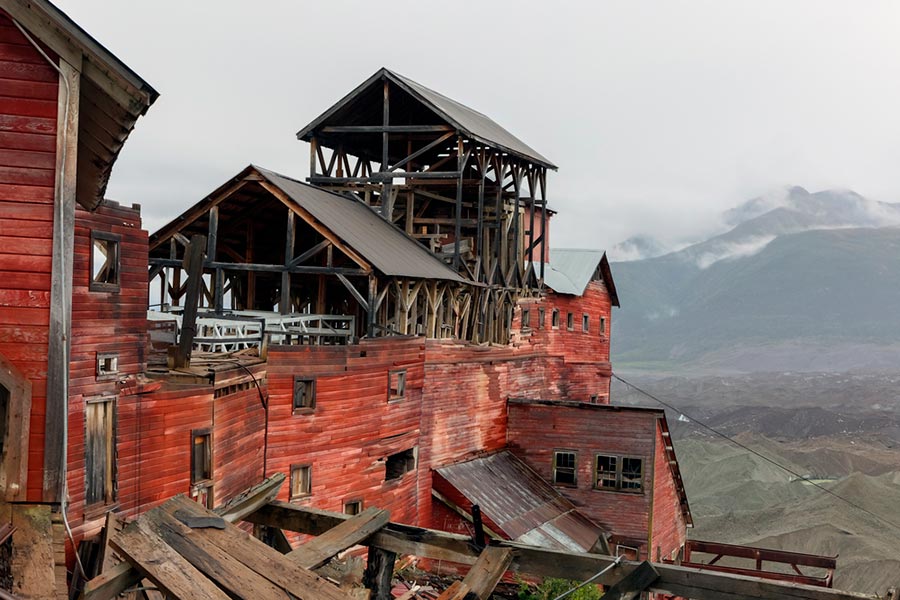 Source – Shutterstock. Kennecott old mine village at McCarthy, Alaska
The abandoned mining city of Kennecott is located inside the boundaries of
Wrangell-St. Elias National Park. An influx of employees and investors headed to the isolated Alaskan region to try and strike it rich when a rich copper deposit was found on the edge of Kennicott Glacier in 1900. The city was transformed into a thriving community with a recreation center, skating rink, and hospital within three years of the Kennecott Copper Company running five mines nearby. The mines eventually shut down, and Kennecott turned into a ghost town. Today, park visitors have the opportunity to visit the National Historic Landmark to learn more about the former mining community from the turn of the 20th century and to see the neighboring Kennicott Glacier.
3. Craco, Italy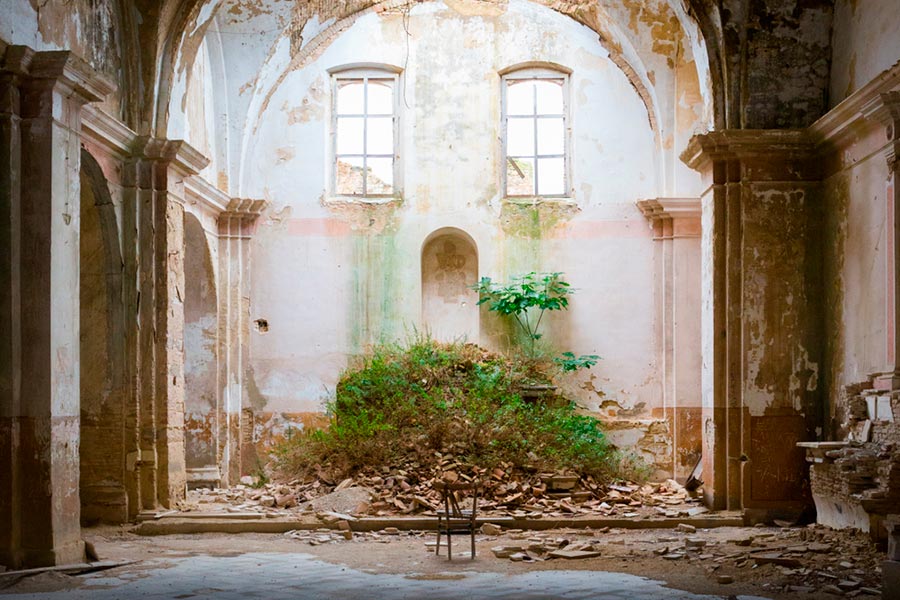 Source – Shutterstock. Craco – ghost town near the city of Matera – in the southern Italian region of Basilicata
The settlement of Craco was founded in the Middle Ages and is located on a cliff in Southern Italy. Many of the buildings in this
eighth-century village
date back in time, including the Norman tower built in 1040. The village of Craco was able to survive the disease, war, and volcanic eruptions throughout the years, but it was unable to endure.
Craco's infrastructure
was harmed by landslides, earthquakes, and floods in the 1960s, and the hilltop community was abandoned. Although much of the town is in disrepair, there are still a church, a castle, and a university there. Visitors who are feeling daring can arrange tours of the secure zones of the uninhabited village.
Travel conveniently together with us – ParkingNearAirports.io!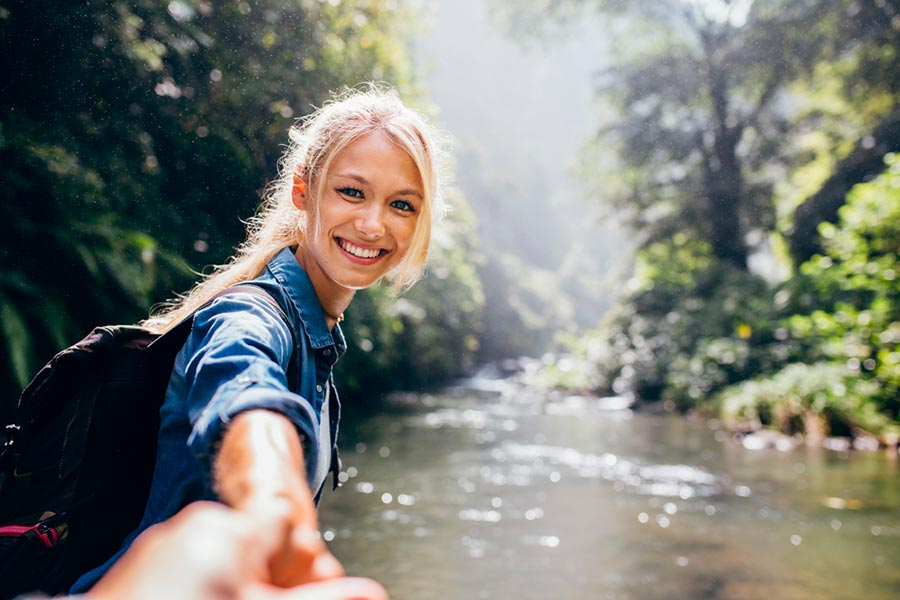 Source – Shutterstock. A happy couple enjoying a nature hike
Traveling worldwide shouldn't be something tiring – conversely, that's the time you can enjoy both the amazing landscapes of our Earth and joint activities with your loved ones. Nevertheless, things don't always go as planned, and we're at risk to face some challenges even at such an enjoyable moment. One such problem is actually airport parking, specifically its price. Let's have a look at the situation a bit closer.
If you used to get to the airport you're flying from by your own car, you probably know what we're talking about – the question of parking cost arises every time. You'll be definitely shocked – even though most US airports provide travelers with on-site parking, which allows them to leave their vehicles for their entire journey there, such a parking type is unfairly overpriced. Choosing this parking option, your next trip just might cost you a fortune. And that's not even considering it's complicated to find a free parking spot for your car. Since nobody wants to waste money and travel inconveniently, there begs the following question: is there actually any solution?
And we're happy to say – yes, there is one!
What is off-site parking and why is it worth choosing this option exactly?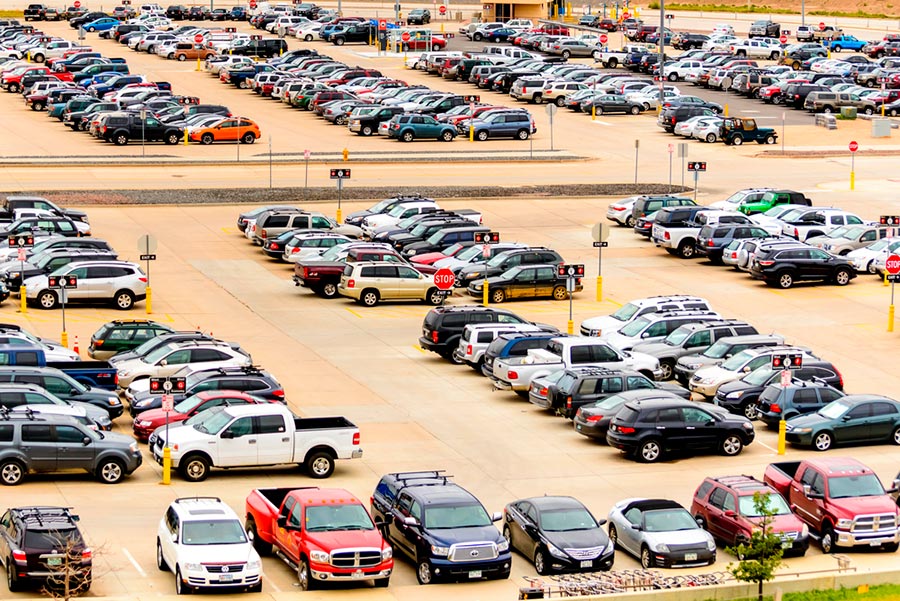 Source – Shutterstock. Denver International Airport – parking lot with cars
Your best solution is already here – off-site parking lots that are just a few miles from the airport. Our smart booking platform, ParkingNearAirports.io, provides our clients with the most affordable rates, along with high-quality service and an easy-to-use interface. In addition, we offer the services for the major US cruise ports that are located in Florida, Louisiana, Maryland, New Jersey, and Texas as well.
Why choose an off-site parking option? The answer is pretty straightforward – it's cheap and convenient. Using our services, first of all, you'll avoid the following difficulties you might face while getting to the airport you're departing from:
Crowded parking lots,
Carrying the luggage all the way through the parking lot,
Expensive fees without great service, and much more.
Everything works simply as well: after you've driven to the entrance, you'll be met by a parking lot staff who will take your luggage from your vehicle and load it onto the shuttle, which will take you and your bags to the airport terminal. Then, your car will be securely parked at the parking lot itself.
By the way, free shuttles going back and forth between the parking lot and the airport terminals are available 24/7. All that's required of you is to make a call and inform staff about the time suitable for you.
Forget about all the nightmares by choosing ParkingNearAirports.io!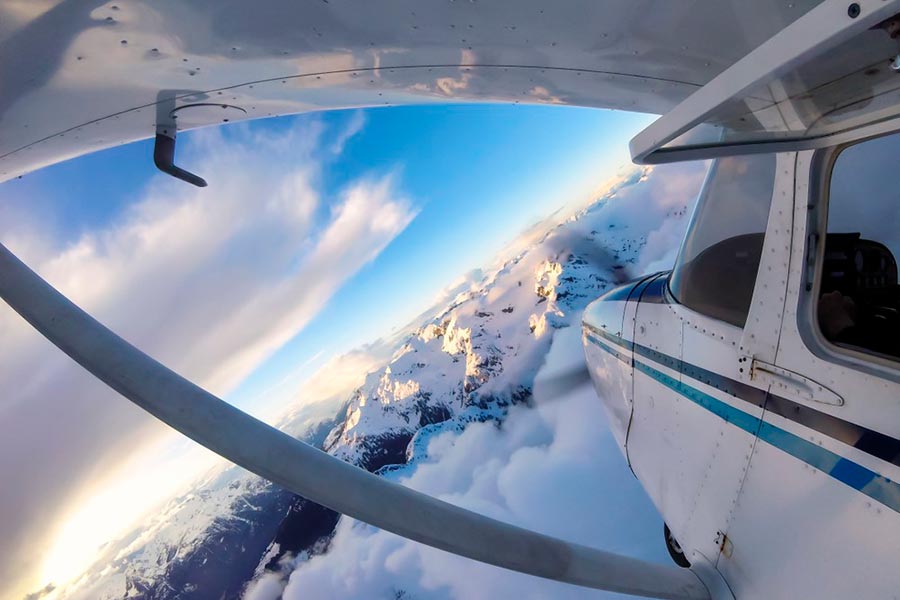 Source – Shutterstock. Small airplane flying over the Canadian mountain landscape during a vibrant sunset
For better understanding, we'd like to give you a good example.
Let's imagine that you live in Atlanta, Georgia. If you're going to visit Kennecott Mines, Alaska, use the services of an affordable
off-airport parking Atlanta
. In the event that you're flying from Seattle, Washington, choose a
cheap parking SeaTac
. As you can see, everything just depends on the place where your journey begins.
Our friendly platform also provides travelers with special
airport parking coupons
that can make the price almost two times less. And that's without taking into account that our services will cost you up to 70% less at all! So don't forget to monitor all the updates and use them while booking!
Making a reservation is easy with us – it's possible to complete the process through a few clicks, using our app or official website. Besides, if your plans change, you can cancel hassle-free and get a refund.
If you still have any questions, turn to our easy-to-navigate website – there, you'll find all the required info connected with the off-site parking. Airport parking, along with its pricing, provided by the majority of US airports, is a true nightmare, but if you know the place, your life can be much easier. Let yourself travel in full comfort right now – Park Smart & Choose Convenience together with us! And have a nice trip!