For many people, pets are an essential part of their families, so why exclude them from the family vacation? Traveling together with your four-legged friends in tow is becoming a rule. Approximately 37% of pet owners take their little buddies on trips (up from just 19% a decade ago). As a result of this trend, accommodations and air hubs are becoming more pet-friendly, making it much simpler to travel with your four-legged friend. Before you book your tickets, here are things you should know about traveling with your pets. Let's get started!
1. Find Lodging That Accepts Pets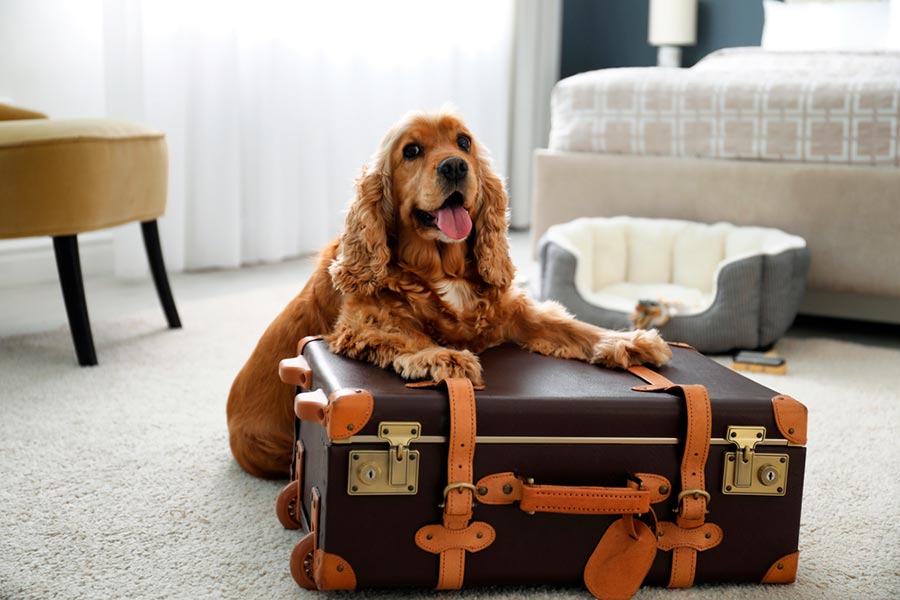 Source – Shutterstock. Cute English Cocker Spaniel and suitcase indoors – pet friendly hotel
While many hotels and Airbnbs allow pets, you should double-check this before booking a place. Pets may only weigh up to 40 pounds in some places. Some companies reject particular dog breeds. Others may only allow cats or one pet instead of two. Make sure your particular pet will be welcomed by doing some research.
2. Update Your Vaccinations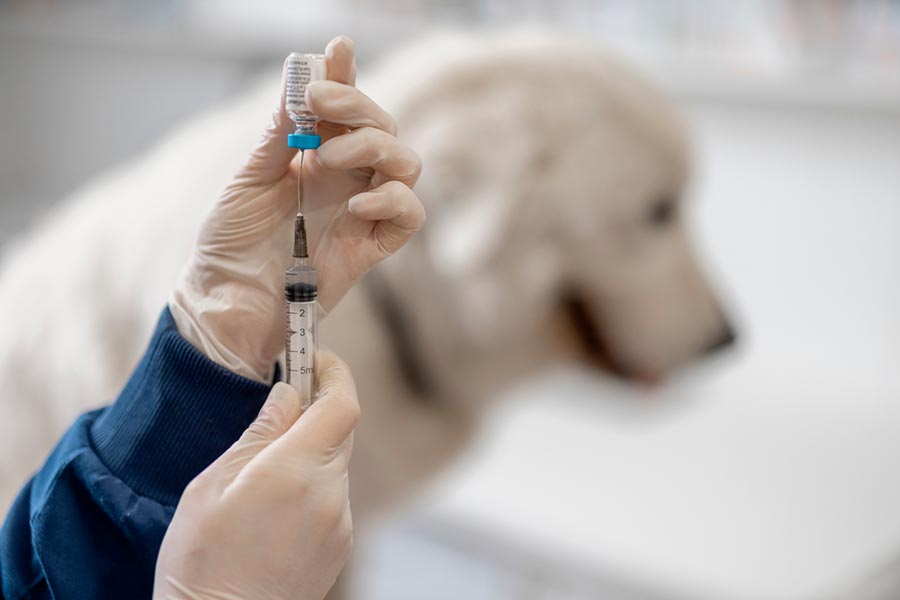 Source – Shutterstock. Veterinarian holding syringe with vaccine near big white dog in clinic
Ensure that your pet has received all necessary vaccinations, and keep the documentation with you at all times. You must have a
current rabies vaccination certificate in order to enter the United States if you have a dog and are flying back from a place where rabies is a serious threat. While cats can enter the United States without a recent rabies vaccination, many other states do. Your veterinarian can provide you with advice on what you'll need there. Visit the veterinarian well in advance of your trip in case your pet has any additional medical problems that need to be taken care of. Additionally, create a list of local veterinary hospitals and clinics in case an emergency arises.
3. Tread Cautiously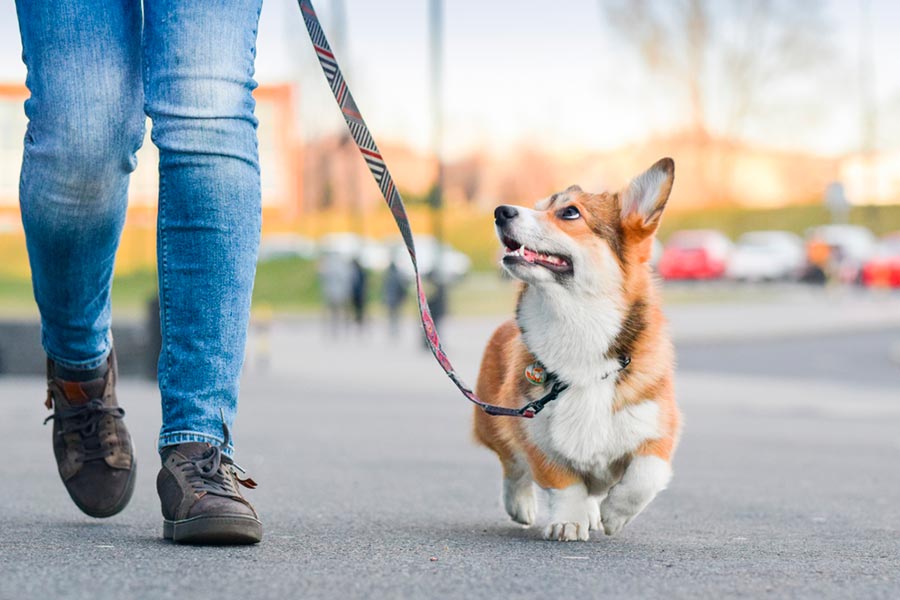 Source – Shutterstock. A Pembroke Welsh Corgi walks on a leash with its owner in the city
Every pet owner's biggest nightmare comes true when their little buddy gets lost in a strange city. Sadly, it occurs far too frequently. In the United States, ten million pets go missing each year, and many of these mishaps involve travel.
Ideally, you won't experience this, but be ready just in case. Get your pet a collar with your phone number on it (not a landline, but your cell phone or another phone you'll carry on the trip). Make certain that your pet is microchipped and that the information on the microchip is accurate and up to date. This microchip can be scanned to retrieve your information from vets and animal shelters. Finally, keep a recent photo of your pet close at your fingertips.
4. Check That Your Pet is Accepted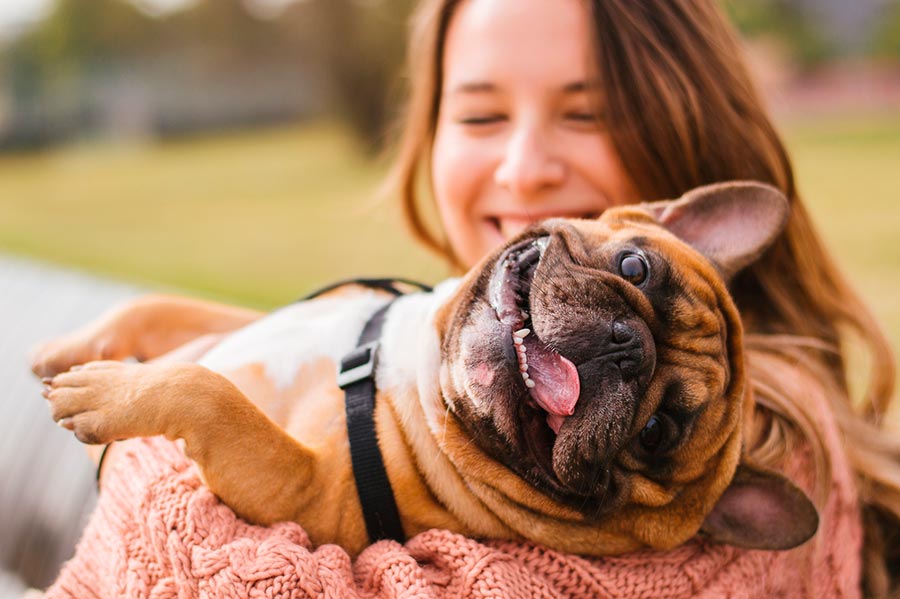 Source – Shutterstock. A sweet little dog with a happy owner
How are you reaching there and where are you heading? Check that both locations welcome your pet. Even though they're emotional support animals, some species are prohibited from traveling on airplanes (hedgehogs, reptiles, etc.). Animals like sugar gliders are banned in several states, like California. Go online and investigate your travel route and destination to ensure that your pet will be accepted.
5. Make a Trip Plan and Prepare Supplies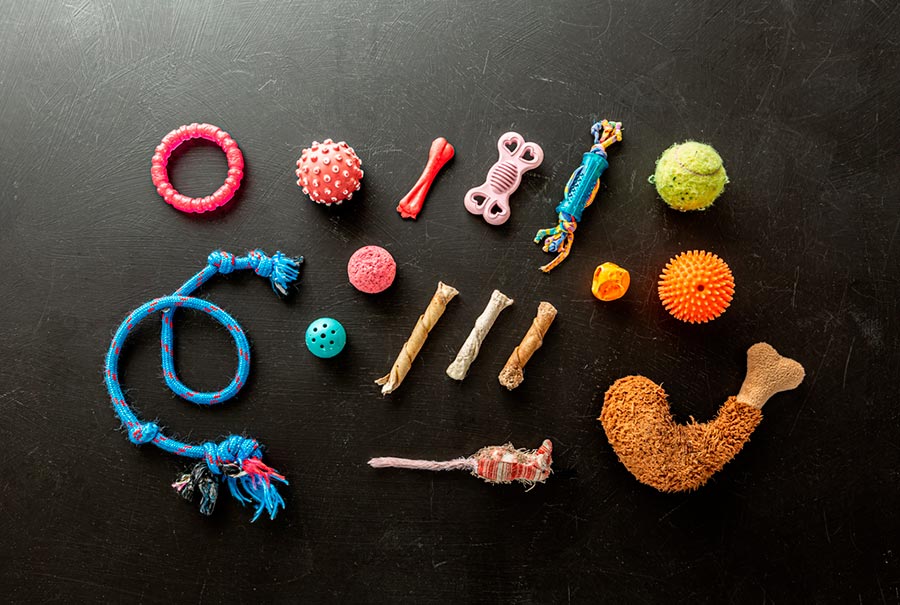 Source – Shutterstock. Collection of colorful shabby dog's toys on black chalkboard background
Plan where you'll stop along the way if you're traveling by auto. Choose rest locations that offer spaces for your pet to use the restroom, roam around, consume water, and eat food. Pack some bags to clean up their messes as well.
Make completely sure your pet can stand up and turn around in the crate. To aid reduce the stress that comes with traveling, pack a blanket that smells familiar. Your pet must remain in the backseat and the crate while you're driving. Your pet will be far safer in the crate in the event of an accident than if they were allowed to roam free inside your car. Additionally, you won't be as distracted by them.
What else ought you bring for your animal? A leash, harness, collar, bed or blanket, food, water, bowls, snacks, toys, medications and dietary supplements, a brush, baby wipes, toenail clippers, old towels, a first aid kit, vaccines records, bags, and puppy pads or a disposable litter box should all be brought along.
Travel with your four-legged friends in complete comfort together with ParkingNearAirports.io!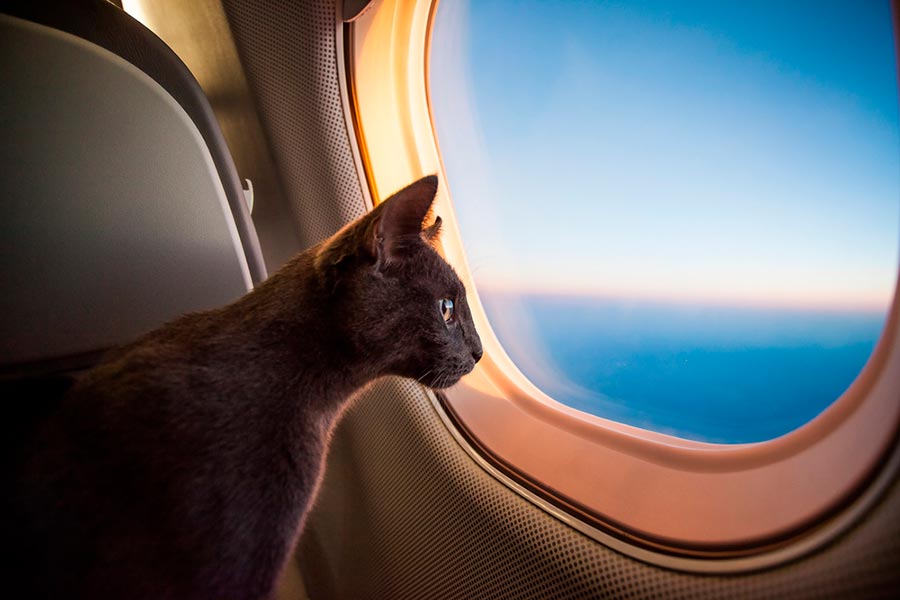 Source – Shutterstock. A cute cat on an airplane flight
Have you ever heard something about off-site parking? If not, we recommend you take a closer look at this part of the article, as this information will be handy for those who prefer to travel by air and get to the airport by their own car.
Most people suppose that parking at the airport is the fastest and most convenient option for them. However, it's not actually true. We'll explain to you why.
To be true, being in a terminal parking lot isn't convenient at all. Although on-site airport parking is the nearest place where you can leave your vehicle for the period of a trip, you can face the following difficulties:
You will need to find a spot in a crowded lot,
You will need to carry the luggage all the way through the parking lot,
You must pay expensive fees without great service.
Sounds not good, right? However, we found an excellent solution for you - in this case, off-site parking can become a savior for you. So if you're trying to find a parking spot with great service nearby the airport you're flying from and don't want to leave there the most significant part of your budget, pay attention to this option.
How does it work?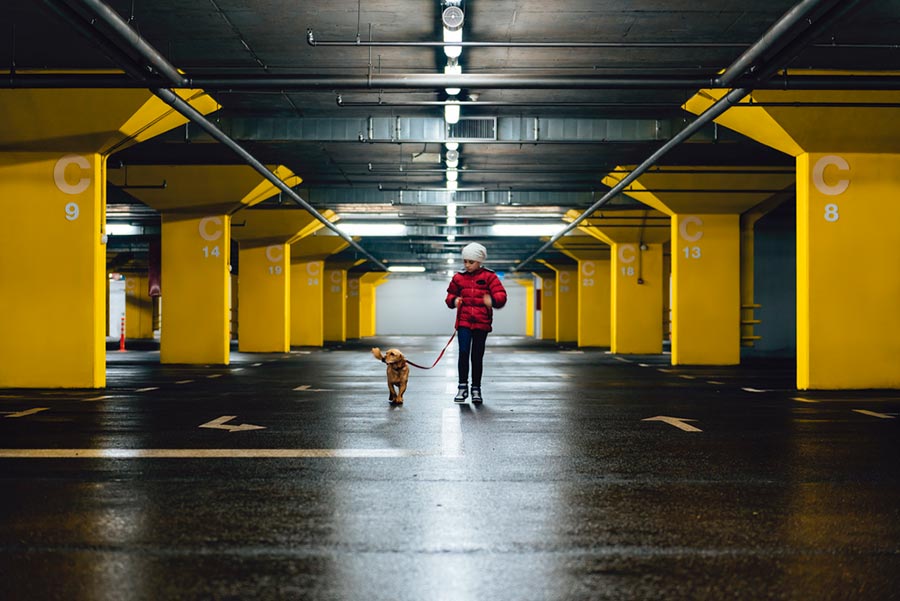 Source – Shutterstock. Girl walking in the public garage with a small dog
Obviously, people who chose a car as a way to get to the airport want to leave their vehicle safely while traveling and not to face the problems we described above. So what can off-site airport parking offer its customers?
Although a few miles usually separate such parking from the airport, you shouldn't worry about this. Off-site parking provides free shuttles going back and forth between the parking lot and the airport. Thanks to this, it removes any worries about getting stuck in traffic on the way to the airport during peak times. So all you need to do is choose the best time for you and inform the parking lot staff.
How does it work? Actually, everything is straightforward: when you come to the entrance, the staff will remove your luggage from your car and load it onto the shuttle, which will take you and your bags to the terminal. Then, the vehicle will be parked securely.
In addition, this type of parking is much cheaper, and this is good news, as nobody wants to waste money. Therefore, off-site parking is the perfect option to receive excellent service and save money at the same time.
Want to find some great offers? You don't need to go somewhere - just find it right here!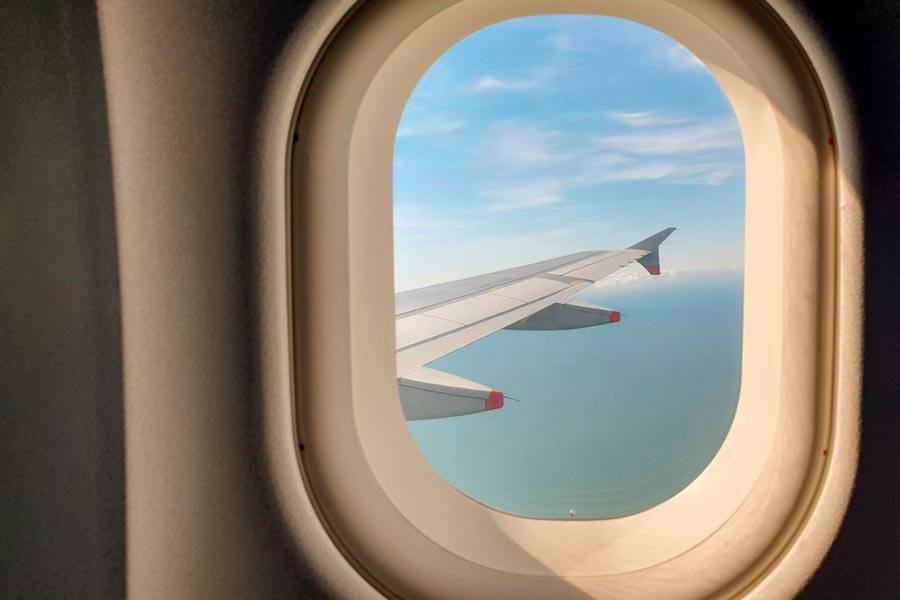 Source – Shutterstock. View from airplane window above the ocean
We're glad to inform you that you can find this solution right here. Our booking platform, ParkingNearAirports.io, offers the best prices on airport car parking and bundles hotel and parking packages. Besides, we provide the services for top cruise ports in Florida, Louisiana, Maryland, New Jersey, and Texas.
Our platform allows you to reserve a parking spot through a few clicks within the application. As a result, customers receive a booking confirmation and a guaranteed parking spot upon arrival at the off-airport lot. Besides, if plans change, you can cancel hassle-free and receive a refund.
To understand it better, we would like to give you an example. Let's imagine that you live in Los Angeles, California. If you're planning a trip to Miami, Florida, you can use the services of cheap
LAX valet parking
. If you're coming from Miami, the situation is the same - you can choose affordable
off-site parking Miami Airport
. So it just depends on the place you're flying from.
Also, ParkingNearAirports.io offers its customers special
airport parking coupons
. With the help of these coupons, you can make the price for parking even two times less. So don't forget to use them to save as much money as possible.
You can find all the necessary and helpful information connected with the off-site airport parking on our official website. Enjoy traveling!