The West Coast is renowned for its stunning ocean sunsets, pristine beaches, spectacular coastlines, year-round near-perfect weather, and fashion-forward celebrities. Numerous people have moved west in search of wealth since the California Gold Rush began in 1848, while those seeking celebrity were drawn by the development of the Hollywood film industry in the 1900s. Because so many guests required places to stay, hoteliers started constructing incredible hotels to keep up with demand. On the American West Coast, we discovered the most iconic hotel that is definitely worth your visit. Let's have a look at it!
Why will you love the Beverly Hills Hotel in Beverly Hills, California?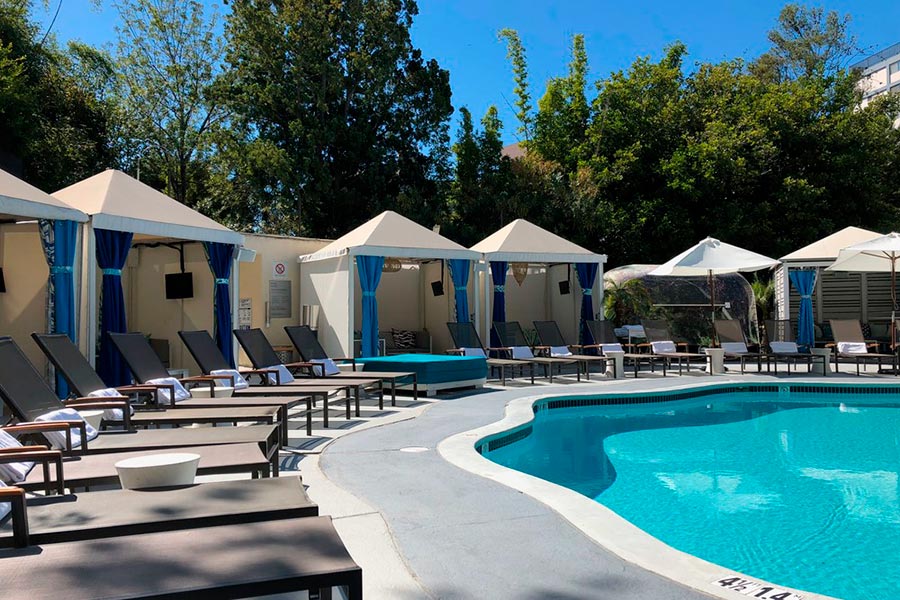 Source – Shutterstock. Cabanas by the swimming pool of the Beverly Hills Hotel in Los Angeles
Before the city ever existed, the
Beverly Hills Hotel was constructed in 1912 to draw rich land investors to the area. Visitors were "entitled to the best of everything, regardless of cost," according to the original motto. Hollywood businessmen and celebrities made the hotel's Polo Lounge and famous Sand and Pool Club their favorite hangouts by the 1930s. The Beverly Hills Hotel, also referred to as the "Pink Palace" because of the color of its outside paint, has hosted several passionate relationships and infamous occasions. Here, in the 1940s, Spencer Tracy and Katharine Hepburn had a covert rendezvous. For 30 years, eccentric millionaire Howard Hughes lived in a number of the hotel's bungalows. In 1960, John F. Kennedy campaigned for president and rented a home nearby to host aspiring actors and actresses. While filming Let's Make Love, Marilyn Monroe and Yves Montand had a relationship in this location.
You can indulge in the hotel's contemporary luxury and historical glitz today and live like a star. The Beverly Hills Hotel offers seclusion and first-rate service while being situated on a 12-acre tropical garden estate. Choose from guest rooms and suites in the main home or a renowned bungalow, such as Marilyn Monroe's. Still the place to be is the Polo Lounge.
You're able to book a stay right
here
!
Travel in complete comfort together with our smart booking platform – ParkingNearAirports.io!
Source – Shutterstock. Woman relaxing in a luxury hotel – summer vacation
In addition to the key information about the luxurious lodging you should ever book, we would like to give you one helpful tip as well – such information will be handy for those who prefer traveling by air and getting to the airport by their own car.
There is no question that a safe parking space must be arranged for your vehicle during a trip. However, in most cases, people aren't ready to spend a lot of money on this. It is a common problem among travelers, as they know that on-site parking (it may seem that it is the best option for this case) is pretty costly. So what can we do then?
We are glad to inform you that our booking platform, ParkingNearAirports.io, offers travelers online reservations for parking just outside airports that are convenient and affordable. Our experienced team is dedicated to providing travelers parking options at over 100 airports in the U.S. and Canada. In addition, the app allows customers to search and compare parking rates at up to 70 percent savings compared to the cost of on-site parking at all major airports.
Being nearby doesn't always mean convenience when it comes to airport parking. Being in terminal parking is not convenient at all. Travelers have to find a spot in a crowded lot, carry their luggage throughout the parking lot, and pay high fees without great service. The off-airport parking provides excellent service with their award-winning customer service representatives available 24/7. In addition, the app looks for lots that offer baggage assistance and 24-hour security for peace of mind.
With our platform, it only takes a few clicks in the app to reserve a parking spot. Guests receive a booking confirmation and a guaranteed parking space upon arrival at the off-airport parking. In addition, the app helps customers locate the most convenient lots to the airport. Cancellations are easy if plans change with hassle-free, refundable cancellations.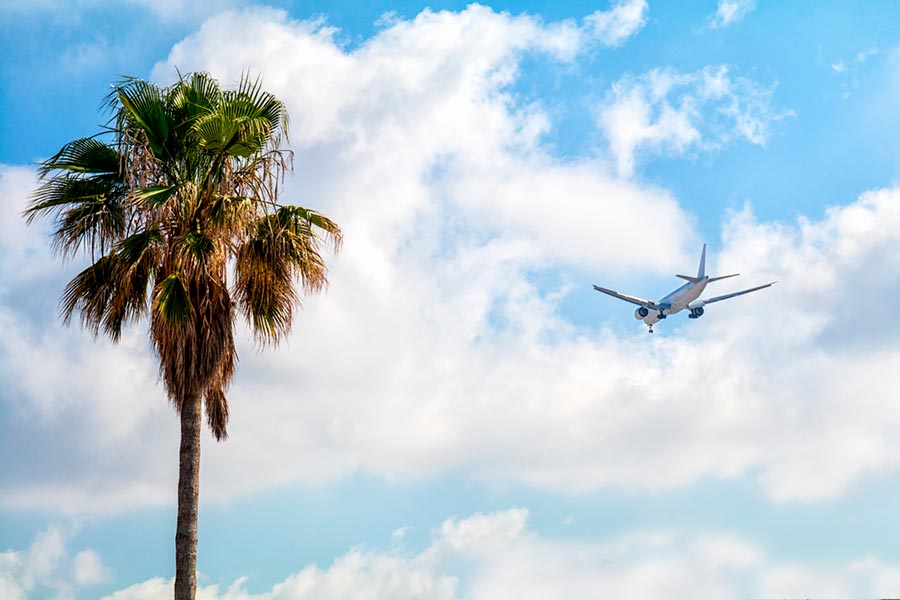 Source – Shutterstock. Airplane flying over tropical palm tree – vacation concept
Off-airport parking lots often provide free shuttle going back and forth between the parking lot and the airport, removing any worry of traveling to and from the airport or getting stuck in traffic on the way to the airport during peak hours. Arrive on time for flights and receive significant savings with airport parking.
Besides this, we also offer services for top cruise ports in Florida, Louisiana, Maryland, New Jersey, and Texas.
Let's take a good example. Imagine that you live in NYC, New York. If you're planning a trip to the West Coast, you can choose cheap
parking near JFK with shuttle
. If you're coming from any other state or city, the situation is the same. So it depends just on where you are flying from.
Also, please don't forget about the airport coupons. Such a coupon can easily help you save money at the beginning of your trip, making the price for parking almost two times less. So if we talk about John F. Kennedy International Airport, you can use a special JFK parking coupon.
You can find the best deals, JFK Airport parking prices, and other information connected with parking near U.S. and Canadian airports on our official website.