At the moment JFK is one of the largest and busiest airports in the world. More than 70 airlines serve here, so many flights depart from here. The airport itself is about 12 miles from Lower Manhattan.
So how do you get to JFK airport?
There are several ways to get to the airport. You can choose the most convenient and comfortable one for you. Since it has one of the most modern transportation systems, you will have no problem arriving on time for your flight.
The first way that you can go to JFK is to use the AirTrain. It is really convenient and cheap. The way this system works is very simple. There are two locations in the city where you can board the AirTrain.
The first location is Jamaica Station AirTrain. At Jamaica Station, the AirTrain connects to the subway (E, J, and Z lines), buses, and the LIRR (Atlantic Terminal, Penn Station, Nostrand Avenue). This makes it easy to get to the stop. If the traffic is heavy, the travel time increases slightly. However, the average commute is between 50 and 75 minutes.
You can also take the AirTrain at Howard Beach. The buses run fairly frequently. For example, during business hours, the interval is 5 to 10 minutes. If you want to go to the airport in the evening or on a weekend, you should consider that the interval will be 15-20 minutes.
To pay for the trip you need to use MetroCard. If you do not already have such a card, you can buy it at a machine for $1. Before you go, make sure you have funds on your MetroCard. Otherwise, you're likely to end up in a long line of people who have topped up their accounts just before you leave.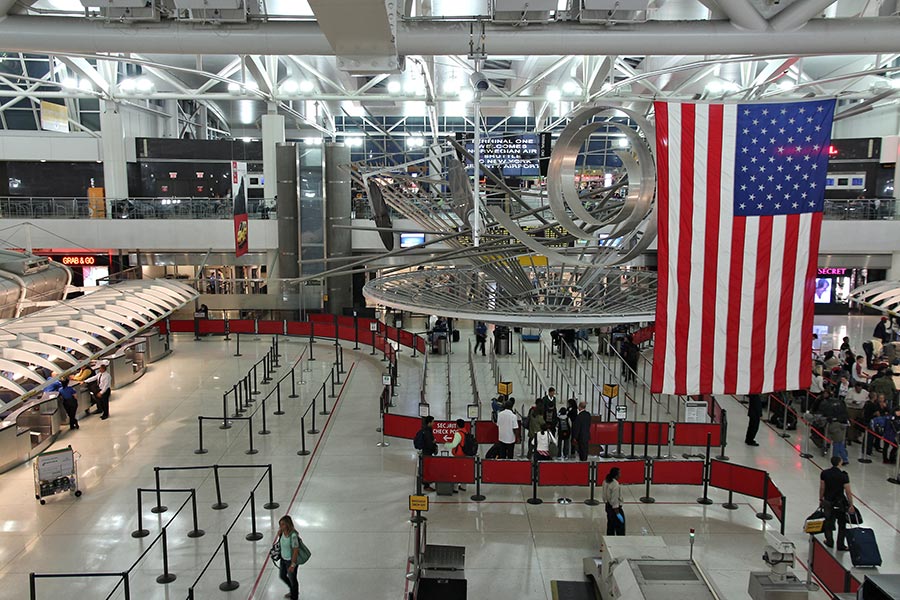 Another convenient option is a cab. If you decide to take a cab, you will risk spending a lot of time and money. You should calculate the time beforehand and take into account that you will probably be stuck in traffic jams. The minimum price for a car starts at $52. This is a great option if you are traveling in a small group and do not have a lot of luggage.
If you have your own car, you will probably want to consider parking near JFK airport. It's really convenient because you don't depend on bus schedules or cab availability. You can leave your car near the airport while you are away. However, the
JFK parking cost
is really high. The price of parking for 30 minutes starts at $4.
There is another convenient option to get to JFK by private car. There are parking lots that provide long-term parking near JFK. They are located just a couple of miles from the airport. The cost of such parking is significantly lower than the price of parking directly at the airport. It is really convenient. Free comfortable shuttles run from this location to the departure point, which will first take you to the JFK and then bring you back to your car after your arrival.
You can choose any of the above options to get to JFK. In any case, your comfort will be ensured as the company takes care of its customers.