According to the United States Geological Survey, there are more than 35,000 towns and cities across the whole country. To be true, that's a pretty lot of destinations, which provide travelers with multiple opportunities while planning a vacation. But what to do if you've already visited such well-known US giants as Boston, Chicago, New York, and San Francisco? Actually, you can choose from those 5 below – cities you've definitely heard about but never visited. Let's get started!
1. Missoula, Montana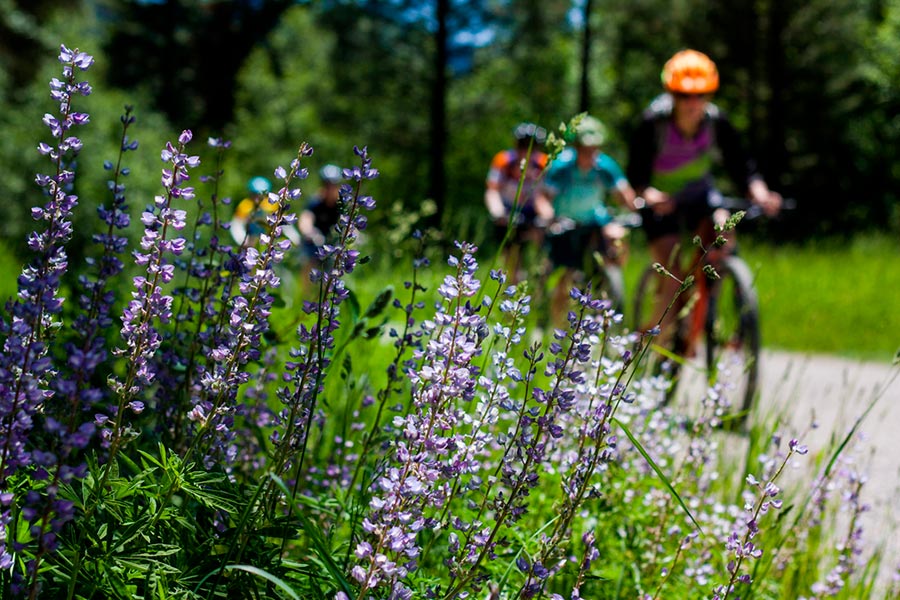 Source – Shutterstock. Mountain biking in Missoula, Montana
Western Montana's Missoula is a quaint little town that sits on both sides of the Clark Fork River. Miles of pathways that follow riverbanks are perfect for fly fishing, kayaking, and stand-up paddle boarding, which excite outdoor enthusiasts. The Missoula Art Museum hosts a display of contemporary Montana artists, and the walkable civic center is home to dozens of independent galleries. The Montana Museum of Art and Culture honors the American West on the University of Montana campus. The city makes a fantastic starting point for exploring the Flathead and Lolo national forests.
2. Port Aransas, Texas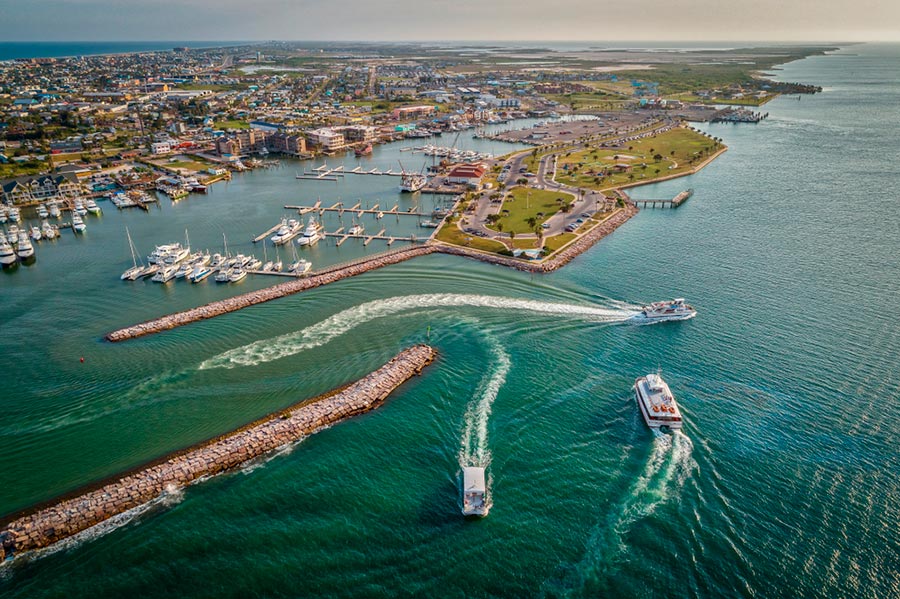 Source – Shutterstock. A stunning view of Port Aransas, Texas
Despite having 350 miles of Gulf of Mexico coastline, Texas may not be your first option for a beach vacation. The 18-mile-long Mustang Island's hub and actual all-inclusive beach resort is Port Aransas. Consider tidal pools, golden sand, and hiking routes. You may go kayaking, parasailing, sport fishing, and dolphin watching. The Texas SandFest sand sculpting competition is one of the varied festivals held at this year-round venue. Bird enthusiasts are drawn to the Whooping Crane Festival to celebrate the whooping cranes' return to the area where they spent their winter migration.
3. Tucson, Arizona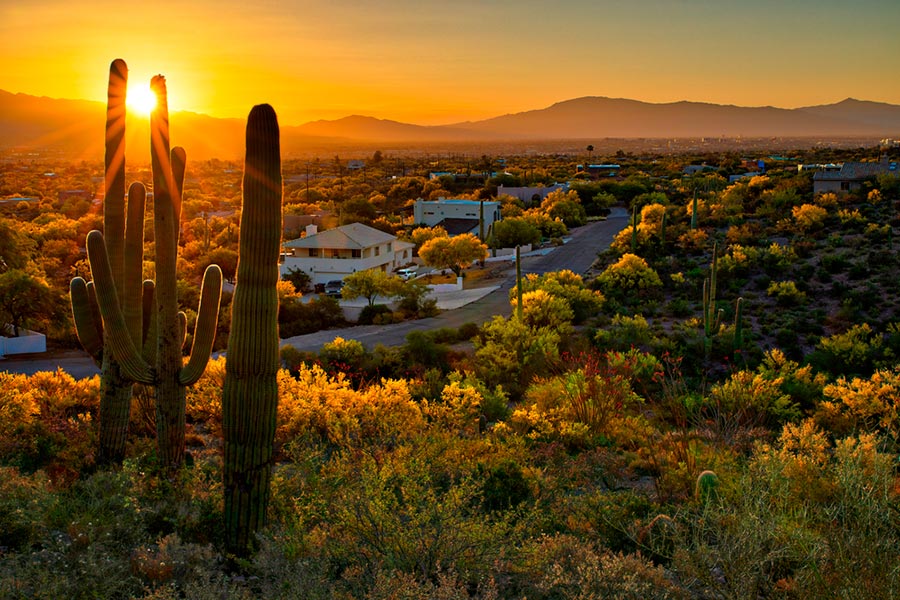 Source – Shutterstock. Houses between Saguaros in Tucson, Arizona
Tucson, which is surrounded by desert and mountains, has a fascinating fusion of Native American, Mexican, and Western history and culture. Within the municipal limits, vibrant areas are teeming with bookshops, art galleries, and vintage shops, like Hispanic South Tucson. Dine on ranch fries, sticky fingers, and other classic foods in hip restaurants while having a good time at dive bars with college students. Exiting the city limits will reveal stunning landscapes dominated by swaths of saguaro cacti. Camping, hiking, and skiing are all great activities at Saguaro National Park and Santa Catalina Natural Area.
4. Baltimore, Maryland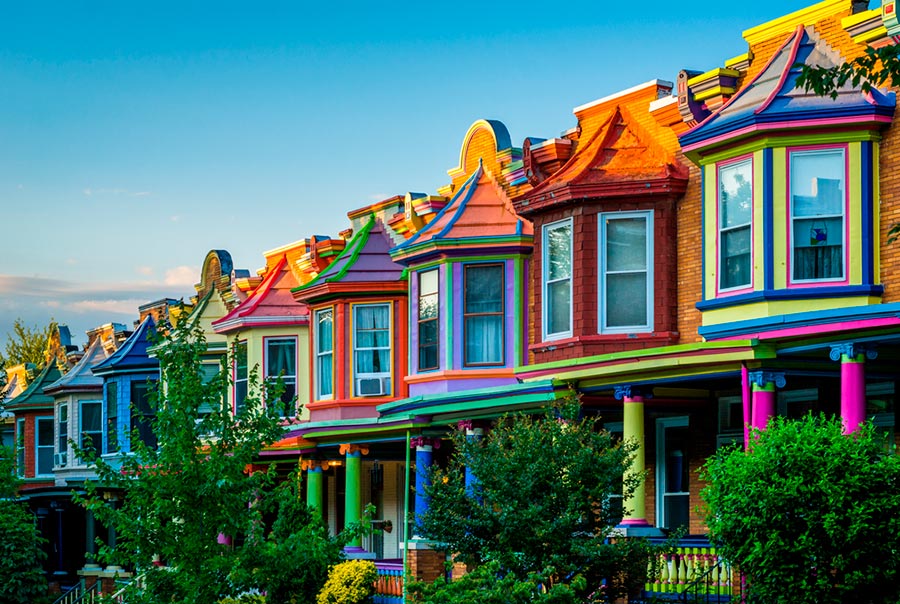 Source – Shutterstock. Colorful row houses on Guilford Avenue, in Charles Village – Baltimore, Maryland
The largest city in Maryland was once a seedy location and the core of the American Industrial Revolution. Baltimore's fashionable Inner Harbor, where the National Aquarium and waterfront restaurants are positioned among ship museums, is the city's main attraction today. Live music venues, taprooms, and seafood eateries with delectable Chesapeake Bay crab and oysters may all be found in vibrant Fells Point. The Star-Spangled Banner was written near Fort McHenry, and the Edgar Allan Poe House and Museum are both rich in history. When watching a baseball game at Oriole Park at Camden Yards, don't forget to get the famous crab mac & cheese.
5. Louisville, Kentucky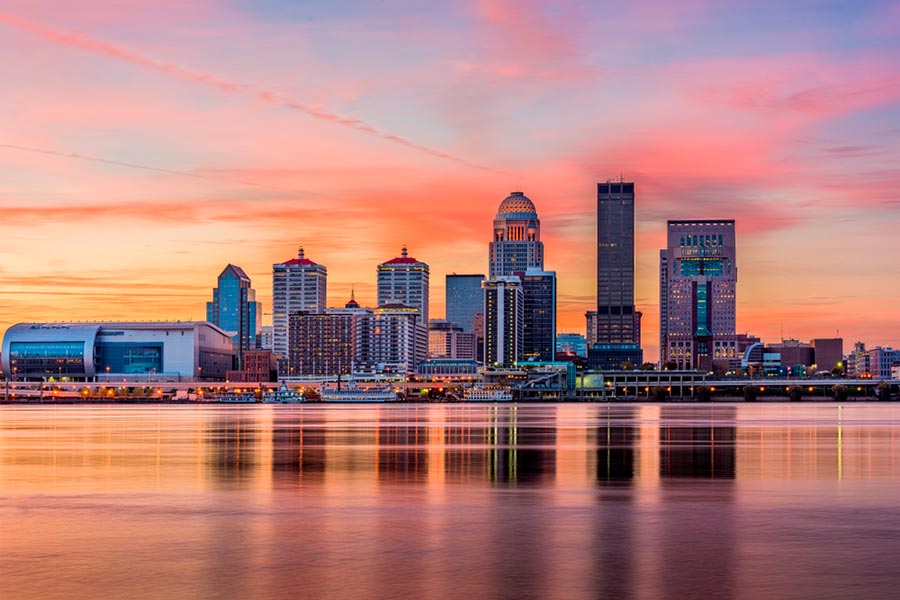 Source – Shutterstock. Louisville, Kentucky, USA – skyline on the river
Louisville is genuinely Southern with a dash of hipster, boasting a vibrant arts scene, a long history of bourbon, and a good times and good vibes philosophy. The largest city in Kentucky also has a strong athletic tradition. It's the birthplace of the Louisville Slugger baseball bat, the residence of Muhammad Ali, and the site of the Kentucky Derby. The Muhammed Ali Center and the Kentucky Derby Museum are must-see attractions for sports enthusiasts. On the Bourbon Trail, fans can learn more about the city's history of making bourbon. The Kentucky Race Festival, a two-week celebration with fireworks and parties, takes place before derby day in May.
Travel across the United States conveniently together with ParkingNearAirports.io!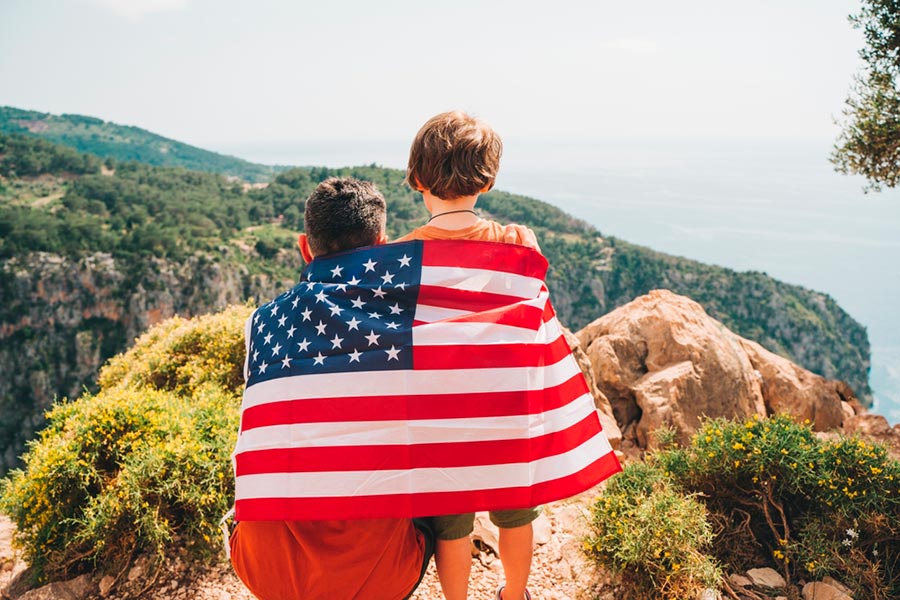 Source – Shutterstock. Young man dad father and his son school boy kid standing on a rock cliff with US flag on shoulders and looking at sea
It's pretty clear that everyone wants to save as much money as possible and get excellent services at the same time, especially while traveling. Prefer to get to the airport by your own car? If so, please draw special attention to this part of the article.
We suppose you have used to choose on-site parking if you prefer to get to the airport by your own vehicle. Most people think that it's much more convenient and faster, as it's the nearest area to the place a plane is flying from. However, they probably forget that this type of parking is too costly. Besides, you will have to face the following unpleasant moments:
You will need to find a spot in a crowded lot,
You will need to carry the luggage all the way down the parking lot,
You must pay expensive fees with no service.
Sounds terrible, right? Is there any solution in such a situation, you may ask? We're happy to say – of course, there is one! If you choose to use the services provided by off-site parking, you won't definitely regret it. So let's take a closer look at this parking type.
What is actually off-site parking?
Source – Shutterstock. View from a luxury SUV rear view mirror – countryside road behind, as well as green fields on the side of the road
Obviously, no one wants to face all of such difficulties we described above, and you can easily avoid them if you choose an off-site parking option. So let's take a look at how it works.
When you come to the entrance, the staff member pulls your baggage out of your car and loads it to the shuttle, which will take your bags and you later to the airport you're flying from. Then they will find a parking spot and park your car there for you.
Please don't worry about the few miles, which usually separate the parking lot and the airport. Off-site parking usually provides free shuttles to and from the airport for its customers. Thanks to this, you have no worries about getting stuck in traffic on the way to the airport during the peak times. So all you need to do is choose the best time for you and inform the parking lot staff.
In addition, this type of parking is much cheaper, and this is good news, as nobody wants to waste money. Therefore, off-site parking is the perfect option to receive excellent service and save money at the same time.
You can find the best deals right here!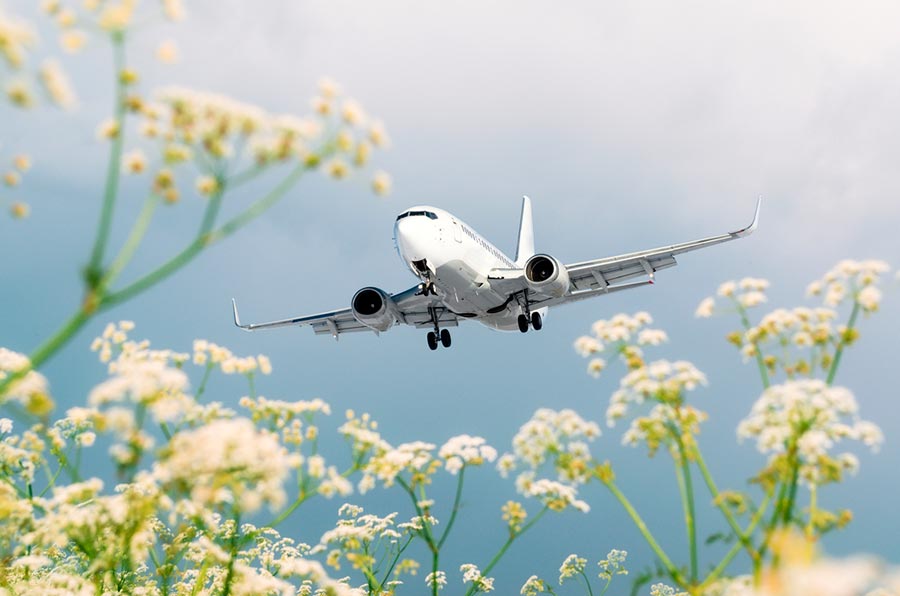 Source – Shutterstock. Passenger commercial airplane flies over flower fields at the airport
If you're looking for the best deals for airports, you're in the right place.
We are glad to inform you that our booking platform, ParkingNearAirports.io, offers the best prices on airport car parking and bundles hotel and parking packages. Besides, we provide the services for top cruise ports in Florida, Louisiana, Maryland, New Jersey, and Texas.
Our partners are the most reliable parking providers outside the major airports in the United States. We offer their services for passengers who are looking for safe and secure parking for their vehicles.
In addition, we can arrange valet parking, self-parking, or a vehicle to pick you up from the hotel to the terminal and vice versa. Just let us know the dates, choose your preferred services, and we'll get it done for you.
It only takes a few minutes to make a reservation. Get the most affordable rates and experience hassle-free off-site parking.
To understand it better, we would like to give you an example. If your trip starts in Baltimore, Maryland, you can use the services of cheap
Baltimore long-term parking
. If you're flying from the Louisville International Airport, you can choose affordable
parking near SDF Airport
. So it just depends on the place you're leaving from.
Also, ParkingNearAirports.io offers its customers special
parking coupons
. With the help of these coupons, you can make the price for parking even two times less. So don't forget to use them to save as much money as possible.
You can find all the necessary and helpful information connected with the off-site airport parking on our official website. Enjoy traveling!