Botanical gardens are a well-liked year-round destination for locals and tourists alike, whether you're looking to avoid the summer heat under the leafy shade or escape the winter cold within tropical greenhouses. Here are our top 5 choices of must-see botanical gardens in the United States. Let's get started!
1. Desert Botanical Garden, Phoenix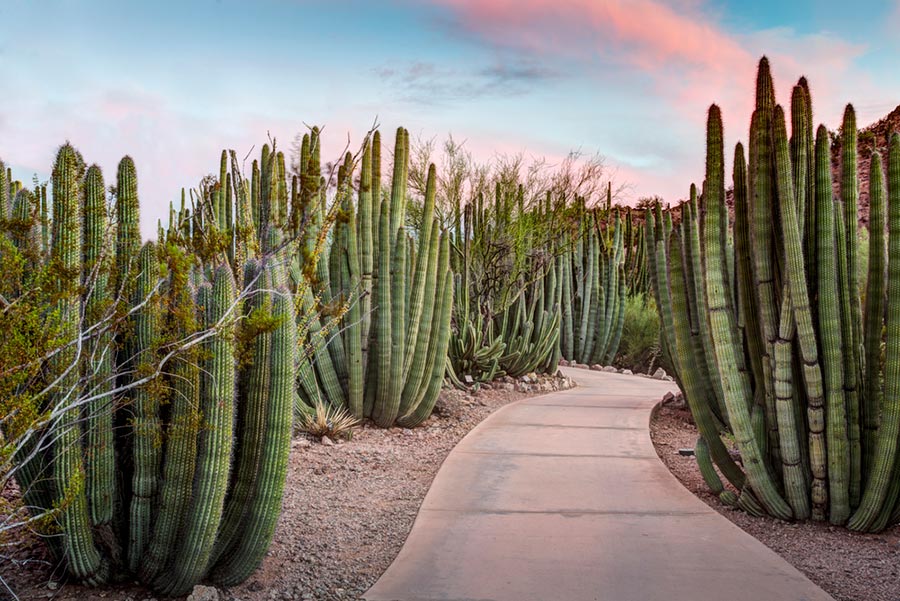 Source – Shutterstock. Walkway through a forest of Organ Pipe Cactus plants in Phoenix, Arizona
In the structure of the
Desert Botanical Garden, the essence of the Sonoran Desert has been captured and transported to Arizona's largest metropolis. It's quite a sight to witness the Papago Buttes' red dirt contrasted with towering cacti and delicate, drought-tolerant flowers. Visit throughout the night to see the night-blooming plants in all their splendor, or go around Christmas when luminarias illuminate the paths.
2. Hawaii Tropical Botanical Garden, Papaikou
Source – Shutterstock. The lush tropical vegetation of the Hawaii Tropical Botanical Garden of Big Island – Hawaii, USA
On Hawaii's Big Island, not far from Hilo, is a place known as the "
Garden in a Valley on the Ocean
." More than 2,000 different varieties of tropical plants and trees are supported by the rich volcanic soils on this 40-acre valley. Enjoy breathtaking views of the Pacific Ocean as you meander through the garden's natural trails through a tropical jungle and over trickling streams.
3. New York Botanical Garden, New York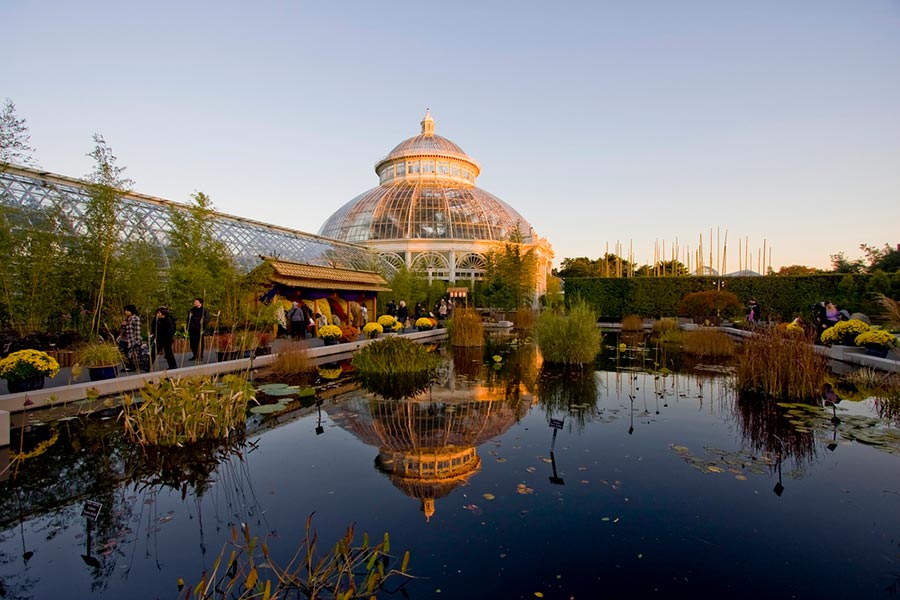 Source – Shutterstock. An amazing view of New York Botanical Garden – NYC, New York
On Wednesdays, like its neighbor, the Bronx Zoo, this
250-acre botanical garden
on what was formerly the Lorillard family estate is free to visit. Every novice gardener's fantasy comes true at this botanical garden, which has roughly a million tropical, temperate, and desert plants. Checking out the collections kept in the Enid A. Haupt Conservatory, a Victorian-style, wrought iron-framed greenhouse constructed of glass, will prove to be worth the extra entrance charge.
4. Portland Japanese Garden, Portland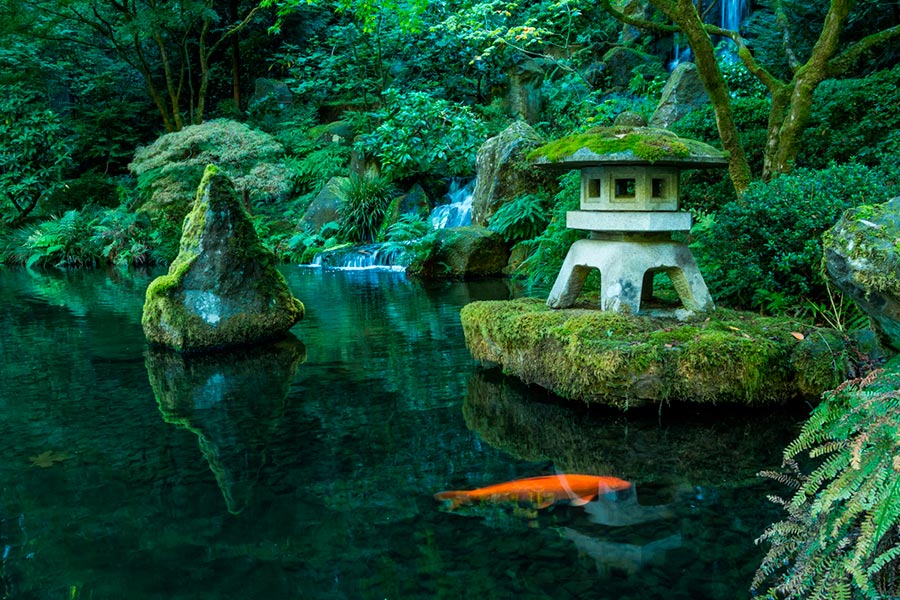 Source – Shutterstock. A lantern and waterfall in the Portland Japanese Garden – Portland, Oregon, USA
Similar to New England's fall foliage, the
Portland Japanese Garden
is breathtaking during the koyo season in the fall. Japanese maples burn with orange, russet, and crimson-colored flames. The bridges, tea houses, and stone walkways that make up the garden's structural components provide authenticity and a tranquil, oriental feel.
5. Atlanta Botanical Garden, Atlanta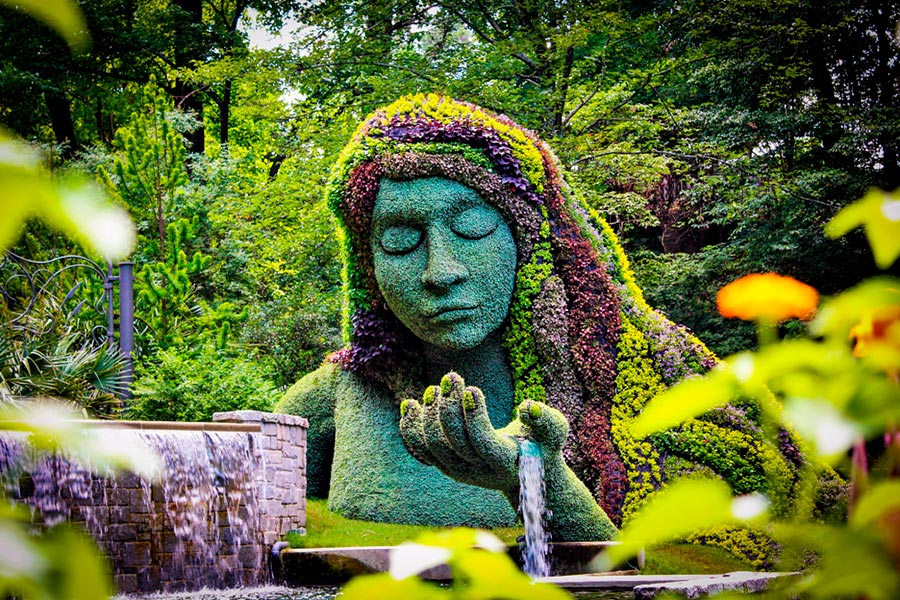 Source – Shutterstock. Earth goddess plant sculpture in the Atlanta Botanical Garden – Atlanta, Georgia, USA
The
Atlanta Botanical Garden
, which is made up of several smaller themed gardens, is located in the center of the city on 30 acres. The Dorothy Chapman Fuqua Conservatory's formal rose garden and rainforest chamber are highlights. A 600-foot-long skywalk that stretches into the Storza Woods 40 feet in the air is one of the Botanical Garden's most inventive elements; it gives visitors a special vantage point over the woods.
Enjoy nature in comfort together with ParkingNearAirports.io!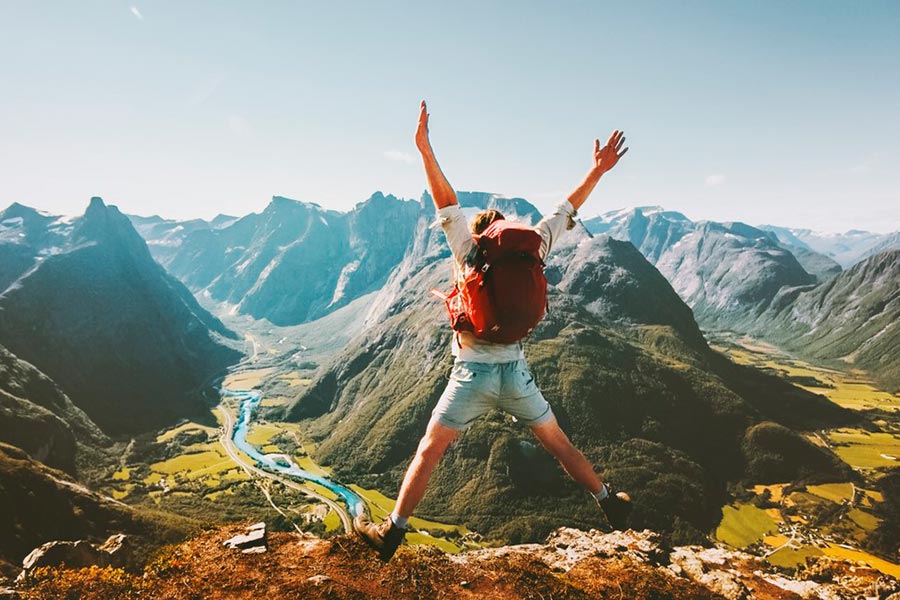 Source – Shutterstock. Happy man jumping with a backpack – the adventure concept
In addition to our small guide about the most impressive botanic gardens in the US, we would also like to convey some useful information on traveling – it will be handy for those who prefer doing this by air.
If you use your own car to reach the airport, you know it is critical to park it safely for the duration of your trip. Almost every airport has special on-site parking for this purpose. However, travelers aren't ready to spend a lot of money at the beginning of their trip, as this option is pretty costly. So what should we do then?
Our booking platform, ParkingNearAirports.io, offers travelers online reservations for parking just outside airports that are affordable and convenient. Our experienced team is dedicated to providing travelers parking options at over 100 airports in the US and Canada. The app allows customers to search and compare parking rates at up to 70 percent savings compared to the cost of on-site parking at all major airports.
What is actually off-site parking, and which advantages has this parking type, you may ask? So let's take a closer look at this question.
First of all, off-site parking is much cheaper. So you can save money and then spend the most considerable amount on the things you really want to try or see while traveling.
Secondly, off-site parking services are faster. It might seem that it's faster to park your car at the airport, but that's not always the case. Off-site parking offers you the following convenience: when you drive directly up to the entrance, a staff member pulls your luggage out of your vehicle and loads it into the shuttle. Then they park your car for you. After your baggage is loaded, you can take your seat in the shuttle, which will bring you and your bags to the airport. It is a hassle-free option that is usually faster.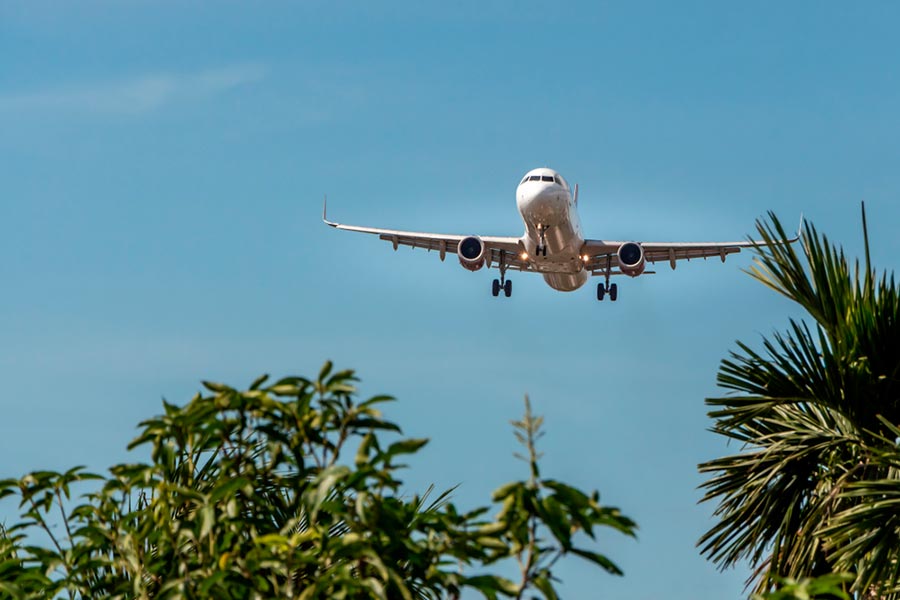 Source – Shutterstock. A white plane with chassis and lights is landing in the blue sky background
Thirdly, it's much more convenient. People are always stressed before the trip, as there are many things you should keep in mind. Not to be late when taking off, fighting traffic, finding a parking place, wondering how long the shuttle service will take, and more can leave you annoyed before you step foot inside the airport. If you choose off-site parking, you are using the assistance of a private company that caters to travelers' needs. Such services can make your trip much more comfortable when you arrive at the airport and return home.
With ParkingNearAirports.io, it takes just a few clicks within the application to reserve a parking spot. Upon arrival at off-airport parking, customers receive a booking confirmation and a guaranteed parking spot. The app helps customers find the most convenient airport parking lots. If plans change, cancellations are hassle-free and refundable.
We also offer you services for top cruise ports in Florida, Louisiana, Maryland, New Jersey, and Texas.
Let's look at an example. Imagine that you live in NYC, New York. If you're planning a trip to Portland, Oregon, you can choose cheap off-site
JFK Airport parking with shuttle
. If you're coming from Portland, the situation is the same – you can use affordable
parking near Portland Airport
. So it depends just on where you are flying from.
On our official website, you can find the best deals,
airport parking prices
, and other information connected with parking near US and Canadian airports.