Although staying in a luxury hotel is generally associated with outrageous costs, this shouldn't be the case. To get you started, we've made a list of 5 luxury hotels that you can actually consider next time. All of them are under $200 per night in the off-season, and several of them are even under $100 with current offers. So let's not waste time and check!
1. Grand Hotel Ciudad de México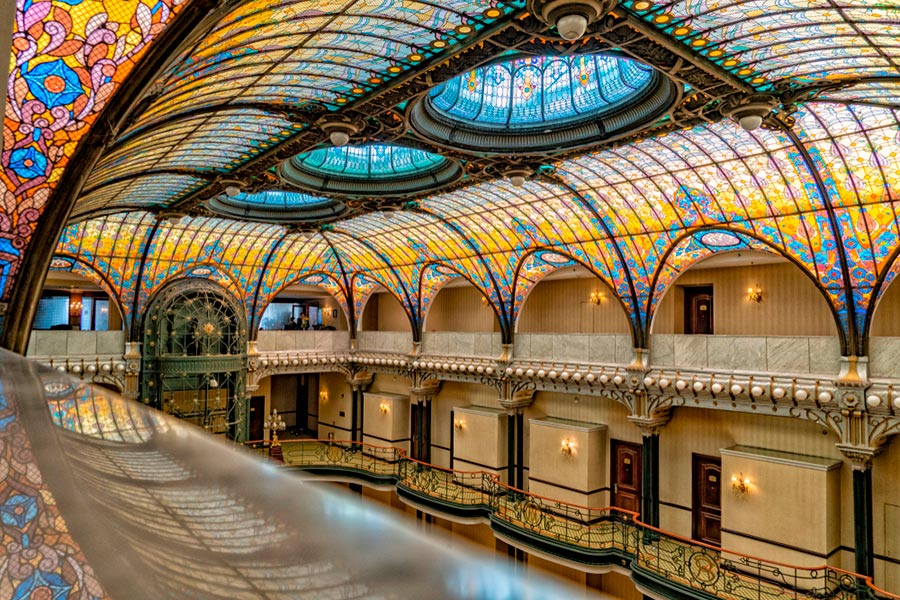 Source – Shutterstock. An impressive view of the Grand Hotel Ciudad de México – Mexico City, Mexico
The
Grand Hotel Ciudad de México, which is close to the Zocalo, boasts lavish features without the appropriate expense. The famous hotel in Mexico City was built in the Art Nouveau style and includes opulent architectural accents like Tiffany stained glass and a Louis XV chandelier in the lobby. Oh, did we also mention that it starred in a James Bond movie?
2. Mama Shelter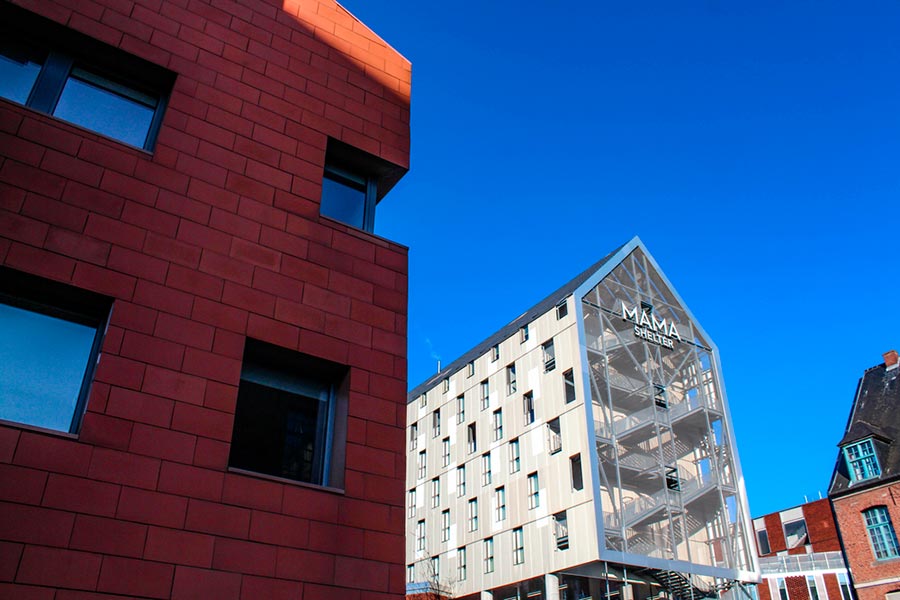 Source – Shutterstock. Mama Shelter hotel in Euralille district in Lille, France
In the trendy 20th Arrondissement of Paris,
Mama Shelter
is a chic, reasonably priced luxury hotel that features contemporary innovations. The 27-inch iMac installed on the wall, which can be used as a computer or TV, is one of the awesome things. A restaurant with a unique Sunday menu created by Guy Savoy is also on-site. It's the ideal substitute for an expensive, posh hotel in Paris.
3. Radisson Blu Plaza Bangkok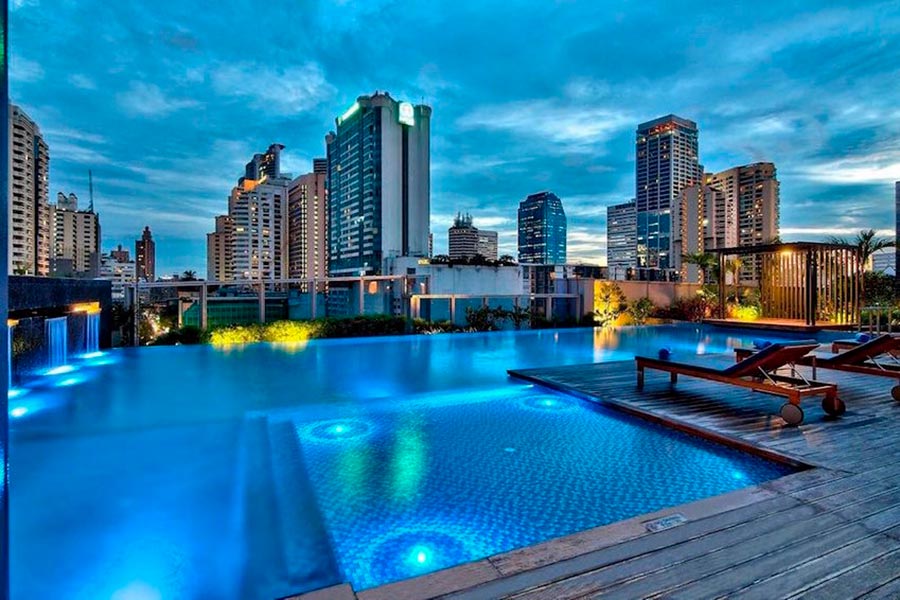 Source – official Instagram account (@radissonblubkk). A view of an incredible pool in Radisson Blu Plaza Bangkok
The
Radisson Blu Plaza Bangkok
is a great option if you're looking for a hotel on Sukhumvit Road because it's close to both the Skytrain and the metro. For breathtaking city views, head to the hotel's 30th floor or enjoy the view from the floor-to-ceiling windows in your apartment. Separate bathtubs in the rooms are perfect for unwinding after a long day of sightseeing in Bangkok.
4. Hotel Metropole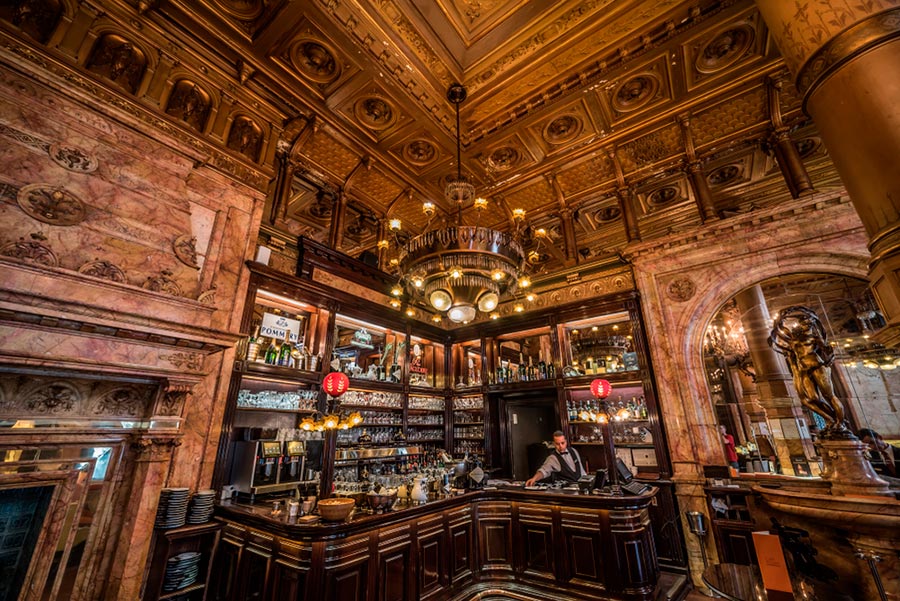 Source – Shutterstock. Decorated interior of the bar in the hotel lobby of Metropole, a 5-star luxury hotel – Brussels, Belgium
The
Hotel Metropole
in Brussels first opened its doors in 1894, and the interior design of the public spaces and guest rooms still reflect the richness of bygone eras. Presidents Eisenhower and Hoover were among the noteworthy guests who have stayed at the hotel throughout the years, and it holds the distinction of being the venue where the Black Russian cocktail was invented.
5. The Grand Hotel Taipei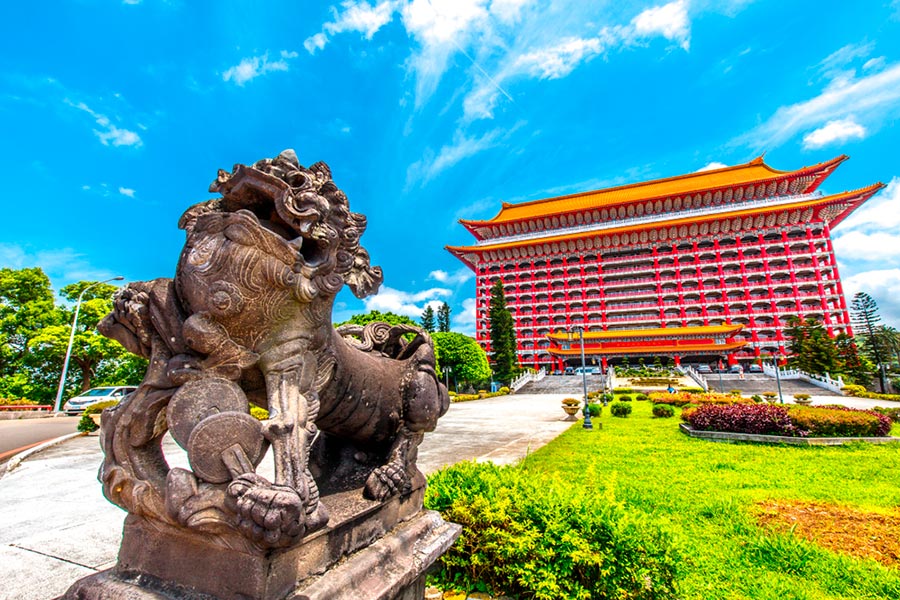 Source – Shutterstock. The Grand Hotel Taipei – a landmark located at Yuanshan in Zhongshan District, Taipei, Taiwan
Make your next journey even more affordable and convenient by choosing ParkingNearAirports.io!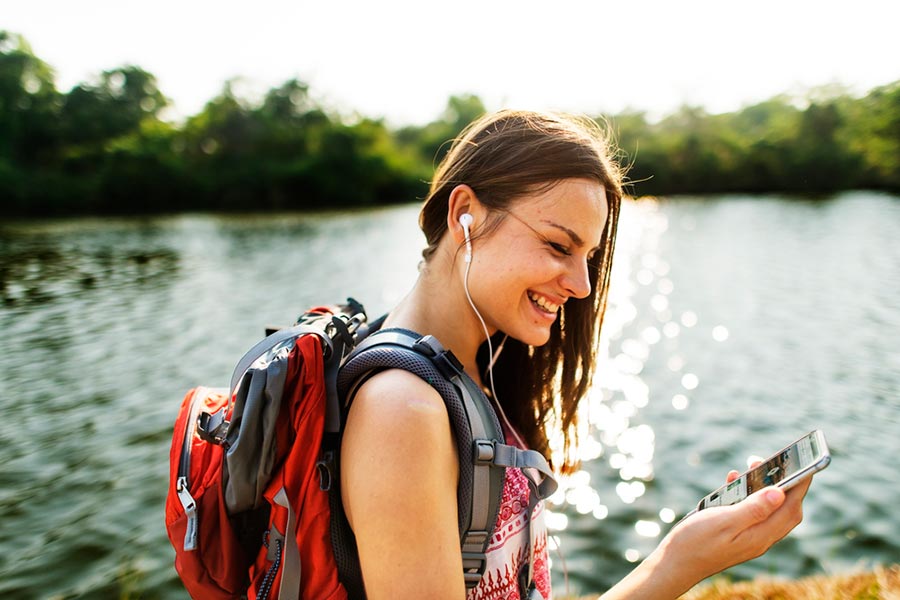 Source – Shutterstock. A happy girl listening to music while hiking – the travel concept
In addition to our small travel guide about affordable luxurious hotels worldwide, we would also like to give you one more helpful tip – this information will be actually handy for those who prefer to travel by air.
If you get to the airport by car, you always need to find a good parking space for your vehicle to leave for the period of a trip. In most cases, airports have special on-site parking for that purpose. However, such a parking lot is pretty costly most of the time, and people aren't ready to spend a lot of money at the beginning of a trip. So is there any solution?
The best way to solve this problem is to choose off-site parking. Why, you may ask? We will explain.
There are many reasons which can prove the benefit of this parking type. Here are some of them:
Affordable Rates. Depending on the duration of your trip, you can choose between short-term and long-term airport parking. Anyway, an off-site airport is much cheaper, so you can save your money and spend the most considerable amount on things you really want to see or try while traveling.
Fast service. In contrast with on-site airport parking, which can take quite a long time, off-site parking offers you the convenience of driving directly to the entrance and having a staff member pull your luggage out of your vehicle and load it into the shuttle. Then they will park your car for you. After your baggage is loaded, you can take your seat in the shuttle, which will bring you and your bags to the airport. It is a hassle-free option that is usually faster.
Convenience. When people travel, they may be stressed about making it to the airport on time. If you use off-site parking, you will definitely make your travel experience more convenient, as you use the service of a private company. Even though you may be able to park on-site at the airport in a short-term or long-term airport parking lot, consider using an off-site parking lot service.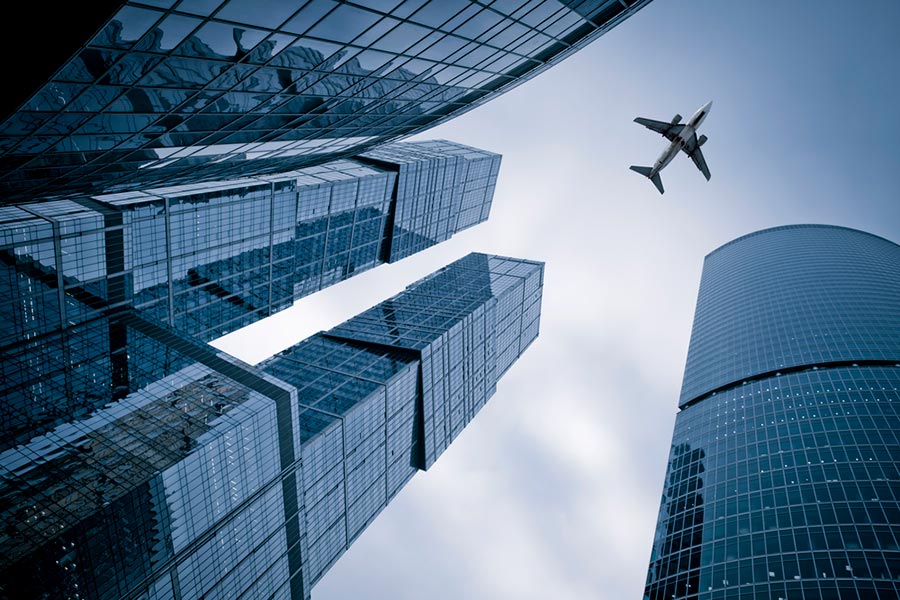 Source – Shutterstock. Photo of an airplane above the glass office buildings
We are glad to say that our booking platform, ParkingNearAirports.io, offers travelers online reservations for parking just outside airports that are convenient and affordable. Our experienced team is dedicated to providing travelers parking options at over 100 airports in the US and Canada. The app allows customers to search and compare parking rates at up to 70 percent savings compared to the cost of on-site parking at all major airports.
With our platform, it only takes a few clicks in the app to reserve a parking spot. Guests receive a booking confirmation and a guaranteed parking space upon arrival at the off-airport parking. In addition, the app helps customers locate the most convenient lots to the airport. Cancellations are easy if plans change with hassle-free, refundable cancellations.
Besides this, we also offer services for top cruise ports in Florida, Louisiana, Maryland, New Jersey, and Texas.
Now let's take a good example. Imagine that you're planning a trip to Paris, France. So if you're flying from Cleveland, Ohio, you can use cheap
Cleveland Airport valet parking
. If you're coming from Houston, Texas, you can choose affordable
off-site parking IAH
. It just depends on the place you're flying from.
You can always find everything you need on our official website: the best deals for parking near US and Canadian airports,
domestic airport parking charges
, and much more.