The Venetian government frequently grabs headlines for taking action against the
tourism invasion that threatens the very spirit and heart of their adored city. That's hardly surprising considering that there are only 55000 residents, which is less than the daily visitor average.
The reality of a journey in the summer may be very different from the romantic image that the city loves to express. When it's hot outside, people get angry, and everyone could use a little more room to cool off. The good news is that La Serenissima still offers a lot of off-the-beaten-path attractions if you're willing to look for them. Here's how to locate Venice's nicest areas, which are mostly hidden. Let's get started!
1. Cannaregio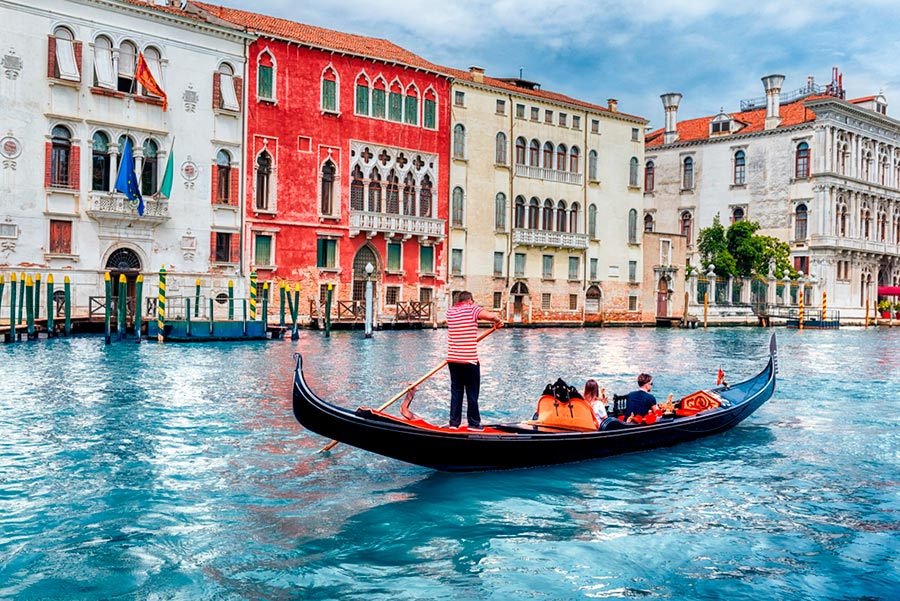 Source – Shutterstock. People on a traditional gondola traveling with scenic architecture along the Grand Canal in the Cannaregio district of Venice, Italy
Cannaregio, an old Jewish neighborhood in Venice, might be the place to go if you want to experience a more genuine version of the city away from the tourists. Though the original name was much different, this is the location where the term "ghetto" was first used. It's a mix of old synagogues, Kosher bakeries, and hip wine bars. The location was once a foundry, or ghèto in the local dialect, which has since been corrupted to the contemporary spelling of the word. Watch the sunset over the Ormesini canal at dusk from the consistently busy
Al Timon restaurant
. Join the cicchetti crowd (never call it tapas when you're in Italy) for a Campari spritz and talk before the dinner service begins.
2. Libreria Acqua Alta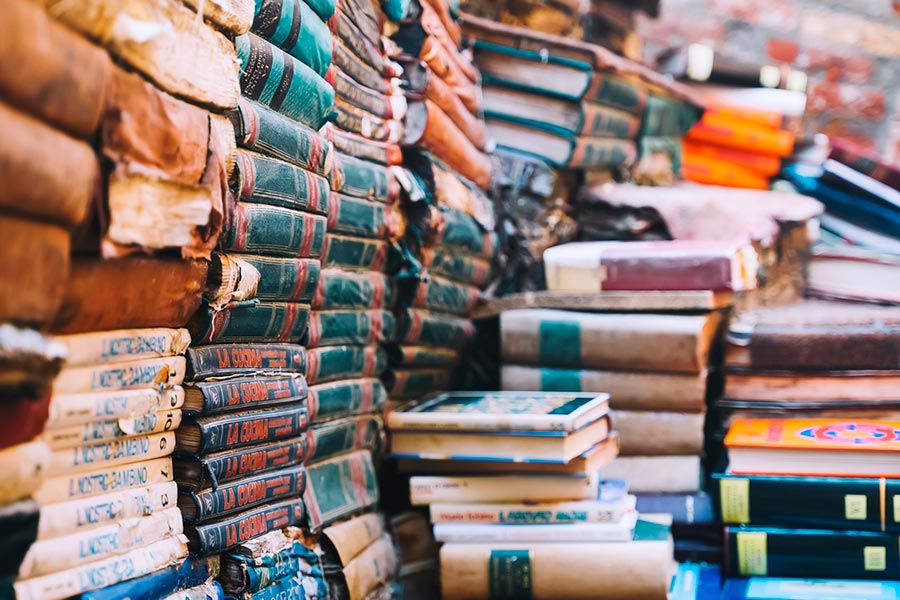 Source – Shutterstock. Background photo of ancient books piled on top of each other – famous bookstore, Libreria Acqua Alta, in Venice
The most famous boat in Venice has been transformed into a bookshelf inside the most unique
second-hand store
in the area. A well-used gondola can be found inside the store if you enter it. The bookstore is a true treasure trove, filled with books of every kind. Carry the book of your choice out back and climb the weathered steps made of – you guessed it – books to sit by a peaceful canal and read the first few pages. Once you've made the decision to purchase, get ready to move the local cat that regularly lays down next to the cashier.
3. Rialto Market
Source – Shutterstock. Market stall with vegetables and fruits in Venice, Italy – Rialto Market
The Rialto Market is tucked away just close to the Rialto Bridge. It's the ideal location to get the items for a picnic because it sells fresh produce. However, don't be in a hurry to depart. What's claimed to be Venice's oldest tavern (or bacaro) is tucked away down a neighboring alleyway. Market vendors are just as likely to be supporting the bar at
Cantina do Mori
as interested tourists. Even the notorious lothario Casanova was a frequent visitor back in the day (this site has been around since 1462). Ask for an ombra – slang for a glass of wine in Venetian – to blend in; the term derives from the practice of sipping wine in the shade.
Discover all the hidden places around the world in complete comfort together with us – ParkingNearAirports.io!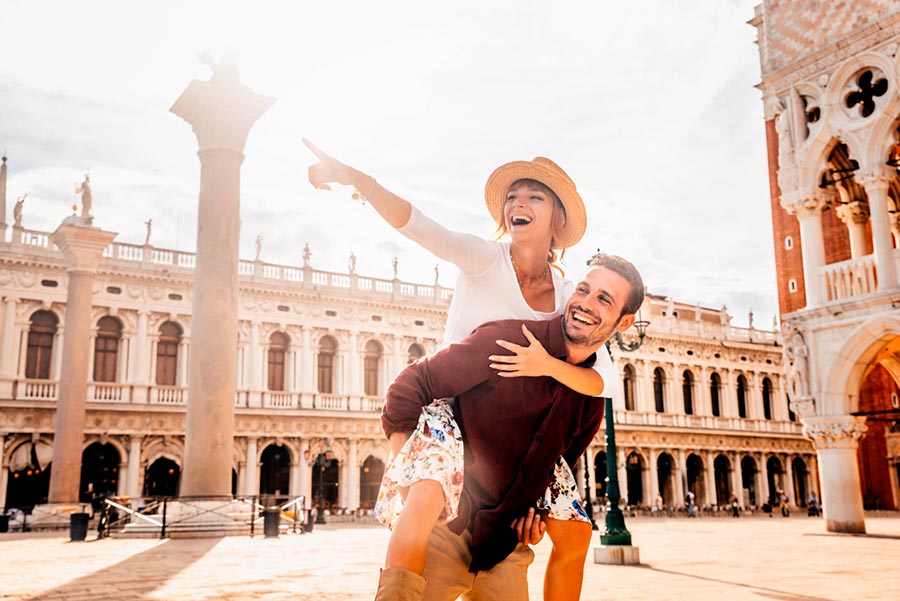 Source – Shutterstock. A couple of tourists on vacation in Venice, Italy – two lovers having fun on a city street at sunset
In addition to our small travel guide, we would like to convey some useful information on traveling as well – it will be handy for those who prefer doing this by air.
If you use your own car to reach the airport, you know it is critical to park it safely for the duration of your trip. Almost every airport has special on-site parking for this purpose. However, travelers aren't ready to spend a lot of money at the beginning of their trip, as this option is pretty costly. So what should we do then?
Our booking platform, ParkingNearAirports.io, offers travelers online reservations for parking just outside airports that are affordable and convenient. Our experienced team is dedicated to providing travelers parking options at over 100 airports in the US and Canada. The app allows customers to search and compare parking rates at up to 70 percent savings compared to the cost of on-site parking at all major airports.
What is actually off-site parking, and which advantages has this parking type, you may ask? So let's take a closer look at this question.
First of all, off-site parking is much cheaper. So you can save money and then spend the most considerable amount on the things you really want to try or see while traveling.
Secondly, off-site parking services are faster. It might seem that it's faster to park your car at the airport, but that's not always the case. Off-site parking offers you the following convenience: when you drive directly up to the entrance, a staff member pulls your luggage out of your vehicle and loads it into the shuttle. Then they park your car for you. After your baggage is loaded, you can take your seat in the shuttle, which will bring you and your bags to the airport. It is a hassle-free option that is usually faster.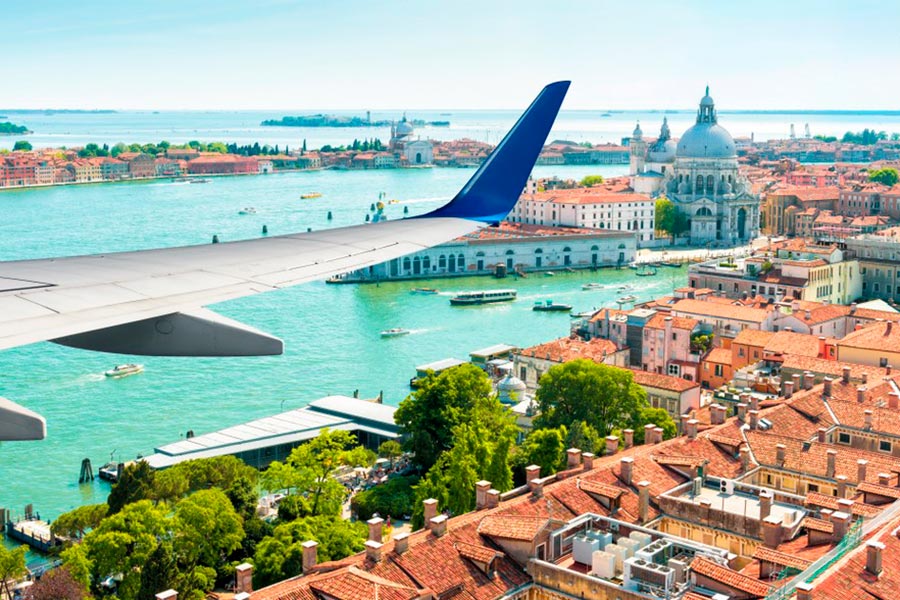 Source – Shutterstock. Flight above Venice near the airport – the concept of vacation, tourism, and travel
Thirdly, it's much more convenient. People are always stressed before the trip, as there are many things you should keep in mind. Not to be late when taking off, fighting traffic, finding a parking place, wondering how long the shuttle service will take, and more can leave you annoyed before you step foot inside the airport. If you choose off-site parking, you are using the assistance of a private company that caters to travelers' needs. Such services can make your trip much more comfortable when you arrive at the airport and return home.
With ParkingNearAirports.io, it takes just a few clicks within the application to reserve a parking spot. Upon arrival at off-airport parking, customers receive a booking confirmation and a guaranteed parking spot. The app helps customers find the most convenient airport parking lots. If plans change, cancellations are hassle-free and refundable.
We also offer you services for top cruise ports in Florida, Louisiana, Maryland, New Jersey, and Texas.
Let's look at an example. Imagine that you live in Charlotte, North Carolina. If you're planning a trip to Venice, Italy, you can choose cheap
Charlotte Airport valet parking
. If you're coming from Memphis, Tennessee, the situation is the same – you can use affordable
parking near MEM Airport
. So it depends just on where you are flying from.
On our official website, you can find the best deals,
airport parking charges per day
, and other information connected with parking near US and Canadian airports.