City breaks are a great way to quickly discover the history, culture, and art of a new location. They have so much to offer, including amazing architecture, historical landmarks, and unending entertainment. The main issue is that touring a new city frequently necessitates considerable pavement pounding. However, exploration need not always be physically taxing. These cities make the adventure much simpler for the weary tourist thanks to their compact attractions, public transportation, and straight, easy streets. So let's not waste time and take a closer look at them together!
1. Singapore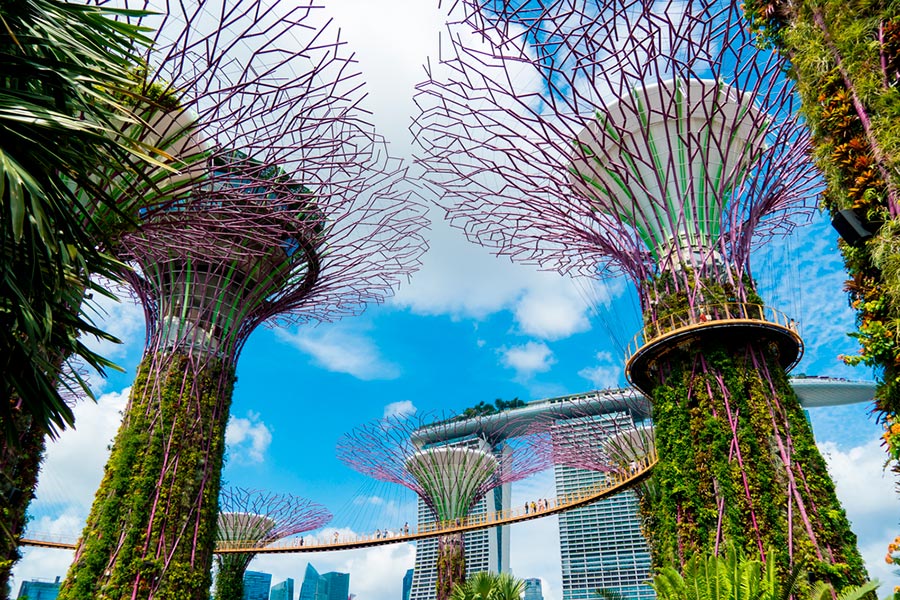 Source – Shutterstock. Supertrees at Gardens by the Bay, Singapore
Singapore, a city and a nation, provides more value than the typical city break. This small island, which can be found on the southernmost point of the Malay Peninsula, has a lot to offer. You can explore the maze of Chinatown, take in the view of the
tallest indoor waterfall in the world, and be astounded by the electrical trees at Gardens by the Bay. The fact that Singapore is very small and has a ton of things crammed into a little area makes it simple to explore. Its effective, reasonably priced, and comfortable public transportation system makes traveling around a breeze, so you won't need to hike anywhere. It actually possesses one of the world's most cutting-edge train systems. Your knees will be fine, but you might require more than a long weekend to experience Singapore in its entirety.
2. Montreal, Canada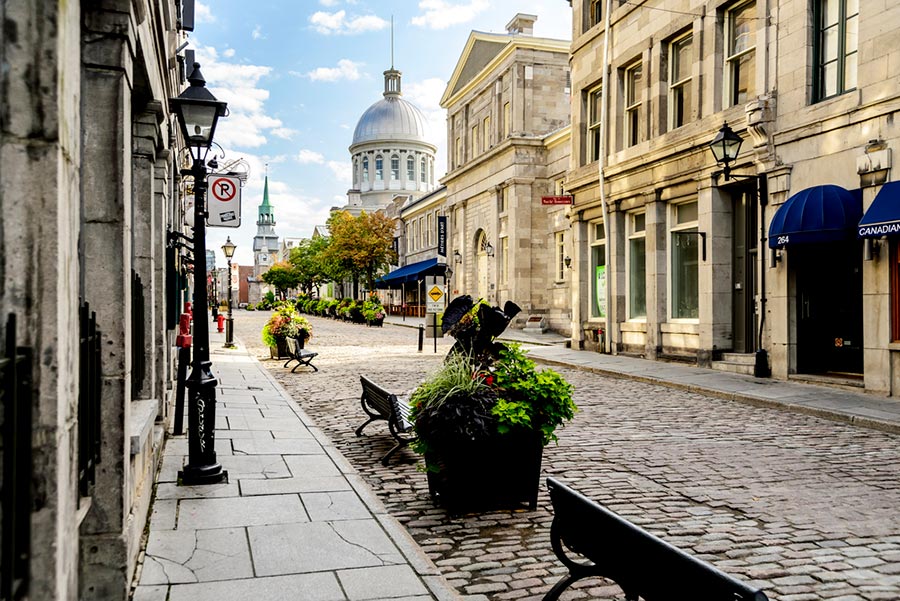 Source – Shutterstock. An impressive view of Montreal's old town – Montreal, Canada
Despite being one of Canada's largest cities, Montreal is also tiny. Because of its small size, it is simple to get around on foot or by bike, and many of its most well-known and active neighborhoods are close to one another. You can view all the sights by using the extensive bus system and the colored subway lines. Utilize the subway stations and bus stops that drop off close to each destination to choose between
Vieux-Montreal
,
Saint-Joseph Oratory
, and
Jean-Talon Market
.
3. Zurich, Switzerland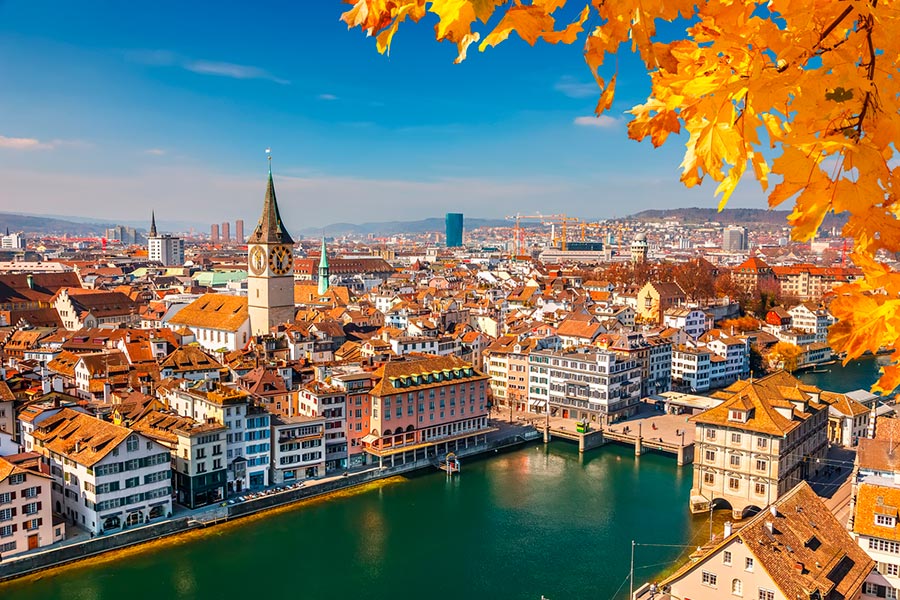 Source – Shutterstock. The center of Zurich on a sunny day – Zurich, Switzerland
Zurich is the ideal place to go if you want to experience Swiss city life, as well as a prime illustration of the nation's reputation for efficiency and cleanliness. A bus or tram stop is typically only a few hundred meters distant thanks to its excellent transit system. With a Zurich Card, you can travel for free on all public transportation and pay less to enter places like the National Museum and the Rietberg Museum. Some of the locations are even accessible by water. Visit the charming village of Rapperswil so that your knees can recover completely and enjoy the stunning mountain views from the lake.
Always travel with convenience by choosing us – ParkingNearAirports.io!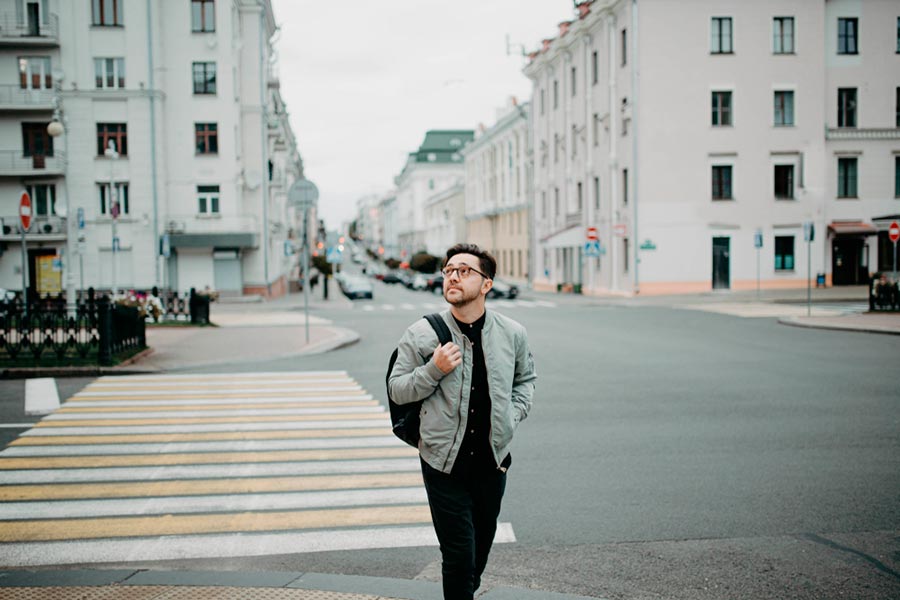 Source – Shutterstock. A male traveler walks around the old city and studies the classical architecture of Europe
In addition to our general recommendations for those who love exploring our world on their feet, we would like to give you one more helpful tip as well – this information will be actually handy for those who prefer to travel by air.
If you get to the airport by car, you always need to find a good parking space for your vehicle to leave for the period of a trip. In most cases, airports have special on-site parking for that purpose. However, such a parking lot is pretty costly most of the time, and people aren't ready to spend a lot of money at the beginning of a trip. So is there any solution?
The best way to solve this problem is to choose off-site parking. Why, you may ask? We will explain.
There are many reasons which can prove the benefit of this parking type. Here are some of them:
Affordable Rates. Depending on the duration of your trip, you can choose between short-term and long-term airport parking. Anyway, an off-site airport is much cheaper, so you can save your money and spend the most considerable amount on things you really want to see or try while traveling.
Fast service. In contrast with on-site airport parking, which can take quite a long time, off-site parking offers you the convenience of driving directly to the entrance and having a staff member pull your luggage out of your vehicle and load it into the shuttle. Then they will park your car for you. After your baggage is loaded, you can take your seat in the shuttle, which will bring you and your bags to the airport. It is a hassle-free option that is usually faster.
Convenience. When people travel, they may be stressed about making it to the airport on time. If you use off-site parking, you will definitely make your travel experience more convenient, as you use the service of a private company. Even though you may be able to park on-site at the airport in a short-term or long-term airport parking lot, consider using an off-site parking lot service.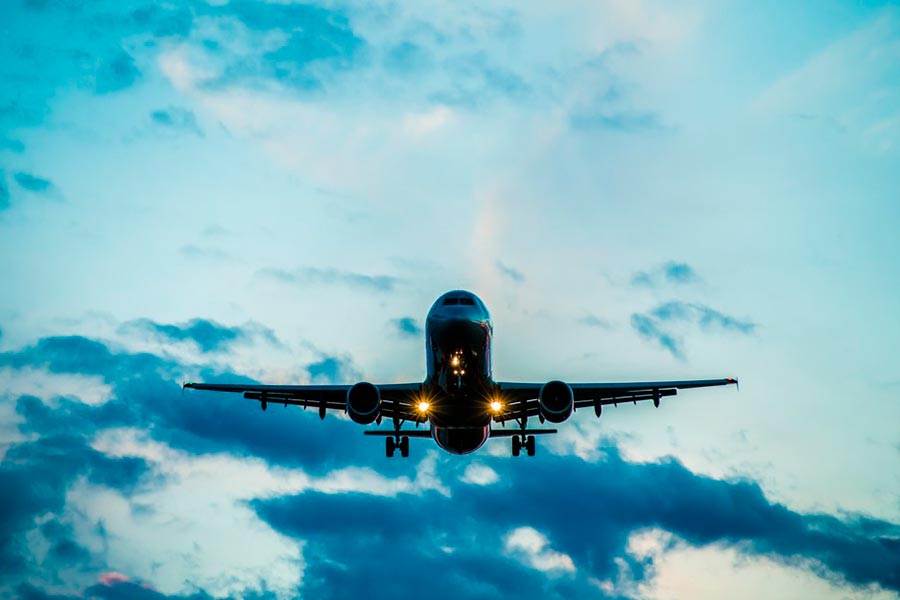 Source – Shutterstock. Front view of a commercial airplane with turned-on landing lights landing at an airport
We are glad to say that our booking platform, ParkingNearAirports.io, offers travelers online reservations for parking just outside airports that are convenient and affordable. Our experienced team is dedicated to providing travelers parking options at over 100 airports in the US and Canada. The app allows customers to search and compare parking rates at up to 70 percent savings compared to the cost of on-site parking at all major airports.
With our platform, it only takes a few clicks in the app to reserve a parking spot. Guests receive a booking confirmation and a guaranteed parking space upon arrival at the off-airport parking. In addition, the app helps customers locate the most convenient lots to the airport. Cancellations are easy if plans change with hassle-free, refundable cancellations.
Besides this, we also offer services for top cruise ports in Florida, Louisiana, Maryland, New Jersey, and Texas.
Now let's take a good example. Imagine that you're planning a trip to Singapore. So if you're flying from Oklahoma City, Oklahoma, you can use cheap
parking near Oklahoma City Airport
. If you're coming from Montreal, Canada, you can choose affordable off-site
YUL long-term parking
. It just depends on the place you're flying from.
You can always find everything you need on our official website: the best deals for parking near US and Canadian airports,
airport parking prices
, and much more.