Surely, each of you has ever traveled by air at least once. However, you haven't probably noticed what's happening during the flight, as most people are reading, listening to music, or doing something like that.
Even though the flight may seem routine, even mundane, you might be wondering to know why certain procedures and routines happen. If so, you've come to the right place. Today's article will give you the answers to all of your questions. So let's get to the point!
Why is there a hole in the window?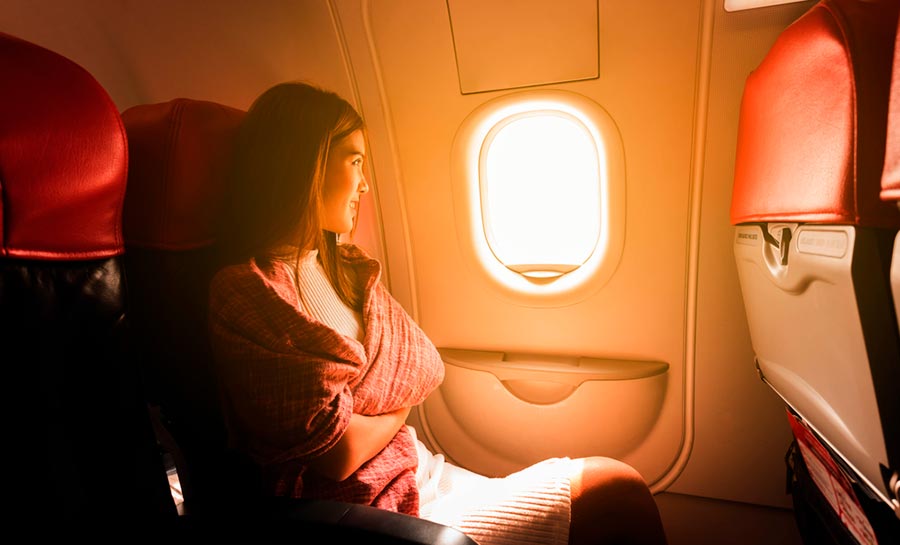 Next time you'll make a trip by plane, take a closer look at the window - you'll find a tiny hole there. But don't be scared - that's ok. Such a hole is called the bleed hole and is necessary, as the air pressure at high altitudes is much lower. So to provide passengers with safety and comfort, the pressure is kept at a higher level inside the airplane.
Dimming the lights is critical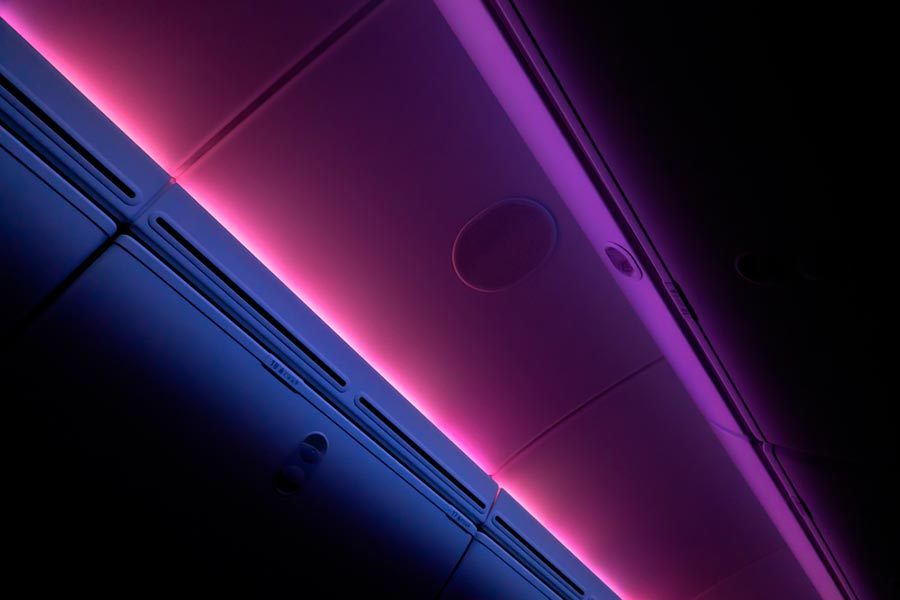 If you've ever taken an overnight flight, you've probably noticed that the flight attendants asked you to dim the light, and it's for a reason. The thing is that if you fall into an emergency evacuation, thanks to low lights, you won't have to wait for your eyes to adjust in the event. The same thing happens with keeping the window blinds up - it helps the aircrew see what's happening outside the plane.
The onboard meals aren't so bad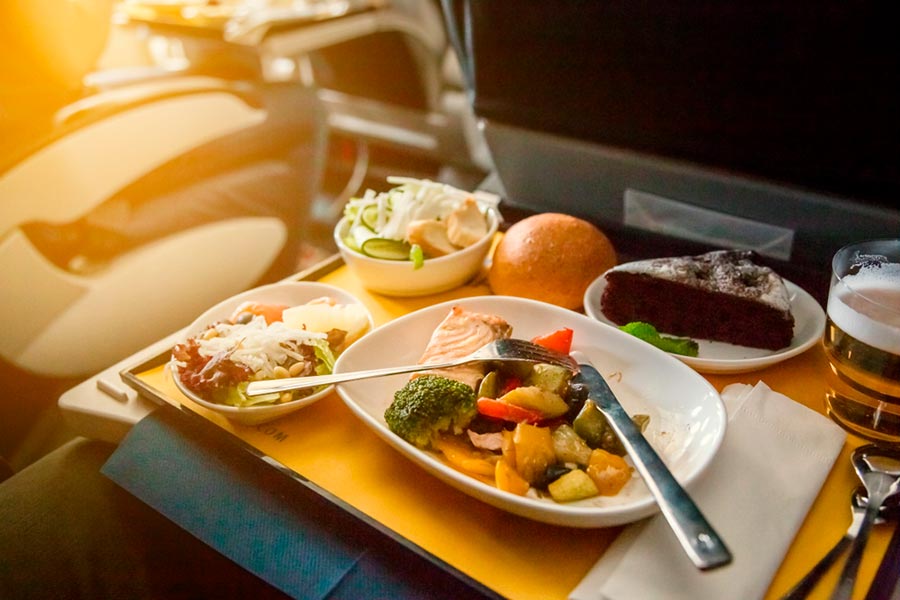 Many people complain about the food served onboard. The main reason is that such food is disgusting. Why is it happening?
First of all, chefs are forced to cook all the dishes in advance to feed the entire plane. Then, this food is reheated when it's needed. Besides, it's often smothered in sauce to avoid drying out dishes.
Secondly, it isn't easy to make the meals as yummy as on the earth, as we perceive flavors differently due to noise level onboard. So cooks need to significantly increase the amount of salt or sugar in the dish to make it edible.
We want to share with you one handy lifehack: while traveling by plane, choose the products rich in umami. Compared with other tastes, our sense of umami is stronger at altitude. So next time, make a choice of dishes containing umami-rich ingredients such as tomatoes, soy sauce, mushrooms, or sardines.
Where does water go when you flush?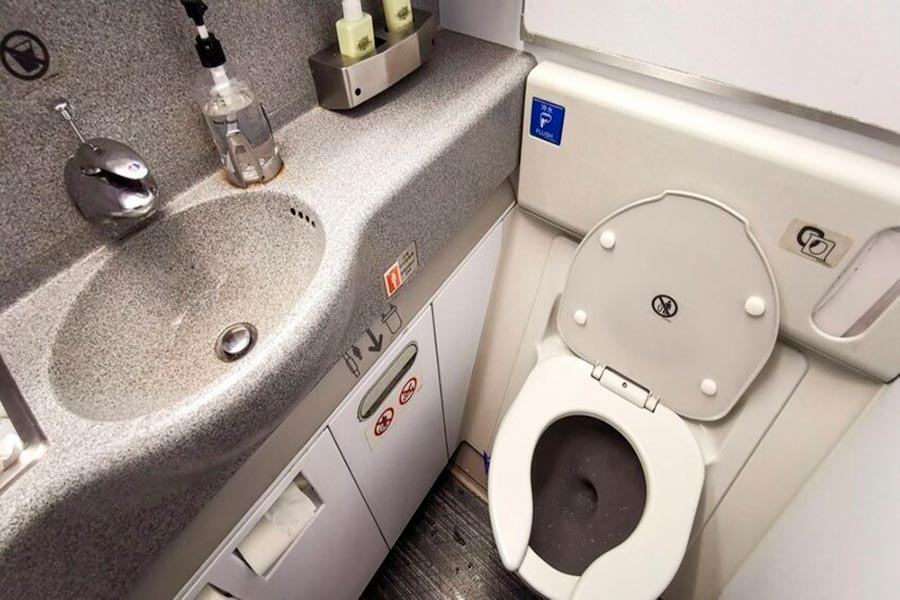 It's a myth that everything from the airplane's toilets goes to the atmosphere. Otherwise, people around the world would suffer and be dirty every day.
How does it work? Everything is straightforward. Actually, the contents are sucked into a special tank thanks to opening a valve in the sewer line. Then, when the plane lands, ground staff attach a truck line and empty the tank for disposal.
Why should you turn on airplane mode?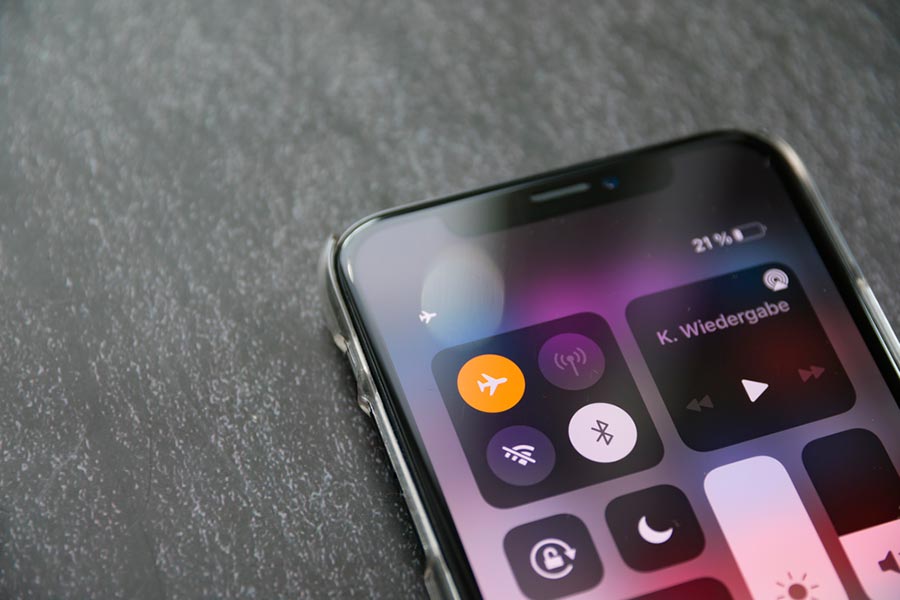 If you've noticed that your fellow passenger is surfing on the Internet after taking off, don't worry - you're not going to fall out of the sky. However, airplane mode will significantly help to reduce interference and the associated distractions a phone may create on the flight deck.
What do those dings mean?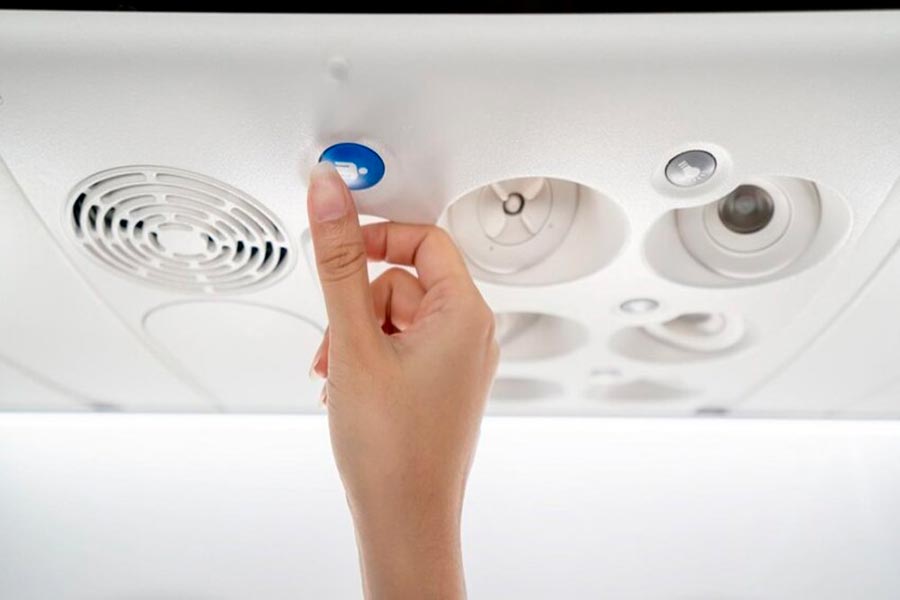 Communication among aircrew members would be problematic if relayed from cabin to cabin. That's why airlines use chimes.
But how do such chimes work? Shortly after takeoff, you'll hear the noise that tells the crew the landing gear has been retracted. If you hear a single chime during a flight, it often signals another passenger is pressing the call button. Several calls may indicate that the pilot tells flight attendants that turbulence is ahead to have time to stow their carts.
Why does almost nobody die on a plane?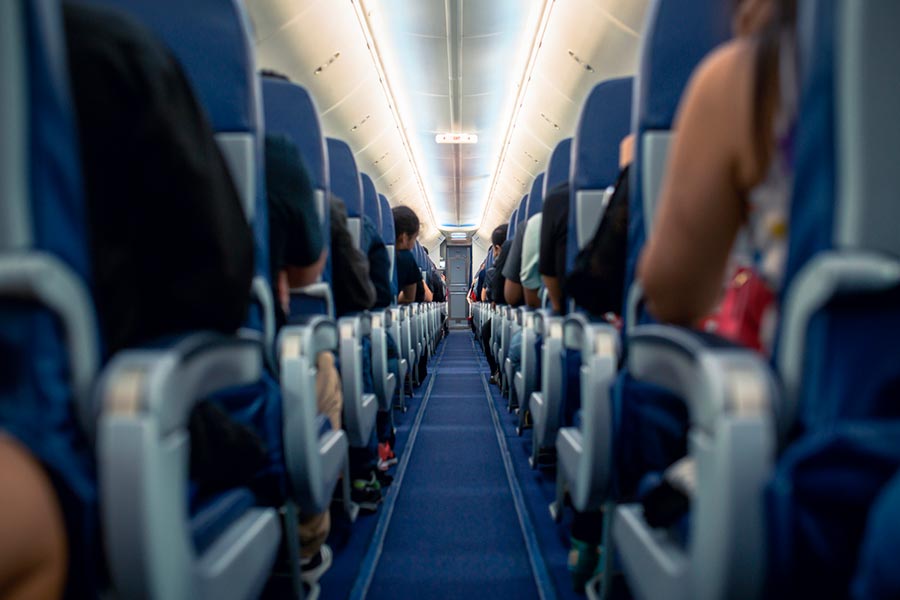 According to the statistics, which shows that only eight passengers died of the four billion, you'll be highly unlikely to pass away on a plane. However, if such a situation happens and there is no doctor on board, the crew will follow agreed IATA protocols – which usually involve leaving passengers in their seats – and await an official declaration from qualified medics when the plane reaches its destination.
Here you'll find some helpful tips for your next trip!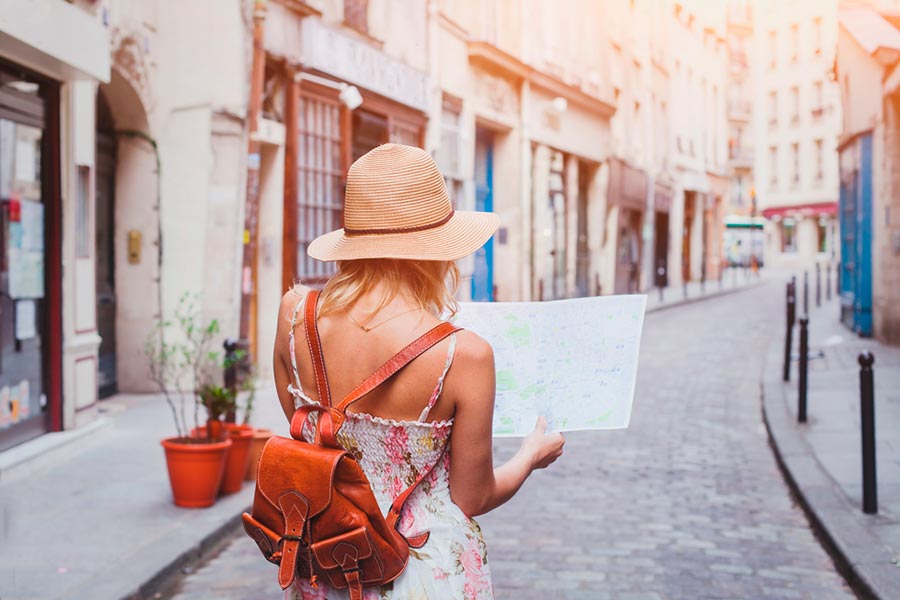 Have you ever heard something about off-site parking? If not, we recommend you take a closer look at this part of the article, as this information will be handy for those who prefer to travel by air and get to the airport by their own car.
Most people suppose that parking at the airport is the fastest and most convenient option for them. However, it's not actually true. We'll explain to you why.
To be true, being in a terminal parking lot isn't convenient at all. Although on-site airport parking is the nearest place where you can leave your vehicle for the period of a trip, you can face the following difficulties:
You will need to find a spot in a crowded lot,
You will need to carry the luggage all the way through the parking lot,
You must pay expensive fees without great service.
Sounds not good, right? However, we found an excellent solution for you - in this case, off-site parking can become a savior for you. So if you're trying to find a parking spot with great service nearby the airport you're flying from and don't want to leave there the most significant part of your budget, pay attention to this option.
How does it work?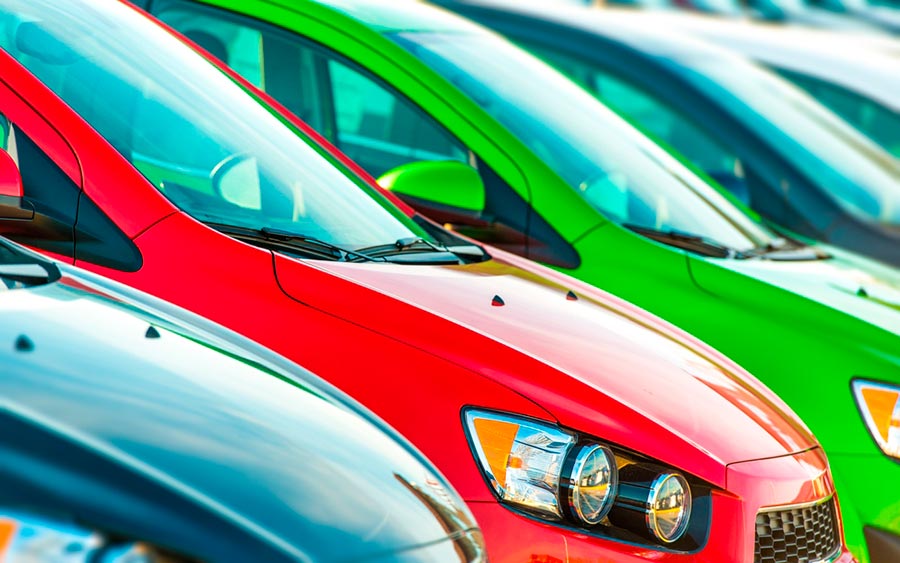 Obviously, people who chose a car as a way to get to the airport want to leave their vehicle safely while traveling and not to face the problems we described above. So what can off-site airport parking offer its customers?
Although a few miles usually separate such parking from the airport, you shouldn't worry about this. Off-site parking provides free shuttles going back and forth between the parking lot and the airport. Thanks to this, it removes any worries about getting stuck in traffic on the way to the airport during peak times. So all you need to do is choose the best time for you and inform the parking lot staff.
How does it work? Actually, everything is straightforward: when you come to the entrance, the staff will remove your luggage from your car and load it onto the shuttle, which will take you and your bags to the terminal. Then, the vehicle will be parked securely.
In addition, this type of parking is much cheaper, and this is good news, as nobody wants to waste money. Therefore, off-site parking is the perfect option to receive excellent service and save money at the same time.
Want to find some great offers? You don't need to go somewhere - just find it right here!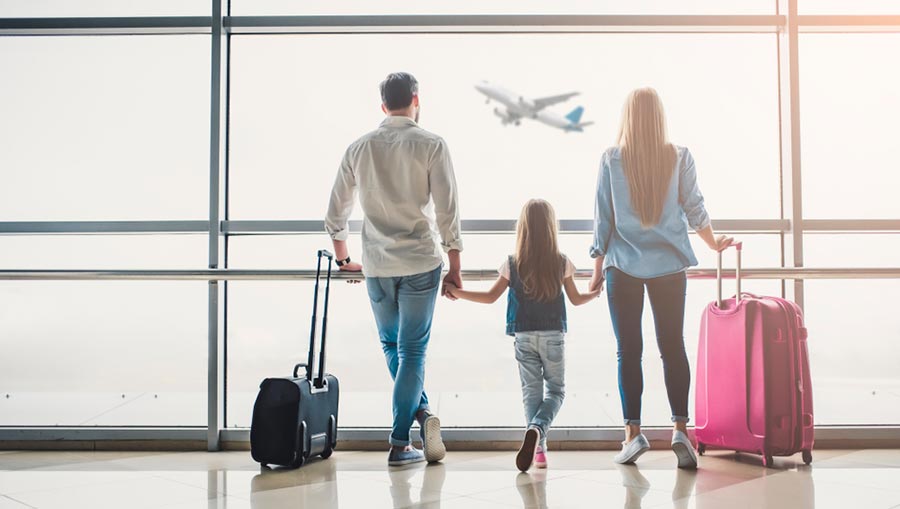 We're glad to inform you that you can find this solution right here. Our booking platform, ParkingNearAirports.io, offers the best prices on airport car parking and bundles hotel and parking packages. Besides, we provide the services for top cruise ports in Florida, Louisiana, Maryland, New Jersey, and Texas.
Our platform allows you to reserve a parking spot through a few clicks within the application. As a result, customers receive a booking confirmation and a guaranteed parking spot upon arrival at the off-airport lot. Besides, if plans change, you can cancel hassle-free and receive a refund.
To understand it better, we would like to give you an example. Let's imagine that you live in NYC. If you're planning a trip to Orlando, you can use the services of
cheap parking near LaGuardia Airport
. If you're coming from Orlando, the situation is the same - you can choose
Orlando Airport economy parking
. So it just depends on the place you're flying from.
Also, ParkingNearAirports.io offers its customers special
airport parking reservations coupons
. With the help of these coupons, you can make the price for parking even two times less. So don't forget to use them to save as much money as possible.
You can find all the necessary and helpful information connected with the off-site airport parking on our official website. Enjoy traveling!