Living in the digital world, it's quite easy to forget about your love of physical books. The smell of the ink and the pages, the feeling of holding a heavy tome in your hands, and, finally, how it is – to enter a bookstore and browse for hours until you find an ideal paperback. Fortunately, there are some amazing bookstores that can help you to reignite your love for reading quickly – below are the 3 of our favorites that are definitely worth your attention. So let's not waste time and take a closer look at them!
1. Shakespeare and Company – Paris, France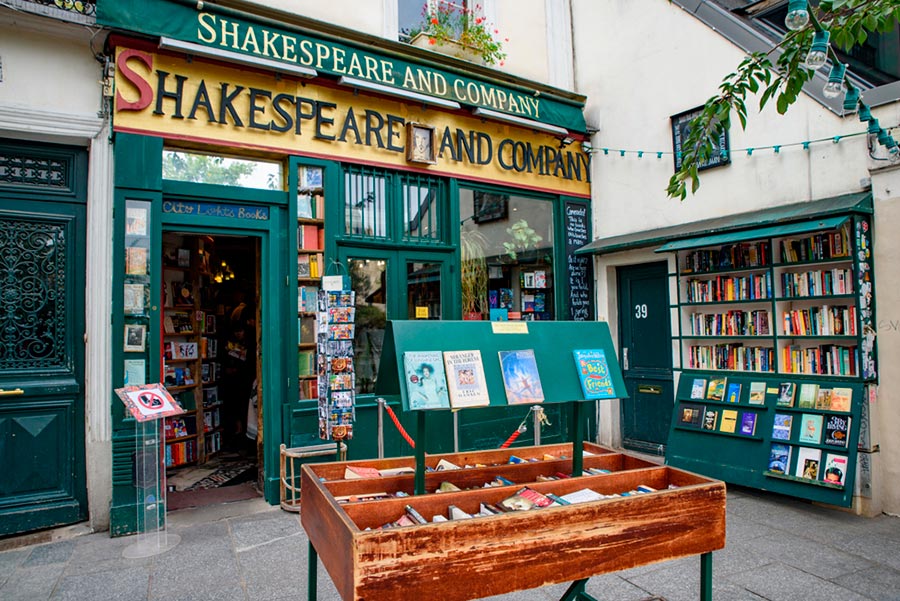 Source – Shutterstock. Shakespeare and Company – the famous English-language bookstores in Paris, France
The most well-known independent bookshop in the world,
Shakespeare and Company, is situated in Paris, France, right on the Seine River. The worn-out shelves and vintage sign outside bring back memories of older times when writers like Henry Miller and Allen Ginsberg frequented the shop to hang out and promote their latest publications. The fact that generations of authors, including those whose works we now hold in the greatest regard, such as Anas Nin, William Styron, Martin Amis, Zadie Smith, and Dave Eggers, have attended this bookstore throughout the years is precisely what makes it so remarkable.
2. El Ateneo Grand Splendid – Buenos Aires, Argentina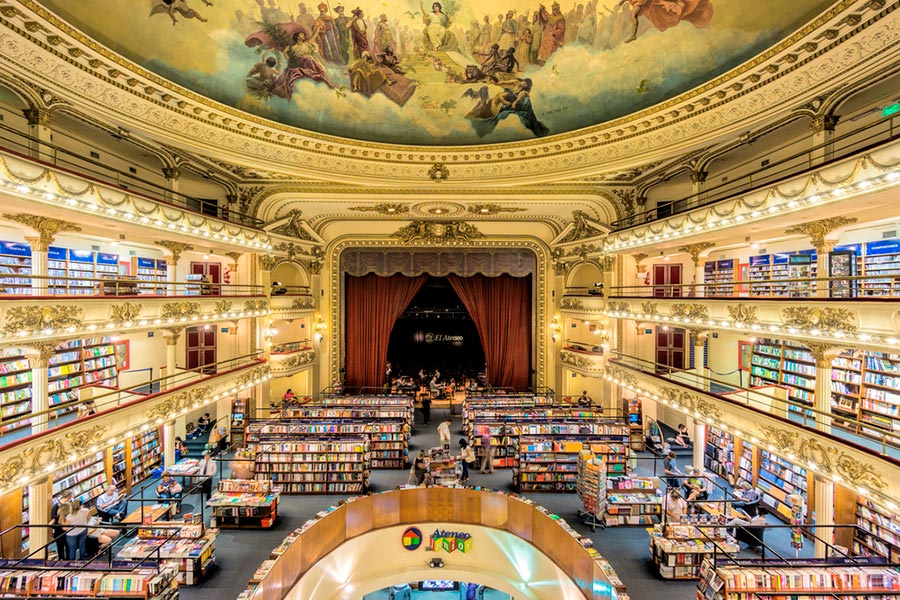 Source – Shutterstock. El Ateneo Grand Splendid – one of the well-known bookshops in Buenos Aires, Argentina
El Ateneo Grand Splendid in Buenos Aires is referred to as "Splendid," to put it mildly. Undoubtedly, this amazing bookstore is one of the most intriguing sites on the planet. It was first a theater, then it evolved into a cinema, and, finally, it was filled with books. This bookstore appears to be something out of one of the storybooks it holds thanks to the amazing ceiling frescoes, elaborate stage curtains, high-class theater boxes, and stage from 1919 that are all still there in their creative grandeur.
3. Cafebrería El Péndulo – Mexico City, Mexico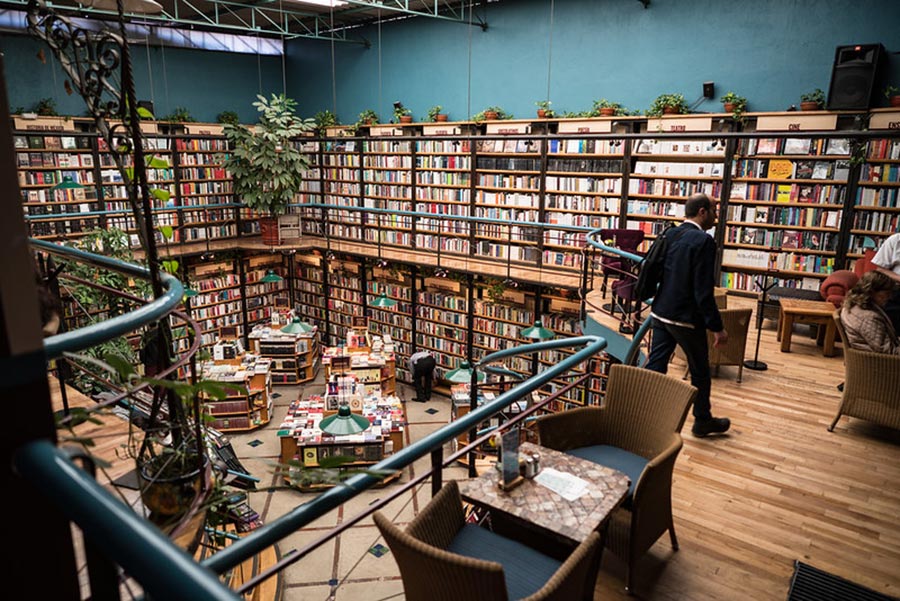 Source – Flickr. Cafebrería El Péndulo second floor in Mexico City, Mexico
In Mexico City, Cafebrería El Péndulo is a nice, tranquil spot to pass the time. This bookstore's tall walls are stacked floor to ceiling with books, and there are both real and imitation plants all over the place to give the impression that you are reading these books outside. There is also a cafeteria, which makes things even better because you can eat traditional Mexican meals and fruit salad as you read. There is virtually no reason for you to ever leave since you can eat these items while relaxing on the store's benches and reading to your heart's delight.
Travel conveniently while looking for the most well-known works together with our smart booking platform!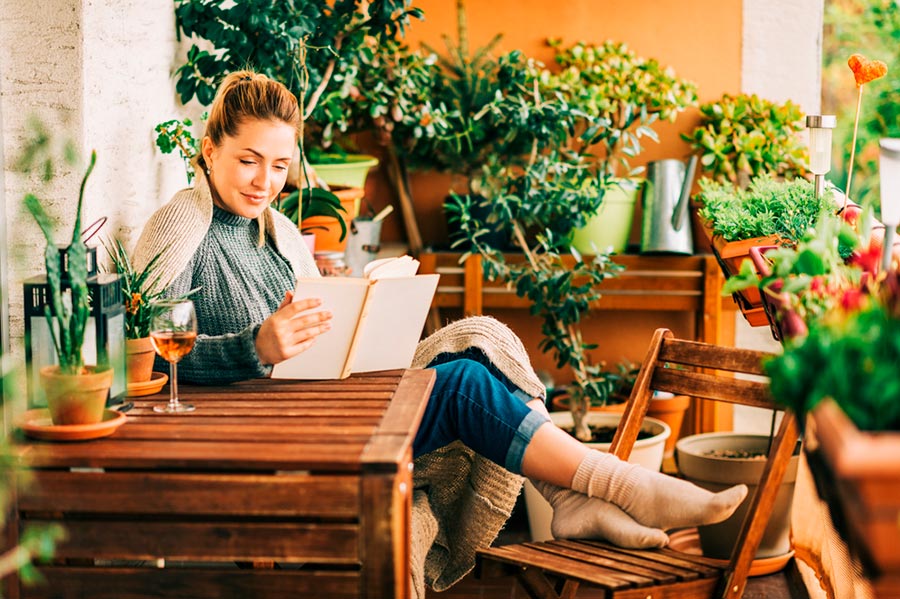 Source – Shutterstock. A young pretty woman is resting on a cozy balcony and reading a book
In addition to our general recommendations, we would also like to convey some useful information on traveling, which will be handy for those who prefer doing this by air.
If you use your own car to reach the airport, you know it is critical to park it safely for the duration of your trip. Almost every airport has special on-site parking for this purpose. However, travelers aren't ready to spend a lot of money at the beginning of their trip, as this option is pretty costly. So what should we do then?
Our booking platform, ParkingNearAirports.io, offers travelers online reservations for parking just outside airports that are affordable and convenient. Our experienced team is dedicated to providing travelers parking options at over 100 airports in the U.S. and Canada. The app allows customers to search and compare parking rates at up to 70 percent savings compared to the cost of on-site parking at all major airports.
What is actually off-site parking, and which advantages has this parking type, you may ask? So let's take a closer look at this question.
First of all, off-site parking is much cheaper. So you can save money and then spend the most considerable amount on the things you really want to try or see while traveling.
Secondly, off-site parking services are faster. It might seem that it's faster to park your car at the airport, but that's not always the case. Off-site parking offers you the following convenience: when you drive directly up to the entrance, a staff member pulls your luggage out of your vehicle and loads it into the shuttle. Then they park your car for you. After your baggage is loaded, you can take your seat in the shuttle, which will bring you and your bags to the airport. It is a hassle-free option that is usually faster.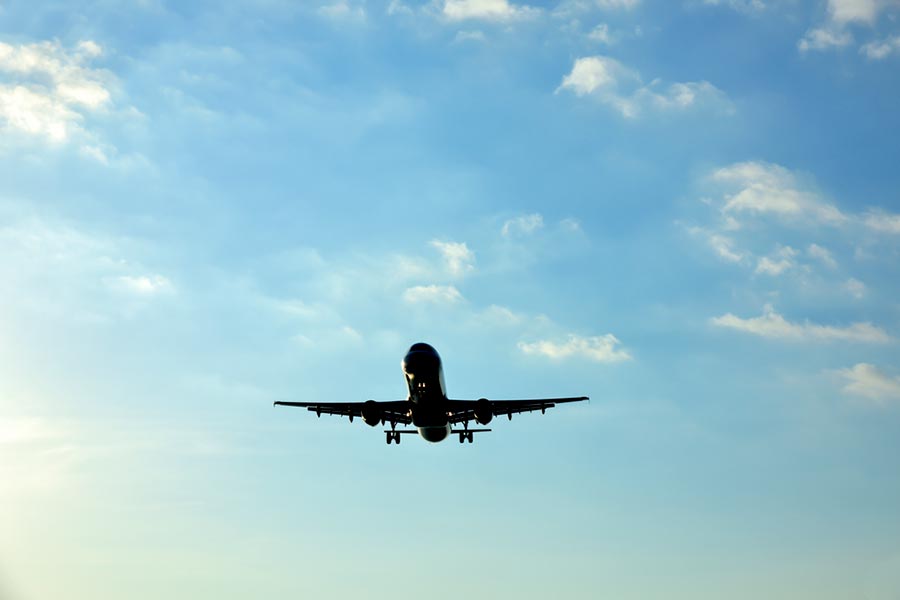 Source – Shutterstock. Silhouette of airplane with clear blue sky background
Thirdly, it's much more convenient. People are always stressed before the trip, as there are many things you should keep in mind. Not to be late when taking off, fighting traffic, finding a parking place, wondering how long the shuttle service will take, and more can leave you annoyed before you step foot inside the airport. If you choose off-site parking, you are using the assistance of a private company that caters to travelers' needs. Such services can make your trip much more comfortable when you arrive at the airport and return home.
With ParkingNearAirports.io, it takes just a few clicks within the application to reserve a parking spot. Upon arrival at off-airport parking, customers receive a booking confirmation and a guaranteed parking spot. The app helps customers find the most convenient airport parking lots. If plans change, cancellations are hassle-free and refundable.
We also offer you services for top cruise ports in Florida, Louisiana, Maryland, New Jersey, and Texas.
Let's look at an example. Imagine that you live in Phoenix, Arizona. If you're planning a trip to Mexico City, Mexico, you can choose affordable
off-site parking PHX
. If you're coming from San Diego, California, the situation is the same - you can use
cheap parking near San Diego Airport
. So it depends just on where you are flying from.
On our official website, you can find the best deals,
domestic airport parking charges
, and other information connected with parking near U.S. and Canadian airports.