Fall is around the corner, and travelers slowly start to think about their vacation at this time of year. In addition, they need to plan their budget – traveling isn't only about pleasure; it's about spending money as well. Here's what Yahoo Finance's Kerry Hannon says about what we expect to see regarding airfare prices in fall 2022 – we've prepared for you a small interview that was got from the Live show. Let's check!
What are the forecasts for fall 2022 regarding airfare prices?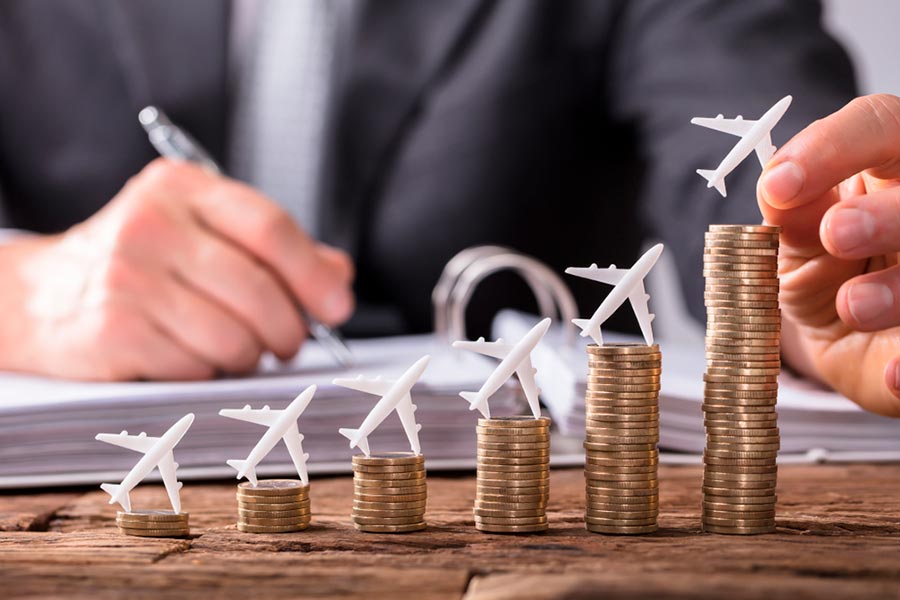 Source – Shutterstock. Close-up of a human hand placing small airplane on increasing stacked coins over wooden desk
DAVE BRIGGS (interviewer): If outrageously expensive flights have kept you from traveling this summer, it's time to change that and put it all back in place. Recently, domestic airfare prices have gone down. Kerry Hannon, a senior columnist for Yahoo Finance, is here with that report. What's going on with domestic airfares, Kerry?
KERRY HANNON: Oh, I adore that. Yes, the booking app Hopper released their index this week, which indicates that prices are falling by about 25% this month, will remain low through most of September, will begin to rise once more as we go through October and November, and will eventually rise back to closer to $400 for the average round-trip domestic fare by the end of the year.
But right now, you may find some fantastic discounts. They're currently coming for under $300 and are most likely to remain through September. However, they're telling me to get moving. You need to receive the best fares. Bookings should be made at least three weeks in advance. In order to find those low fares, fire up Hopper, Google Flight Search, Kayak, or whichever app you want to use because now is the time to start looking.
SEANA SMITH: What about reschedules and cancellations, Kerry? There's any progress there?
KERRY HANNON: They're trying, I'll tell you that much. No, in actuality. This will be a problem for us for some time. They don't actually anticipate reaching capacity again until the summer of 2019. Flights have been reduced by airlines. You should hurry to acquire your tickets since when there is a problem, everyone will be fighting for these seats.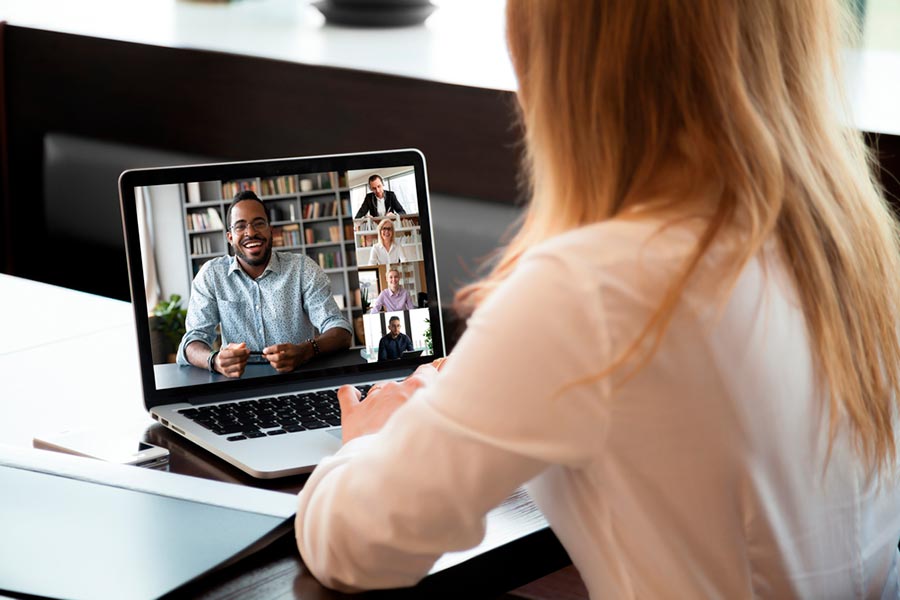 Source – Shutterstock. A young woman is being interviewed
However, there is no way to simply switch to another aircraft when something unexpected happens, such as a technical issue or a weather-related delay, because there are simply fewer planes available. So, regrettably, this will persist for some time.
DAVE BRIGGS (interviewer): Before this day is over, some positive news. Thank you, Kerry Hannon, for that. It appears to be time to set those alerts, Seana. And that was her primary point. Choose your destination before using Scott's Cheap Flights or any other booking service. When the opportunity arises, seize it.
SEANA SMITH: The timeline there was really fascinating. At least three weeks out, she said. I had believed that the ideal time to book the tickets would be at least six, nine, or twelve weeks in the future. The good news is that you still have time to book your airfare if you're planning to travel in September or October. We were anticipating a slight return. It appears to be steadily dropping, which is good news for us, the consumers.
DAVE BRIGGS (interviewer): Yes, there are now some solid deflationary stories available. Okay, that's all we have for Seana Smith. Thank you for the interview and have a nice day!
Are you going to buy tickets soon? If so, let's have a look at our helpful travel tips as well!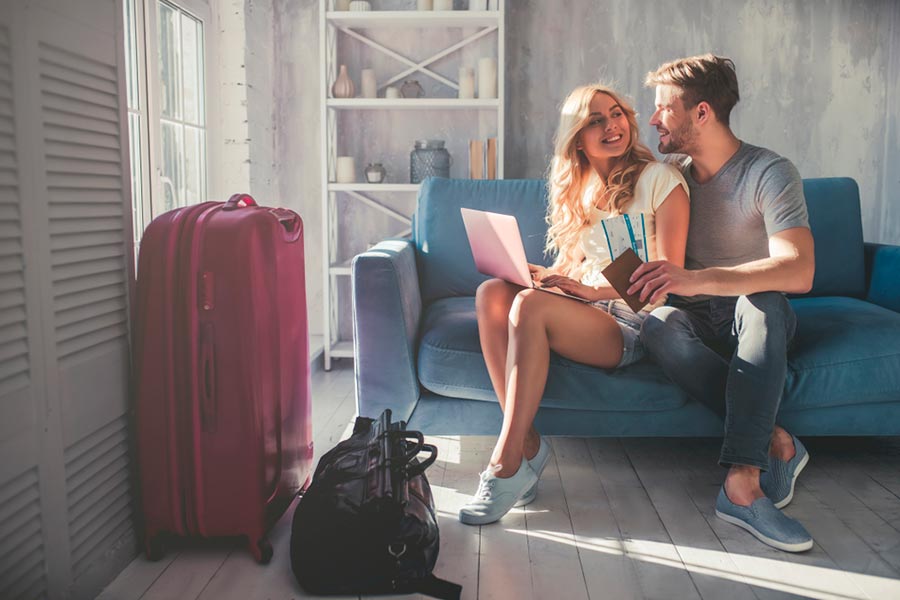 Source – Shutterstock. Young romantic couple is preparing for travel at home
It's pretty clear that everyone wants to save as much money as possible and get excellent services at the same time, especially while traveling. Prefer to get to the airport by your own car? If so, please draw special attention to this part of the article.
We suppose you have used to choose on-site parking if you prefer to get to the airport by your own vehicle. Most people think that it's much more convenient and faster, as it's the nearest area to the place a plane is flying from. However, they probably forget that this type of parking is too costly. Besides, you will have to face the following unpleasant moments:
You will need to find a spot in a crowded lot,
You will need to carry the luggage all the way down the parking lot,
You must pay expensive fees with no service.
Sounds terrible, right? Is there any solution in such a situation, you may ask? We're happy to say - of course, there is one! If you choose to use the services provided by off-site parking, you won't definitely regret it. So let's take a closer look at this parking type.
What is actually off-site parking?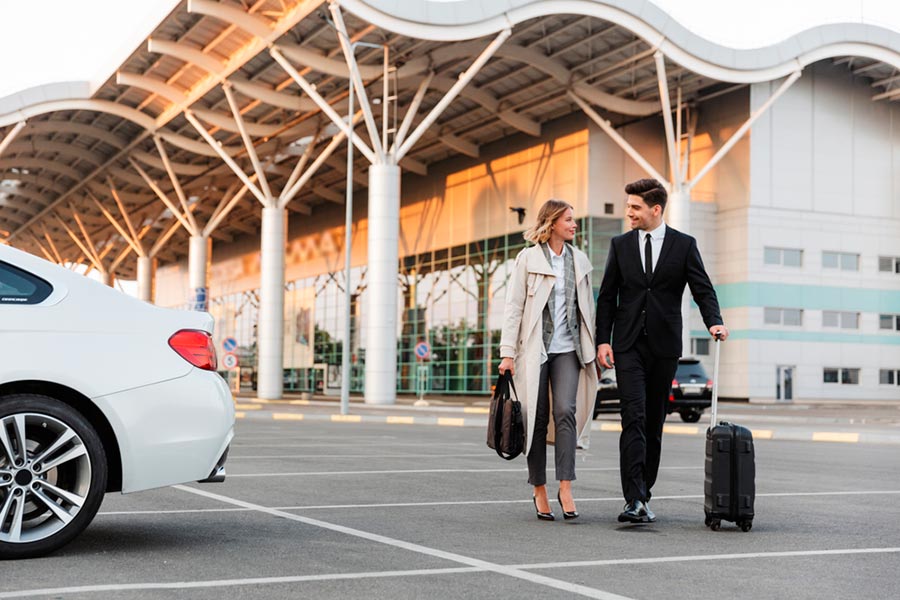 Source – Shutterstock. Photo of smiling colleagues man and woman in formal wear walking with suitcase on parking near airport outdoors
Obviously, no one wants to face all of such difficulties we described above, and you can easily avoid them if you choose an off-site parking option. So let's take a look at how it works.
When you come to the entrance, the staff member pulls your baggage out of your car and loads it to the shuttle, which will take your bags and you later to the airport you're flying from. Then they will find a parking spot and park your car there for you.
Please don't worry about the few miles, which usually separate the parking lot and the airport. Off-site parking usually provides free shuttles to and from the airport for its customers. Thanks to this, you have no worries about getting stuck in traffic on the way to the airport during the peak times. So all you need to do is choose the best time for you and inform the parking lot staff.
In addition, this type of parking is much cheaper, and this is good news, as nobody wants to waste money. Therefore, off-site parking is the perfect option to receive excellent service and save money at the same time.
You can find the best deals right here!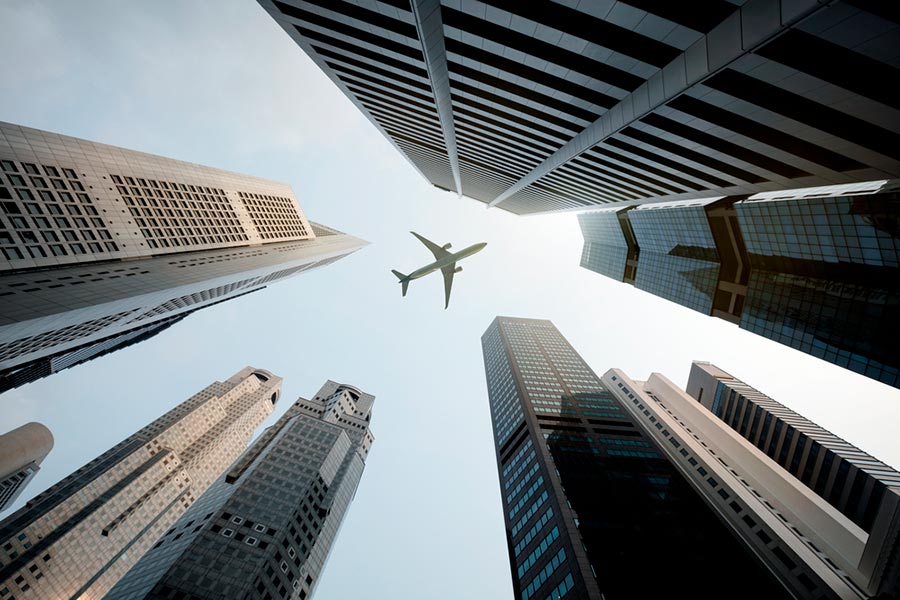 Source – Shutterstock. Tall city buildings and a plane flying overhead
If you're looking for the best deals for airports, you're in the right place.
We are glad to inform you that our booking platform, ParkingNearAirports.io, offers the best prices on airport car parking and bundles hotel and parking packages. Besides, we provide the services for top cruise ports in Florida, Louisiana, Maryland, New Jersey, and Texas.
Our partners are the most reliable parking providers outside the major airports in the United States. We offer their services for passengers who are looking for safe and secure parking for their vehicles.
In addition, we can arrange valet parking, self-parking, or a vehicle to pick you up from the hotel to the terminal and vice versa. Just let us know the dates, choose your preferred services, and we'll get it done for you.
It only takes a few minutes to make a reservation. Get the most affordable rates and experience hassle-free off-site parking.
To understand it better, we would like to give you an example. If your trip starts in Cleveland, Ohio, you can use the services of cheap
parking near Cleveland Hopkins Airport
. If you're flying from Richmond, Virginia, you can choose
RIC daily parking
. So it just depends on the place you're leaving from.
Also, ParkingNearAirports.io offers its customers special
parking coupons
. With the help of these coupons, you can make the price for parking even two times less. So don't forget to use them to save as much money as possible.
You can find all the necessary and helpful information connected with the off-site airport parking on our official website. Enjoy traveling!