Everyone has ever dreamed of seeing amazing wildlife in its natural habitat with their own eyes. Fortunately, you have such an opportunity – you can actually consider several options, including watching Uganda's majestic mountain gorillas, swimming with sea turtles in the Galápagos, and even playing with elephants in the Okavango Delta, Botswana. Moreover, it won't be another typical trip to the zoo – you'll be definitely excited about our Earth's beauty, which will make your dreams come true. So don't waste your time and get your camera ready – our wildlife journey starts right now!
1. Majestic Mountain Gorillas in Uganda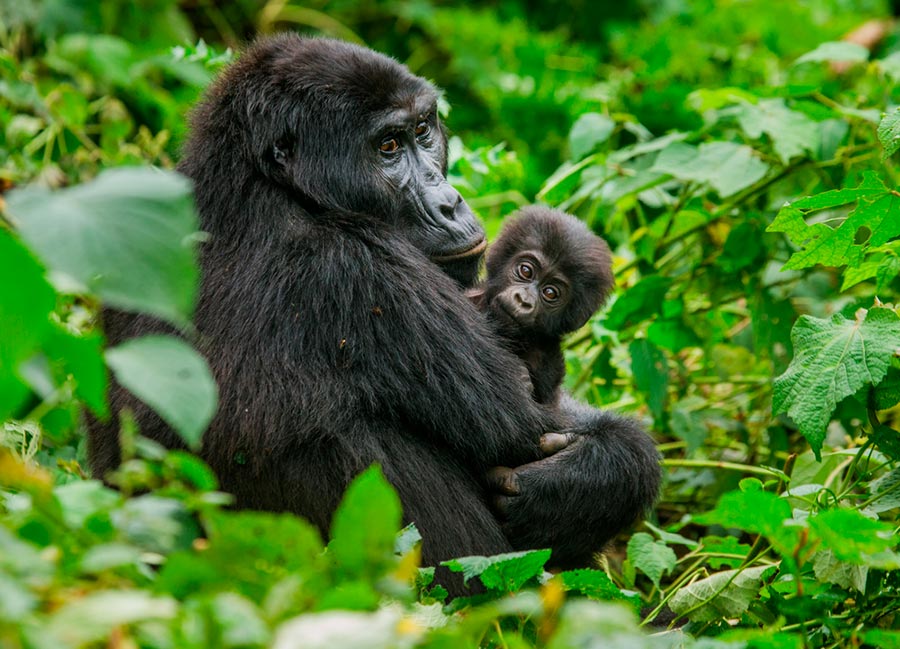 Source – Shutterstock. A mountain gorilla with a baby in Uganda
It's a once-in-a-lifetime experience to journey through Uganda's tropical rainforests in search of the endangered Silverback Mountain Gorilla, and the Bwindi Forest is your best option for doing so. Nearly half of the wild mountain gorillas in the world live in this little region. This environment is home to various thriving animals, including around 400 gorillas in 20 "troops," as well as a variety of mammal and bird species.
You must make special preparations if you want to come into contact with these creatures. Only 9 groups of gorillas have adjusted to living with humans, thus only a small number of gorilla tracking permits are given out each day. So if you want to reserve a spot to see the most fascinating and approachable gorilla families in the world, sign up early and pay in full.
2. Marine Life in the Galápagos Islands, Ecuador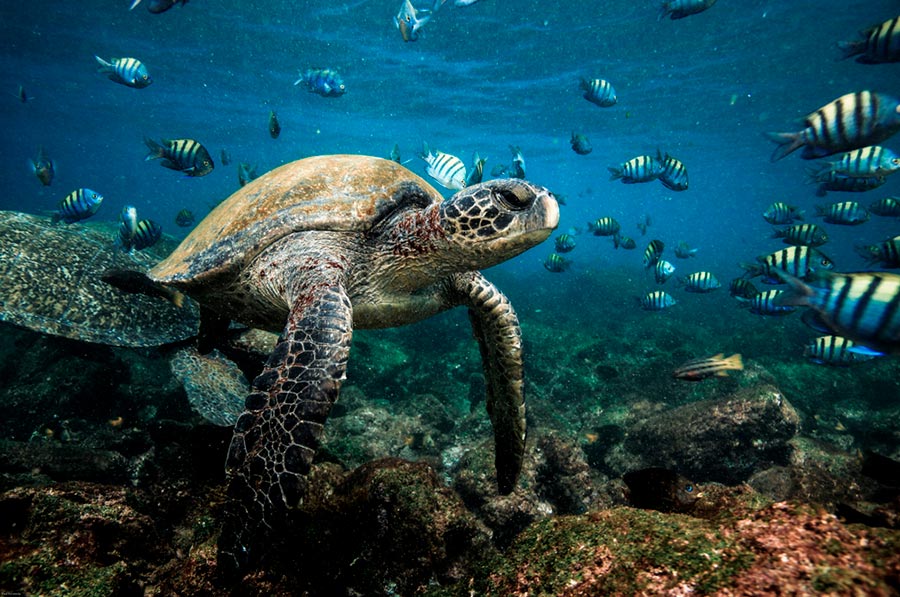 Source – Shutterstock. Green sea turtle and sergeant major, Galapagos Islands
The popularity of the Galápagos Islands among ecotourists is fast increasing. The 19 islands that make up the Galápagos lie 600 miles off the coast of Ecuador in the Pacific Ocean and are encircled by a marine reserve named the "showcase of evolution." Any ecotourist's must-see list of destinations should include this.
For a memorable encounter, get up and personal with a variety of friendly species, including gigantic sea tortoises and joyful sea lions. In the Galápagos, lizards swim and birds walk; humans aren't the main attraction for once.
3. Elephants in the Okavango Delta, Botswana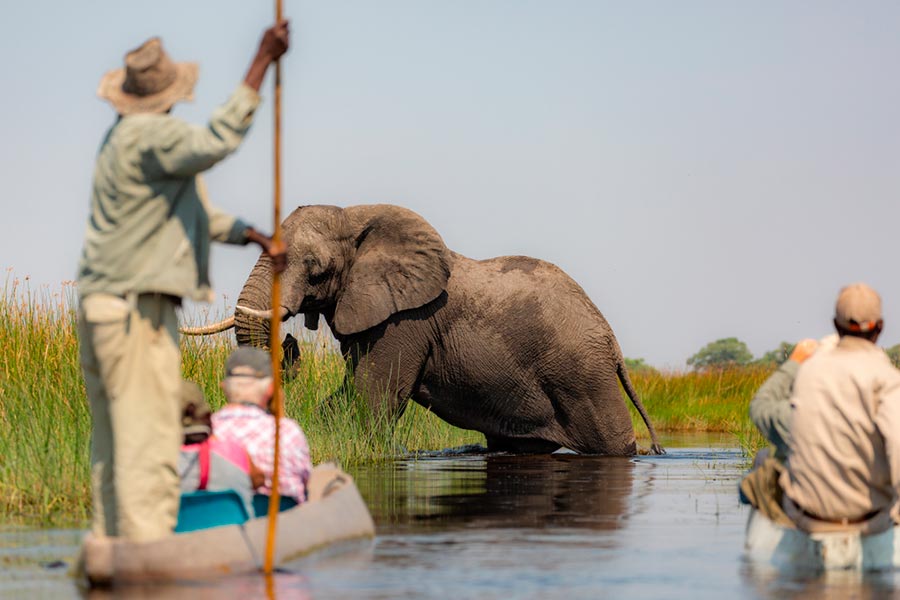 Source – Shutterstock. Departure from the Okavango Delta in Botswana by mokoro
The Okavango Delta in Botswana is unquestionably one of the most spectacular places in the world to see animals. The ebbing and flowing of river waters and the everyday drama of wildlife survival that are broken up by the distant roar of the lion or the insane whooping of a gang of hyenas have something primal. You can observe incredible animals up close as you discreetly paddle a mokoro, a traditional dugout canoe, down one of the largest inland deltas in the world. If you're patient, you might even see an elephant herd cooling off just around the corner, a fish eagle watching and waiting for a meal to swim past, or a terrapin relaxing on a floating log. Your thoughts may probably go to the mysteries tucked away in the swaying papyrus reeds of the twilight breeze.
There are plenty of safari lodges to pick from, and as tourism is Botswana's main source of income, you can count on luxurious lodgings that let you explore the region in comfort.
Are you ready for such an extreme journey? If so, take a closer look at our helpful travel tips!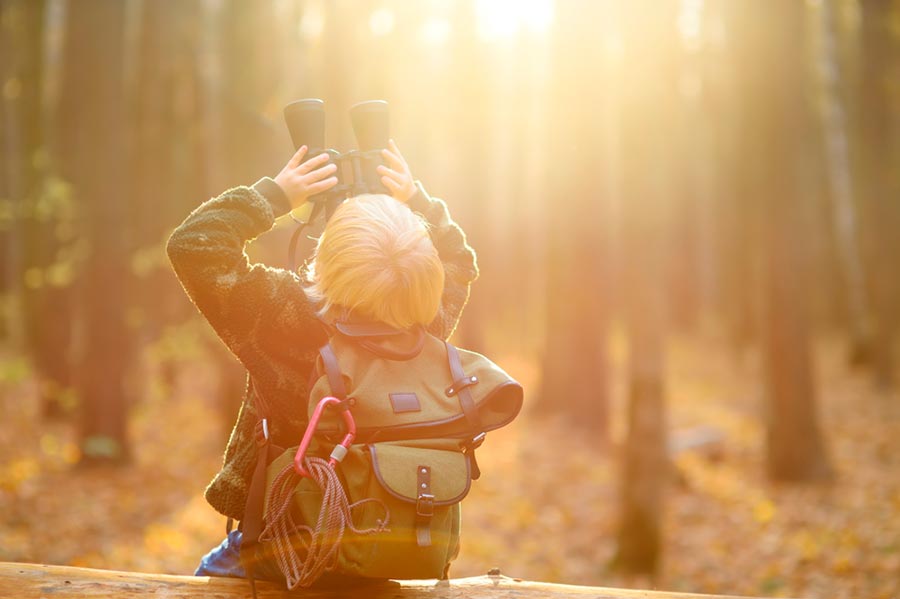 Source – Shutterstock. Little boy scout with binoculars during hiking in autumn forest
Have you ever heard something about off-site parking? If not, we recommend you take a closer look at this part of the article, as this information will be handy for those who prefer to travel by air and get to the airport by their own car.
Most people suppose that parking at the airport is the fastest and most convenient option for them. However, it's not actually true. We'll explain to you why.
To be true, being in a terminal parking lot isn't convenient at all. Although on-site airport parking is the nearest place where you can leave your vehicle for the period of a trip, you can face the following difficulties:
You will need to find a spot in a crowded lot,
You will need to carry the luggage all the way through the parking lot,
You must pay expensive fees without great service.
Sounds not good, right? However, we found an excellent solution for you - in this case, off-site parking can become a savior for you. So if you're trying to find a parking spot with great service nearby the airport you're flying from and don't want to leave there the most significant part of your budget, pay attention to this option.
How does it work?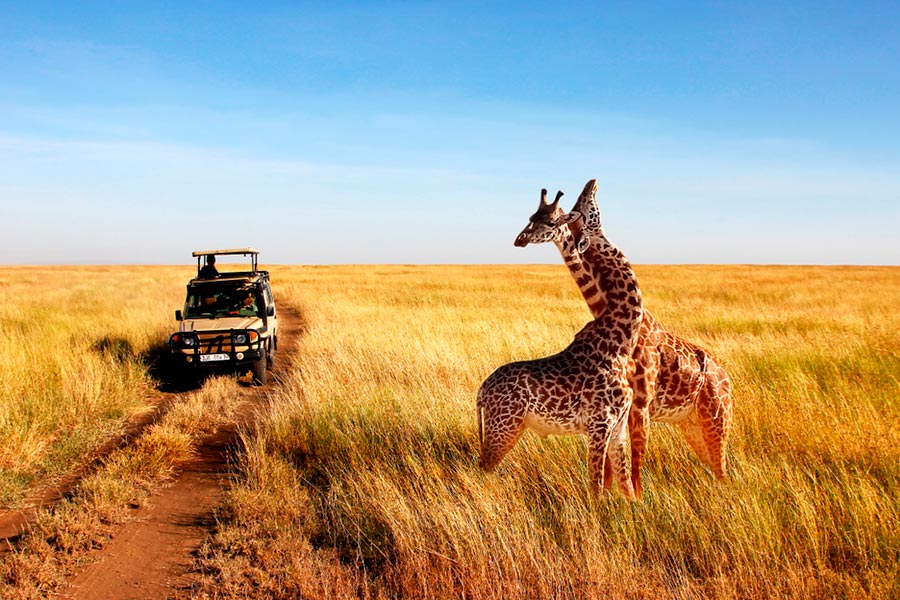 Source – Shutterstock. Wild giraffes in the African savannah, Tanzania
Obviously, people who chose a car as a way to get to the airport want to leave their vehicle safely while traveling and not to face the problems we described above. So what can off-site airport parking offer its customers?
Although a few miles usually separate such parking from the airport, you shouldn't worry about this. Off-site parking provides free shuttles going back and forth between the parking lot and the airport. Thanks to this, it removes any worries about getting stuck in traffic on the way to the airport during peak times. So all you need to do is choose the best time for you and inform the parking lot staff.
How does it work? Actually, everything is straightforward: when you come to the entrance, the staff will remove your luggage from your car and load it onto the shuttle, which will take you and your bags to the terminal. Then, the vehicle will be parked securely.
In addition, this type of parking is much cheaper, and this is good news, as nobody wants to waste money. Therefore, off-site parking is the perfect option to receive excellent service and save money at the same time.
Want to find some great offers? You don't need to go somewhere - just find it right here!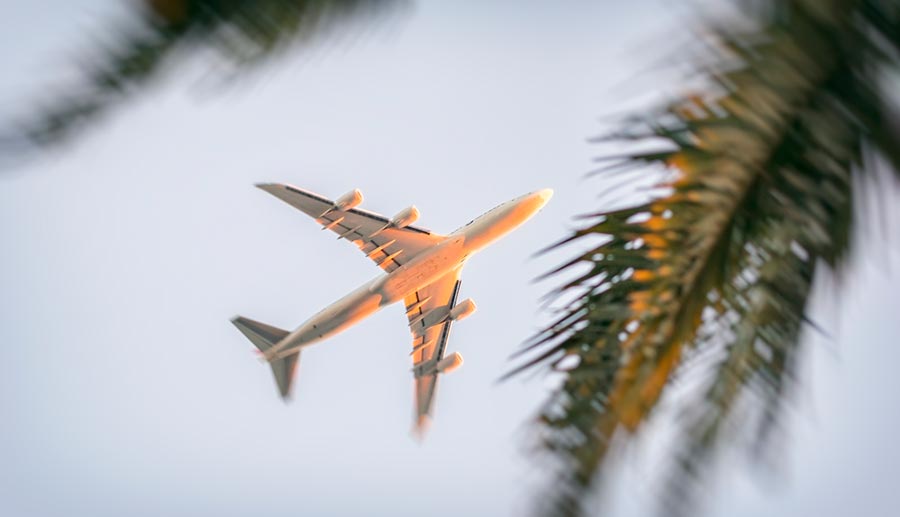 Source – Shutterstock. Airplane framed by palm trees
We're glad to inform you that you can find this solution right here. Our booking platform, ParkingNearAirports.io, offers the best prices on airport car parking and bundles hotel and parking packages. Besides, we provide the services for top cruise ports in Florida, Louisiana, Maryland, New Jersey, and Texas.
Our platform allows you to reserve a parking spot through a few clicks within the application. As a result, customers receive a booking confirmation and a guaranteed parking spot upon arrival at the off-airport lot. Besides, if plans change, you can cancel hassle-free and receive a refund.
To understand it better, we would like to give you an example. Let's imagine that you live in New York City, New York. If you're planning a trip to Galápagos Islands, Ecuador, you can use the services of cheap
Jiffy JFK parking
. If you're coming from Houston, Texas, the situation is the same - you can choose affordable
long-term parking Bush Airport
. So it just depends on the place you're flying from.
Also, ParkingNearAirports.io offers its customers special
airport parking reservations coupons
. With the help of these coupons, you can make the price for parking even two times less. So don't forget to use them to save as much money as possible.
You can find all the necessary and helpful information connected with the off-site airport parking on our official website. Enjoy traveling!