Never-ending natural beauty and incredible landscapes found their home precisely in US well-known mountain ranges. However, if you aren't in love with backcountry camping or roughing it, reaching the towering terrain might cause some confusion. Fortunately, there are multiple mountain cities full of character and class that make traveling to several United States' most wonderful regions the easiest thing.
Below you'll see the best mountain towns in America, from the well-known to the underappreciated. So let's not waste time and see everything with our own eyes!
1. McCall, Idaho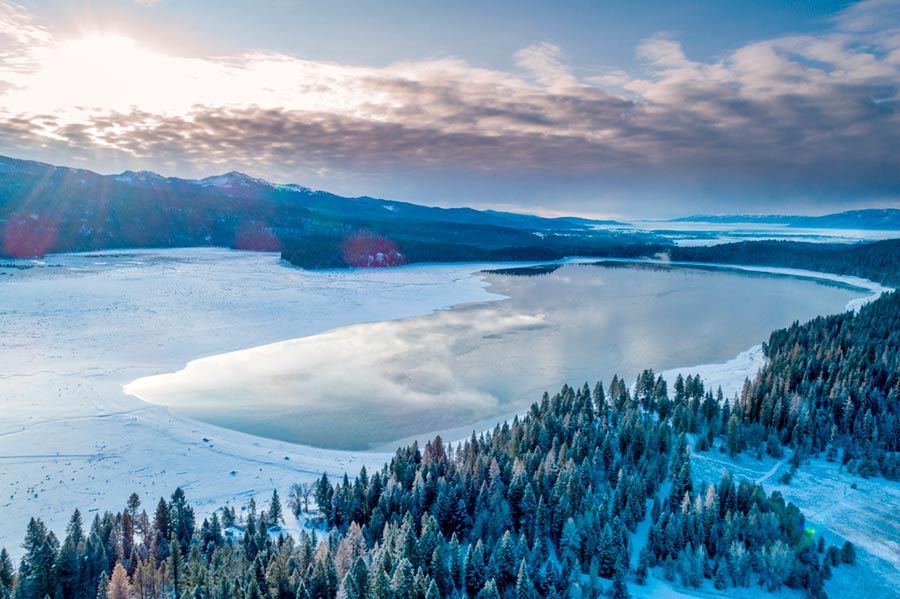 Source – Shutterstock. Morning light over Little Payette Lake – McCall, Idaho
McCall is a less well-known but no less alluring resort town that is ideally placed and offers a variety of seasonal activities. Summertime is a busy period at Payette Lake, a sparkling glacier lake surrounded by the Payette National Forest's snow-capped hills. Skiers and snowboarders enjoy Brundage Mountain's combination of groomed routes and backcountry terrain throughout the long winters. A plunge in the Gold Fork Hot Springs, located just 30 miles south of town, will warm you up after a cool day on the slopes. Additionally, you must attend the legendary McCall Winter Carnival if you go in the winter.
2. Helen, Georgia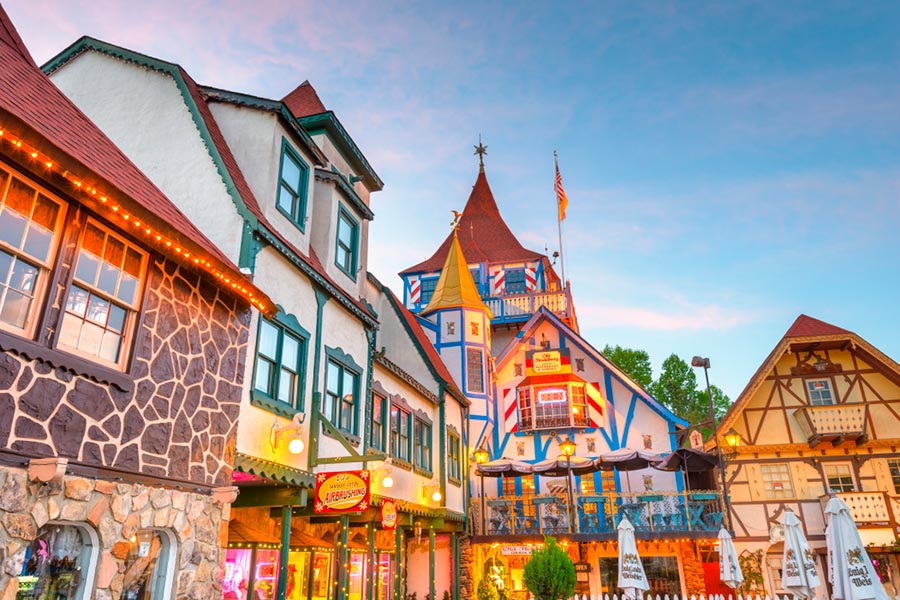 Source – Shutterstock. Helen Square in Helen, GA
Helen is a charming town located in northeast Georgia on the edge of the Blue Ridge Mountains. You'll feel as if you've left Georgia and entered a European alpine village with its cobblestone alleys, mountain chalets, and painted houses, and its position makes it a popular vacation spot all year long. The Chattahoochee National Forest runs directly into Helen's state parks, shrouding numerous waterfalls, miles of hiking trails, many beaches, and multiple fishing places. Helen, which is known as Georgia's Outdoor Adventure Destination, also provides camping, mountain biking, kayaking, and river tubing. Explore the dozens of specialty stores jammed into the town's two square miles in between adventures.
3. Jackson, Wyoming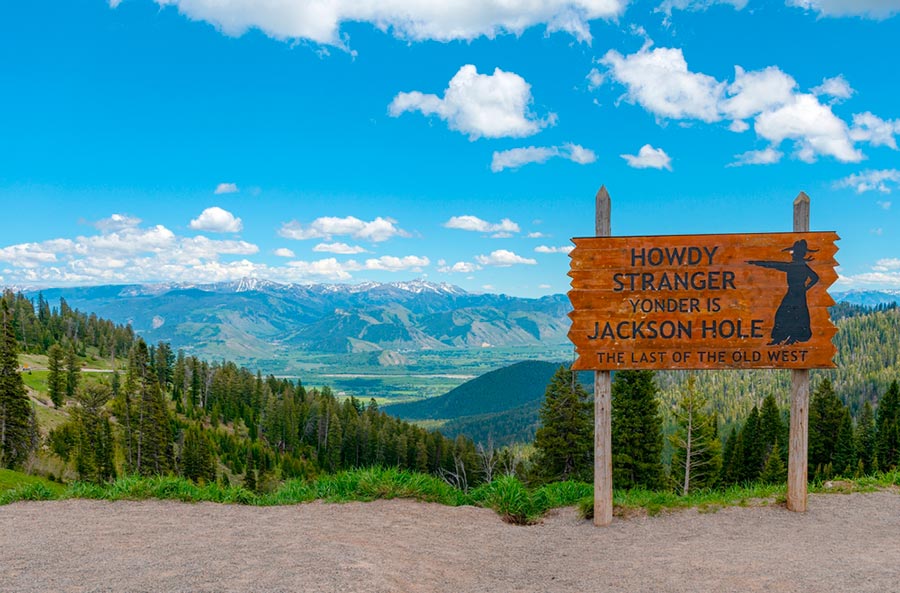 Source – Shutterstock. Welcome posted of Jackson hole viewpoint looking down to the valley with the Tetons mountains Wyoming state
Jackson is far from a remote mountain town; it sits on the southern edge of two massive national parks and is encircled by the towering Tetons. Unquestionably, its claim to fame is the globally renowned Jackson Hole Mountain Resort, which is more similar to a self-sufficient hamlet. Although Rendezvous Mountain is dotted with hotels and eateries, the resort's 2,500 acres of world-class ski slopes and 400 inches of snowfall each year are what really set it apart. There are still a ton of enjoyable activities to partake in besides all the snow-related ones, such as touring the Grand Teton National Park, seeing a performance at the venerable Jackson Hole Playhouse, and soaking in the lovely Granite Hot Springs.
Are you willing to run for the hills?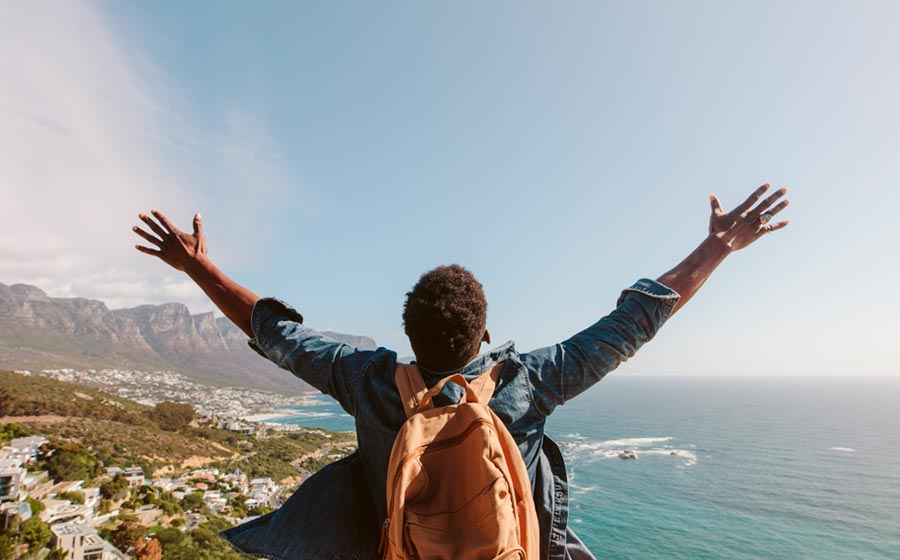 Source – Shutterstock. A man enjoys the view from the top of a mountain
If so, we would also like to convey some useful information on traveling – it will be handy for those who prefer doing this by air.
If you use your own car to reach the airport, you know it is critical to park it safely for the duration of your trip. Almost every airport has special on-site parking for this purpose. However, travelers aren't ready to spend a lot of money at the beginning of their trip, as this option is pretty costly. So what should we do then?
Our booking platform, ParkingNearAirports.io, offers travelers online reservations for parking just outside airports that are affordable and convenient. Our experienced team is dedicated to providing travelers parking options at over 100 airports in the U.S. and Canada. The app allows customers to search and compare parking rates at up to 70 percent savings compared to the cost of on-site parking at all major airports.
What is actually off-site parking, and which advantages has this parking type, you may ask? So let's take a closer look at this question.
First of all, off-site parking is much cheaper. So you can save money and then spend the most considerable amount on the things you really want to try or see while traveling.
Secondly, off-site parking services are faster. It might seem that it's faster to park your car at the airport, but that's not always the case. Off-site parking offers you the following convenience: when you drive directly up to the entrance, a staff member pulls your luggage out of your vehicle and loads it into the shuttle. Then they park your car for you. After your baggage is loaded, you can take your seat in the shuttle, which will bring you and your bags to the airport. It is a hassle-free option that is usually faster.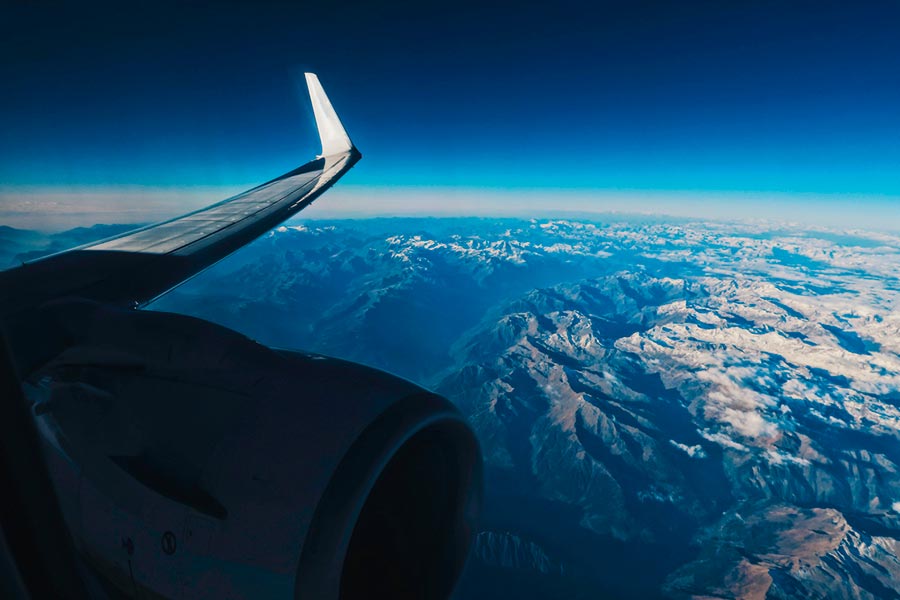 Source – Shutterstock. Mountains from above in plane
Thirdly, it's much more convenient. People are always stressed before the trip, as there are many things you should keep in mind. Not to be late when taking off, fighting traffic, finding a parking place, wondering how long the shuttle service will take, and more can leave you annoyed before you step foot inside the airport. If you choose off-site parking, you are using the assistance of a private company that caters to travelers' needs. Such services can make your trip much more comfortable when you arrive at the airport and return home.
With ParkingNearAirports.io, it takes just a few clicks within the application to reserve a parking spot. Upon arrival at off-airport parking, customers receive a booking confirmation and a guaranteed parking spot. The app helps customers find the most convenient airport parking lots. If plans change, cancellations are hassle-free and refundable.
We also offer you services for top cruise ports in Florida, Louisiana, Maryland, New Jersey, and Texas.
Let's look at an example. Imagine that you live in Idaho. If you're planning a trip to Wyoming, you can choose cheap
parking near IDA Airport
. If you're coming from Missouri, the situation is the same - you can use affordable
parking near Kansas City Airport
. So it depends just on where you are flying from.
On our official website, you can find the best deals,
airport parking rates
, and other information connected with parking near U.S. and Canadian airports.