Yes, it's quite strange to say that Europe is underappreciated. How is it actually possible not to be excited about the breathtaking Irish countryside or the Italian coastline's sand and seashell-strewn beaches? The thing is that people usually think of the most well-known European attractions like the Eiffel Tower and the Trevi Fountain. Of course, those places are definitely worth visiting, but at the same time, you might miss several other wonderful sights that don't get as much press. Below you'll find the 3 most underrated destinations at the very heart of our Earth that you should pay special attention to. Let's get to it!
1. Ring Gaeltacht (County Waterford, Ireland)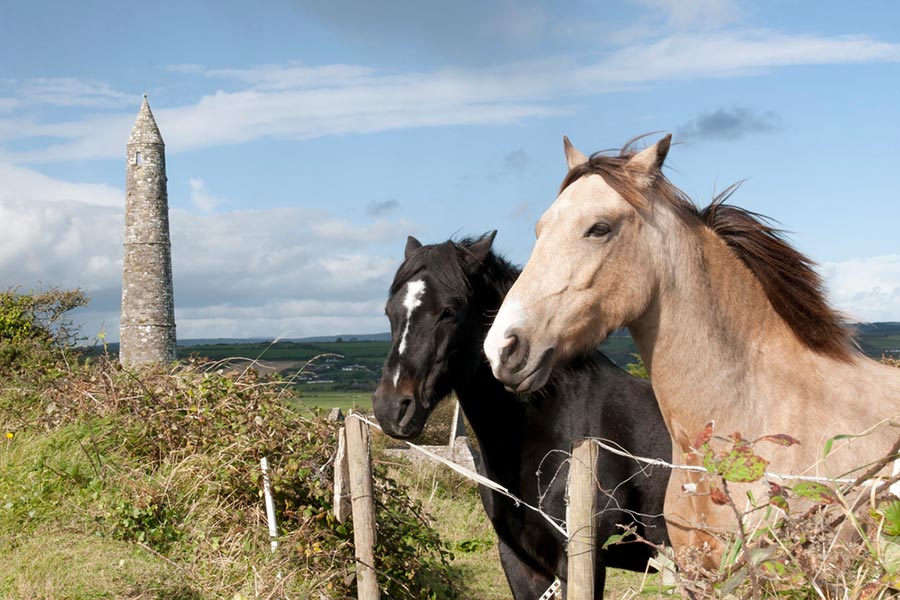 Source – Shutterstock. Two Irish horses and ancient round tower in the beautiful Ardmore countryside of county Waterford Ireland
This small village is one of the last to still speak Gaelic in Ireland, where the language is becoming less and less common. This neighborhood cherishes the past and upholds the rituals that made Ireland famous. The inhabitants of Ring Gaeltacht, which is close to Ireland's southeast coast, sing, dance, read poetry and tell tales precisely as their forefathers did. The journey there passes through some of the most spectacular natural landscapes Ireland has to offer, including breathtaking views of County Waterford. Isn't that reason enough to visit this small city?
2. Lake Faak (Austria)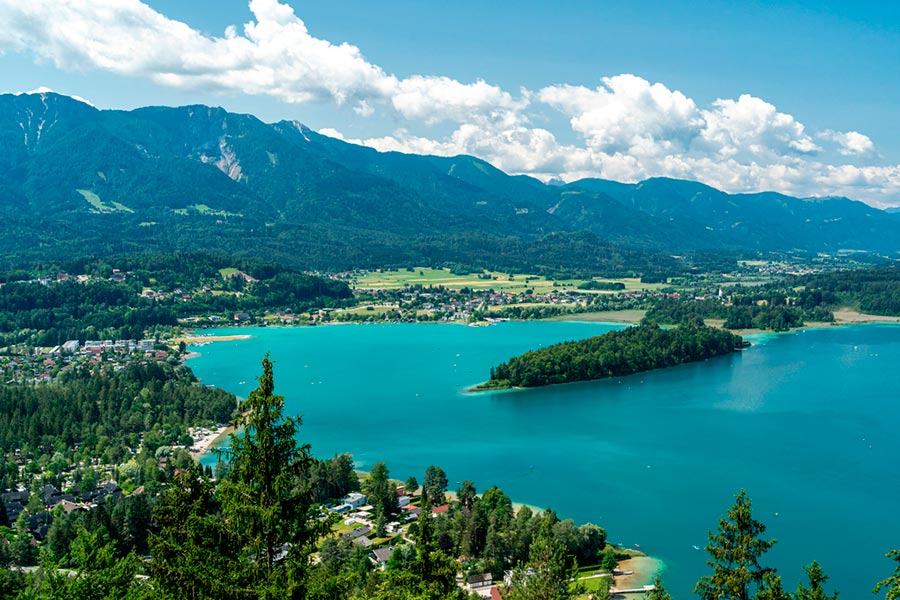 Source – Shutterstock. Panoramic view of the intense blue Lake Faak in Carinthia, Austria
Austria may be best renowned for its vast, enigmatic castles, but visitors who skip a trip to its stunning blue Lake Faak are missing out. The fifth-largest body of water in the state, this lake has calm waters for the majority of the year. It's a wonderful location for peaceful relaxation and renewal while taking in the marvels of nature. This lake is even more ideal because it has over 300 days of sunshine every year! You and your traveling mates can go fishing or simply sit on the shore and take pictures while admiring the scenery.
3. Santa Claus Village (Finland)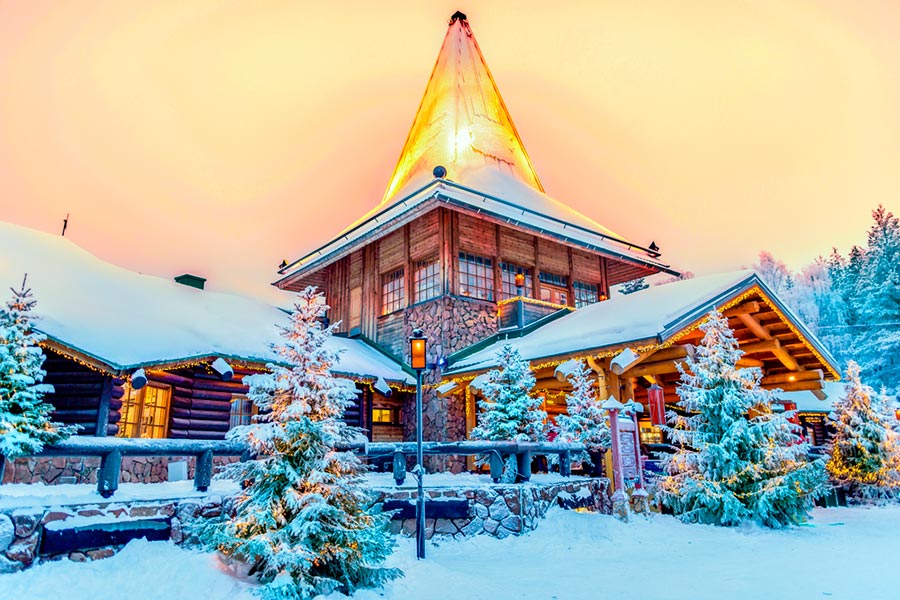 Source – Shutterstock. Santa Claus Village in Rovaniemi in Lapland, Finland
The final place on our list is much lighter-hearted than the first. The quaint tiny Santa Claus Village in Rovaniemi, Lapland, Finland, is the closest thing you can go to the famed North Pole without using cold-weather trekking gear. It has a fully functional snow village and Santa's Workshop, replete with riding reindeer. Unfortunately, because of its proximity to the true North Pole, this place only receives a few hours of sunshine each day. But when you combine this with the fact that you can see the Aurora Borealis in the sky above, it only serves to enhance how charming this small city is.
Are you going to visit Europe soon?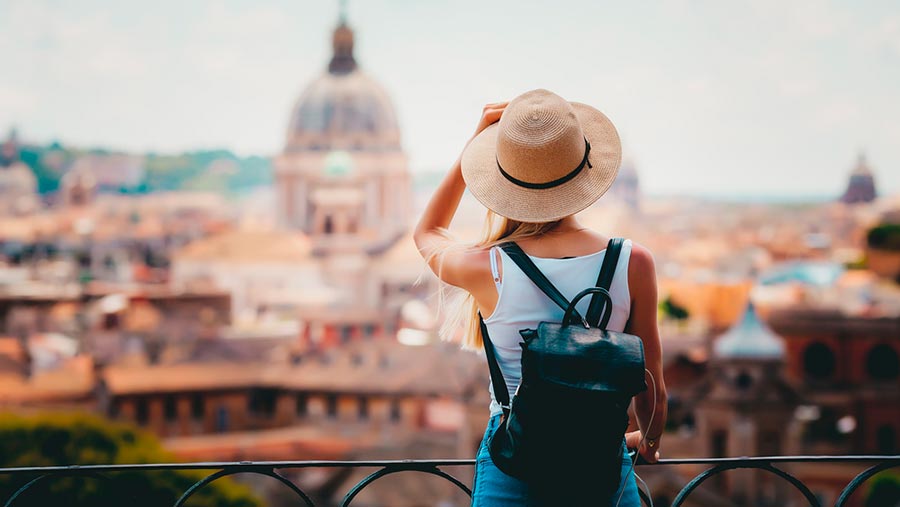 Source – Shutterstock. A young girl standing on a hill in Europe
If so, we would like to give you one helpful tip – this information will be handy for those who prefer to travel by air.
If you get to the airport by car, you always need to find a good parking space for your vehicle to leave for the period of a trip. In most cases, airports have special on-site parking for that purpose. However, such a parking lot is pretty costly most of the time, and people aren't ready to spend a lot of money at the beginning of a trip. So is there any solution?
The best way to solve this problem is to choose off-site parking. Why, you may ask? We will explain.
There are many reasons which can prove the benefit of this parking type. Here are some of them:
Affordable Rates. Depending on the duration of your trip, you can choose between short-term and long-term airport parking. Anyway, an off-site airport is much cheaper, so you can save your money and spend the most considerable amount on things you really want to see or try while traveling.
Fast service. In contrast with on-site airport parking, which can take quite a long time, off-site parking offers you the convenience of driving directly to the entrance and having a staff member pull your luggage out of your vehicle and load it into the shuttle. Then they will park your car for you. After your baggage is loaded, you can take your seat in the shuttle, which will bring you and your bags to the airport. It is a hassle-free option that is usually faster.
Convenience. When people travel, they may be stressed about making it to the airport on time. If you use off-site parking, you will definitely make your travel experience more convenient, as you use the service of a private company. Even though you may be able to park on-site at the airport in a short-term or long-term airport parking lot, consider using an off-site parking lot service.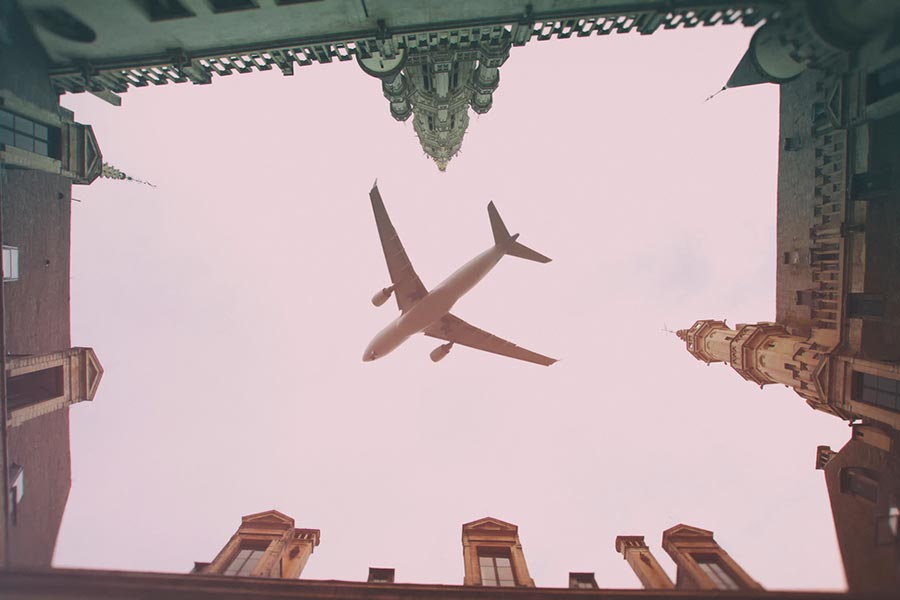 Source – Shutterstock. A plane flying over Europe
We are glad to say that our booking platform, ParkingNearAirports.io, offers travelers online reservations for parking just outside airports that are convenient and affordable. Our experienced team is dedicated to providing travelers parking options at over 100 airports in the U.S. and Canada. The app allows customers to search and compare parking rates at up to 70 percent savings compared to the cost of on-site parking at all major airports.
With our platform, it only takes a few clicks in the app to reserve a parking spot. Guests receive a booking confirmation and a guaranteed parking space upon arrival at the off-airport parking. In addition, the app helps customers locate the most convenient lots to the airport. Cancellations are easy if plans change with hassle-free, refundable cancellations.
Besides this, we also offer services for top cruise ports in Florida, Louisiana, Maryland, New Jersey, and Texas.
Now let's take a good example. Imagine that you're planning a trip to Europe. So if you're flying from Newark, New Jersey, you can use a cheap
economy lot Newark Airport
. If you're coming from Toronto, Canada, you can choose affordable
parking near YYZ Airport
. It just depends on the place you're flying from.
You can always find everything you need on our official website: the best deals for parking near U.S. and Canadian airports,
airport parking rates
, and much more.