The CEO of Atlanta-based Delta Air Lines says the company is still unsure about whether large investments in cutting-edge aircraft would be profitable. This comes as the airline's rivals make significant investments in them.
According to a recent Business Insider article, Delta (NYSE: DAL), which has a hub at Minneapolis-St. Paul International Airport, is the only significant US airline that hasn't yet invested in the Overture jet or an electric vertical take-off and landing aircraft made by Boom Supersonic of Colorado.
In regards to Overture, Delta CEO Ed Bastian stated to Fox Business on Tuesday that he still has "a lot more questions than answers."
Bastian added, "That's not where we're spending until we're certain that we could truly earn a reliable return from the aircraft."
Other large airlines, though, are less careful. American Airlines (Nasdaq: AAL) revealed last week that it has ordered 20 Boom's Overture airplanes, with an option for a further 40. According to Business Insider, the purchase puts the Texas-based airline on course to overtake other operators as the largest user of the aircraft. An earlier calculation indicated that the purchase would cost American Airlines $4 billion.
The supersonic airplane is scheduled to debut in 2029, and United Airlines (Nasdaq: UAL) has also placed an order for one. In June of last year, United placed an order for 15 with an option for 35 more.
American and United have both made investments in electric aircraft, particularly eVTOLs.
United placed a $10 million deposit on the 100 flying taxis it had purchased from San Jose-based Archer Aviation earlier in August. It's the initial installment of United's $1 billion contract with Archer for eVTOL aircraft. Despite being under $10 million, United claimed it represents a "new key phase" in its intentions to deploy Archer's eVTOLs as it begins its entry into the air taxi industry.
American has placed a pre-order for 250 of Vertical Aerospace's VX4 flying taxis, which are manufactured in the UK.
Even while Delta currently claims it has no interest in purchasing items identical to those of its rivals, travel analyst Henry Harteveldt told Business Insider that Delta might opt to purchase a supersonic or an electric aircraft in the future. However, they would have to ensure that the investment aligns with their business strategy.
The aviation industry is quite skeptical about Boom, according to Harteveldt. "Currently, it doesn't have an engine."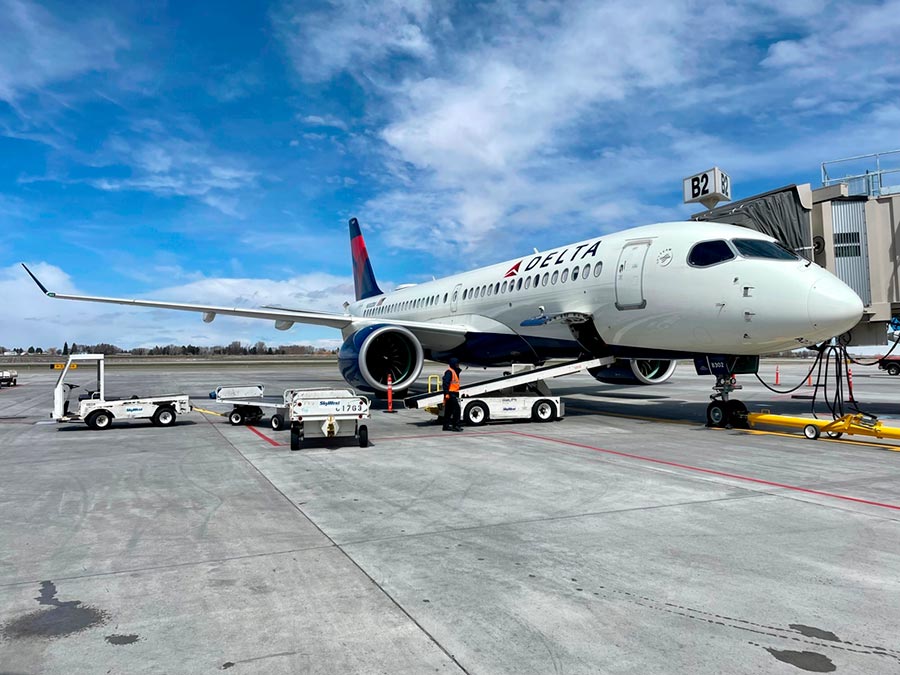 Source – Shutterstock. An Airbus A220-300 of Atlanta-based Delta Air Lines being serviced at Idaho Falls Regional Airport
By the way, we would like to give you one helpful tip – such information will be handy for those who prefer traveling by air and getting to the airport by their own car.
There is no question that a safe parking space must be arranged for your vehicle during a trip. However, in most cases, people aren't ready to spend a lot of money on this. It is a common problem among travelers, as they know that on-site parking (it may seem that it is the best option for this case) is pretty costly. So what can we do then?
We are glad to inform you that our booking platform, ParkingNearAirports.io, offers travelers online reservations for parking just outside airports that are convenient and affordable. Our experienced team is dedicated to providing travelers parking options at over 100 airports in the U.S. and Canada. In addition, the app allows customers to search and compare parking rates at up to 70 percent savings compared to the cost of on-site parking at all major airports.
Being nearby doesn't always mean convenience when it comes to airport parking. Being in terminal parking is not convenient at all. Travelers have to find a spot in a crowded lot, carry their luggage throughout the parking lot, and pay high fees without great service. The off-airport parking provides excellent service with their award-winning customer service representatives available 24/7. In addition, the app looks for lots that offer baggage assistance and 24-hour security for peace of mind.
With our platform, it only takes a few clicks in the app to reserve a parking spot. Guests receive a booking confirmation and a guaranteed parking space upon arrival at the off-airport parking. In addition, the app helps customers locate the most convenient lots to the airport. Cancellations are easy if plans change with hassle-free, refundable cancellations.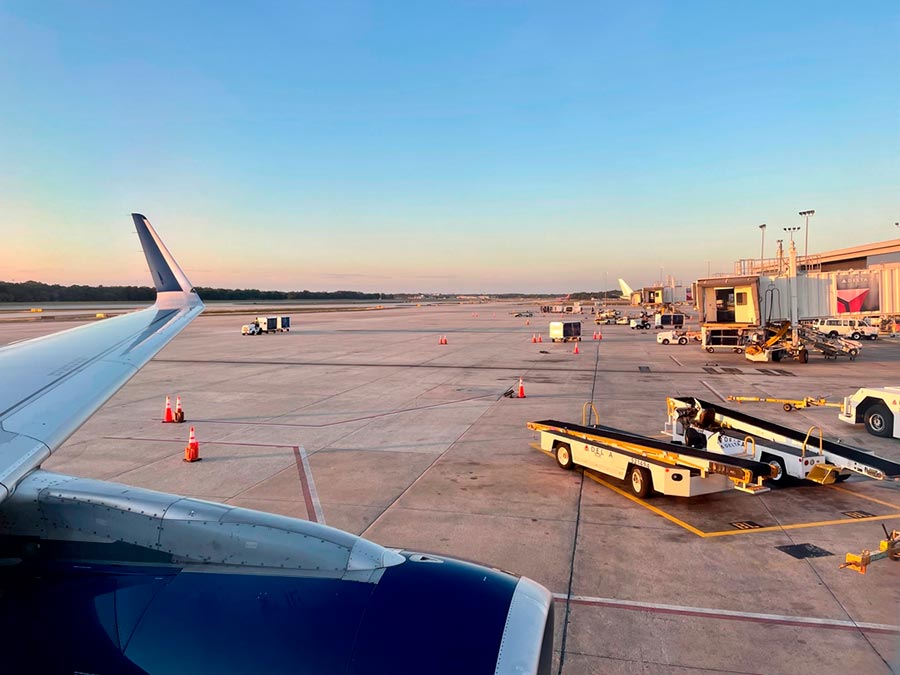 Source – Shutterstock. Window view from an Airbus A321 of Delta Air Lines at Tampa International Airport
Off-airport parking lots often provide free shuttle going back and forth between the parking lot and the airport, removing any worry of traveling to and from the airport or getting stuck in traffic on the way to the airport during peak hours. Arrive on time for flights and receive significant savings with airport parking.
Besides this, we also offer services for top cruise ports in Florida, Louisiana, Maryland, New Jersey, and Texas.
Let's take a good example. Imagine that you live in Minneapolis, Minnesota. If you're planning a trip to New York City, New York, you can choose cheap
long-term parking near MSP Airport
. If you're coming from any other state or city, the situation is the same. So it depends just on where you are flying from.
Also, please don't forget about the airport coupons. Such a coupon can easily help you save money at the beginning of your trip, making the price for parking almost two times less. So if we talk about the Minneapolis-Saint Paul International Airport, you can use special MSP Airport parking coupons.
You can find the best deals, MSP parking availability, and other information connected with parking near U.S. and Canadian airports on our official website.