Experience a destination in a special way by joining its communities to celebrate their love for meals, wine, and new undertakings. Thanks to the traditional attire, lively dances, and symbolic foods, world festivals educate people on a place's history and local culture to offer an unforgettable experience. And some of them are even fun! Here are the 3 breathtaking options to consider that are worth traveling for. So let's get started!
1. Nowruz – Iran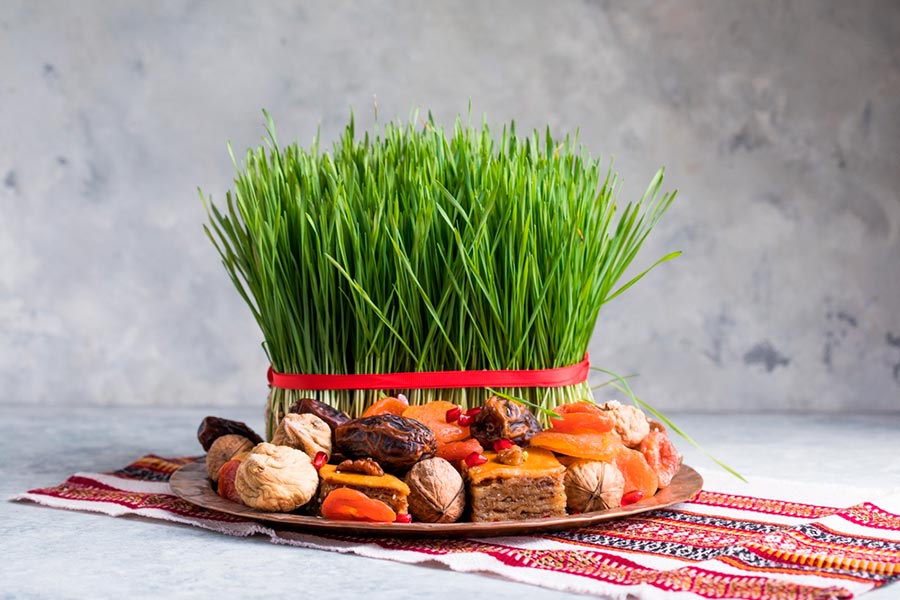 Source – Shutterstock. Novruz setting table decoration
Millions of people revere the Persian New Year all across the world. In communities throughout Central Asia and the Middle East, especially in Iran, month-long celebrations include boisterous family get-togethers and vivacious street dances. Nowadays, there are celebrations in practically every state in the United States, and you don't have to be Persian to take part. Nowruz, which occurs on the first day of spring, celebrates new beginnings. Families decorate their homes with a Haft Sin table, which is a collection of seven items that all begin with the Farsi letter S. Apples stand for health and beauty, vinegar for longevity, and coins for fortune.
2. La Batalla de Vino – Spain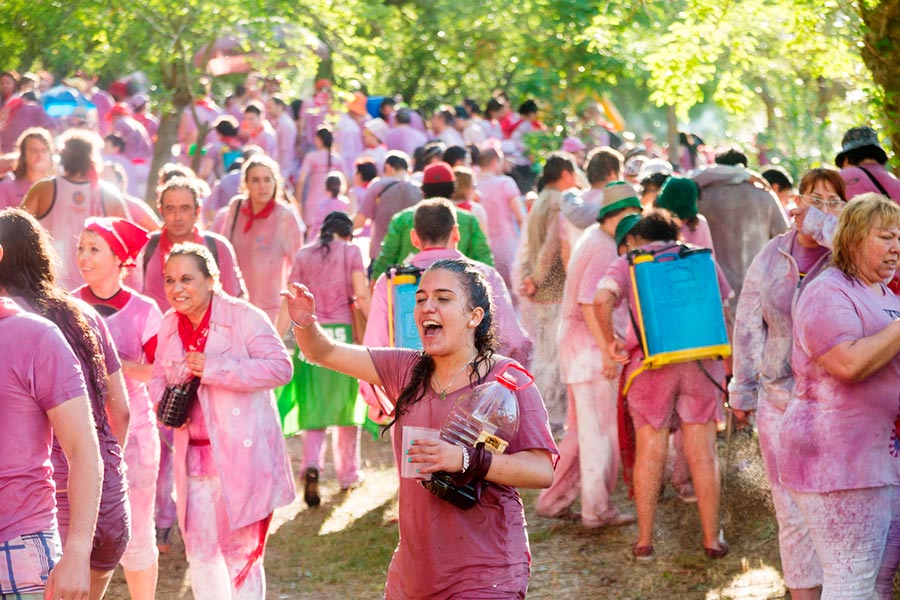 Source – Shutterstock. People pour wine at each other from bottles and buckets during festival La Batalla de Vino
Every year on June 29 in Spain's northern wine region, thousands gather in the hamlet of Haro for La Batalla de Vino. Participants soak each other from head to toe in red wine from nearby wineries that weren't good enough to be bottled using water pistols, buckets, and spray bottles while standing on a hill overlooking La Rioja's vineyards. On the night before the Wine Fight, large crowds assemble in Haro and partake in boisterous activities of drinking and dancing until the early hours. The customs of the current celebration are thought to have their origins in a long-standing land dispute between Haro and the nearby city of Miranda de Ebro.
3. Krampus Parade – Austria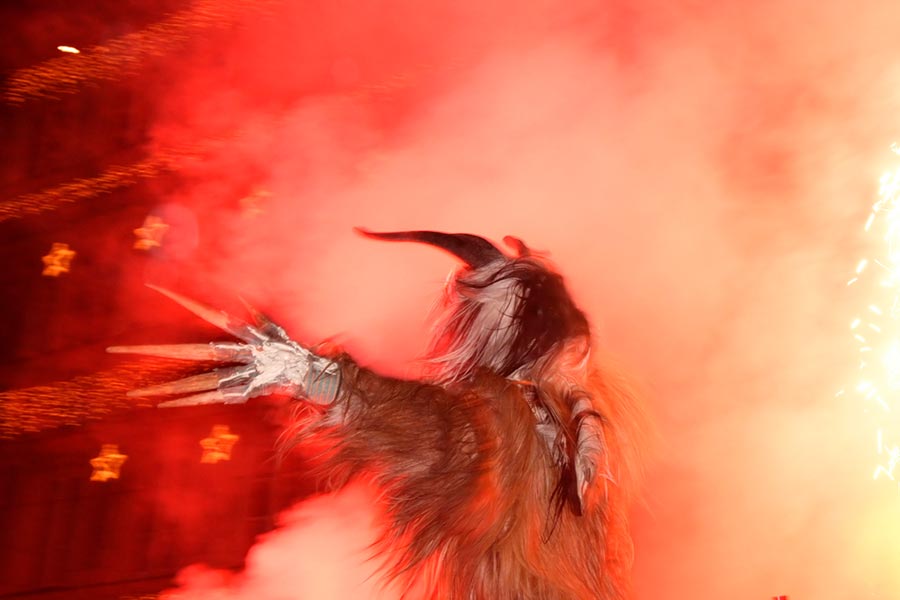 Source – Shutterstock. Perchtenlauf – pre-Christmas traditional event in Austria
In the western Alps, in the Austrian state of Tyrol, there lives Krampus, a demonic creature that parents utilize to frighten their kids into being good. Since paganism, people have believed that Krampus and his irritable elves prowl the Austrian Alps, flogging rebellious children and kidnapping rowdy teenagers. Over time, the Krampus tale gave him a new identity as Santa's henchman who punishes misbehaving children while giving nice youngsters gifts. Every year on December 5, marchers in the Krampus Parade don demonic masks and carry whips and torches. Participate in the celebrations held in Salzburg, Innsbruck, and Ischgl.
Love visiting folk festivals? If so, let's have a look at some helpful tips for your next journey as well!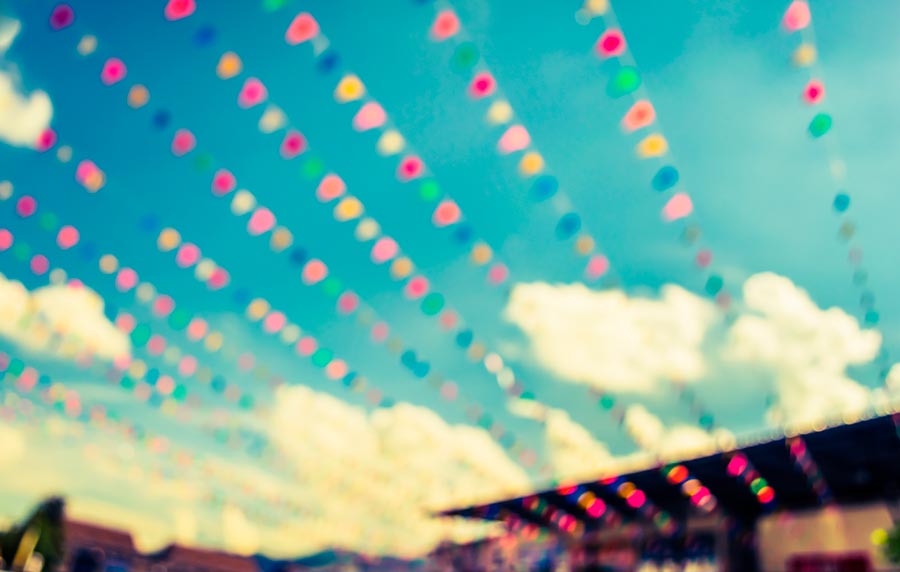 Source – Shutterstock. Unique festival atmosphere during one of the events
Besides the key details about breathtaking world events, we would also like to convey some useful information on traveling, which will be handy for those who prefer doing this by air.
If you use your own car to reach the airport, you know it is critical to park it safely for the duration of your trip. Almost every airport has special on-site parking for this purpose. However, travelers aren't ready to spend a lot of money at the beginning of their trip, as this option is pretty costly. So what should we do then?
Our booking platform, ParkingNearAirports.io, offers travelers online reservations for parking just outside airports that are affordable and convenient. Our experienced team is dedicated to providing travelers parking options at over 100 airports in the U.S. and Canada. The app allows customers to search and compare parking rates at up to 70 percent savings compared to the cost of on-site parking at all major airports.
What is actually off-site parking, and which advantages has this parking type, you may ask? So let's take a closer look at this question.
First of all, off-site parking is much cheaper. So you can save money and then spend the most considerable amount on the things you really want to try or see while traveling.
Secondly, off-site parking services are faster. It might seem that it's faster to park your car at the airport, but that's not always the case. Off-site parking offers you the following convenience: when you drive directly up to the entrance, a staff member pulls your luggage out of your vehicle and loads it into the shuttle. Then they park your car for you. After your baggage is loaded, you can take your seat in the shuttle, which will bring you and your bags to the airport. It is a hassle-free option that is usually faster.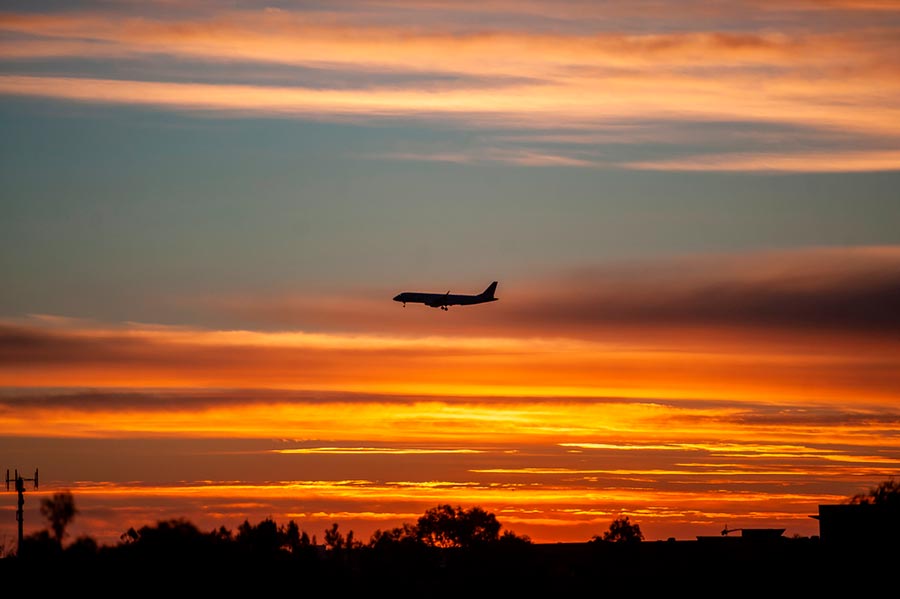 Source – Shutterstock. Silhouetted plane landing at the airport, with background sunset
Thirdly, it's much more convenient. People are always stressed before the trip, as there are many things you should keep in mind. Not to be late when taking off, fighting traffic, finding a parking place, wondering how long the shuttle service will take, and more can leave you annoyed before you step foot inside the airport. If you choose off-site parking, you are using the assistance of a private company that caters to travelers' needs. Such services can make your trip much more comfortable when you arrive at the airport and return home.
With ParkingNearAirports.io, it takes just a few clicks within the application to reserve a parking spot. Upon arrival at off-airport parking, customers receive a booking confirmation and a guaranteed parking spot. The app helps customers find the most convenient airport parking lots. If plans change, cancellations are hassle-free and refundable.
We also offer you services for top cruise ports in Florida, Louisiana, Maryland, New Jersey, and Texas.
Let's look at an example. Imagine that you live in Louisville, Kentucky. If you're planning a trip to Austria, you can choose cheap
parking near SDF Airport
. If you're coming from Calgary, Canada, the situation is the same - you can use a
YYC economy lot
. So it depends just on where you are flying from.
On our official website, you can find the best deals,
airport parking costs
, and other information connected with parking near U.S. and Canadian airports.