The gorgeous coastlines of Portugal are rapidly becoming a tourist hotspot because of its world-class waves and golden beaches that bask in the Iberian sun. But, fortunately, it's still easy to avoid the crowds for the time being. Beyond the fantastic castles and dramatic medieval squares of centuries-old cities lies a panorama of natural beauty, where granite peaks and lush valleys merge with pristine forests and picturesque vineyards. Believe us, Portugal's most stunning locations will make your fingers tap at the keyboard before your following departure – so let's not waste time and see them with our own eyes!
1. Évora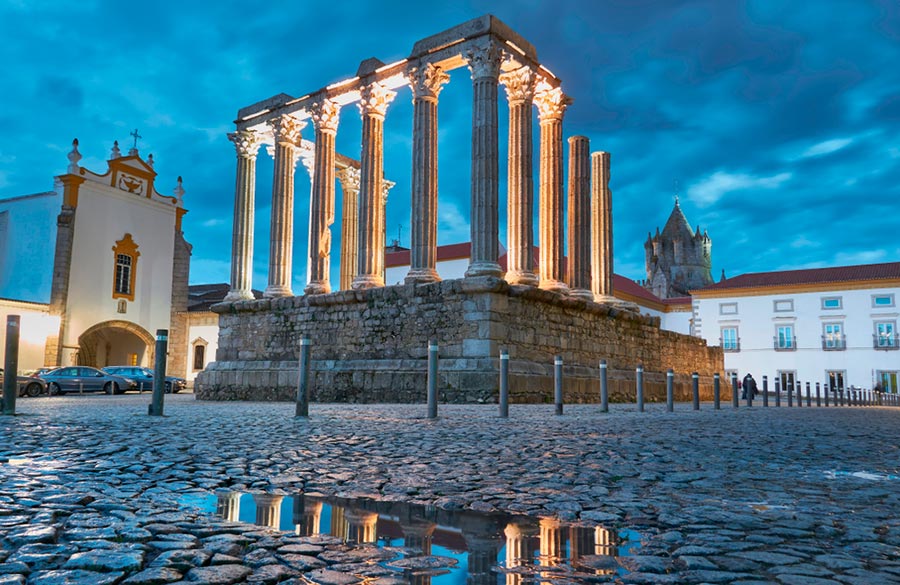 Source – Shutterstock. Roman Temple of Diana in Evora, Portugal
A little town in southern Portugal's Alentejo area, Évora formerly thrived under Roman dominion, leaving a wealth of historical artifacts in its wake. Over 2000 years of history are represented by the city's old Roman walls, majestic Roman Catholic Se Catedral de Évora, and weathered granite Templo Romano columns. It's a trip back in time to stroll through the narrow streets of Évora's Old Town, which has been carefully protected. Praça do Giraldo, a lovely square with exceptional instances of Romanesque and Gothic architecture peeking out from charming stone arches, is the center of the town and its primary hub.
2. Douro Valley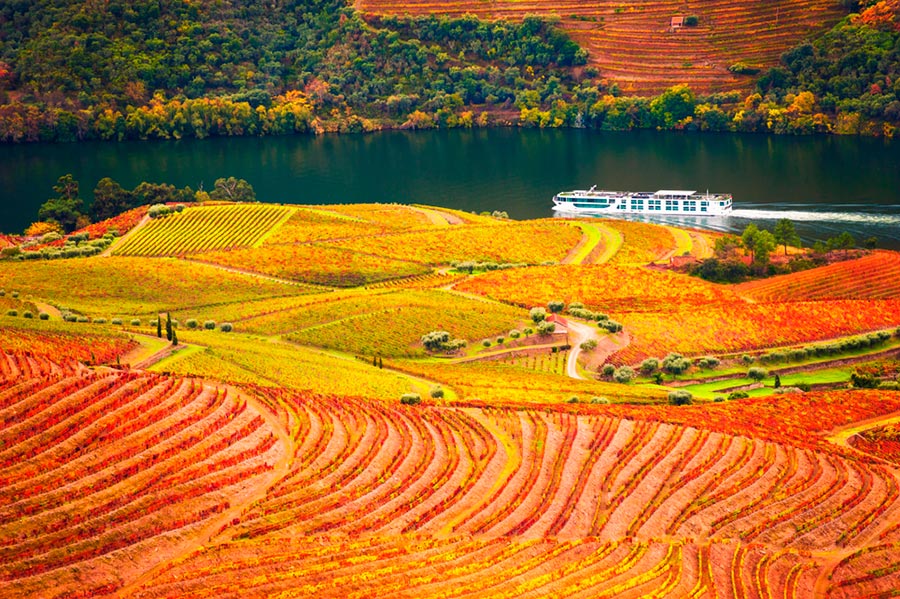 Source – Shutterstock. Douro river valley with vineyards in Portugal – Portuguese wine region
Steeply terraced vines that have been carved out of the mountains are renowned for providing their grapes to the most prestigious Port producers in the country. The Douro River careens down the Douro Valley and into Spain; cruise ships that cruise through one of the world's oldest wine areas are drawn to its glittering waters. The Douro Valley is mostly untouched, with picturesque roads winding through the mountains, sweeping hills around it, and a variety of medieval villages and rustic whitewashed quintas.
3. The Azores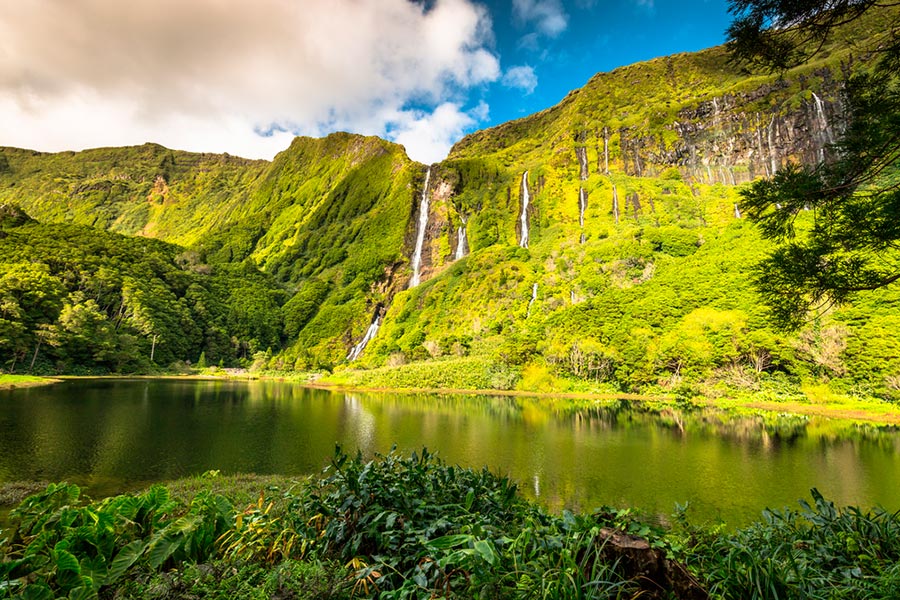 Source – Shutterstock. Azores landscape with waterfalls and rocks on the island of Flores, Portugal
Nine volcanic islands make up this archipelago, which rises steeply from the ocean floor and is located 1500 kilometers off the coast of Portugal in the middle of the Atlantic. Each island has its own strong identity. The Azores are known for their unspoiled nature, which begs for exploration. It's a tapestry of the ocean's cerulean hues and shades of green that embody its lush forests, all of which are embroidered by crater lakes, challenging hiking paths, and charming beach towns. Azores' pristine environment is a haven for activities like canyoning, horseback riding, surfing, and spectacular whale viewing.
Would you like to travel in full comfort? If so, you've come to the right place!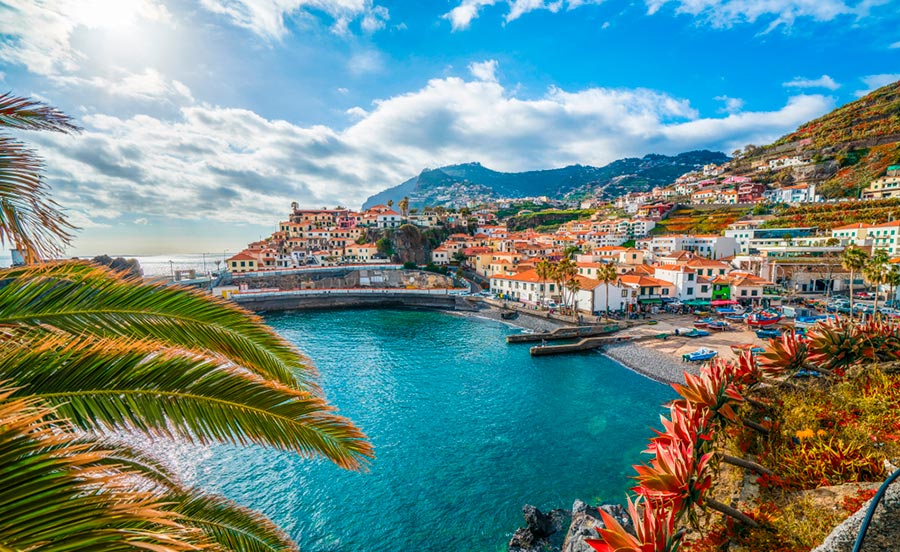 Source – Shutterstock. Câmara de Lobos, panoramic view – Madeira Island, Portugal
ParkingNearAirports' team is willing to share with you one helpful tip – this information will be handy for those who prefer to travel by air.
If you get to the airport by car, you always need to find a good parking space for your vehicle to leave for the period of a trip. In most cases, airports have special on-site parking for that purpose. However, such a parking lot is pretty costly most of the time, and people aren't ready to spend a lot of money at the beginning of a trip. So is there any solution?
The best way to solve this problem is to choose off-site parking. Why, you may ask? We will explain.
There are many reasons which can prove the benefit of this parking type. Here are some of them:
Affordable Rates. Depending on the duration of your trip, you can choose between short-term and long-term airport parking. Anyway, an off-site airport is much cheaper, so you can save your money and spend the most considerable amount on things you really want to see or try while traveling.
Fast service. In contrast with on-site airport parking, which can take quite a long time, off-site parking offers you the convenience of driving directly to the entrance and having a staff member pull your luggage out of your vehicle and load it into the shuttle. Then they will park your car for you. After your baggage is loaded, you can take your seat in the shuttle, which will bring you and your bags to the airport. It is a hassle-free option that is usually faster.
Convenience. When people travel, they may be stressed about making it to the airport on time. If you use off-site parking, you will definitely make your travel experience more convenient, as you use the service of a private company. Even though you may be able to park on-site at the airport in a short-term or long-term airport parking lot, consider using an off-site parking lot service.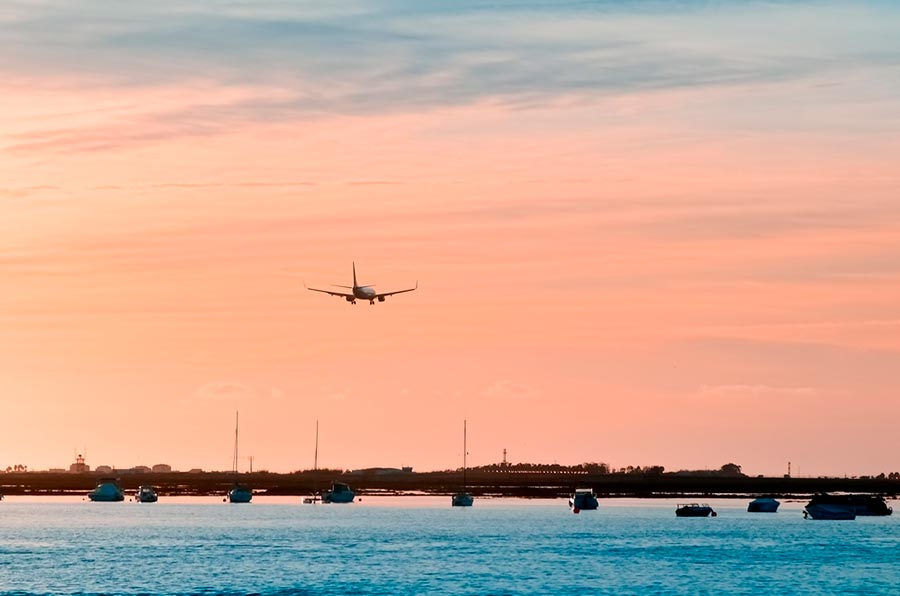 Source – Shutterstock. The plane flies to the airport over the river in the city of Faro in Portugal
We are glad to say that our booking platform, ParkingNearAirports.io, offers travelers online reservations for parking just outside airports that are convenient and affordable. Our experienced team is dedicated to providing travelers parking options at over 100 airports in the U.S. and Canada. The app allows customers to search and compare parking rates at up to 70 percent savings compared to the cost of on-site parking at all major airports.
With our platform, it only takes a few clicks in the app to reserve a parking spot. Guests receive a booking confirmation and a guaranteed parking space upon arrival at the off-airport parking. In addition, the app helps customers locate the most convenient lots to the airport. Cancellations are easy if plans change with hassle-free, refundable cancellations.
Besides this, we also offer services for top cruise ports in Florida, Louisiana, Maryland, New Jersey, and Texas.
Now let's take a good example. Imagine that you're planning a trip to Portugal. So if you're flying from New York City, New York, you can use affordable
parking near BUF Airport
. If you're coming from Cincinnati, Kentucky, you can choose a
cheap airport parking CVG
. It just depends on the place you're flying from.
You can always find everything you need on our official website: the best deals for parking near U.S. and Canadian airports,
domestic airport parking charges
, and much more.