Throughout the Labor Day weekend, millions of Americans will be traveling, therefore there will probably be problems on the roads and in airports all over the country.
In addition to heavy traffic, Robert Sinclair, Jr., senior manager of public affairs for AAA Northeast, warns drivers to be on the lookout for inclement weather and potential auto problems that might lead a car to break down in the middle of backed-up highways.
Sinclair Jr. stated that it would be wise for vacationers to depart their destinations by midday on Monday. He added, "Traffic is expected to be heavy starting around 5 p.m. and could double journey times."
Sinclair, Jr. emphasized that AAA is also experiencing "a lot of poor weather" around the state, including flooding.
He noted that it only takes about five or six inches of rushing water to wash an SUV away, much less a smaller, lighter vehicle. "Drowning in a car is one of the most catastrophic weather-related road conditions," he added.
Through Labor Day Monday, AAA Northeast anticipates that there will have been over 500,000 breakdowns for just AAA members. About 120,000 of those calls are expected to be for dead batteries or battery issues.
Before returning home, travelers should check the pressure on their tires. According to Sinclair, Jr., they expect 64,000 calls just for flat tires.
Additionally, it's crucial to check the transmission fluid, coolant, and oil of the vehicle. Over the full week, the company also expects to make more than 200,000 tows, he continued.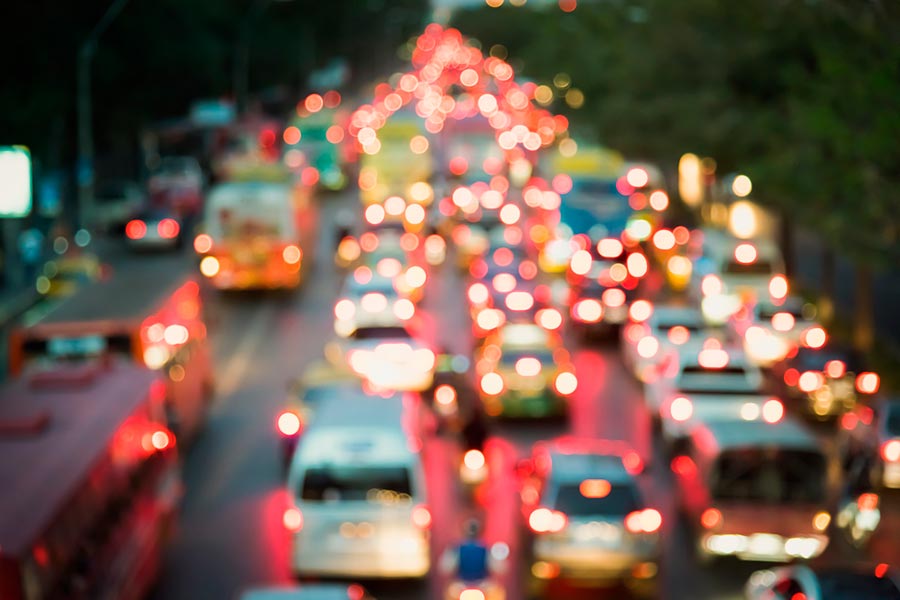 Source – Shutterstock. Blurred defocused lights of heavy traffic – a city road
Numerous vacationers fly back home after their weekend trips in addition to driving. Over the Labor Day weekend, 12.6 million passengers are anticipated to fly out of American airports, according to the travel website Hopper.
Although there are still problems for passengers, they have subsided compared to other days this summer.
According to airline tracker FlightAware, there were over 1,100 flight delays in, out of, and throughout the United States as of noon ET on Monday. There were roughly 5,000 flights delayed each day on Thursday and Friday, the peak travel days.
According to FlightAware spokesman Kathleen Bangs, "Although 16% of flights overall were delayed, that's lower than the 20-22% we've seen most days this summer."
However, travelers can use the new customer service dashboard of the Department of Transportation (DOT) if they run into problems.
The dashboard, which went live just before the Labor Day holiday weekend, enables passengers to check the guarantees, refunds, and compensation policies that the main domestic airlines have in place in the event of a flight delay.
It's made to let customers compare airlines and choose the ones that provide the best compensation.
According to the DOT, "Airlines are supposed to uphold the obligations they make in their customer service plan, including agreements to care for consumers in the case of controllable delays or cancellations." "If airlines don't comply, the Department will hold carriers accountable."
Are you going to embark on a journey during Labor Day weekend?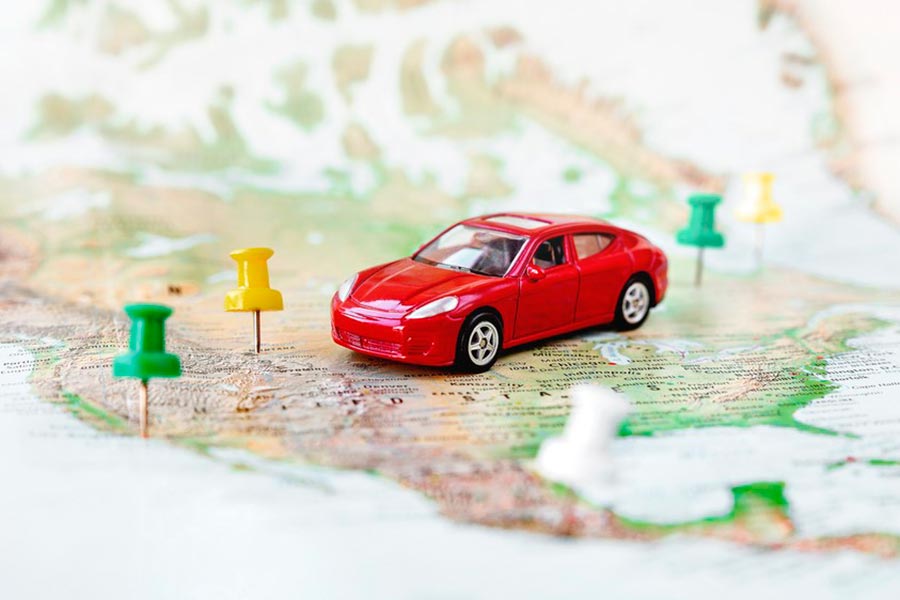 Source – Shutterstock. Road trip at homeland – red car goes on map across territory of USA
If so, we would like to give you one helpful tip for convenient travel – such information will be actually handy for those who prefer traveling by air and getting to the airport by their own car.
There is no question that a safe parking space must be arranged for your vehicle during a trip. However, in most cases, people aren't ready to spend a lot of money on this. It is a common problem among travelers, as they know that on-site parking (it may seem that it is the best option for this case) is pretty costly. So what can we do then?
We are glad to inform you that our booking platform, ParkingNearAirports.io, offers travelers online reservations for parking just outside airports that are convenient and affordable. Our experienced team is dedicated to providing travelers parking options at over 100 airports in the U.S. and Canada. In addition, the app allows customers to search and compare parking rates at up to 70 percent savings compared to the cost of on-site parking at all major airports.
Being nearby doesn't always mean convenience when it comes to airport parking. Being in terminal parking is not convenient at all. Travelers have to find a spot in a crowded lot, carry their luggage throughout the parking lot, and pay high fees without great service. The off-airport parking provides excellent service with their award-winning customer service representatives available 24/7. In addition, the app looks for lots that offer baggage assistance and 24-hour security for peace of mind.
With our platform, it only takes a few clicks in the app to reserve a parking spot. Guests receive a booking confirmation and a guaranteed parking space upon arrival at the off-airport parking. In addition, the app helps customers locate the most convenient lots to the airport. Cancellations are easy if plans change with hassle-free, refundable cancellations.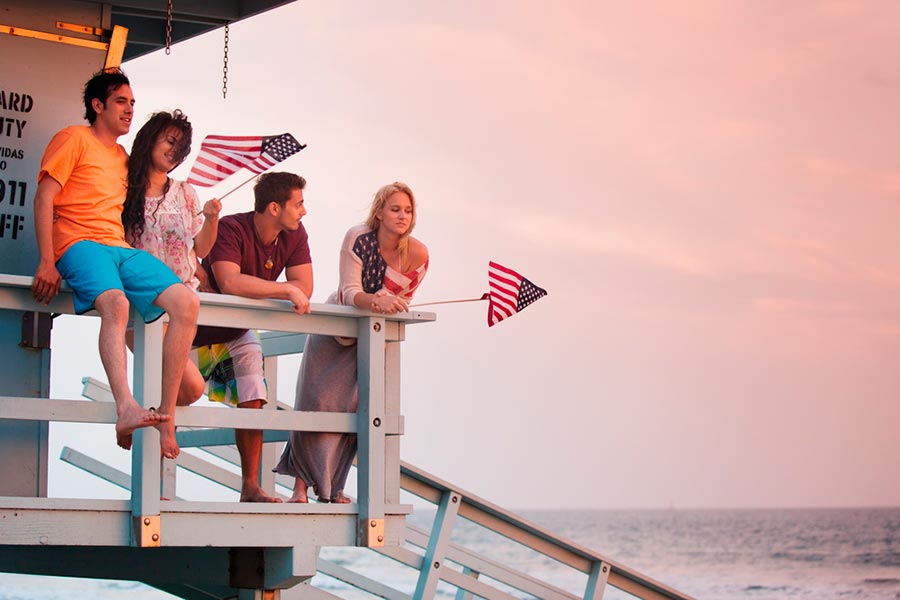 Source – Shutterstock. Young group of friends at the beach at sunset with American flags
Off-airport parking lots often provide free shuttle going back and forth between the parking lot and the airport, removing any worry of traveling to and from the airport or getting stuck in traffic on the way to the airport during peak hours. Arrive on time for flights and receive significant savings with airport parking.
Besides this, we also offer services for top cruise ports in Florida, Louisiana, Maryland, New Jersey, and Texas.
Let's take a good example. Imagine that you live in Newark, New Jersey. If you're planning a trip to San Francisco, California, you can choose cheap
airport parking near Newark Airport
. If you're coming from any other state or city, the situation is the same. So it depends just on where you are flying from.
Also, please don't forget about the airport coupons. Such a coupon can easily help you save money at the beginning of your trip, making the price for parking almost two times less. So if we talk about the Newark Liberty International Airport, you can use a special Jiffy Airport parking coupon.
You can find the best deals, EWR long-term parking rates, and other information connected with parking near U.S. and Canadian airports on our official website.