Only a few stars in the night sky sparkle brilliantly. A bright castle with elaborate turrets and waving flags arises piece by piece as the sight swoops beneath the clouds. Our attention is caught by a flowing moat. A shooting star forms an arc in the distance as fireworks explode. Sounds familiar? It ought to be because it's the well-known Disney introduction. Typically, this 30-second snippet welcomes hours of pure fantasy and fascinating tales. But the real castle is built on a combination of famous European sites. They're not the only real-life fairy tale castles out there; several others are simply waiting for enchantment, including Herstmonceux Castle, Mont Saint Michel, Windsor Castle, and Edinburgh Castle. What about the castles, though, that we used to see more in childhood films? Below you'll see 3 magical and well-known buildings that you may actually visit. So let's get started!
1. Neuschwanstein, Germany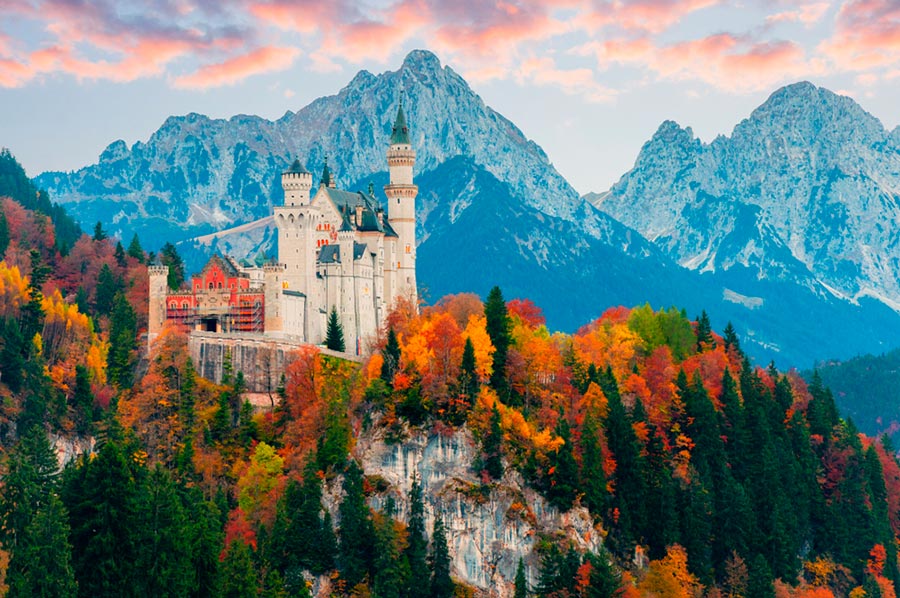 Source – Shutterstock. Picturesque autumn view of Neuschwanstein Castle with colorful trees and the Alps in the background – Bavaria, Germany
The Neuschwanstein castle, also referred to as the "king of castles," is perched atop a cliff in the Alps' foothills and offers views of a sparkling lake, a roaring waterfall, and a nearby yellow castle. This magnificent home was constructed in 1868 by King Ludwig II of Bavaria, who was renowned at the time for his extravagant taste and eccentricity. The late 19th-century castle wasn't abandoned even though the king passed away before it was finished. Neuschwanstein opened to the public soon after construction was completed, and 1.4 million people still visit it every year to act out their own regal fantasies. When Walt Disney traveled around Europe, Neuschwanstein is claimed to have served as the main inspiration for the castle in Sleeping Beauty.
2. Château de Chambord, France
Source – Shutterstock. An impressive view of Château de Chambord in France
Remember how amazed Belle was when she discovered the Beast's castle? That was the impression that the Château de Chambord made on Disney's designers, who are said to have drawn inspiration from it for both the 1991 animated Beauty and the Beast and the 2019 live-action adaptation. The château, located in the scenic Loire valley, was begun as a hunting lodge for King Francois I but finished more than a hundred years later, in the late 17th century. The centerpiece of the castle is a singular double helix staircase honoring Leonardo da Vinci's ingenuity, along with one of the world's best examples of traditional French gardens. It's simple to visualize Belle and the Beast becoming closer to the Château de Chambord's ornate halls, or even building snowmen on the expansive castle grounds.
3. Bran Castle, Romania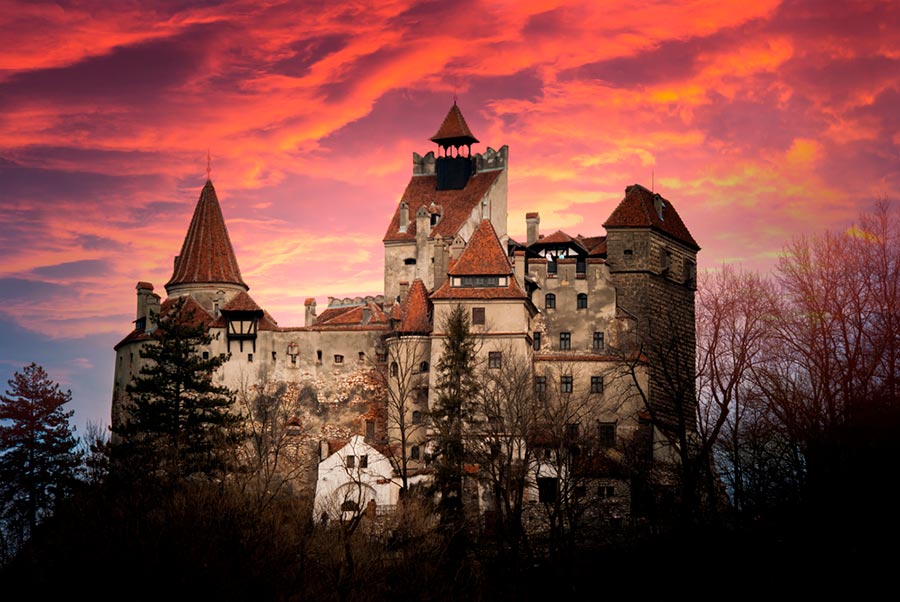 Source – Shutterstock. Bran Castle, Transylvania, Romania (also known as Dracula's Castle)
This list wouldn't be complete without a nod to Bran Castle, which is frequently cited as the model for Dracula's frightening mansion despite not quite being a fairytale. Whilst not having been to Romania, novelist Bram Stoker's vivid description of this impressive fortress is accurate. The castle, which dates back to the 14th century, is placed close to a raging river, on the edge of a cliff, and in the middle of a dense forest – all ideal hiding places for a shady Transylvanian count. However, if you visit this medieval castle expecting to learn about Dracula, you might be let down because the museum there concentrates more on the contemporary Romanian monarchy, which made Bran their preferred abode in the 1920s.
Always travel conveniently – ParkingNearAirports' team has prepared for you some helpful tips as well!
Source – Shutterstock. A happy woman riding her electric mountain bike on sunny day in the Bottwartal Valley with beautiful medieval castle in the background, Germany
Have you ever heard something about off-site parking? If not, we recommend you take a closer look at this part of the article, as this information will be handy for those who prefer to travel by air and get to the airport by their own car.
Most people suppose that parking at the airport is the fastest and most convenient option for them. However, it's not actually true. We'll explain to you why.
To be true, being in a terminal parking lot isn't convenient at all. Although on-site airport parking is the nearest place where you can leave your vehicle for the period of a trip, you can face the following difficulties:
You will need to find a spot in a crowded lot,
You will need to carry the luggage all the way through the parking lot,
You must pay expensive fees without great service.
Sounds not good, right? However, we found an excellent solution for you - in this case, off-site parking can become a savior for you. So if you're trying to find a parking spot with great service nearby the airport you're flying from and don't want to leave there the most significant part of your budget, pay attention to this option.
How does it work?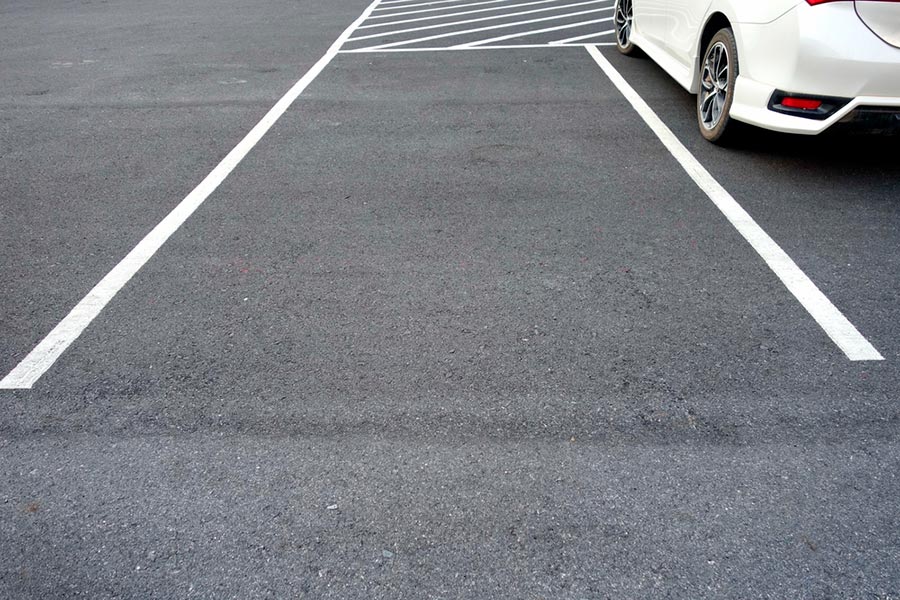 Source – Shutterstock. A car in a parking lot – back view
Obviously, people who chose a car as a way to get to the airport want to leave their vehicle safely while traveling and not to face the problems we described above. So what can off-site airport parking offer its customers?
Although a few miles usually separate such parking from the airport, you shouldn't worry about this. Off-site parking provides free shuttles going back and forth between the parking lot and the airport. Thanks to this, it removes any worries about getting stuck in traffic on the way to the airport during peak times. So all you need to do is choose the best time for you and inform the parking lot staff.
How does it work? Actually, everything is straightforward: when you come to the entrance, the staff will remove your luggage from your car and load it onto the shuttle, which will take you and your bags to the terminal. Then, the vehicle will be parked securely.
In addition, this type of parking is much cheaper, and this is good news, as nobody wants to waste money. Therefore, off-site parking is the perfect option to receive excellent service and save money at the same time.
Want to find some great offers? You don't need to go somewhere - just find it right here!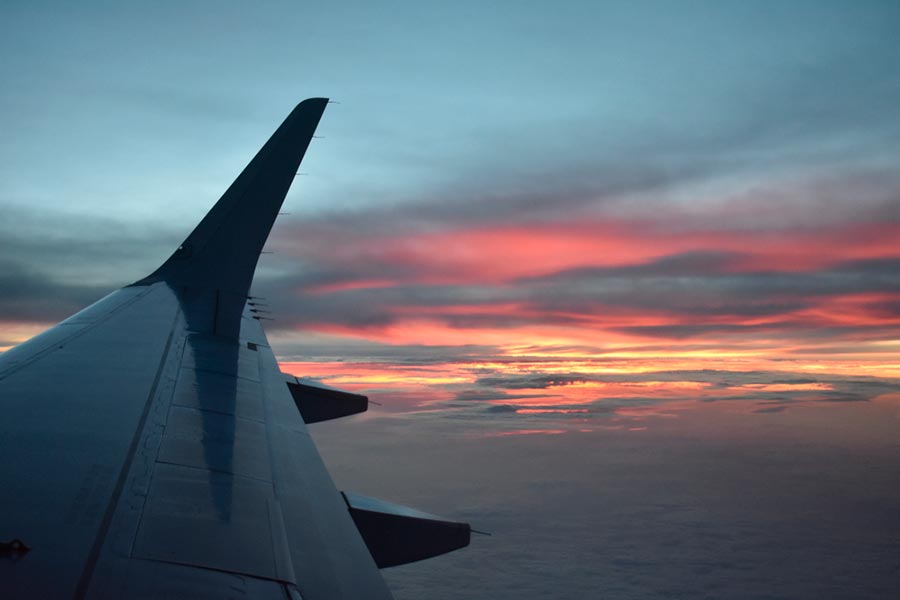 Source – Shutterstock. A stunning view of the sunset from an airplane window
We're glad to inform you that you can find this solution right here. Our booking platform, ParkingNearAirports.io, offers the best prices on airport car parking and bundles hotel and parking packages. Besides, we provide the services for top cruise ports in Florida, Louisiana, Maryland, New Jersey, and Texas.
Our platform allows you to reserve a parking spot through a few clicks within the application. As a result, customers receive a booking confirmation and a guaranteed parking spot upon arrival at the off-airport lot. Besides, if plans change, you can cancel hassle-free and receive a refund.
To understand it better, we would like to give you an example. Let's imagine that you live in Miami, Florida. If you're planning a trip to Germany or France, you can use the services of affordable
Miami Airport daily parking
. If you're coming from Seattle, Washington, the situation is the same - you can choose a
cheap parking SeaTac
. So it just depends on the place you're flying from.
Also, ParkingNearAirports.io offers its customers special
airport parking coupons
. With the help of these coupons, you can make the price for parking even two times less. So don't forget to use them to save as much money as possible.
You can find all the necessary and helpful information connected with the off-site airport parking on our official website. Enjoy traveling!