The Mediterranean Sea, which is surrounded by more than 20 nations, bridges the gap between Africa and the Middle East to the south and Europe to the north. The region captivates the imagination of millions of tourists each year, together with the smaller bodies of water that divide it, such as the Adriatic, Tyrrhenian, Ionian, and Aegean. Many people are drawn to the area by its exceptional combination of rich history, diversified culture, beautiful beaches, and warm weather. We've narrowed it down to 5 adventures you should definitely try in the Mediterranean if you're planning a trip but need some inspiration. Let's get to it!
1. Discover Venice by Water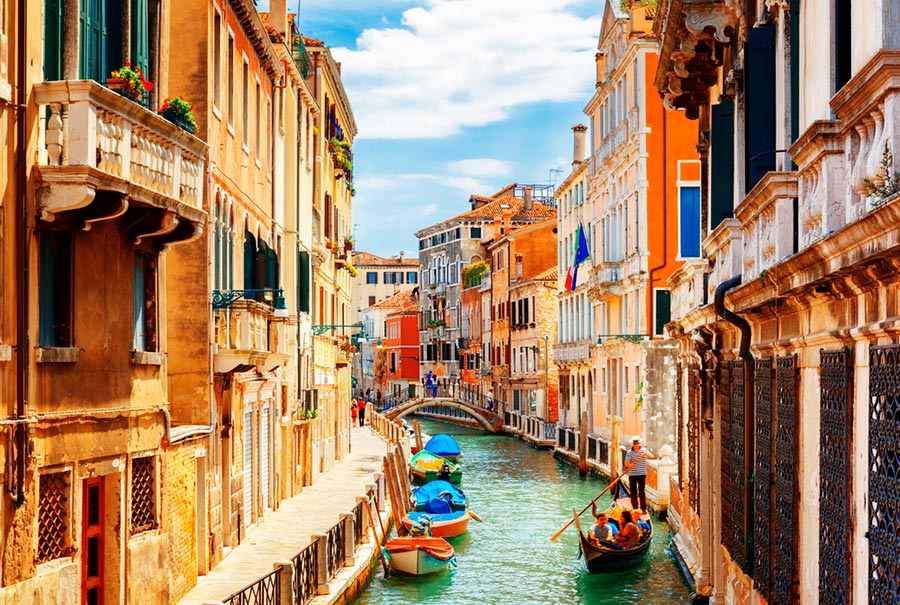 Source – Shutterstock. View of the Rio Marina Canal with boats and gondolas from Ponte de la Bergami in Venice, Italy
Although it's difficult to see Venice as a Mediterranean destination given that it's tucked away in the northern Adriatic, this unusual city was once the region's most significant commerce hub. While a gondola ride is the best way to see the city's waterways, traghetti and vaporetti are more affordable options. Tick off the major attractions, such as St. Mark's Square, the Doges Palace, the Rialto Bridge, and the islands of Burano and Murano, but leave plenty of time to get lost in Cannaregio hidden lanes, mellow Santa Croce, and Dorsoduro, which used to be the city's cotton mill district.
2. Go Outside of Rome to See Roman Ruins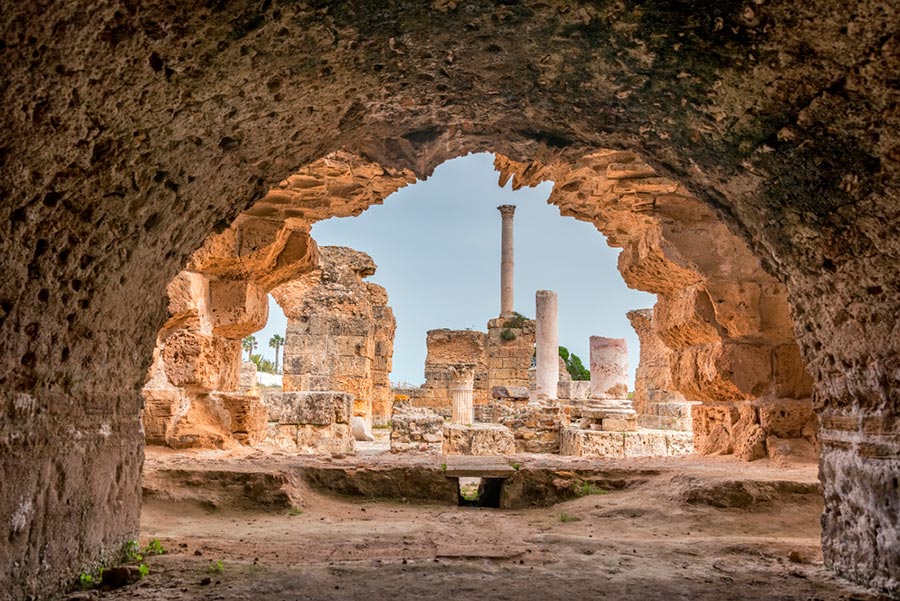 Source – Shutterstock. View of the Antonine Baths in the ancient city of Carthage, Tunisia
Numerous Roman-era archaeological sites can be found close to the Mediterranean nowadays because the Roman Empire formerly ringed the region. When you take a tour with a specialized company like Andante Travels, your knowledgeable guide will take you back in time by 2000 years to tell you the stories behind impressive amphitheaters, streets that are ridged with cart ruts, and homes where the wealthy once had elaborate mosaic floors installed. You'll be spoiled for choice with a variety of contemporary cities with historical antecedents, including Carthage, Durrs, Paphos, and Arles.
3. View Dubrovnik's Ancient Walls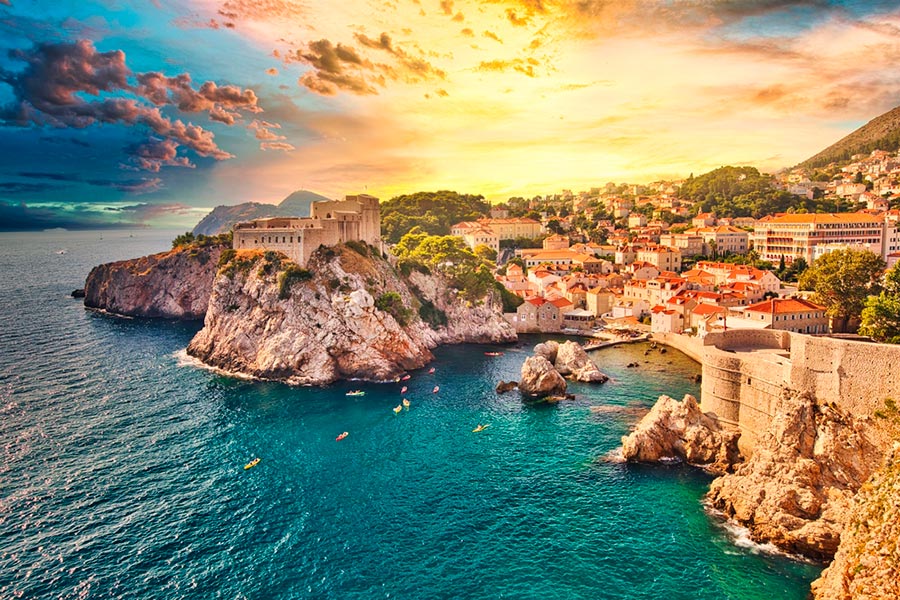 Source – Shutterstock. Fort Lovrijenac from the top walls of Dubrovnik city of Croatia
A trip over the two kilometers of stone fortifications that surround Dubrovnik's charming old town is a must for fans of the hit television series Game of Thrones. For one of the most breathtaking views in the area, look out over the terracotta rooftops to the Adriatic Sea's sparkling waves. For centuries-old monasteries, palaces, and fountains as well as a liberal scattering of cafés and restaurants ideal for people-watching, descend to the cobbled streets below.
4. The Aeolian Islands in Italy: Witness a Volcano Eruption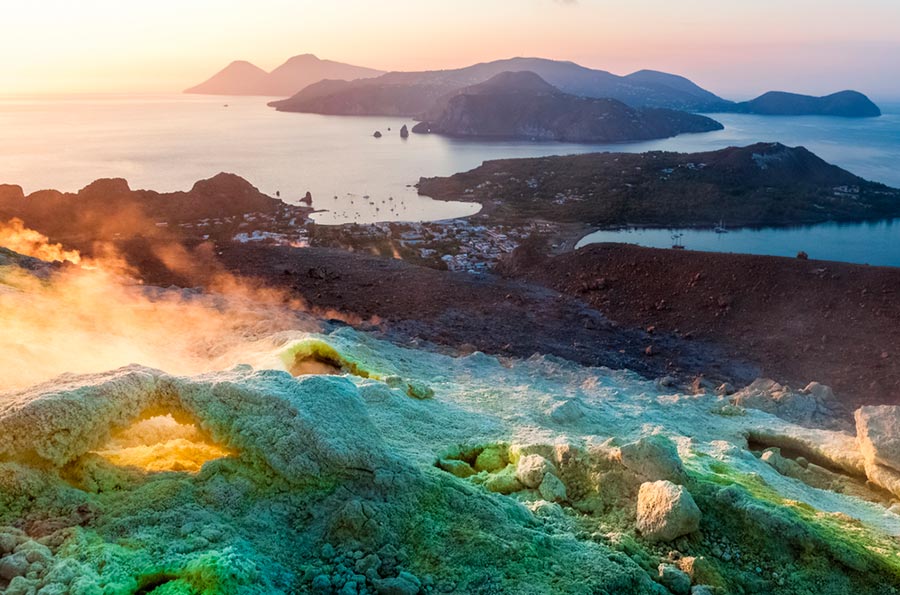 Source – Shutterstock. An impressive view from Vulcano Island to the Aeolian Islands at sunset
Pompeii and Herculaneum were destroyed by a Vesuvian eruption in the year 79 AD, and Sicilian residents have experienced chaos and misery from Etna eruptions ever since the island's settlement. But without a doubt, Stromboli, in the Aeolian Islands, puts on the finest performance in town, virtually every night. It's one of the most active volcanoes in the world, spewing lava fountains that are among the most striking vistas in the Mediterranean when silhouetted against the night sky. Every day, boat trips leave Milazzo in Sicily.
5. Try Sailing in the Eastern Mediterranean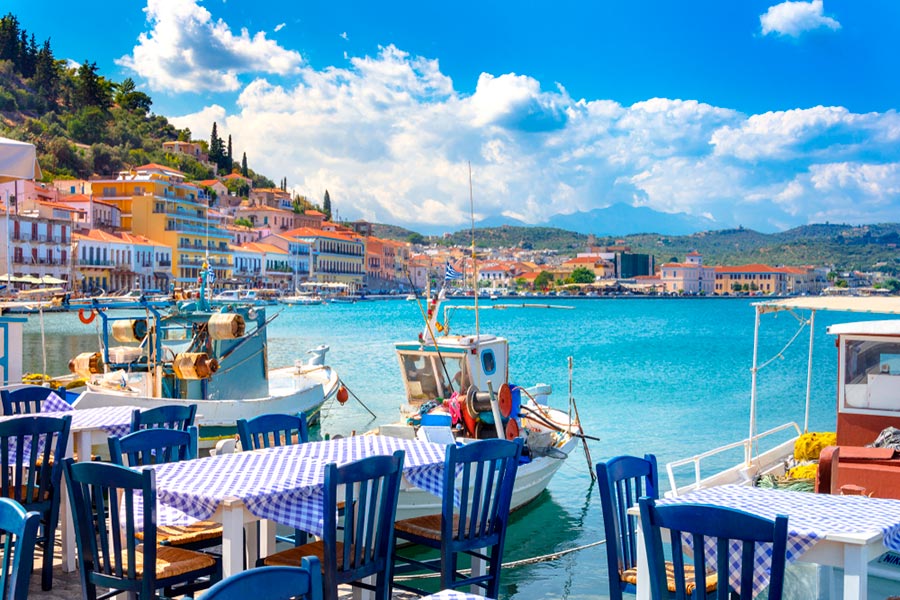 Source – Shutterstock. View of the picturesque coastal town of Gythio, Peloponnese, Greece
Take to the water if you want to enjoy the Mediterranean to its fullest. But don't believe that sailing in this nearly enclosed water will be simple. Even though you might anticipate its waters to be as flat as a millpond, strong winds can whip up the waves and produce challenging conditions for even seasoned sailors. You can find some of Greece's most alluring islands close to the calmest waters in the Ionian Sea; if you're a beginner, try Ithaca, Lefkas, Corfu, or the Peloponnese peninsula.
Travel across the Mediterranean conveniently together with ParkingNearAirports.io!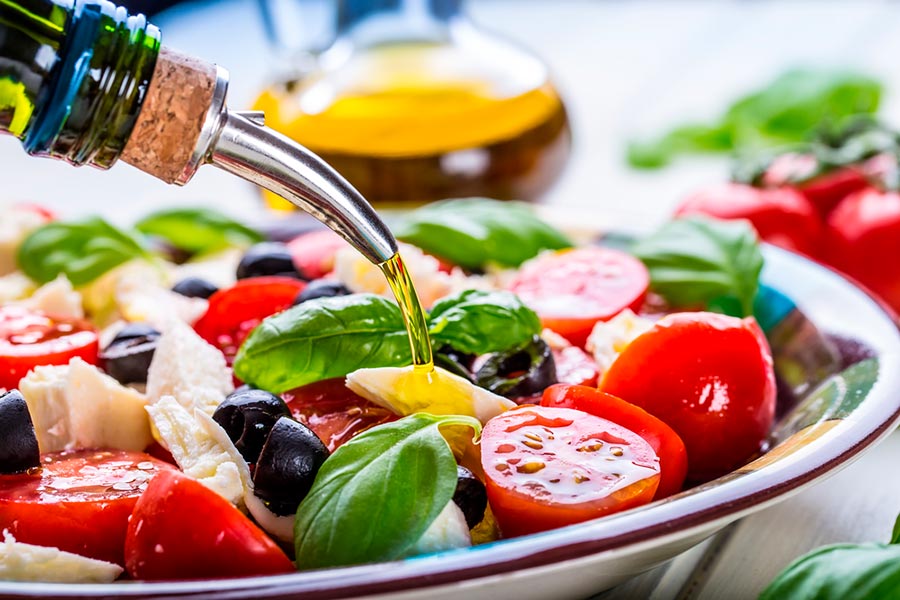 Source – Shutterstock. Caprese – tasty Italian or Mediterranean salad
Have you ever heard something about off-site parking? If not, we recommend you take a closer look at this part of the article, as this information will be handy for those who prefer to travel by air and get to the airport by their own car.
Most people suppose that parking at the airport is the fastest and most convenient option for them. However, it's not actually true. We'll explain to you why.
To be true, being in a terminal parking lot isn't convenient at all. Although on-site airport parking is the nearest place where you can leave your vehicle for the period of a trip, you can face the following difficulties:
You will need to find a spot in a crowded lot,
You will need to carry the luggage all the way through the parking lot,
You must pay expensive fees without great service.
Sounds not good, right? However, we found an excellent solution for you - in this case, off-site parking can become a savior for you. So if you're trying to find a parking spot with great service nearby the airport you're flying from and don't want to leave there the most significant part of your budget, pay attention to this option.
How does it work?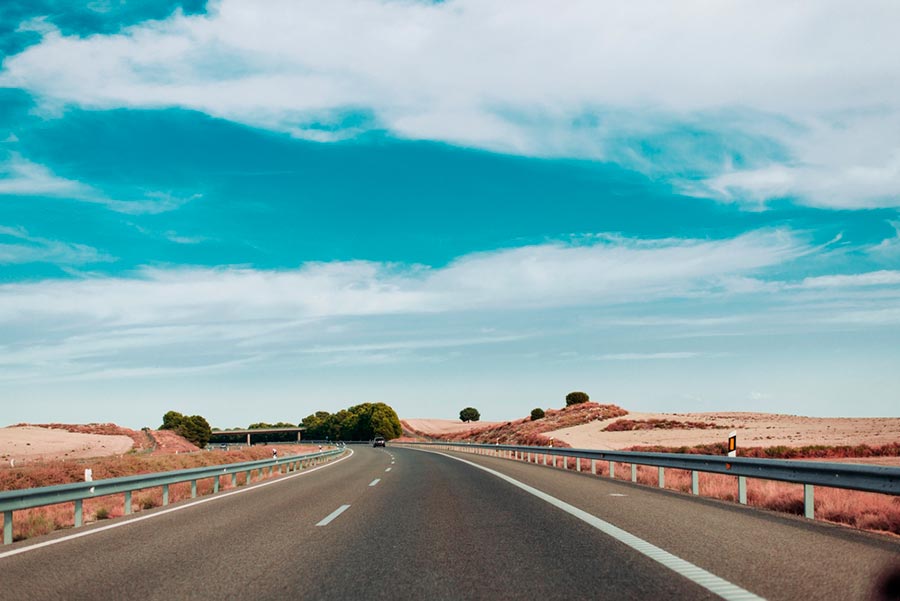 Source – Shutterstock. Cinematic charming road in Spain with vehicle moving in the distance
Obviously, people who chose a car as a way to get to the airport want to leave their vehicle safely while traveling and not to face the problems we described above. So what can off-site airport parking offer its customers?
Although a few miles usually separate such parking from the airport, you shouldn't worry about this. Off-site parking provides free shuttles going back and forth between the parking lot and the airport. Thanks to this, it removes any worries about getting stuck in traffic on the way to the airport during peak times. So all you need to do is choose the best time for you and inform the parking lot staff.
How does it work? Actually, everything is straightforward: when you come to the entrance, the staff will remove your luggage from your car and load it onto the shuttle, which will take you and your bags to the terminal. Then, the vehicle will be parked securely.
In addition, this type of parking is much cheaper, and this is good news, as nobody wants to waste money. Therefore, off-site parking is the perfect option to receive excellent service and save money at the same time.
Want to find some great offers? You don't need to go somewhere - just find it right here!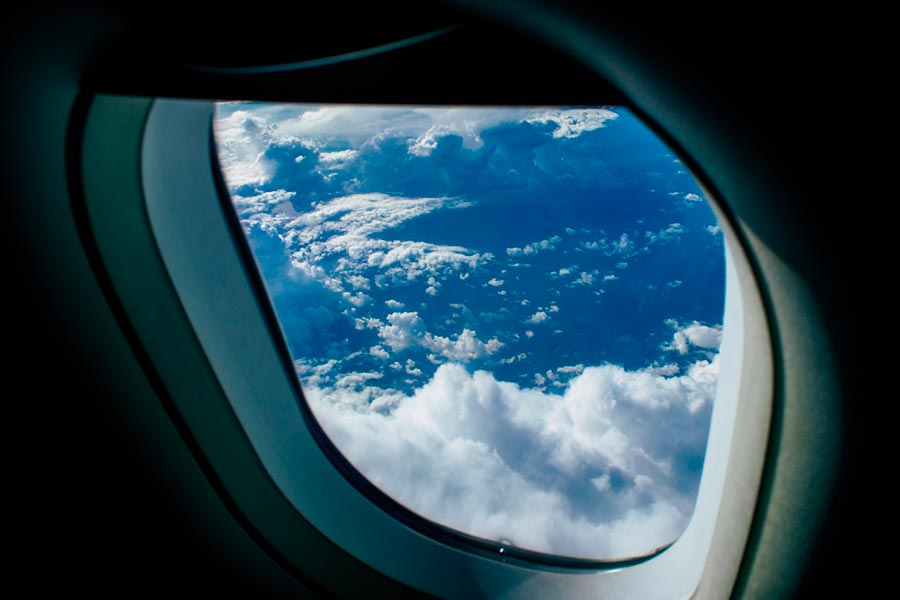 Source – Shutterstock. Cloudy skies 10,000 feet above sea level from an airliner over the Mediterranean Sea between Greece and Cyprus
We're glad to inform you that you can find this solution right here. Our booking platform, ParkingNearAirports.io, offers the best prices on airport car parking and bundles hotel and parking packages. Besides, we provide the services for top cruise ports in Florida, Louisiana, Maryland, New Jersey, and Texas.
Our platform allows you to reserve a parking spot through a few clicks within the application. As a result, customers receive a booking confirmation and a guaranteed parking spot upon arrival at the off-airport lot. Besides, if plans change, you can cancel hassle-free and receive a refund.
To understand it better, we would like to give you an example. Let's imagine that you live in Los Angeles, California. If you're planning a trip to the Mediterranean, you can use the services of
cheap parking around LAX
. If you're coming from Orlando, Florida, the situation is the same - you can choose affordable
MCO valet parking
. So it just depends on the place you're flying from.
Also, ParkingNearAirports.io offers its customers special
airport parking reservations coupons
. With the help of these coupons, you can make the price for parking even two times less. So don't forget to use them to save as much money as possible.
You can find all the necessary and helpful information connected with the off-site airport parking on our official website. Enjoy traveling!