Hands up, who's sure they know Europe? We mean, know Europe WELL. No matter who you are – a newcomer to the continent or an experienced traveler – it's worth choosing a sightseeing package that's a little different. Below are the 3 unusual ways to see your beloved European towns – let's get started!
1. Venice's Canals by Kayak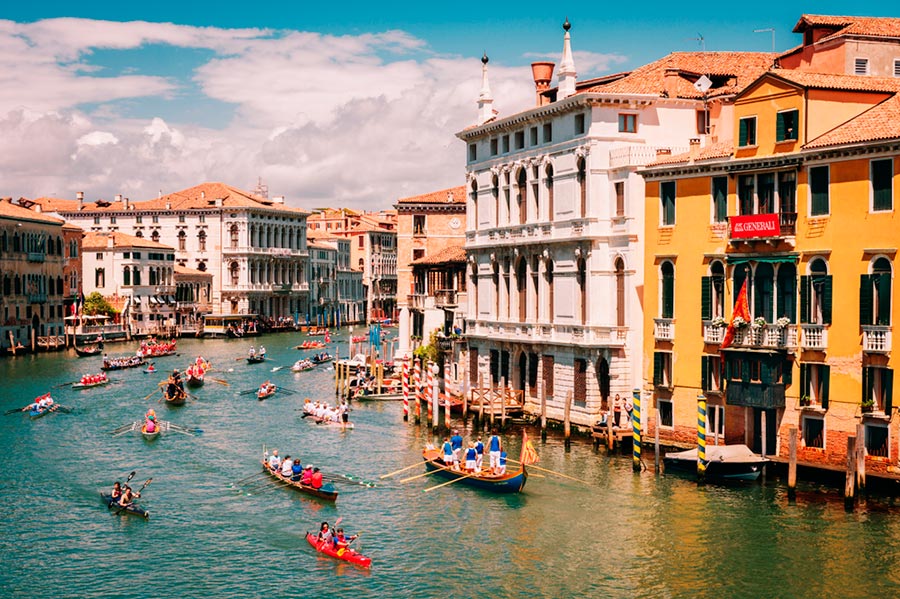 Source – Shutterstock. Racing rowing in the Venetian lagoon – the annual Vogalonga Regatta
Try something a little more low-slung and take a break from the gondolas and vaporetti. The world-famous canals of Venice were designed to be explored more carefully, and paddling through the water in a kayak won't let you down. A half-day trip of the city's smaller canals in the sestieri (neighborhoods) of Castello and San Marco should cover 8 to 10 kilometers.
You can also schedule a Lagoon tour. Four to five hours of paddling would be required for a full-day adventure, but the benefits are well worth the effort. You can end yourself in Burano, a charming town famous for its lace, or Torcello, home to the magnificent Byzantine mosaics in the Basilica of Santa Maria Assunta.
2. Salzburg by Bicycle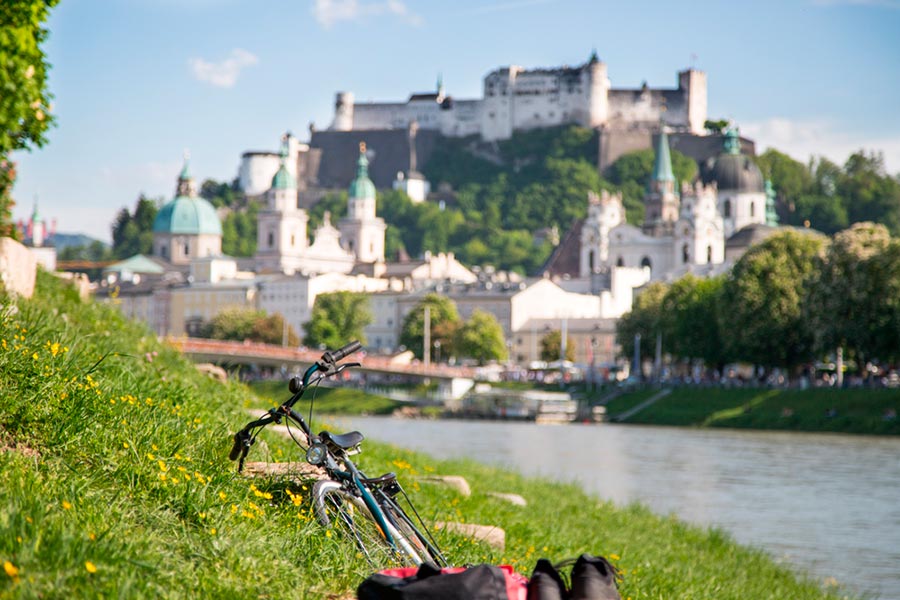 Source – Shutterstock. Panoramic city landscape of Salzburg in summer – bicycle in the foreground
For more than 50 years, The Sound of Music has charmed generations of viewers who like both the breathtaking scenery of Salzburg and the songs sung by the gifted von Trapps. You may tour the filming locations on two wheels with an enthusiastic guide from Fraulein Maria's Cycling Tours if you go between April and October.
You'll pedal from the Altstadt up to the convent where Maria understood she wasn't ready to be a nun for three and a half delightful hours. Freewheel past Schloss Leopoldskron, as well as along the lakeshore where the Captain's disdain of Maria's unconventional child-rearing approaches was plain to see. There are countless opportunities for the group to perform the songs along the journey, particularly at the renowned gazebo in Hellbrunn. Whether you're a lover of the film or not, you'll fall in love with Salzburg by the time you come back.
3. Self-guided Tram Tour in Lisbon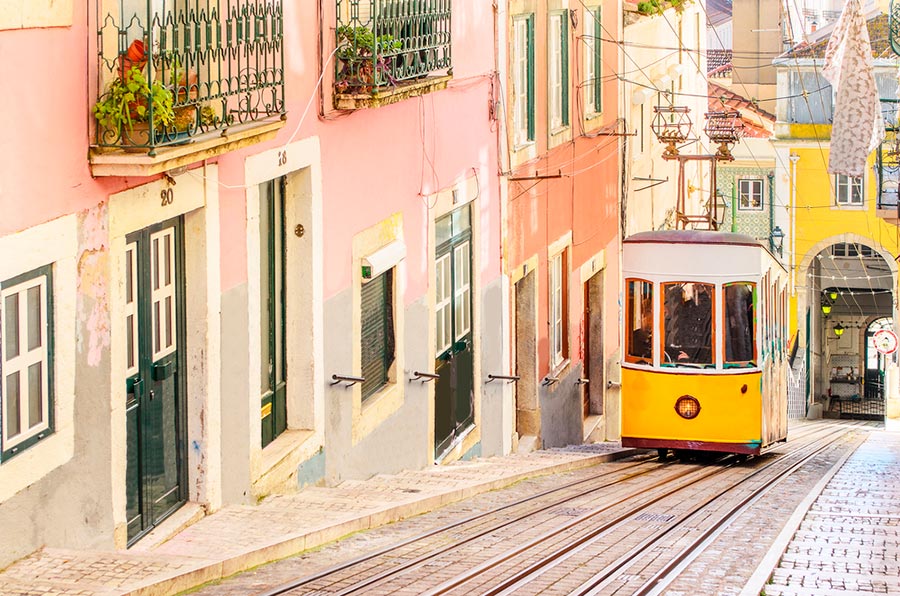 Source – Shutterstock. The well-known yellow tram 28 running across Lisbon, Portugal
Take a ride on the Number 28 tram to experience Lisbon in vintage style. It's an opportunity for first-timers to get their bearings as they travel the route connecting Praça Martim Moniz to Campo Ourique via the charming Alfama and Baixa neighborhoods. Alight to explore Lisbon's medieval cathedral, the Se, and to take in the Tagus River panorama from the Portas do Sol scenic overlook.
Pickpockets frequently occur along the route of the tram because of how crowded it is during the summer. As you take your seat on the polished wooden bench of one of these iconic egg-yolk yellow Remodelado trams, keep a firm grip on your luggage and camera. Though they're vintage, thankfully they have modern brakes. Watch brief glimpses of vibrant Lisbon via the tram window while you sit back and unwind.
Travel unconventionally and in full comfort at the same time!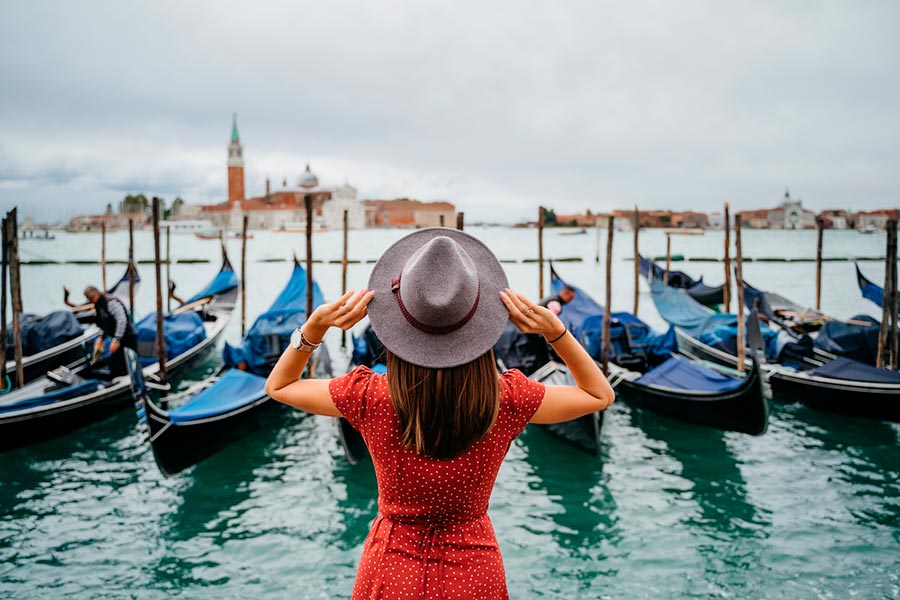 Source – Shutterstock. Girl in a red dress in Venice – Piazza San Marco with gondolas on the pier
In addition to the cool possible travel options, ParkingNearAirports' team would like to convey some useful information on traveling as well – it will be actually handy for those who prefer doing this by air.
If you use your own car to reach the airport, you know it is critical to park it safely for the duration of your trip. Almost every airport has special on-site parking for this purpose. However, travelers aren't ready to spend a lot of money at the beginning of their trip, as this option is pretty costly. So what should we do then?
Our booking platform, ParkingNearAirports.io, offers travelers online reservations for parking just outside airports that are affordable and convenient. Our experienced team is dedicated to providing travelers parking options at over 100 airports in the U.S. and Canada. The app allows customers to search and compare parking rates at up to 70 percent savings compared to the cost of on-site parking at all major airports.
What is actually off-site parking, and which advantages has this parking type, you may ask? So let's take a closer look at this question.
First of all, off-site parking is much cheaper. So you can save money and then spend the most considerable amount on the things you really want to try or see while traveling.
Secondly, off-site parking services are faster. It might seem that it's faster to park your car at the airport, but that's not always the case. Off-site parking offers you the following convenience: when you drive directly up to the entrance, a staff member pulls your luggage out of your vehicle and loads it into the shuttle. Then they park your car for you. After your baggage is loaded, you can take your seat in the shuttle, which will bring you and your bags to the airport. It is a hassle-free option that is usually faster.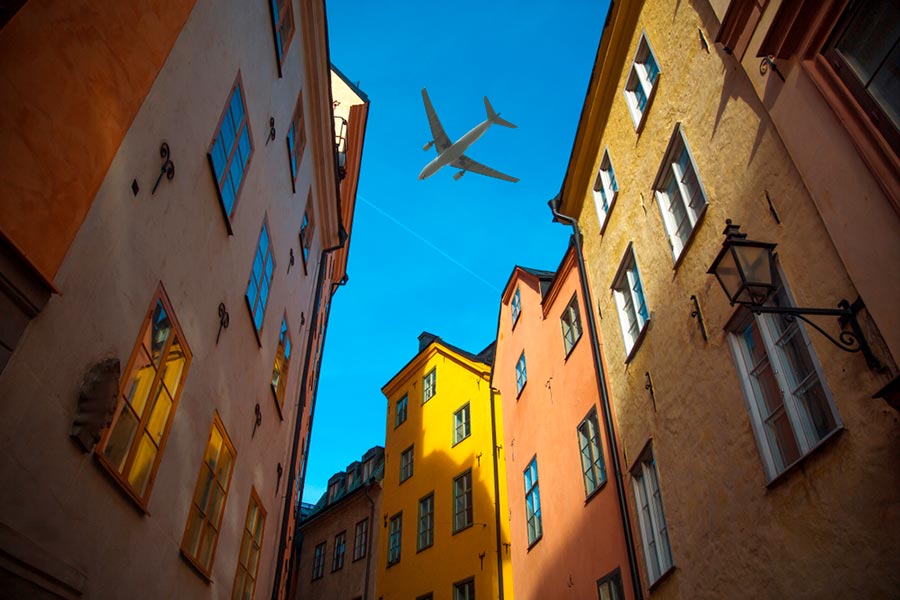 Source – Shutterstock. The plane flies over the houses of the city over Stockholm, Sweden – Europe
Thirdly, it's much more convenient. People are always stressed before the trip, as there are many things you should keep in mind. Not to be late when taking off, fighting traffic, finding a parking place, wondering how long the shuttle service will take, and more can leave you annoyed before you step foot inside the airport. If you choose off-site parking, you are using the assistance of a private company that caters to travelers' needs. Such services can make your trip much more comfortable when you arrive at the airport and return home.
With ParkingNearAirports.io, it takes just a few clicks within the application to reserve a parking spot. Upon arrival at off-airport parking, customers receive a booking confirmation and a guaranteed parking spot. The app helps customers find the most convenient airport parking lots. If plans change, cancellations are hassle-free and refundable.
We also offer you services for top cruise ports in Florida, Louisiana, Maryland, New Jersey, and Texas.
Let's look at an example. Imagine that you live in New York City, New York. If you're planning a trip to Europe, you can choose
cheap parking near EWR
. If you're coming from Pittsburgh, Pennsylvania, the situation is the same - you can use affordable
overnight parking Pittsburgh Airport
. So it depends just on where you are flying from.
On our official website, you can find the best deals,
airport parking charges per day
, and other information connected with parking near U.S. and Canadian airports.