Airport queues are a real inconvenience when you're planning to make a flight. There are always crowds at the airport due to things like checking your bags and going through security, but there are plenty of ways to save time with the appropriate strategies. Below you'll see 5 tips for cutting through airport queues quickly so you can get to the gate on time and without any worries. Let's get to it!
1. Obtain TSA PreCheck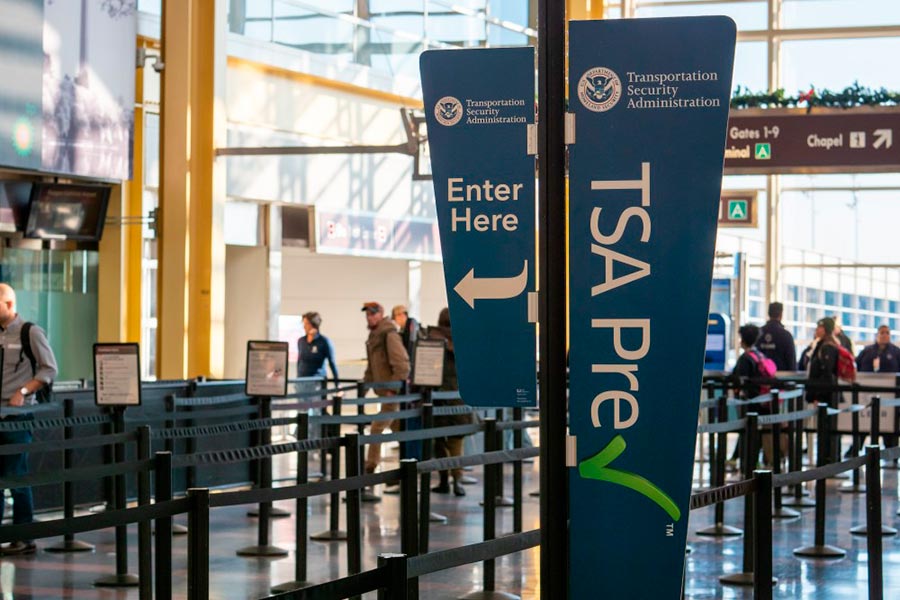 Source – Shutterstock. TSA PreCheck fast lane line before security at Reagan National Airport
Even though it takes some extra work, enrolling in TSA PreCheck is one of the greatest methods to breeze through airport security crowds. After submitting a quick online application, participants must pay an $85 five-year membership fee, attend an in-person interview, and provide their fingerprints for a background check. Once you've been given the go-ahead, you can enter the PreCheck queue without having to go through the standard security checks, which include taking off your shoes and removing liquids and electronic devices.
2. Learn the Rules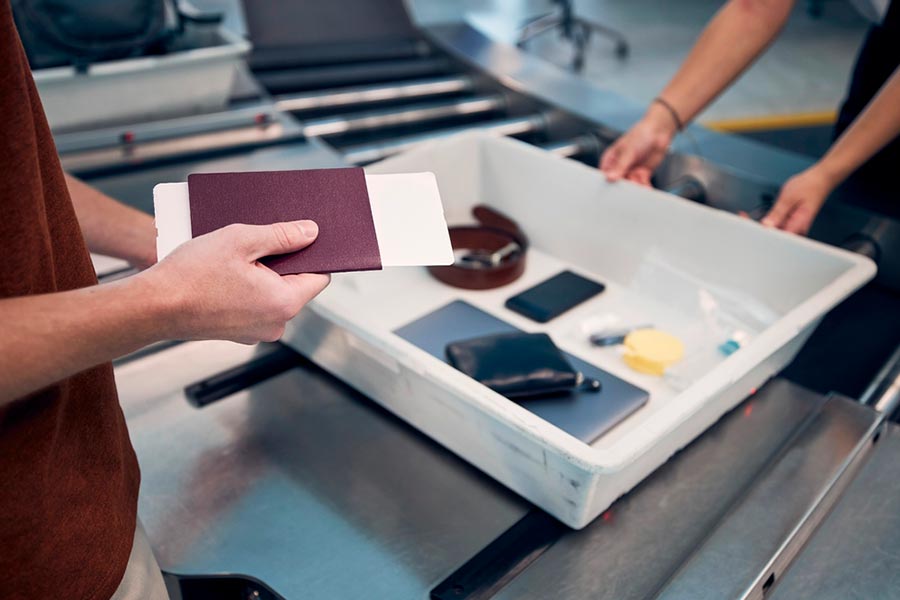 Source – Shutterstock. Passenger holding passport against personal items – liquids and laptop – in a container at the airport security check
The TSA has a lot of regulations, so it's best to bear them in mind if you want to skip through security. The 3-1-1 rule, which states that liquids, aerosols, gels, and creams must be fewer than 3.4 ounces or 100 milliliters, must be followed while packing liquids in carry-on luggage. It's best to wait to get your caffeine fix until you're securely inside the terminal because lattes and water bottles must both be empty in order to comply with the 3-1-1 guideline.
3. Don't Travel on Certain Days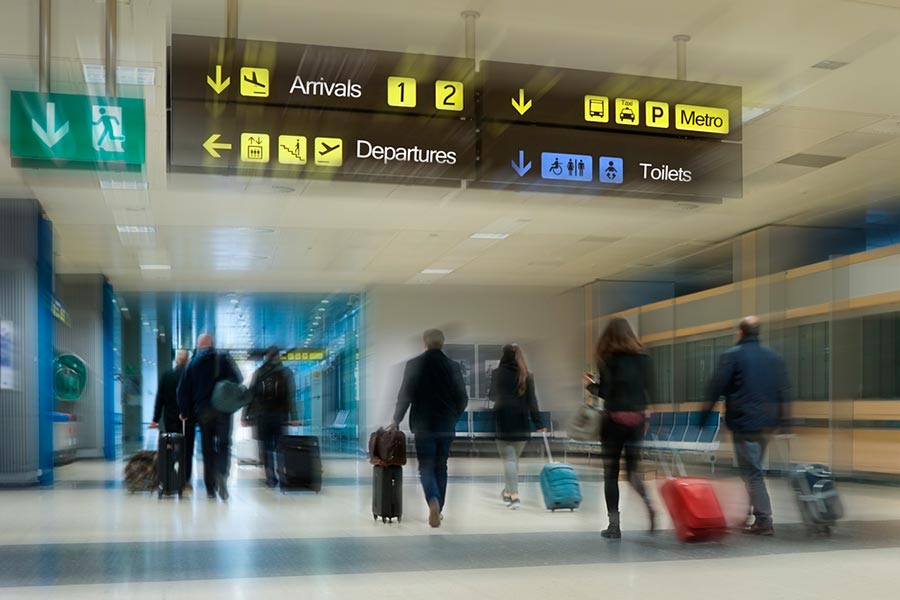 Source – Shutterstock. Airline passengers walking inside an airport with their luggage
A simple approach to avoid huge crowds at the airport is to plan your vacation dates strategically. It goes without saying that major holidays like Thanksgiving and Christmas cause airports to be crowded, so if you want to completely avoid queues, avoid flying during these times. Otherwise, try to avoid traveling on Fridays and Mondays when demand is highest. Flying during the week is an excellent strategy to avoid long airport lines because Wednesday is usually the least busy day for airlines.
4. Choose the Correct Suitcase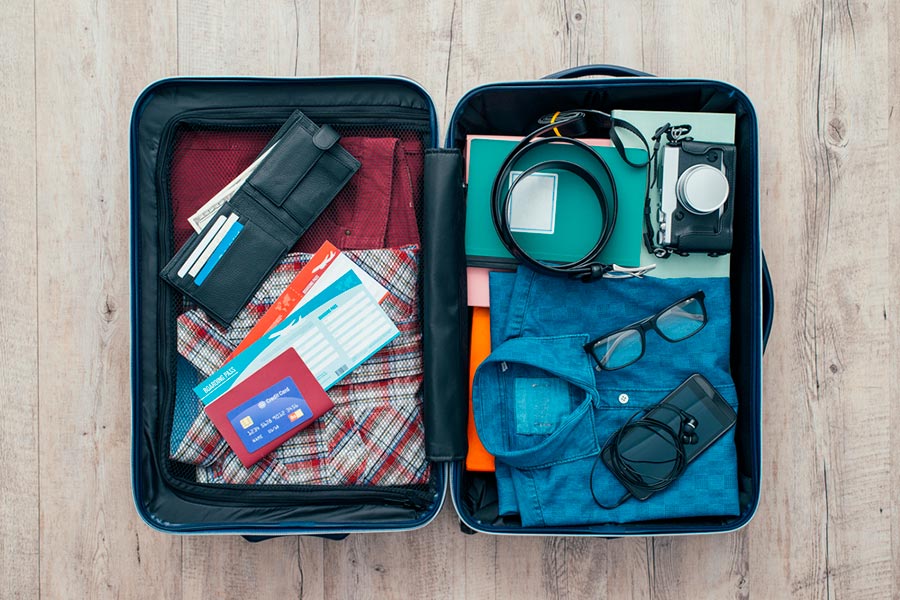 Source – Shutterstock. Open travel bag with clothes, accessories, credit cards, tickets, and passports
In keeping with the regulations, selecting the appropriate carry-on bag helps to speed up airport security. Using baggage with a big exterior pocket, like this one from TravelPro, makes it simpler to remove your liquids from your bag without slowing down the queue because any liquids you bring will need to be checked separately. When traveling with a laptop or tablet, look for luggage that is made to hold one. You don't have to spend a lot of time unzipping bags to remove your laptop for security because this backpack from Cotopaxi includes a special compartment for electronics.
5. Register in Global Entry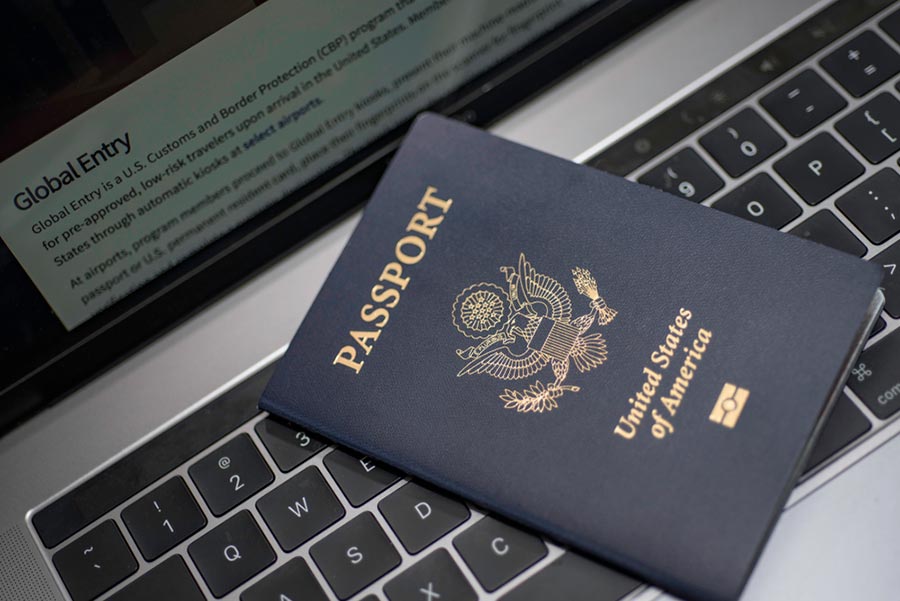 Source – Shutterstock. Global Entry website's fragment next to passport of USA on laptop keyboard
Applying for Global Entry is a great method to skip those stressful customs queues if you frequently travel abroad. Global Entry enables low-risk, pre-approved travelers to obtain accelerated service in the airport, much like TSA PreCheck. $100 is required to apply for a five-year membership. These travelers can use the Global Entry kiosks to bypass the customs lines after getting off the plane since they are part of the "Trusted Travelers Program." The kiosks not only read passports but also scan fingerprints and let travelers electronically declare their belongings.
Do you know any other life hacks on how to travel even more conveniently?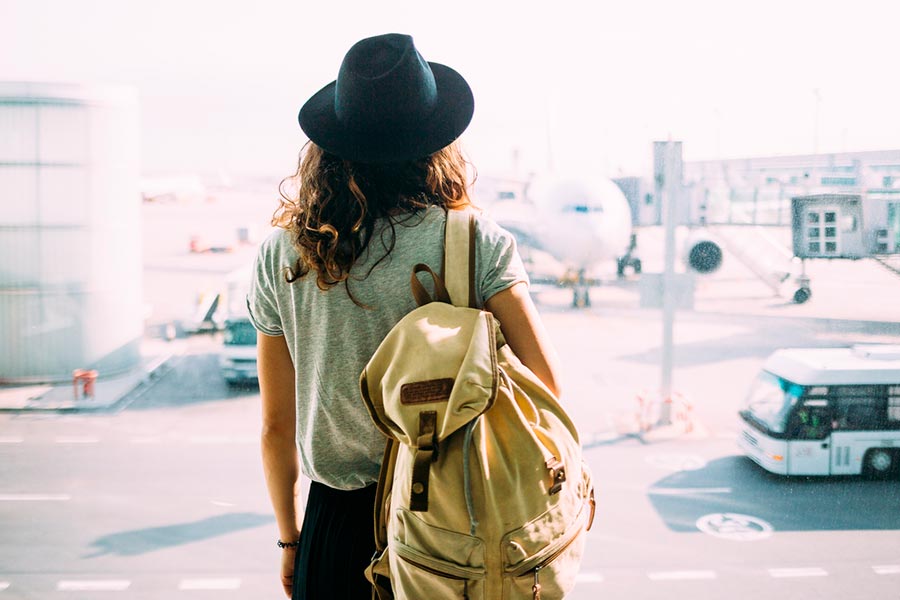 Source – Shutterstock. A girl in a hat with a backpack travels to the airport
Have you ever heard something about off-site parking? If not, we recommend you take a closer look at this part of the article, as this information will be handy for those who prefer to travel by air and get to the airport by their own car.
Most people suppose that parking at the airport is the fastest and most convenient option for them. However, it's not actually true. We'll explain to you why.
To be true, being in a terminal parking lot isn't convenient at all. Although on-site airport parking is the nearest place where you can leave your vehicle for the period of a trip, you can face the following difficulties:
You will need to find a spot in a crowded lot,
You will need to carry the luggage all the way through the parking lot,
You must pay expensive fees without great service.
Sounds not good, right? However, we found an excellent solution for you - in this case, off-site parking can become a savior for you. So if you're trying to find a parking spot with great service nearby the airport you're flying from and don't want to leave there the most significant part of your budget, pay attention to this option.
How does it work?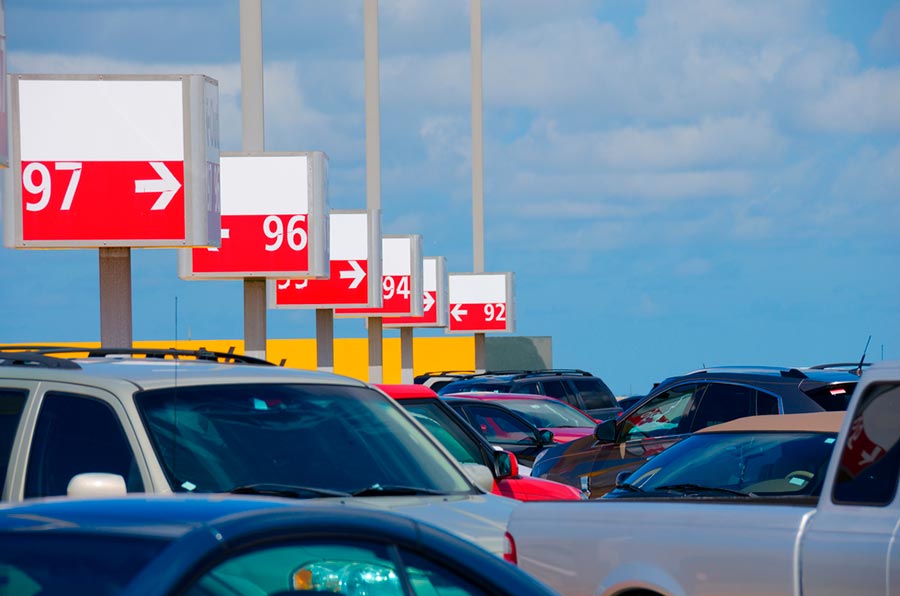 Source – Shutterstock. A numbered parking lot at an airport that's packed filled with automobile
Obviously, people who chose a car as a way to get to the airport want to leave their vehicle safely while traveling and not to face the problems we described above. So what can off-site airport parking offer its customers?
Although a few miles usually separate such parking from the airport, you shouldn't worry about this. Off-site parking provides free shuttles going back and forth between the parking lot and the airport. Thanks to this, it removes any worries about getting stuck in traffic on the way to the airport during peak times. So all you need to do is choose the best time for you and inform the parking lot staff.
How does it work? Actually, everything is straightforward: when you come to the entrance, the staff will remove your luggage from your car and load it onto the shuttle, which will take you and your bags to the terminal. Then, the vehicle will be parked securely.
In addition, this type of parking is much cheaper, and this is good news, as nobody wants to waste money. Therefore, off-site parking is the perfect option to receive excellent service and save money at the same time.
Want to find some great offers? You don't need to go somewhere - just find it right here!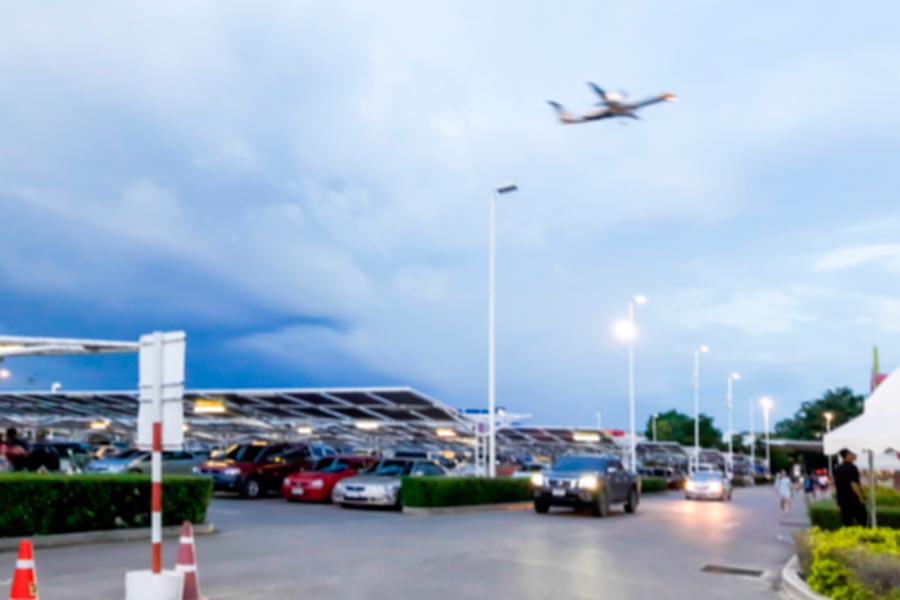 Source – Shutterstock. Blur image of parking lot in the shopping mall
We're glad to inform you that you can find this solution right here. Our booking platform, ParkingNearAirports.io, offers the best prices on airport car parking and bundles hotel and parking packages. Besides, we provide the services for top cruise ports in Florida, Louisiana, Maryland, New Jersey, and Texas.
Our platform allows you to reserve a parking spot through a few clicks within the application. As a result, customers receive a booking confirmation and a guaranteed parking spot upon arrival at the off-airport lot. Besides, if plans change, you can cancel hassle-free and receive a refund.
To understand it better, we would like to give you an example. Let's imagine that you live in Chicago, Illinois. If you're planning a trip to Dallas, Texas, you can use the services of cheap
ORD parking with shuttle
. If you're coming from Dallas, the situation is the same - you can choose affordable
DFW valet parking
. So it just depends on the place you're flying from.
Also, ParkingNearAirports.io offers its customers special
airport parking coupons
. With the help of these coupons, you can make the price for parking even two times less. So don't forget to use them to save as much money as possible.
You can find all the necessary and helpful information connected with the off-site airport parking on our official website. Enjoy traveling!