Southwest Airlines Co. is already getting ready for spring after a busy Labor Day weekend.
Southwest, based in Dallas, released its most recent schedule extension on Thursday, offering travel through April 10 of the next year. The two largest beneficiaries stand out as Denver and Las Vegas. Along with bringing back dozens of additional seasonal routes, the carrier also introduced a brand-new nonstop seasonal route between San Diego and Eugene, Oregon.
Adam Decaire, vice president of network planning, said in a statement the following:
"We keep strengthening our network across North America with some of our biggest schedules ever for our Denver and Las Vegas customers, and we're super happy to give everyone the opportunity to book now and plan their spring vacations early."
Where the booking was previously possible as a usual course of business, Southwest (NYSE: LUV) often extends its flight schedule by 6 to 10 weeks in the end.
The air carrier wants to maintain its recent momentum. After suffering a loss in the first quarter, Southwest bounced back by more than doubling its profit and bringing in record amounts of money in the second quarter as the demand for travel soared. Less than 1% of the airline's flights were canceled in the second quarter. In July, CEO Bob Jordan informed analysts that third-quarter demand trends were positive.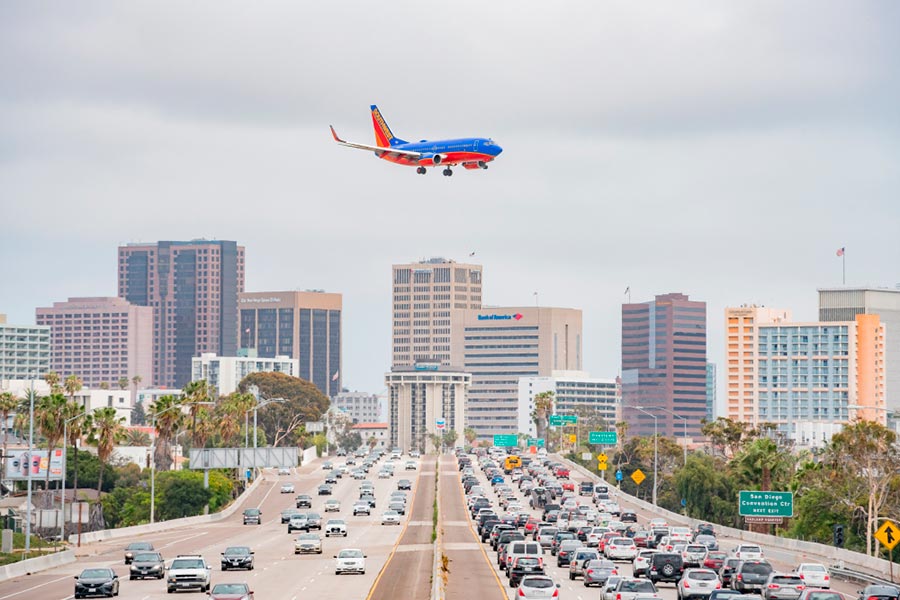 Source – Shutterstock. Aerial view of the highway: Southwest Airline airplane landing in downtown – San Diego, California
During the last holiday weekend, Southwest flew over 14,800 flights transporting over 1.5 million passengers, maintaining the momentum. Its lowest Labor Day weekend cancellation percentage in four years, according to the airline, was 99.3%, based on the statement.
Similar to other airlines, Southwest faces a pilot shortage that affects the entire sector as it tries to resume operations following the Covid-19 outbreak. Southwest anticipates capacity to increase 10% in the first quarter of 2023 compared to the same period in 2022, according to Chief Operating Officer Andrew Watterson during the July conference call.
Southwest focused even more on its two busiest hubs in the schedule extension. With up to 270 departures per day, the airline intends to operate from Denver on its busiest March schedule ever. In March, Southwest will operate its busiest schedule ever out of Las Vegas, with up to 243 departures per day.
Southwest is expanding its global network in Denver by adding seasonally scheduled Saturday service between the Mile High City and San Jose, Costa Rica, subject to regulatory approval. Southwest currently operates a Saturday flight from Denver to Liberia, Costa Rica. Belize and numerous locations in Mexico are currently among Denver's additional international destinations.
Denver has developed into the airline's largest hub and is the Southwest network's fastest-growing airport operation. The market share held by Southwest at Denver International Airport is 32%.
Southwest's second-largest hub is in Las Vegas. With a 38% market share, Southwest is the main airline at Harry Reid International Airport.
Seasonal flights are prepared to depart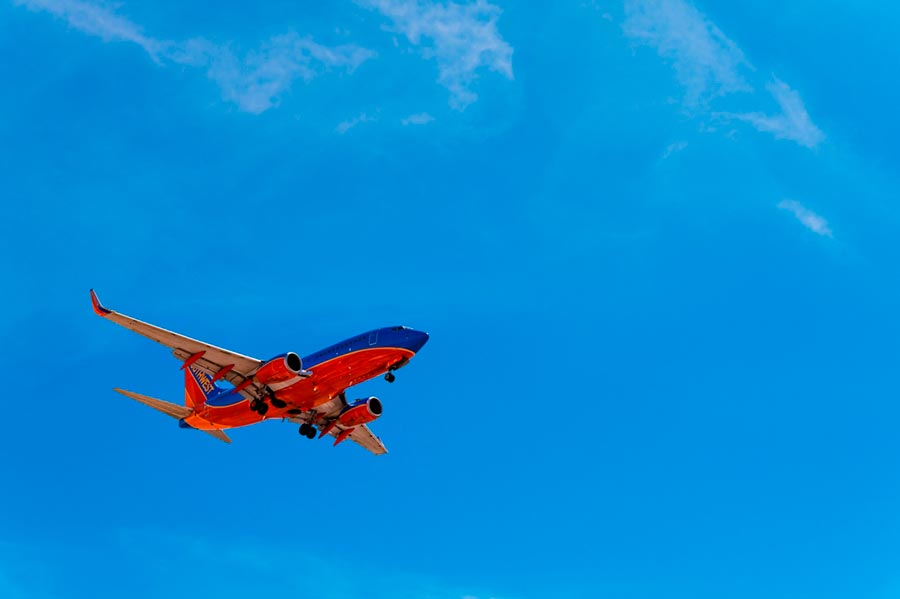 Source – Shutterstock. Southwest Airlines plane is flying in blue sky
Southwest plans to operate a new nonstop weekly route on Saturdays between San Diego and Eugene, Oregon, in addition to the new Denver-San Jose route. On March 11, that route will get going.
More than 70 more seasonal routes are also being reinstated by Southwest. A few of those are the following ones:
Hawaii and Los Angeles are connected on a daily basis. Specifically, the airline will run daily services to Kalaoa and Lihue.
Sacramento, California, and Kahului, Hawaii, are connected on a daily basis.
There is daily service between St. Louis and Panama City, Florida.
Jacksonville, Florida, and Dallas have weekend service. Weekend service to Minneapolis and Saturday-only service to Portland, Oregon will also be available to travelers from Dallas.
Southwest will only fly on Saturdays from Austin to Panama City and Sarasota in Florida, as well as Cozumel and Puerto Vallarta in Mexico.
Here's a complete list of the season routes.
Are you flying with Southwest Airlines often?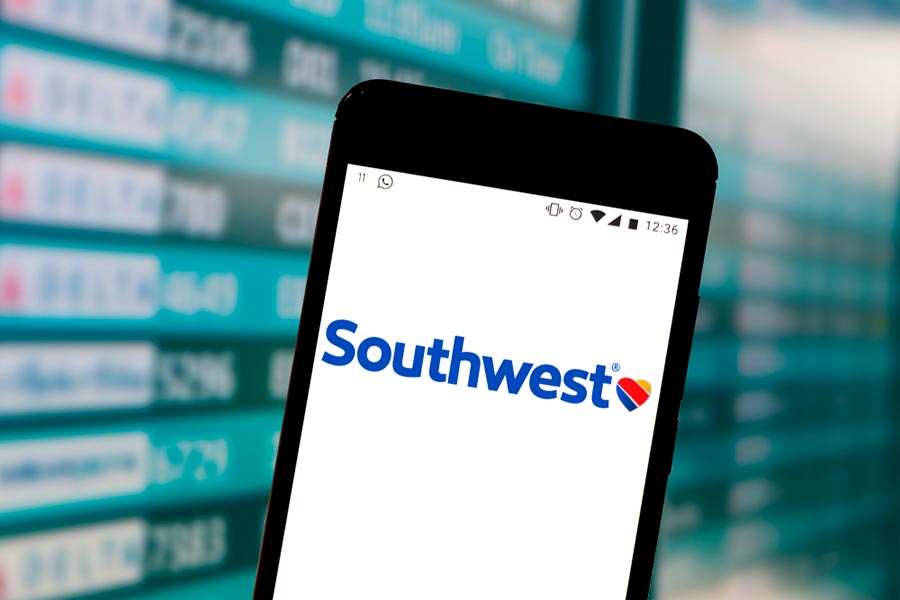 Source – Shutterstock. The Southwest Airlines logo is displayed on a smartphone
If so, we would like to give you one helpful tip for convenient travel – this information will be actually handy for those who prefer to travel by air.
If you get to the airport by car, you always need to find a good parking space for your vehicle to leave for the period of a trip. In most cases, airports have special on-site parking for that purpose. However, such a parking lot is pretty costly most of the time, and people aren't ready to spend a lot of money at the beginning of a trip. So is there any solution?
The best way to solve this problem is to choose off-site parking. Why, you may ask? We will explain.
There are many reasons which can prove the benefit of this parking type. Here are some of them:
Affordable Rates. Depending on the duration of your trip, you can choose between short-term and long-term airport parking. Anyway, an off-site airport is much cheaper, so you can save your money and spend the most considerable amount on things you really want to see or try while traveling.
Fast service. In contrast with on-site airport parking, which can take quite a long time, off-site parking offers you the convenience of driving directly to the entrance and having a staff member pull your luggage out of your vehicle and load it into the shuttle. Then they will park your car for you. After your baggage is loaded, you can take your seat in the shuttle, which will bring you and your bags to the airport. It is a hassle-free option that is usually faster.
Convenience. When people travel, they may be stressed about making it to the airport on time. If you use off-site parking, you will definitely make your travel experience more convenient, as you use the service of a private company. Even though you may be able to park on-site at the airport in a short-term or long-term airport parking lot, consider using an off-site parking lot service.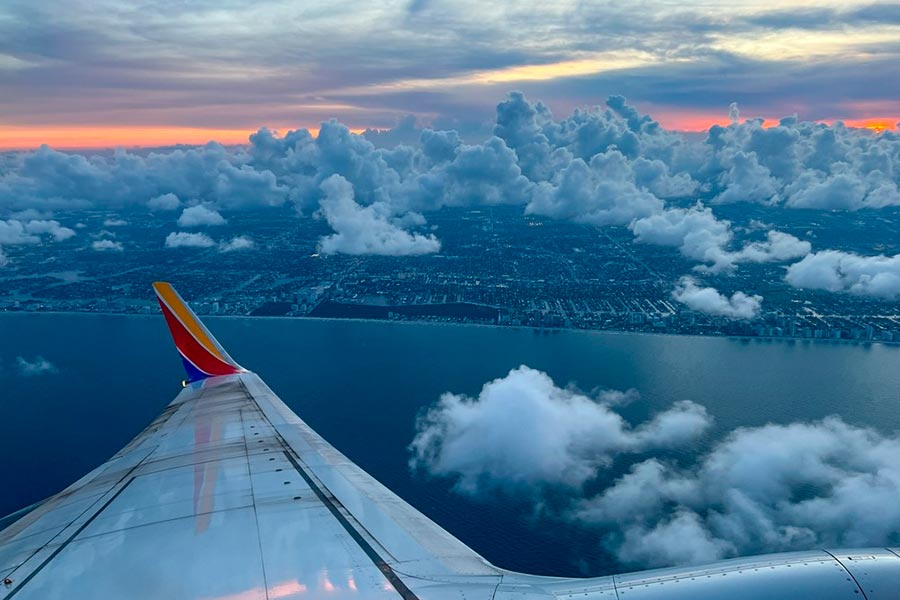 Source – Shutterstock. Southwest airplane wing flying above the clouds on an evening with a beautiful sunset
We are glad to say that our booking platform, ParkingNearAirports.io, offers travelers online reservations for parking just outside airports that are convenient and affordable. Our experienced team is dedicated to providing travelers parking options at over 100 airports in the U.S. and Canada. The app allows customers to search and compare parking rates at up to 70 percent savings compared to the cost of on-site parking at all major airports.
With our platform, it only takes a few clicks in the app to reserve a parking spot. Guests receive a booking confirmation and a guaranteed parking space upon arrival at the off-airport parking. In addition, the app helps customers locate the most convenient lots to the airport. Cancellations are easy if plans change with hassle-free, refundable cancellations.
Besides this, we also offer services for top cruise ports in Florida, Louisiana, Maryland, New Jersey, and Texas.
Now let's take a good example. Imagine that you're planning a trip to Hawaii. So if you're flying from Denver, Colorado, you can use cheap
parking near DIA with shuttle
. If you're coming from Las Vegas, Nevada, you can choose
McCarran Airport economy parking
. It just depends on the place you're flying from.
You can always find everything you need on our official website: the best deals for parking near U.S. and Canadian airports,
airport parking rates
, and much more.