Eebbers, an 11-years-old explosive detection canine for the TSA, retires together with his trainer. What happened? We're telling.
Who is Eebbers and how did he contribute to the travel industry?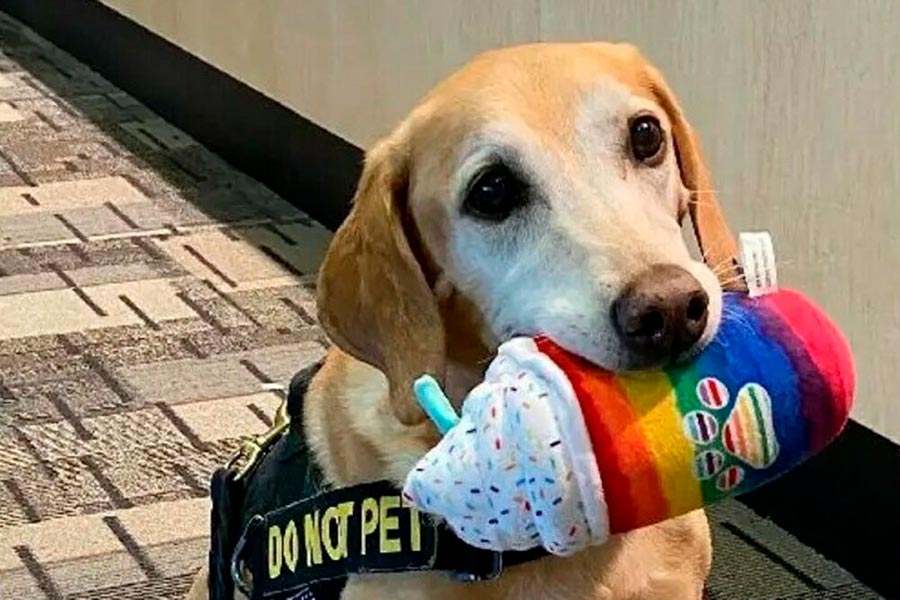 Two new retirees, a canine and a human, are being honored by the Transportation Security Administration (TSA) team at the Minneapolis-Saint Paul International Airport for their crucial work in explosive detection.
According to a tweet from the airport, Eebbers, an 11-year-old male Vizsla-Labrador mix, and his handler, Jean Carney, retired in late August.
The tweet reported the following:
"Thank you both for a fantastic career spent protecting passengers at @mspairport and other high-profile events across the entire country."
The social media post's pictures clearly show that the duo was treated to a retirement party with cake, balloons, and dog toys.
Eebbers and Carney have lived together throughout their careers and will continue to do so after retirement, according to a TSA representative for the Great Lakes region.
A few days after the TSA awarded Eebbers the "Cutest Canine" of 2022, a title he won in a multi-state social media competition, Eebbers and Carney announced their retirement.
According to a press statement the TSA released on August 26th – National Dog Day – the senior dog defeated 92 competitors through a public vote on Instagram, Twitter, and Facebook.
Eebbers has served as a passenger-screening dog at Minneapolis-Saint Paul International Airport for almost ten years. He assisted Carney in this capacity as they checked luggage and people for suspected explosives at security checkpoints.
Passenger-screening canine handlers are trained to read canine behaviors that might indicate the presence of an explosive, and dogs are trained to detect explosives and explosive compounds by scent.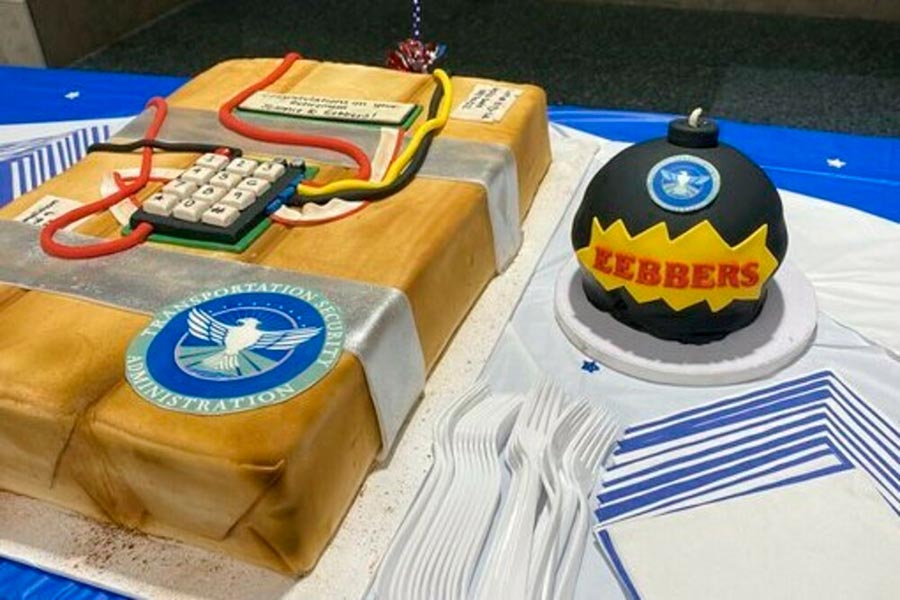 Source – https://www.foxnews.com/. Moments of Eebbers' retirement celebration after 11 years of service
In their National Dog Day press release, the TSA stated:
"We follow an established procedure to resolve the alarm if a dog notifies its handler of the presence of an explosive odor."
In order to prevent and detect the insertion of explosive devices into the country's transportation systems, "the use of these highly trained canines is a useful technique."
More than 1,000 dog teams have been deployed by the TSA across the country.
According to reports, the TSA Canine Training Center in San Antonio provided training for each of these teams.
Eebbers was the last TSA working dog from the Puppy Program until his retirement. He was born into the program at Lackland Air Force Base in San Antonio.
According to the TSA, Eebbers worked security for many events besides airports, including two Super Bowls, the Special Olympics World Games, an NCAA National Football Championship game, the Indianapolis 500, and a NASCAR race.
James Ebbers, a U.S. Army Pvt., passed away on October 14th, 2002, at the age of 19, while serving a mission with the 551st Military Police Company in the nation of Djibouti, East Africa. Eebbers was named in his honor.
TSA Minnesota Federal Security Director Marty Robinson said in his statement the following:
"We couldn't be more grateful for the years of service Eebbers and Jean have dedicated to keeping passengers safe, both at Minneapolis-St. Paul International Airport and throughout the country, at numerous events."
"Our canine teams are the finest line of protection against explosives coming through, which is the biggest threat we face," concluded Robinson.
This canine will now enjoy a well-earned retirement after receiving the title of Cutest Canine, which is an appropriate send-off.
Choose ParkingNearAirports.io and travel profitably and conveniently!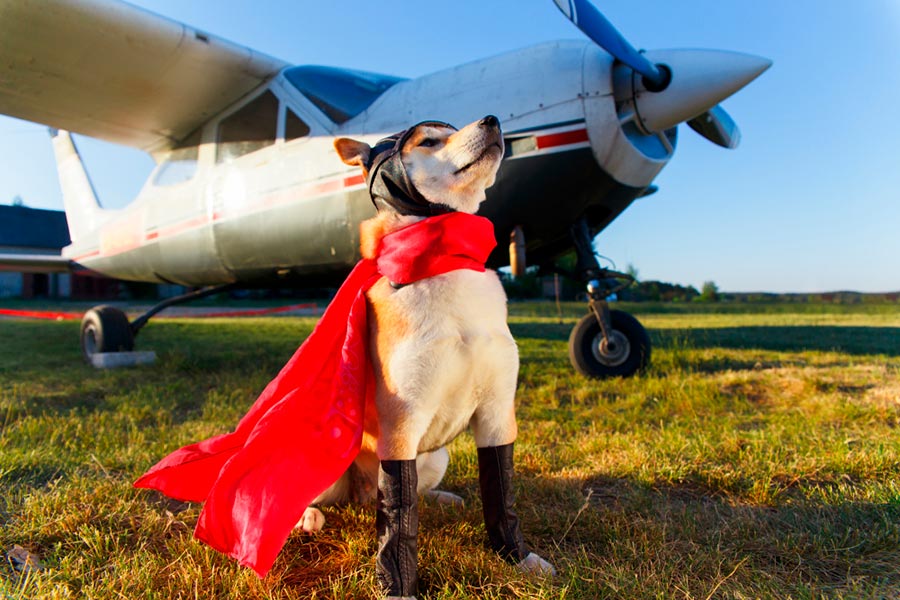 Source – Shutterstock. A funny photo of a dog in a pilot's suit at the airport
You might be surprised about this fact because most people are confident that on-site parking is the best choice when you're traveling by air. But, actually, it's not true, and we'll explain why.
People who prefer to get to the airport by car think that it's the most convenient option since on-site parking is the nearest place to the airport where it's possible to park a vehicle safely for the period of a trip. However, they make a huge mistake, as there is a big chance to face many following difficulties:
You will need to find a spot in a crowded lot,
You will need to carry the luggage all the way through the parking lot,
You must pay expensive fees without great service, and much more.
Sounds not so good, right? But there is one great solution in this situation – an off-site parking option!
The off-site parking service has many advantages, which will definitely convince you to change your choice during the next trip:
First of all, it's much cheaper. On-site parking can become too costly for you, as the price for such a parking type might equal half the value of the whole trip. The cost of the off-site parking, in turn, will be not so high, offering alongside free shuttles going back and forth between the parking lot and the airport.
Secondly, it's much faster. By choosing an on-site parking option, you'll be needed to find a free spot in a crowded lot, which takes a lot of time. However, by selecting an off-site parking option, you'll be able to drive directly to the entrance, where staff members will help you to pull your luggage out of your vehicle and load it into the shuttle, as well as park your car securely for you. Finally, a free shuttle will bring you and your bags to the airport.
Thirdly, it's much more convenient. No more worries about being late to the airport and your flight – the off-site parking is a hassle-free option that is usually faster. Since you use the services of a private company, people want to be sure you're satisfied with the quality and comfort of the services provided, so you don't need to wrack your brain about the quick path to the airport anymore.
As for the companies that provide the best off-site parking services, we've prepared an ideal option for you. Our booking platform, ParkingNearAirports.io, built excellent relationships with many parking lot operators to leave customers satisfied and their cars – safe. Furthermore, it doesn't matter what the airport you're flying from is – on our easy-to-navigate website,
https://parkingnearairports.io/
, you'll find the best deals for all the major airports and cruise ports in the United States and Canada.
To understand it better, we can give you an example. Let's imagine that you live in Minneapolis, Minnesota and plan to visit New York City, New York. Then, you can use the services of cheap
parking near MSP Airport with shuttle
. If you're flying from NYC, the situation is the same – choose affordable
JFK valet parking
. So, as you can understand, everything works simply.
By the way, on our website, you can find all the required information about the advantages of off-site parking,
airport parking prices
, and others. So travel profitably and enjoy your following trip together with us!