The majority of us visit modern art museums to view the newest and most impressive exhibits, and we're all in awe of the artists' capacity to evoke a range of feelings in us through their creations. Many art museums have gone a step further and produced original pieces of art to hold their collections. We have compiled a list of 3 of the coolest modern art museums that will impress you even before you enter. So let's get to the point!
1. Guggenheim Museum Bilbao – Bilbao, Spain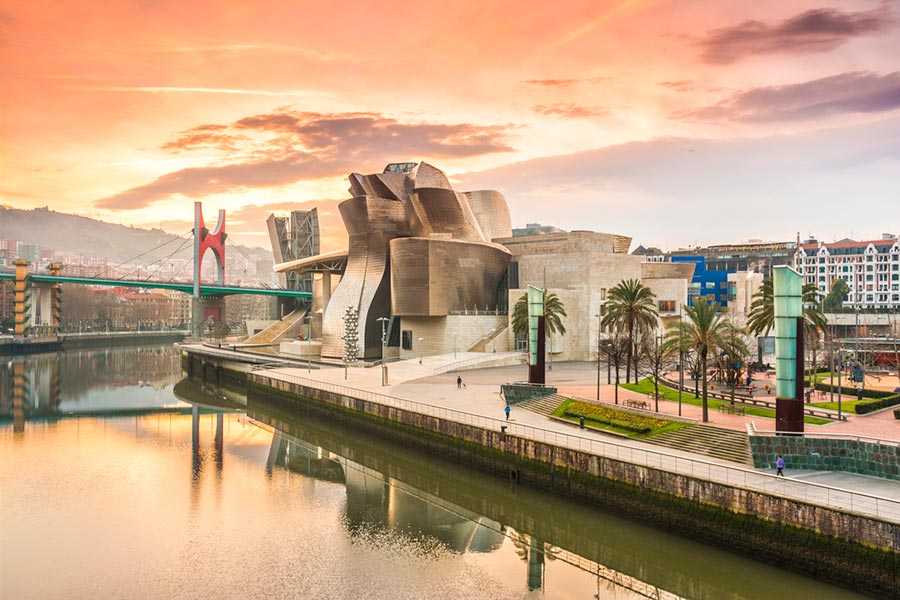 Source – Shutterstock. Morning view of modern and contemporary art Guggenheim Museum
American architect Frank Gehry is the creator of this piece of architecture. The
Guggenheim Museum Bilbao is a stunning chrome and metal construction that carries on the Guggenheim history and is home to an amazing collection of treasures of modern and contemporary art. A massive sculpture of "Puppy," a West Highland White Terrier composed of flowers, by American artist Jeff Koons is waiting to welcome you in the front yard.
2. Zeitz Museum of Contemporary Art Africa – Cape Town, South Africa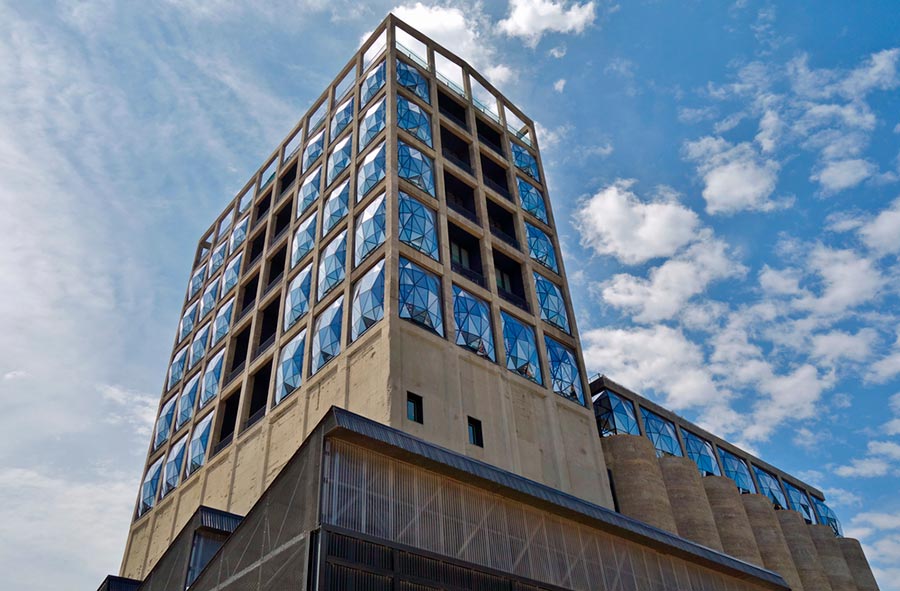 Source – Shutterstock. View of the Zeitz Museum of Contemporary Art Africa (MOCAA), located in a reincarnated grain silo in Cape Town, South Africa
This Cape Town museum of modern art actually is a silo, which explains why it looks that way. A collaboration between the V&A Waterfront and German billionaire Jochen Zeitz has resulted in the public, non-profit
Zeitz Museum of Contemporary Art Africa
(MOCAA). A historic 1921 grain silo that had been modified was used to build the museum. It was created by the architects to preserve and honor the industrial history of the original building. Zeitz MOCAA, the first institution of its kind on the continent, collects, preserves, studies, and presents contemporary art from Africa and its diaspora. You can even book a room at the Silo Hotel in Cape Town, which is located atop the museum complex.
3. Kunsthaus Graz – Graz, Austria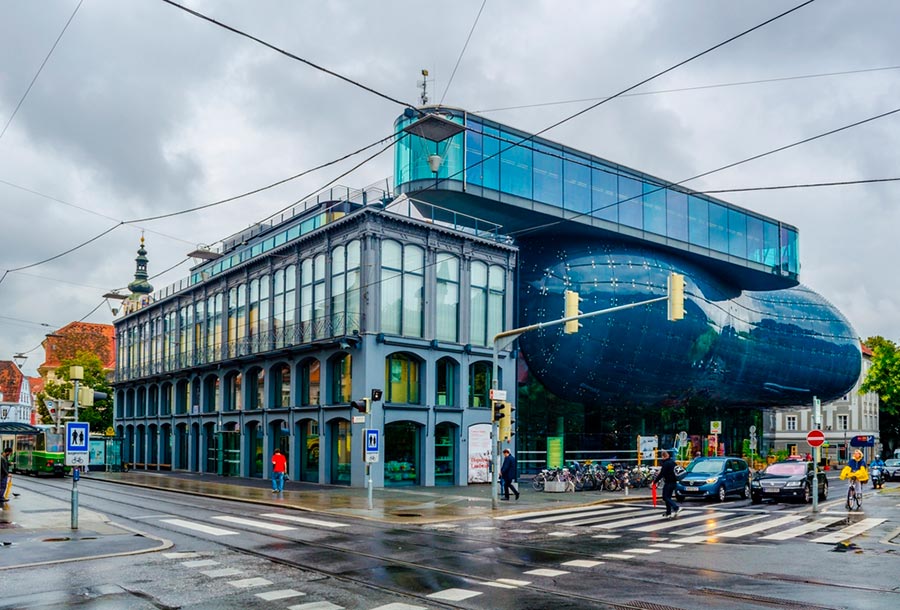 Source – Shutterstock. The Kunsthaus Graz – an art museum designed by British architects Peter Cook and Colin Fournier in 2003
The English architects – Colin Fournier and Peter Cook – designed the
Kunsthaus Graz
, widely known as the Graz Art Museum, which was constructed in 2003 as part of the festivities for the European Capital of Culture. The gigantic structure, which its designers lovingly dubbed the "Friendly Alien," has since gained notoriety as a significant piece of Graz's architectural heritage. The exhibition program at Kunsthaus Graz is focused on producing worldwide exhibitions of multidisciplinary, modern, and contemporary art from the 1960s to the present. This form of architecture is known as "blob architecture."
Explore the art with comfort together with our smart booking platform!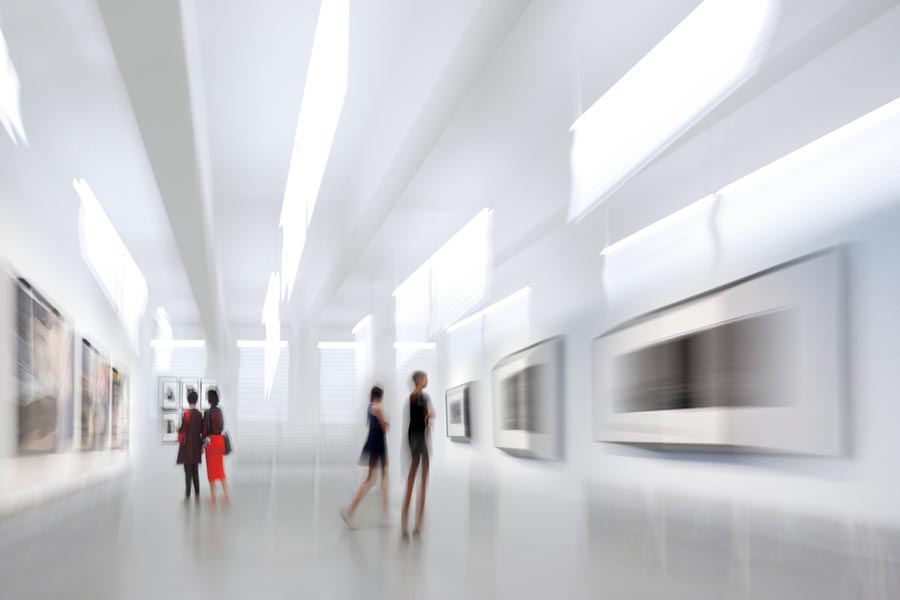 Source – Shutterstock. People in a modern art museum with a blurry background
In addition to our general recommendations, we would also like to give you one more helpful tip – this information will be handy for those who prefer to travel by air.
If you get to the airport by car, you always need to find a good parking space for your vehicle to leave for the period of a trip. In most cases, airports have special on-site parking for that purpose. However, such a parking lot is pretty costly most of the time, and people aren't ready to spend a lot of money at the beginning of a trip. So is there any solution?
The best way to solve this problem is to choose off-site parking. Why, you may ask? We will explain.
There are many reasons which can prove the benefit of this parking type. Here are some of them:
Affordable Rates. Depending on the duration of your trip, you can choose between short-term and long-term airport parking. Anyway, an off-site airport is much cheaper, so you can save your money and spend the most considerable amount on things you really want to see or try while traveling.
Fast service. In contrast with on-site airport parking, which can take quite a long time, off-site parking offers you the convenience of driving directly to the entrance and having a staff member pull your luggage out of your vehicle and load it into the shuttle. Then they will park your car for you. After your baggage is loaded, you can take your seat in the shuttle, which will bring you and your bags to the airport. It is a hassle-free option that is usually faster.
Convenience. When people travel, they may be stressed about making it to the airport on time. If you use off-site parking, you will definitely make your travel experience more convenient, as you use the service of a private company. Even though you may be able to park on-site at the airport in a short-term or long-term airport parking lot, consider using an off-site parking lot service.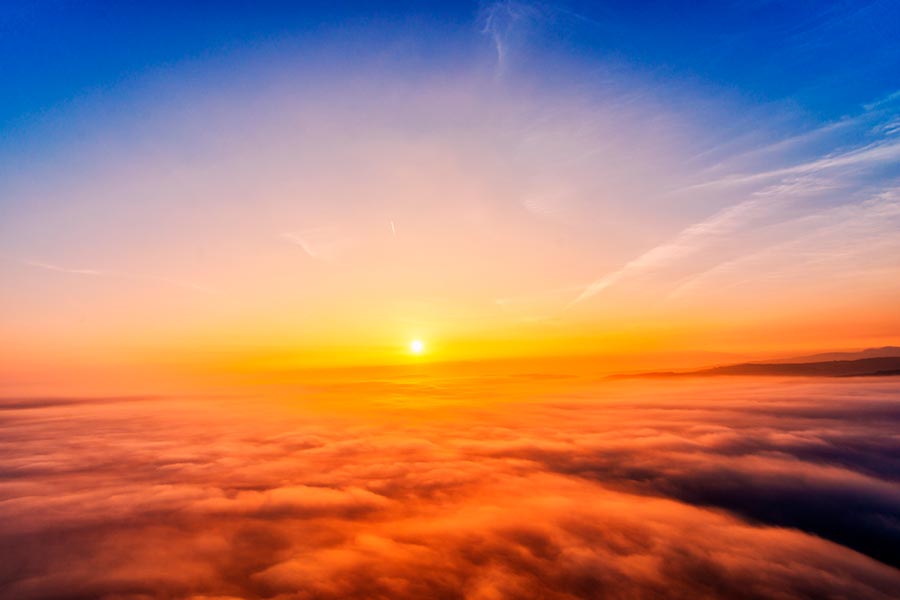 Source – Shutterstock. Incredible sunset – view from an airplane window
We are glad to say that our booking platform, ParkingNearAirports.io, offers travelers online reservations for parking just outside airports that are convenient and affordable. Our experienced team is dedicated to providing travelers parking options at over 100 airports in the U.S. and Canada. The app allows customers to search and compare parking rates at up to 70 percent savings compared to the cost of on-site parking at all major airports.
With our platform, it only takes a few clicks in the app to reserve a parking spot. Guests receive a booking confirmation and a guaranteed parking space upon arrival at the off-airport parking. In addition, the app helps customers locate the most convenient lots to the airport. Cancellations are easy if plans change with hassle-free, refundable cancellations.
Besides this, we also offer services for top cruise ports in Florida, Louisiana, Maryland, New Jersey, and Texas.
Now let's take a good example. Imagine that you're planning a trip to Austria. So if you're flying from Cincinnati, Kentucky, you can use cheap
long-term parking near CVG
. If you're coming from Dallas, Texas, you can choose affordable
DFW off-airport parking
. It just depends on the place you're flying from.
You can always find everything you need on our official website: the best deals for parking near U.S. and Canadian airports,
airport parking fees
, and much more.