So you can say "Bye" to the first class. Let's take a closer look at all the key details together with us!
What changes are being made exactly?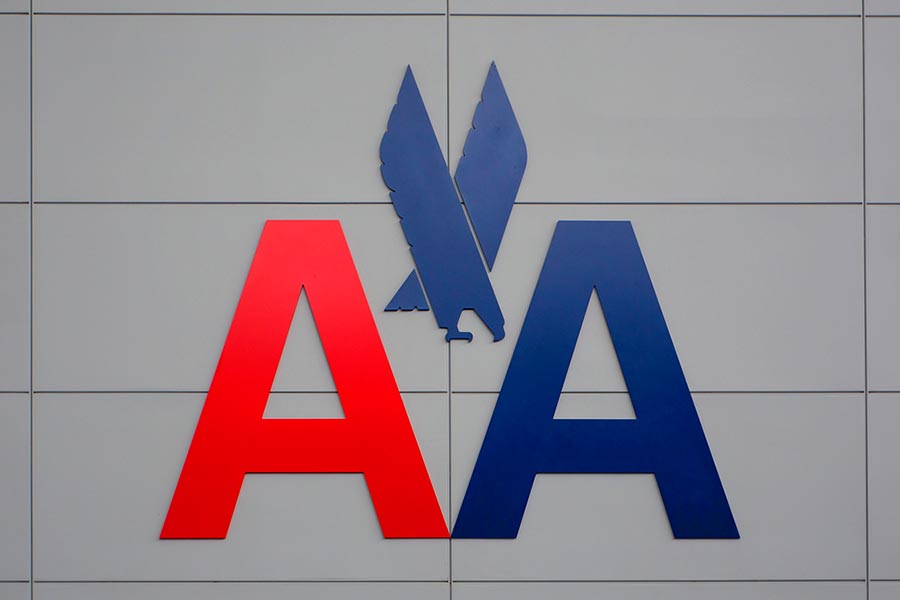 Source – Shutterstock. American Airlines logo on JFK Airport wall
Recently, American Airlines announced that it would start providing suites to travelers in its business class.
Veronika Bondarenko, The Street's member, explained:
"These suites are ultra-luxury seats partitioned by individual doors and may change from individual armchairs to the quads for a group of four to lie-back sleeper seats depending on the travelers' whim."
American Airlines (AAL) has recently revealed plans to fundamentally alter the Business Class travel experience as part of its ongoing effort to provide its customers with a luxurious travel experience.
American Airlines' business class has been updated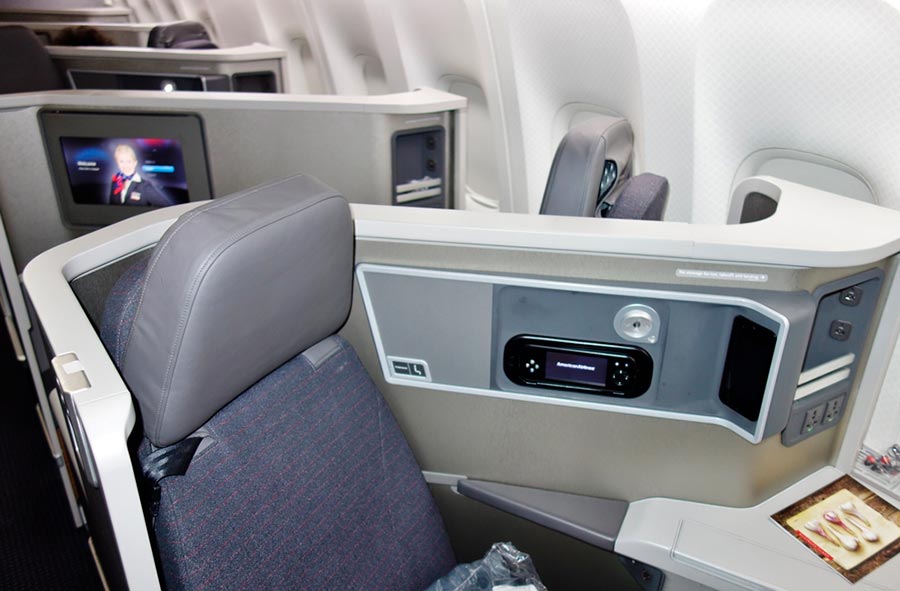 Source – Shutterstock. New business class seats on an airplane from American Airlines (AA)
According to Cranky Flier, American Airlines wants to improve the Business Class travel experience by adding doors to each seat, effectively transforming each seat into a private suite.
The privacy door, chaise lounge seats, and double the amount of personal storage space will all be included in what American will call the "Flagship Suite," which it will start selling in 2024 on its Airbus A321XLR and Boeing 787-9 aircraft.
As a result of this change, the number of premium seats on American Airlines' long-haul flights – those that last more than seven hours – will increase by 45% by 2026. The Airbus A321XLR will offer 20 Flagship Suite seats and 12 Premium Economy seats, compared to American's Boeing 787-9 aircraft's 51 Flagship Suite seats and 32 Premium Economy seats.
Julie Rath, Vice President of Customer Experience at American, stated the following:
"We're improving the customer experience throughout their whole journey with American. Our long-haul fleet's new long-haul aircraft and the specially designed Flagship Suite seats will provide passengers with a genuinely private premium experience."
These Flagship Suite seats are redeemable with AAdvantage points for airline customers.
Does American Airlines remove its first class?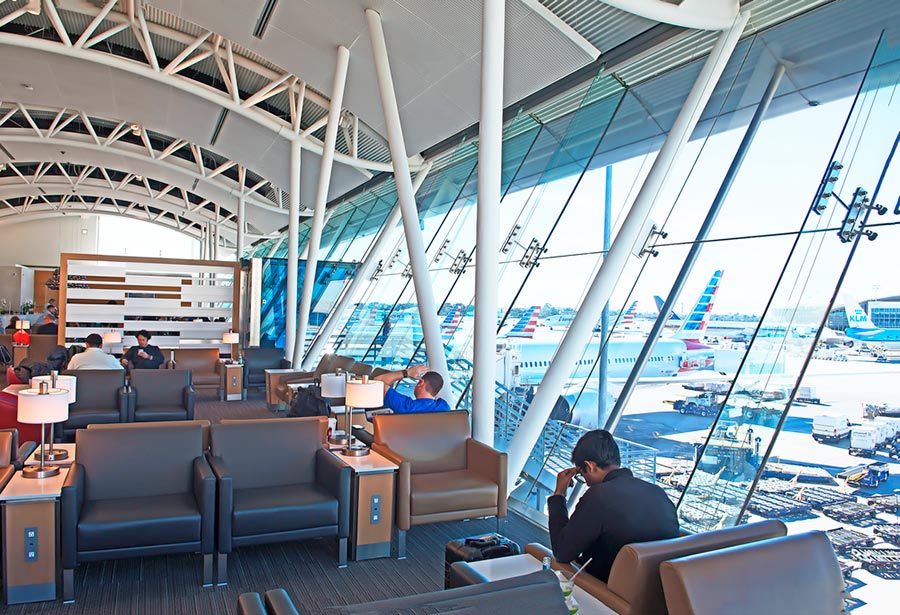 Source – Shutterstock. A nice view of AA's Admirals Club at LAX Airport
The Cranky Flier says:
"First Class will officially go away as a result of this decision to increase the availability of Business Class. Most likely, nobody will miss it."
People whose work forces them to travel frequently and who want to enjoy the long periods spent in the air more often fly in business class. Though there is a focus on better meals, premium beverages, and increased leg room, if not the full-on private area that many first-class passengers get, it doesn't typically offer the same extravagant luxury as first class.
Business class is a more popular alternative for passengers who still want a nicer experience but still prefer to keep an eye on their budget because first class is typically more expensive, so it makes sense that American Airlines would seek to enhance its options in this area.
By the end of 2024, American will refit 20 Boeing 777-300ERs with the Flagship Suite seats as part of this upgrade. With 44 Premium Economy seats and 70 Flagship Suite seats, this update will add more premium seats. American will also upgrade its 16 Airbus A321T vehicles now on the road to conform to the incoming A321 fleet.
Choose convenience not only with AA – ParkingNearAirports.io provides you with complete comfort as well!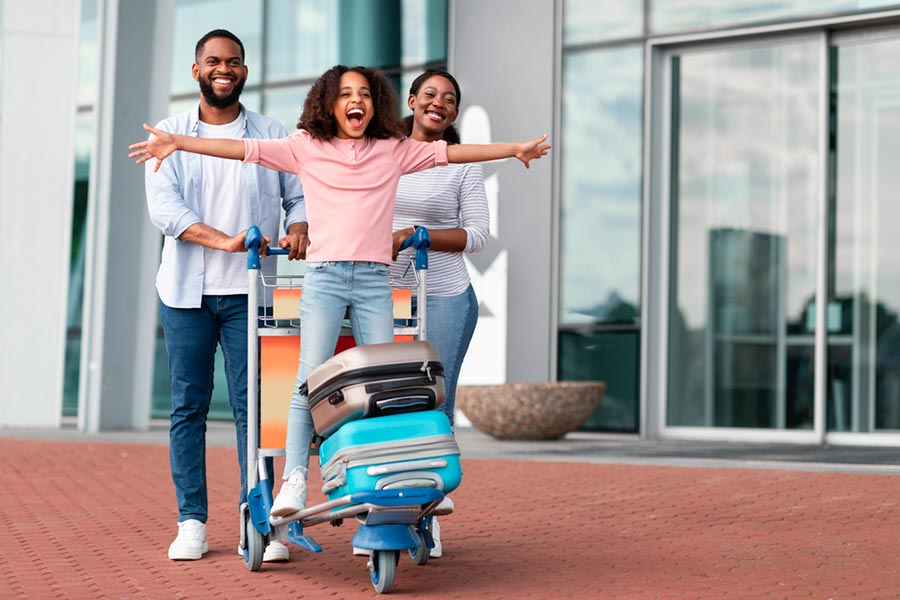 Source – Shutterstock. Portrait of cheerful African American girl having fun and standing on luggage cart
Traveling worldwide shouldn't be something tiring – conversely, that's the time you can enjoy both the amazing landscapes of our Earth and joint activities with your loved ones. Nevertheless, things don't always go as planned, and we're at risk to face some challenges even at such an enjoyable moment. One such problem is actually airport parking, specifically its price. Let's have a look at the situation a bit closer.
If you used to get to the airport you're flying from by your own car, you probably know what we're talking about – the question of parking cost arises every time. You'll be definitely shocked – even though most US airports provide travelers with on-site parking, which allows them to leave their vehicles for their entire journey there, such a parking type is unfairly overpriced. Choosing this parking option, your next trip just might cost you a fortune. And that's not even considering it's complicated to find a free parking spot for your car. Since nobody wants to waste money and travel inconveniently, there begs the following question: is there actually any solution?
And we're happy to say – yes, there is one!
What is off-site parking and why is it worth choosing this option exactly?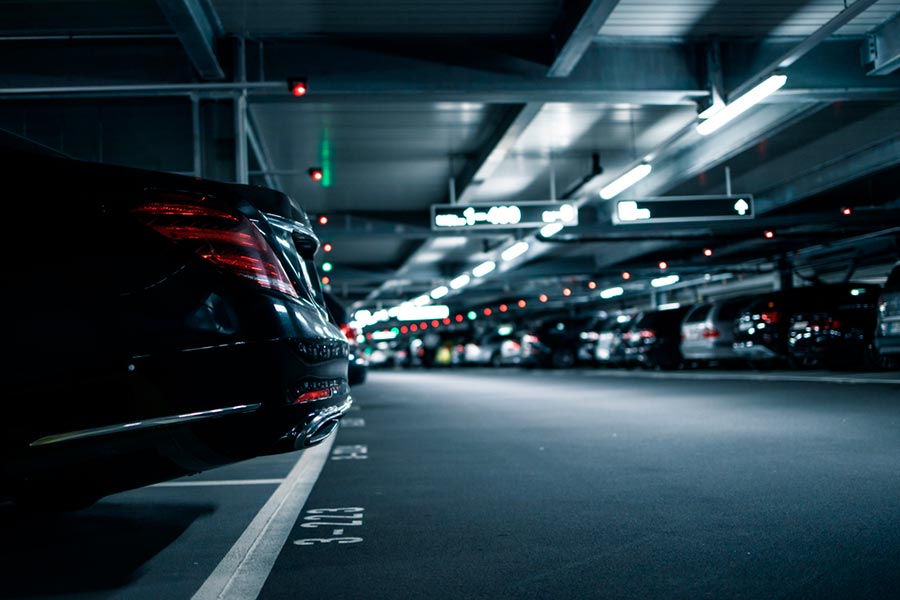 Source – Shutterstock. Covered airport parking lot – view from below
Your best solution is already here – off-site parking lots that are just a few miles from the airport. Our smart booking platform, ParkingNearAirports.io, provides our clients with the most affordable rates, along with high-quality service and an easy-to-use interface. In addition, we offer the services for the major US cruise ports that are located in Florida, Louisiana, Maryland, New Jersey, and Texas as well.
Why choose an off-site parking option? The answer is pretty straightforward – it's cheap and convenient. Using our services, first of all, you'll avoid the following difficulties you might face while getting to the airport you're departing from:
Crowded parking lots,
Carrying the luggage all the way through the parking lot,
Expensive fees without great service, and much more.
Everything works simply as well: after you've driven to the entrance, you'll be met by a parking lot staff who will take your luggage from your vehicle and load it onto the shuttle, which will take you and your bags to the airport terminal. Then, your car will be securely parked at the parking lot itself.
By the way, free shuttles going back and forth between the parking lot and the airport terminals are available 24/7. All that's required of you is to make a call and inform staff about the time suitable for you.
Forget about all the nightmares by choosing ParkingNearAirports.io!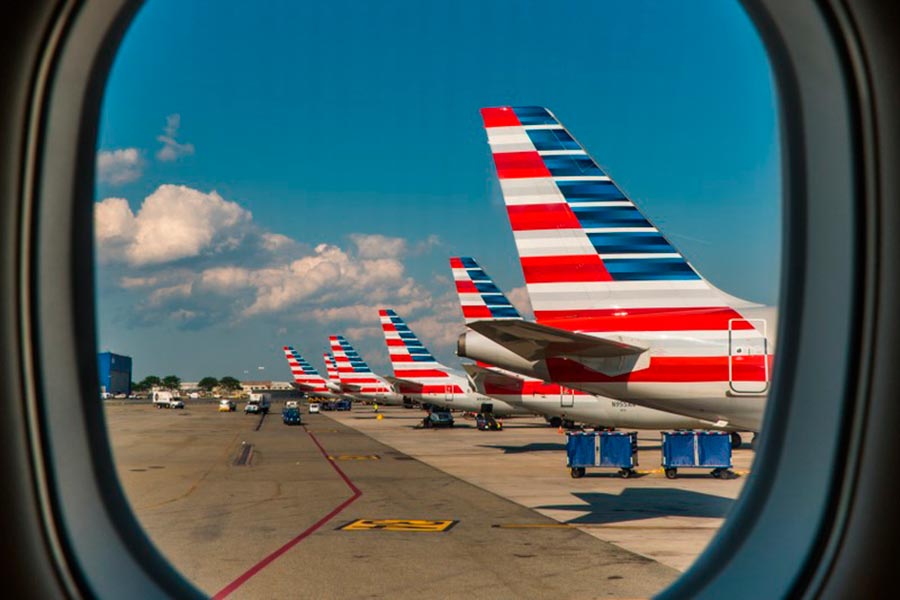 Source – Shutterstock. Row of American Airlines wing with American flag taken from window seat inside the airplane
For better understanding, we'd like to give you a good example.
Let's imagine that you live in New York City, New York. If you're going to visit Oklahoma City, Oklahoma, use the services of affordable
parking near New York JFK Airport
. In the event that you're flying from Oklahoma City, choose cheap
off-airport parking OKC
. As you can see, everything just depends on the place where your journey begins.
Our friendly platform also provides travelers with special
airport parking coupons
that can make the price almost two times less. And that's without taking into account that our services will cost you up to 70% less at all! So don't forget to monitor all the updates and use them while booking!
Making a reservation is easy with us – it's possible to complete the process through a few clicks, using our app or official website. Besides, if your plans change, you can cancel hassle-free and get a refund.
If you still have any questions, turn to our easy-to-navigate website – there, you'll find all the required info connected with the off-site parking. Airport parking, along with its pricing, provided by the majority of US airports, is a true nightmare, but if you know the place, your life can be much easier. Let yourself travel in full comfort right now – Park Smart & Choose Convenience together with us! And have a nice trip!