It doesn't actually matter what time of year it is – a little romance is always a great idea. If you're willing to book a romantic vacation for someone special in your life, you should keep in mind the following thing – it's necessary to choose the right hotel. Below you'll find the world's most romantic hotels that can make your dreams come true. So let's not waste time and check!
1. Shangri-La Hotel, Paris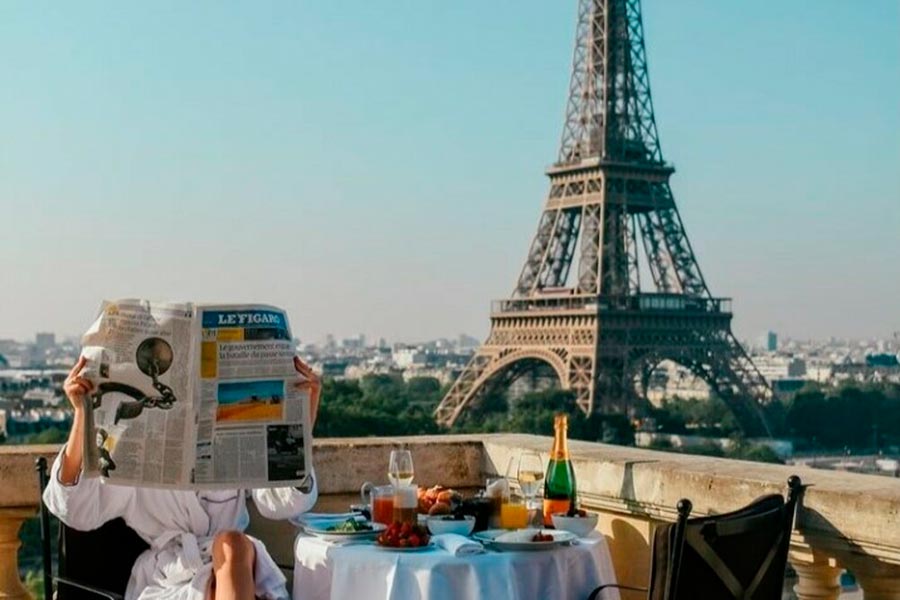 Source – the hotel's official Instagram account. A girl enjoying her vacation in Shangri-La Hotel – Paris, France
The
Shangri-La Hotel, Paris, which is located right across the river from the Eiffel Tower, is a top choice for luxury and romance thanks to its breathtaking views. You almost live like royalty when you check into the hotel because Prince Roland Bonaparte, Napoleon Bonaparte's grandnephew, used to reside there. Request information on exclusive VIP welcome packages that include champagne, dining on your private balcony, and even breakfast in bed.
2. Four Seasons Bora Bora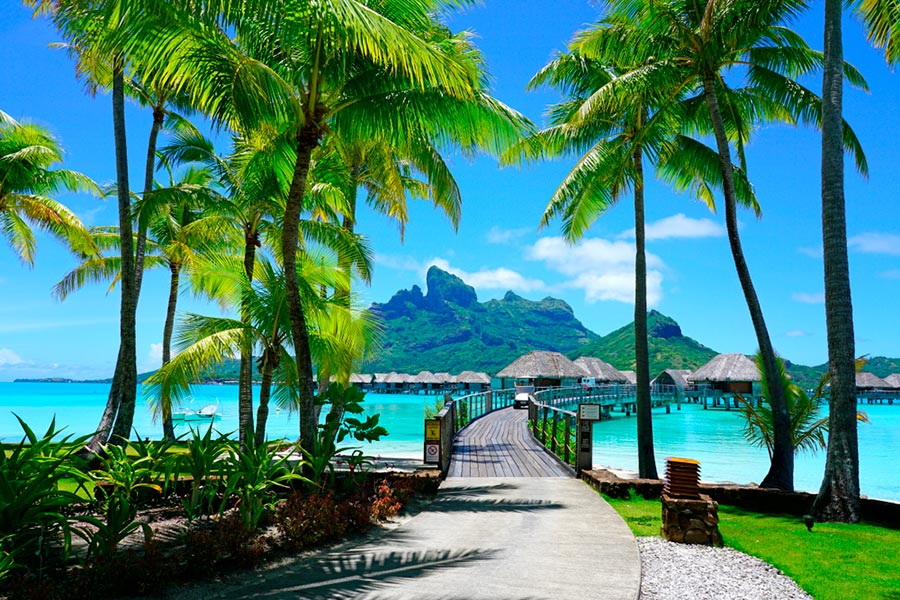 Source – Shutterstock. View of the turquoise blue lagoon and the Mount Otemanu mountain seen from the Four Seasons Bora Bora resort
Without thinking of a French Polynesian overwater house, you cannot think of romance. The private island-based
Four Seasons Resort Bora Bora
offers overwater double hammocks, private plunge pools, and unrivaled views of the tropical paradise. Every morning, a canoe will bring your breakfast to you, and you can finish the day with a private Taurua dinner on your deck. Try to come up with a plan to never leave while you relax in a flower-filled bathtub at night with views of the stars floating above the water.
3. Gritti Palace, Venice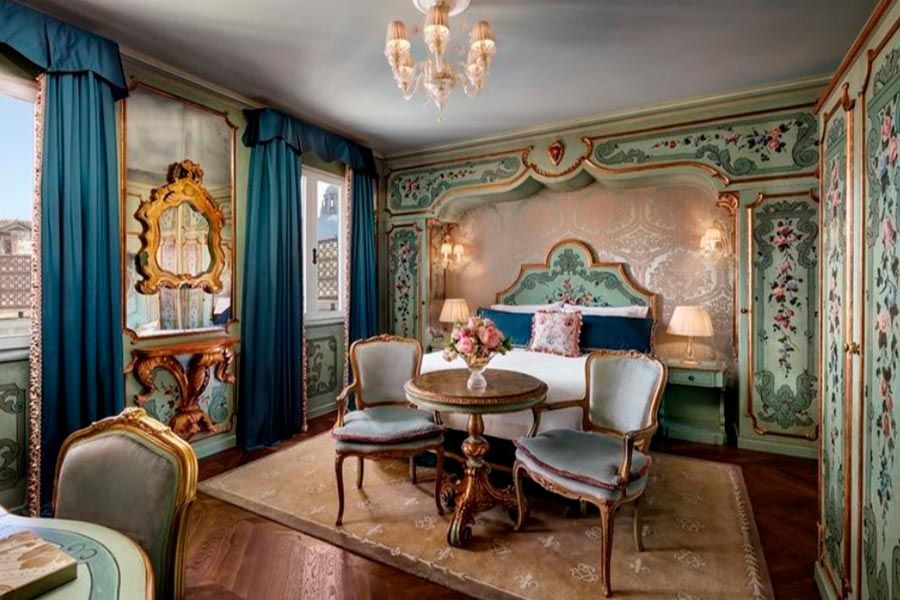 Source – the hotel's official Instagram account. An impressive view of one of the hotel's rooms with a dreamy atmosphere
Gritti Palace
, which dates back to 1475, provides a view of Venice's Grand Canal, as well as surrounding attractions, including the Peggy Guggenheim Collection and Santa Maria della Salute Basilica. The cozy atmosphere of a private home is still present at Gritti Palace despite being a Marriott-branded hotel. Original artwork, Venetian antiquities, and brocade silks are used to decorate the suites. Book a cooking school gastronomic experience, dine al fresco overlooking the Grand Canal at Club del Doge, and tour Venice by Riva Yacht, a unique bonus for Gritti Palace visitors.
4. Royal Mansour, Marrakech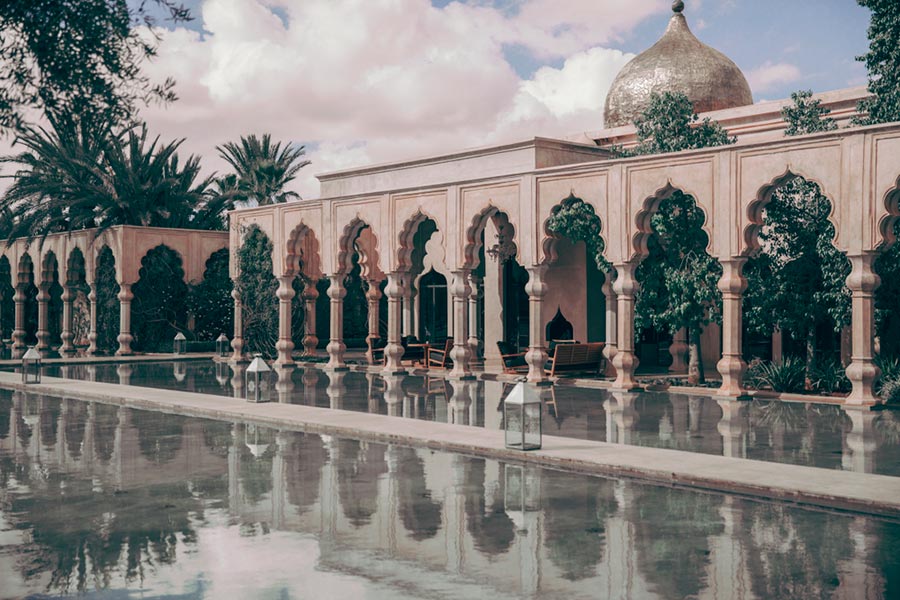 Source – Shutterstock. A wonderful view of interiors in Royal Mansour Marrakech luxury hotel in Morocco
A beautiful resort – the
Royal Mansour
– is located in the center of Marrakech, Morocco. There are 53 individual houses, or riads, with one to four bedrooms distributed across three stories instead of regular hotel rooms and suites. King Mohammed VI ordered Royal Mansour, and each riad has extravagant details like Baccarat crystal, silk and suede carpets, and velvet brocade seats. And these are only a few of the Royal Mansour's famous features. Book a private spa suite with a hammam (Turkish bath), plunge pool, and sizable patio that looks out over the Atlas Mountains for even more romance.
5. Lion Sands Game Reserve, South Africa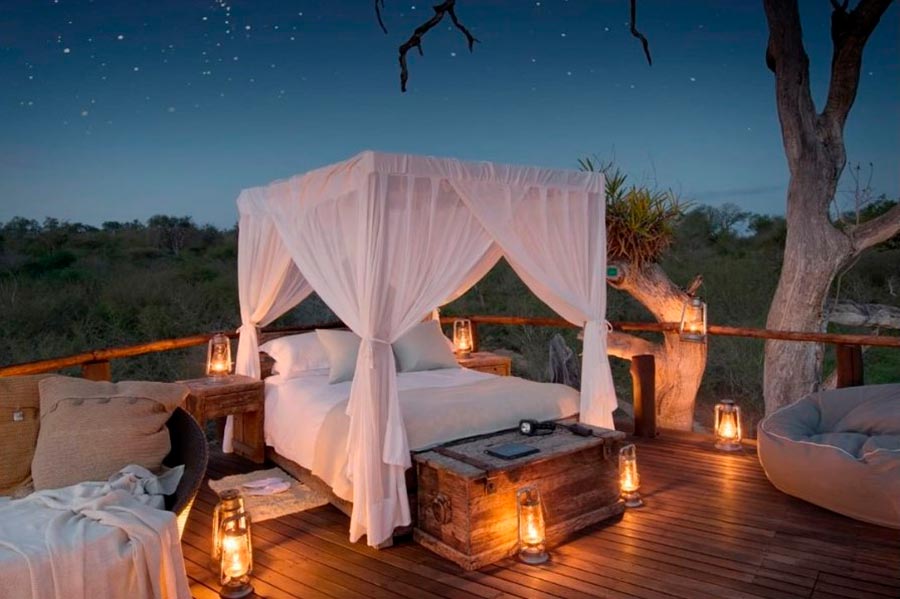 Source – the hotel's official Instagram account. Lion Sands' incredible hotel beds you'll never (ever) want to leave
In the lovely Southern Sabi Game Reserve,
Lion Sands
offers a variety of romantic chalets. Each lodge does a fantastic job of blending upscale luxury features with a rustic camp ambiance. The Ivory Lodge's private viewing deck and plunge pool are ideal for observing animals including antelope, crocodiles, and elephants. Alternatively, you can reserve the Fish Eagle Villa, which comes with a private chef, field guide, and game viewing car. Sleep in your personal luxurious villa or outside beneath the stars. There are stunning views of the Sabie River and Kruger National Park from every house and lodge.
Enjoy romance with your loved one and travel in complete comfort together with ParkingNearAirports.io!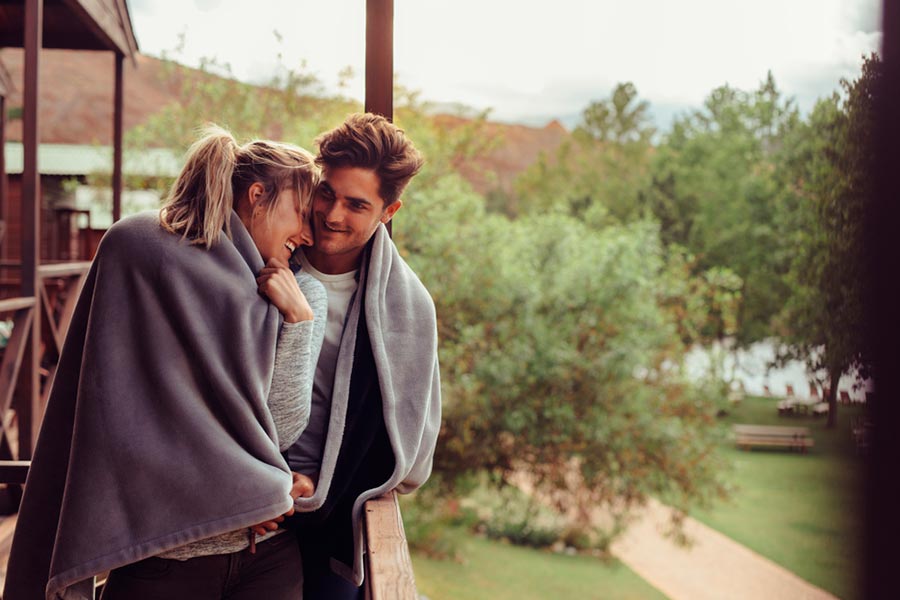 Source – Shutterstock. A loving man and woman standing on the balcony of their hotel room, wrapped in a blanket
Have you ever heard something about off-site parking? If not, we recommend you take a closer look at this part of the article, as this information will be handy for those who prefer to travel by air and get to the airport by their own car.
Most people suppose that parking at the airport is the fastest and most convenient option for them. However, it's not actually true. We'll explain to you why.
To be true, being in a terminal parking lot isn't convenient at all. Although on-site airport parking is the nearest place where you can leave your vehicle for the period of a trip, you can face the following difficulties:
You will need to find a spot in a crowded lot,
You will need to carry the luggage all the way through the parking lot,
You must pay expensive fees without great service.
Sounds not good, right? However, we found an excellent solution for you – in this case, off-site parking can become a savior for you. So if you're trying to find a parking spot with great service nearby the airport you're flying from and don't want to leave there the most significant part of your budget, pay attention to this option.
How does it work?
Source – Shutterstock. Car illuminated parking sign of a hotel with copy space
Obviously, people who chose a car as a way to get to the airport want to leave their vehicle safely while traveling and not to face the problems we described above. So what can off-site airport parking offer its customers?
Although a few miles usually separate such parking from the airport, you shouldn't worry about this. Off-site parking provides free shuttles going back and forth between the parking lot and the airport. Thanks to this, it removes any worries about getting stuck in traffic on the way to the airport during peak times. So all you need to do is choose the best time for you and inform the parking lot staff.
How does it work? Actually, everything is straightforward: when you come to the entrance, the staff will remove your luggage from your car and load it onto the shuttle, which will take you and your bags to the terminal. Then, the vehicle will be parked securely.
In addition, this type of parking is much cheaper, and this is good news, as nobody wants to waste money. Therefore, off-site parking is the perfect option to receive excellent service and save money at the same time.
Want to find some great offers? You don't need to go somewhere – just find it right here!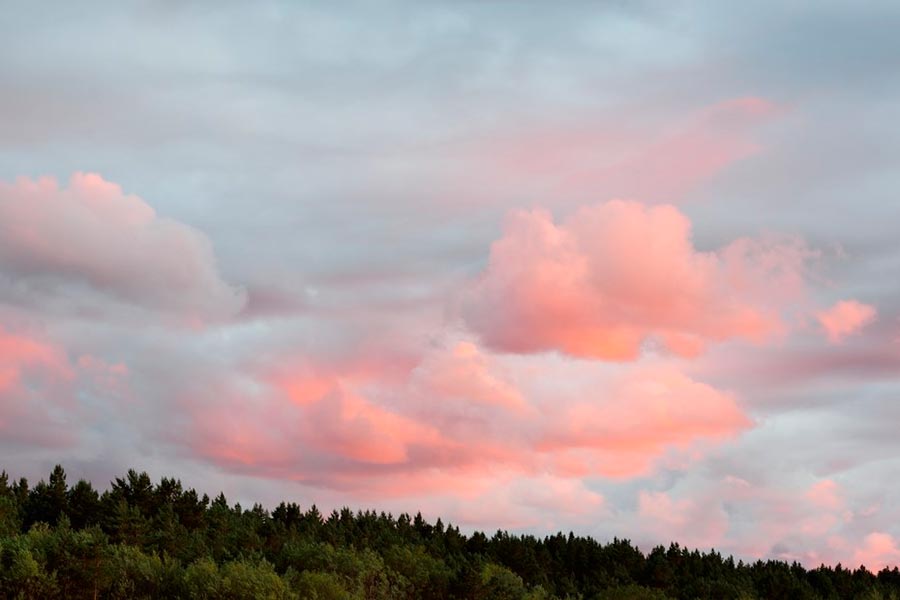 Source – Shutterstock. Sunset sky, along with glowing pink and golden clouds after the storm
We're glad to inform you that you can find this solution right here. Our booking platform, ParkingNearAirports.io, offers the best prices on airport car parking and bundles hotel and parking packages. Besides, we provide the services for top cruise ports in Florida, Louisiana, Maryland, New Jersey, and Texas.
Our platform allows you to reserve a parking spot through a few clicks within the application. As a result, customers receive a booking confirmation and a guaranteed parking spot upon arrival at the off-airport lot. Besides, if plans change, you can cancel hassle-free and receive a refund.
To understand it better, we would like to give you an example. Let's imagine that you live in Orlando, Florida. If you're planning a trip to Paris, France, you can use the services of cheap
off-site airport parking Orlando
. If you're coming from Las Vegas, Nevada, the situation is the same – you can choose affordable
parking near McCarran Airport
. So it just depends on the place you're flying from.
Also, ParkingNearAirports.io offers its customers special
airport parking reservations coupons
. With the help of these coupons, you can make the price for parking even two times less. So don't forget to use them to save as much money as possible.
You can find all the necessary and helpful information connected with the off-site airport parking on our official website. Enjoy traveling!