After being passed over by Spirit in favor of JetBlue, the airline has a cool offer – let's take a closer look at all the key details together.
What actually happened between Frontier, Spirit, and JetBlue?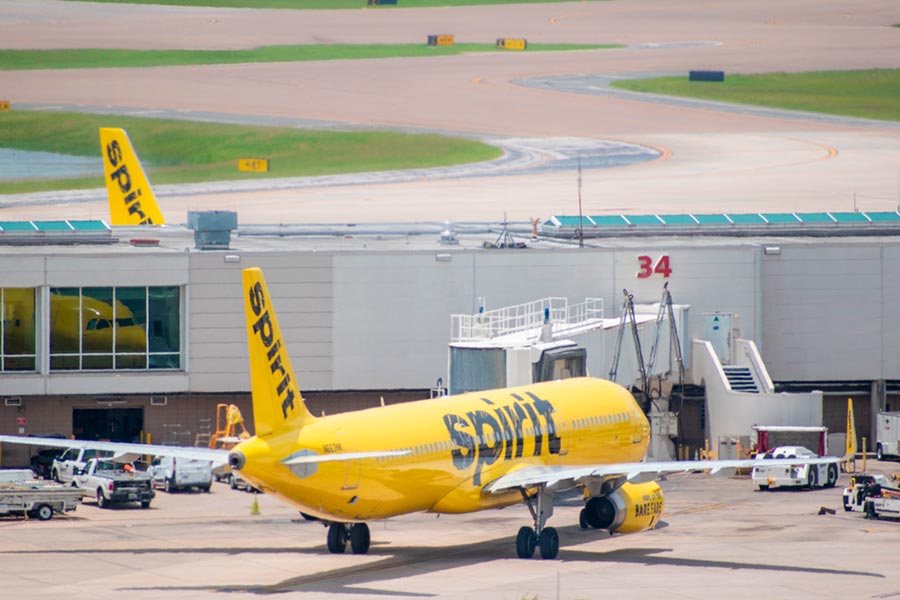 Source – Shutterstock. Spirit Airlines aircraft on runway preparing for departure from the Orlando International Airport (MCO)
Frontier Airlines and Spirit Airlines were slated to merge earlier this year, essentially creating a monster of low-cost air travel. Frontier, who was waiting at the altar with a tuxedo and a ring, found that Spirit had abruptly left with another guy.
Frontier's $19.99 per share offer for Spirit was rejected by its shareholders, and JetBlue stepped in to buy Spirit for $33.50 per share, or $3.8 billion, pending approval from federal regulators.
The fifth-largest airline in the world will now be formed by JetBlue (JBLU) and Spirit (SAVE). The fact that Frontier (ULCC) had its entire future prepared, only to have it rejected by fickle shareholders, has hurt. As they say, the heart desires what the heart desires. Although Frontier expressed "disappointment" with the vote outcome, Spirit will cover around $25 million of Frontier's merger-related expenditures. Hopefully, this will ease the pain a little.
The Frontier Board maintained a strategy throughout its discussions with Spirit, according to Frontier CEO William Franke.
"We're disappointed that Spirit Airlines shareholders didn't recognize the advantages and consumer potential innate in our proposed combination."
Frontier has put on a brave face, has been active recently, and has just unveiled an offer that its followers will adore. But they'll need to react quickly.
What should you know about Frontier's recent offer?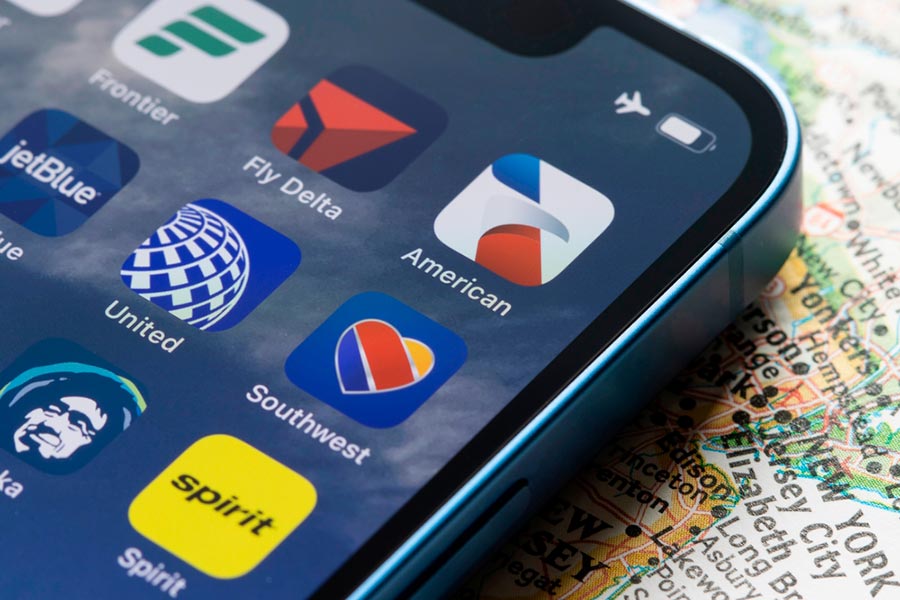 Source – Shutterstock. 8 leading US airlines app icons are seen on an iPhone, including American Airlines, Delta Air Lines, Spirit, JetBlue Airways, Frontier, and others
When they buy two round-trip tickets, members of Frontier's Miles reward program are eligible for a bonus of 20,000 miles up to a total of 100,000 bonus miles.
The flight must be taken by December 16 at 11:59 p.m., and the promotion is only valid through the end of October. The extra miles will be given out 7 to 10 business days after the last flight has been completed.
Frontier offers more destinations than ever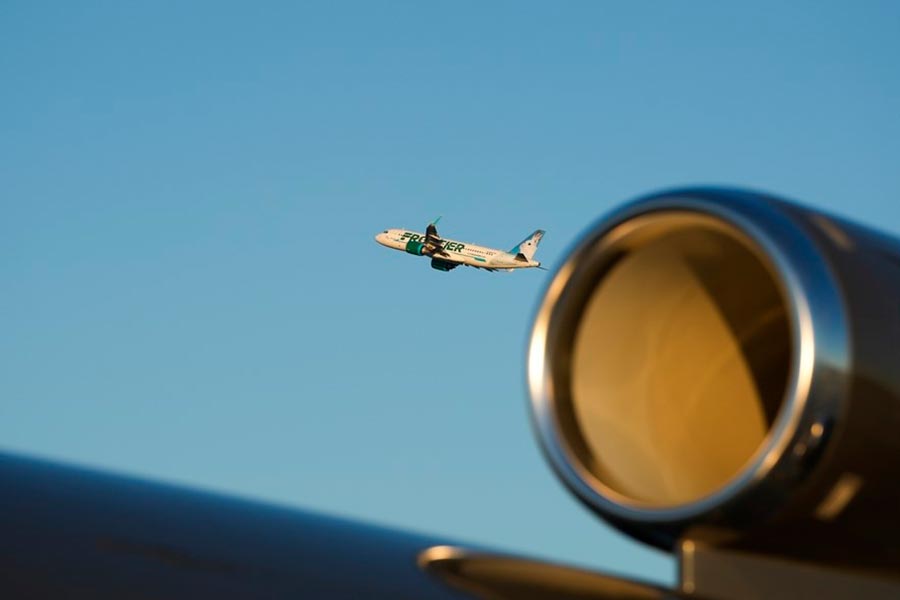 Source – Shutterstock. Frontier Airlines taking off and flying from San Francisco International Airport (SFO) with another airplane in foreground
Recently, Frontier introduced several new international routes, all of which will have a basic fare that begins at $69 through 2023.
The airline has now more than doubled its foreign flights out of Atlanta in less than a year; these new routes involve flights to the Bahamas, Costa Rica, and Jamaica from Atlanta's Hartsfield-Jackson Atlanta International Airport. Additionally, Frontier will provide a flight from Houston's William P. Hobby Airport (HOU) to Denver International Airport (DEN).
Additionally, Frontier just introduced the incredibly fuel-efficient Airbus A321neo aircraft at a ceremony at Tampa International Airport (TPA). As the most fuel-efficient commercial aircraft operated by a US airline, according to Frontier, the aircraft has GTF engines from Pratt & Whitney and emits significantly fewer greenhouse gasses than regular airplanes.
Here's what Barry Biffle, president and chief executive officer of Frontier Airlines, said as well:
"The addition of these new A321neo's to our fleet will make the greenest airline in the United States even greener with these aircraft being able to attain 120 miles per gallon per seat. They can bring rapid, noticeable decreases in fuel consumption, carbon emissions, and engine noise because they're the most fuel-efficient aircraft among the major US airlines now in service. The addition of the A321neo to our fleet is another step in our mission to use less fuel and leave a smaller environmental imprint, which is something Frontier continues to lead in."
Choose ParkingNearAirports.io and travel profitably and conveniently!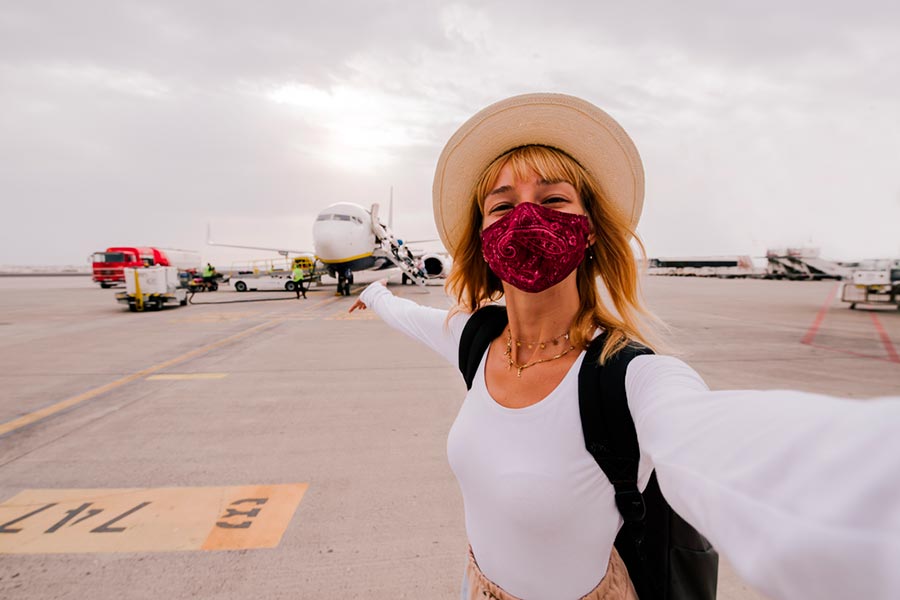 Source – Shutterstock. Pretty woman wearing a face mask and taking a selfie at the airport
You might be surprised about this fact because most people are confident that on-site parking is the best choice when you're traveling by air. But, actually, it's not true, and we'll explain why.
People who prefer to get to the airport by car think that it's the most convenient option since on-site parking is the nearest place to the airport where it's possible to park a vehicle safely for the period of a trip. However, they make a huge mistake, as there is a big chance to face many following difficulties:
You will need to find a spot in a crowded lot,
You will need to carry the luggage all the way through the parking lot,
You must pay expensive fees without great service, and much more.
Sounds not so good, right? But there is one great solution in this situation – an off-site parking option!
The off-site parking service has many advantages, which will definitely convince you to change your choice during the next trip:
First of all, it's much cheaper. On-site parking can become too costly for you, as the price for such a parking type might equal half the value of the whole trip. The cost of the off-site parking, in turn, will be not so high, offering alongside free shuttles going back and forth between the parking lot and the airport.
Secondly, it's much faster. By choosing an on-site parking option, you'll be needed to find a free spot in a crowded lot, which takes a lot of time. However, by selecting an off-site parking option, you'll be able to drive directly to the entrance, where staff members will help you to pull your luggage out of your vehicle and load it into the shuttle, as well as park your car securely for you. Finally, a free shuttle will bring you and your bags to the airport.
Thirdly, it's much more convenient. No more worries about being late to the airport and your flight – the off-site parking is a hassle-free option that is usually faster. Since you use the services of a private company, people want to be sure you're satisfied with the quality and comfort of the services provided, so you don't need to wrack your brain about the quick path to the airport anymore.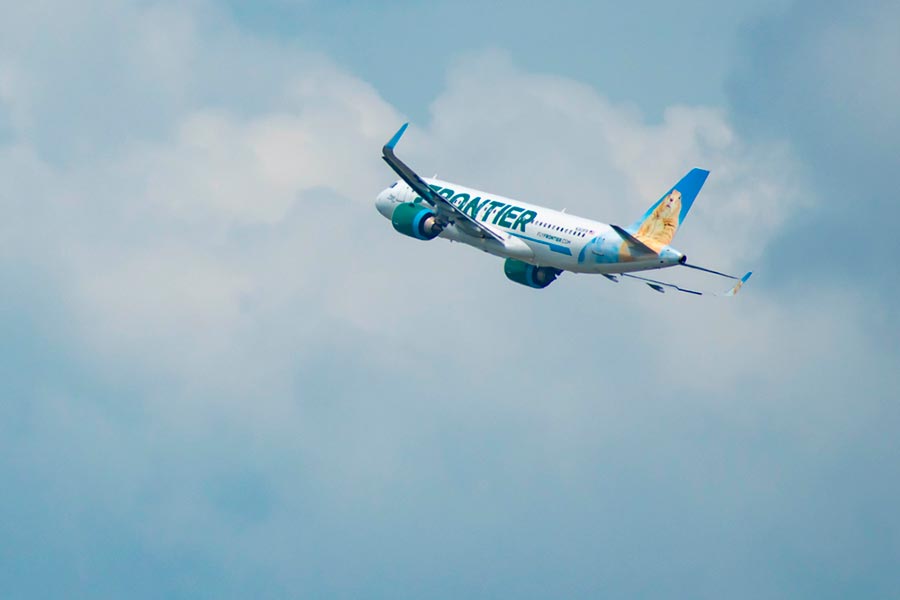 Source – Shutterstock. Frontier Airlines airplane departing from Orlando International Airport (MCO)
As for the companies that provide the best off-site parking services, we've prepared an ideal option for you. Our booking platform, ParkingNearAirports.io, built excellent relationships with many parking lot operators to leave customers satisfied and their cars – safe. Furthermore, it doesn't matter what the airport you're flying from is – on our easy-to-navigate website,
https://parkingnearairports.io/
, you'll find the best deals for all the major airports and cruise ports in the United States and Canada.
To understand it better, we can give you an example. Let's imagine that you live in Virginia and plan to visit Utah. Then, you can use the services of affordable
parking near Ronald Reagan Airport
. If you're flying from Utah, the situation is the same – choose cheap off-site
overnight parking Salt Lake City
. So, as you can understand, everything works simply.
By the way, on our website, you can find all the required information about the advantages of off-site parking,
domestic airport parking charges
, and others. So travel profitably and enjoy your following trip together with us!