Just in time for the holidays, United Airlines – the major US air carrier – announced on November 9th that kids' meals will be returning. Children can now choose from the breakfast and lunch/dinner menus on some United flights where complimentary meals are given, including items like chicken tenders and grilled cheese, as well as French toast and dessert. Customers can add a request to an existing reservation using the United® mobile app or select the "Children's Special Meals'' option while buying a ticket. Customers flying in eligible cabins on particular United flights will be able to pre-order kids' meals starting in 2023. Before takeoff on any United aircraft that is pre-order-eligible, the airline's youngest passengers will be able to select the kids' meal they want to enjoy aboard.
Aaron McMillan, managing director of hospitality and planning at United, stated the following:
"We're committed to offering a wonderful onboard experience for all of our customers, and we're happy to be able to provide our youngest travelers with additional, kid-friendly food options on select routes. We hope this helps to alleviate parents' anxieties as they prepare to travel with us because we're aware that there is a lot to balance when traveling with a family, especially during the busy Christmas season."
On flights longer than 2,000 miles and in cabins where complementary food service is given, United is now offering kids' meals, which include kid-friendly breakfast and lunch/dinner selections. The children's menu comprises chicken tenders with fruit, a dinner roll, and dessert for lunch and dinner on some domestic flights (including those to Hawaii) and overseas flights leaving the United States. French toast with sausage, fruit, and a croissant are also available for breakfast. On international flights back to the US, kids can have the French toast breakfast choice as well, but for lunch and dinner, they can order a grilled cheese sandwich with fruit, dinner roll, and dessert.
If you're willing to learn more about how to order a kid's meal or just get detailed information on all of United's special onboard food selections, as well as instructions, visit the airline's official website –
https://www.united.com/.

Choose ParkingNearAirports.io and travel with your children profitably and conveniently!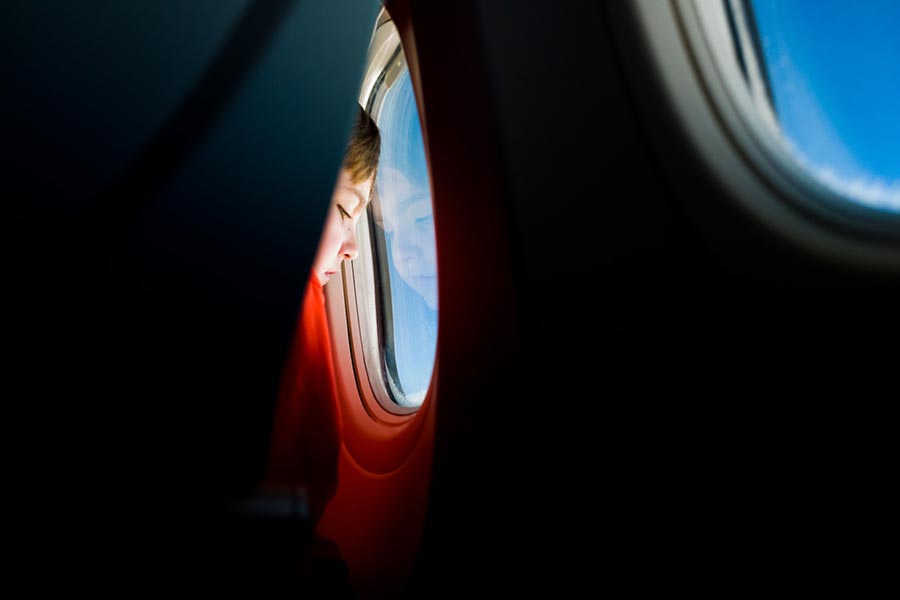 Source: Steven Coffey/Unsplash

You might be surprised about this fact because most people are confident that on-site parking is the best choice when you're traveling by air. But, actually, it's not true, and we'll explain why.

People who prefer to get to the airport by car think that it's the most convenient option since on-site parking is the nearest place to the airport where it's possible to park a vehicle safely for the period of a trip. However, they make a huge mistake, as there is a big chance to face many following difficulties:

You will need to find a spot in a crowded lot,
You will need to carry the luggage all the way through the parking lot,
You must pay expensive fees without great service, and much more.
Sounds not so good, right? But there is one great solution in this situation – an off-site parking option!

The off-site parking service has many advantages, which will definitely convince you to change your choice during the next trip:

First of all, it's much cheaper. On-site parking can become too costly for you, as the price for such a parking type might equal half the value of the whole trip. The cost of the off-site parking, in turn, will be not so high, offering alongside free shuttles going back and forth between the parking lot and the airport.
Secondly, it's much faster. By choosing an on-site parking option, you'll be needed to find a free spot in a crowded lot, which takes a lot of time. However, by selecting an off-site parking option, you'll be able to drive directly to the entrance, where staff members will help you to pull your luggage out of your vehicle and load it into the shuttle, as well as park your car securely for you. Finally, a free shuttle will bring you and your bags to the airport.
Thirdly, it's much more convenient. No more worries about being late to the airport and your flight – the off-site parking is a hassle-free option that is usually faster. Since you use the services of a private company, people want to be sure you're satisfied with the quality and comfort of the services provided, so you don't need to wrack your brain about the quick path to the airport anymore.
As for the companies that provide the best off-site parking services, we've prepared an ideal option for you. Our booking platform, ParkingNearAirports.io, built excellent relationships with many parking lot operators to leave customers satisfied and their cars – safe. Furthermore, it doesn't matter what the airport you're flying from is – on our easy-to-navigate website, https://parkingnearairports.io/, you'll find the best deals for all the major airports and cruise ports in the United States and Canada.

To understand it better, we can give you an example. Let's imagine that you live in Chicago, Illinois and plan to visit Miami, Florida. Then, you can use the services of affordable Chicago Airport parking with shuttle. If you're flying from Miami, the situation is the same – choose cheap off-site parking Miami Airport. So, as you can understand, everything works simply.

By the way, on our website, you can find all the required information about the advantages of off-site parking, airport parking deals
, and others. So travel profitably and enjoy your following trip together with us!