LaGuardia Airport is the airport located in northern Queens, New York, on the shores of Flushing Bay. It is the smallest of the city's three largest airports. However, having quite limited space (there are only two runways), this airport can hold many people. In December 2017, it served about 2.5 million passengers.
A little bit about the airport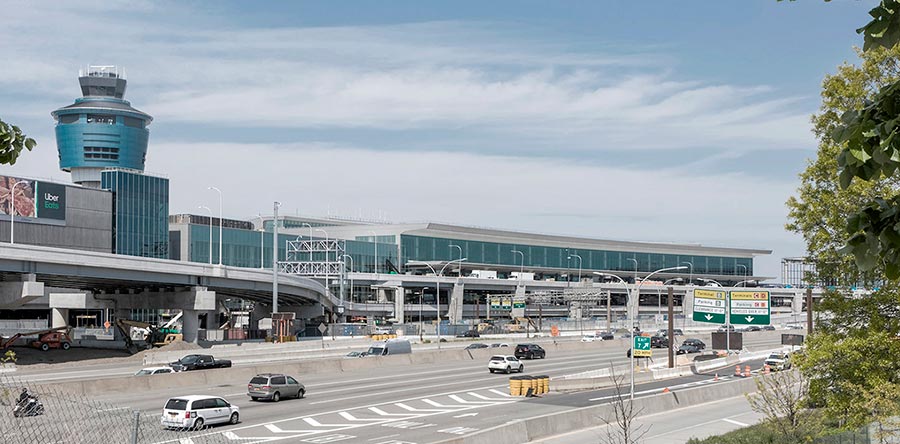 The airport terminal opened in 1939 and is operated by the Port Authority of New York and New Jersey, which has been the operator since 1947 under a lease agreement. A 2004 agreement secured the operation of the air terminal through 2050.
It has four terminals: Terminal A (Marine Air Terminal), Terminal B (Central Terminal Building), and Terminals C and D. The central terminal has four concourses, designated by the letters A to D.
About a dozen airlines operate at LaGuardia, with Delta and American Airlines being the most significant carriers.
How to get to LGA by public transport?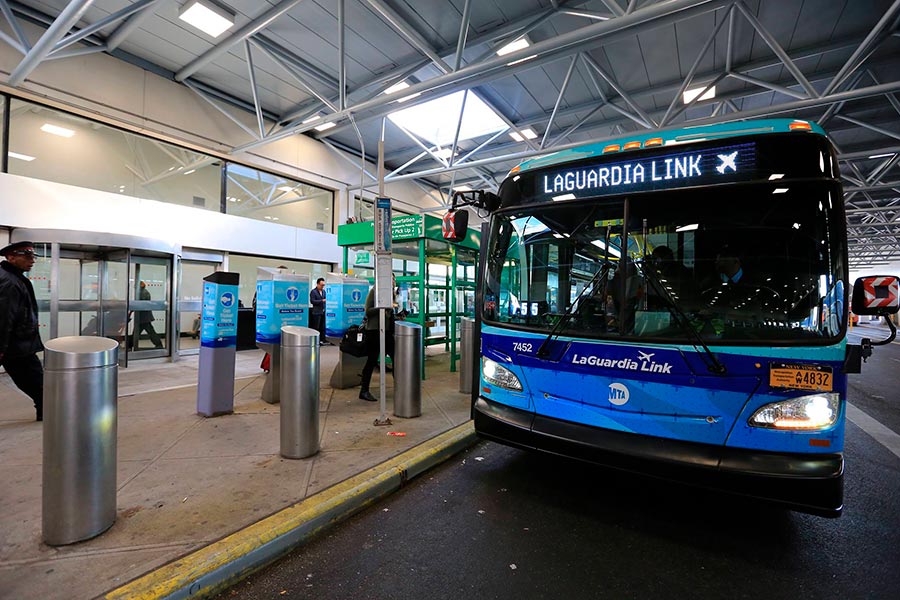 LaGuardia is the only one of the three largest airports in New York City with no rail service. As a result, the only public transport available is the bus.
Although some first-time tourists to New York City may be somewhat confused, the MTA's public transportation system is one of the best in the world, offering a network of buses and cabs to attract tourists and residents.
LaGuardia Airport is served by the M60 and Q70 bus routes, which are Select Bus Service lines (you must pay a fare before boarding). The M60 starts at Broadway and 106th Street in Manhattan, connecting to several subway lines and commuter rail. Q70, launched in 2016, begins in Woodside and offers connections to the E, F, M, R, and seven trains and the Long Island Railroad. It's one of the easiest ways to get to and from LaGuardia cheaply.
Three other Queens bus lines serve the airport: the Q72 runs through Elmhurst and Rego Park, and the Q48 runs through Corona and Flushing. Both go to service terminals B, C, and D. Q47 goes through Glendale and Jackson Heights but only serves Terminal A.
How to get there by private transport?
You can also take a yellow cab or use ride-sharing apps like Uber, Juno, or Lyft. To take a taxi from the airport, you need to exit the terminal and find a cab sign where you can get in line to board. Lyft, Uber, and Juno apps also connect passengers with drivers within minutes, so you can take a cab while you're getting your luggage. However, private cars and cabs are likely to cost more than ride-sharing apps.
In addition, several companies offer shuttles to and from Manhattan. For example, GO Airlink NYC offers shuttles from LaGuardia Airport 24 hours a day, while NYC Airporter is the official bus service for three New York City airports. This company provides Penn Station, the Port Authority Bus Terminal, Grand Central Terminal, and Newark Airport.
If passengers need to drop off their car in LaGuardia, there are also several options. Short-term parking LGA is available if someone needs to be picked up or accompanied to the airport, and LGA long-term parking is available if you need to leave your car overnight or longer.
However, we can offer you the much more convenient option - off-site parking (or parking near LaGuardia Airport). Have you ever heard something about it? If not, we will explain to you.
Being nearby doesn't always mean convenience when it comes to airport parking. Being in terminal parking is not convenient at all. Travelers have to find a spot in a crowded lot, carry their luggage throughout the parking lot, and pay high fees without great service. The off-airport parking provides excellent service with their award-winning customer service representatives available 24/7. In addition, the app looks for lots that offer baggage assistance and 24-hour security for peace of mind.
With our booking platform, ParkingNearAirports.io, it only takes a few clicks in the app to reserve a parking spot. Guests receive a booking confirmation and a guaranteed parking space upon arrival at the off-airport parking. In addition, the app helps customers locate the most convenient lots to the airport. Cancellations are easy if plans change with hassle-free, refundable cancellations.
Off-airport parking lots often provide free shuttle going back and forth between the parking lot and the airport, removing any worry of traveling to and from the airport or getting stuck in traffic on the way to the airport during peak hours. Arrive on time for flights and receive significant savings with airport parking.
Besides this, we also offer services for top cruise ports in Florida, Louisiana, Maryland, New Jersey, and Texas.
You can find the best deals,
LGA long-term parking costs
, and other information connected with parking near U.S. and Canadian airports on our official website.
Where to stay?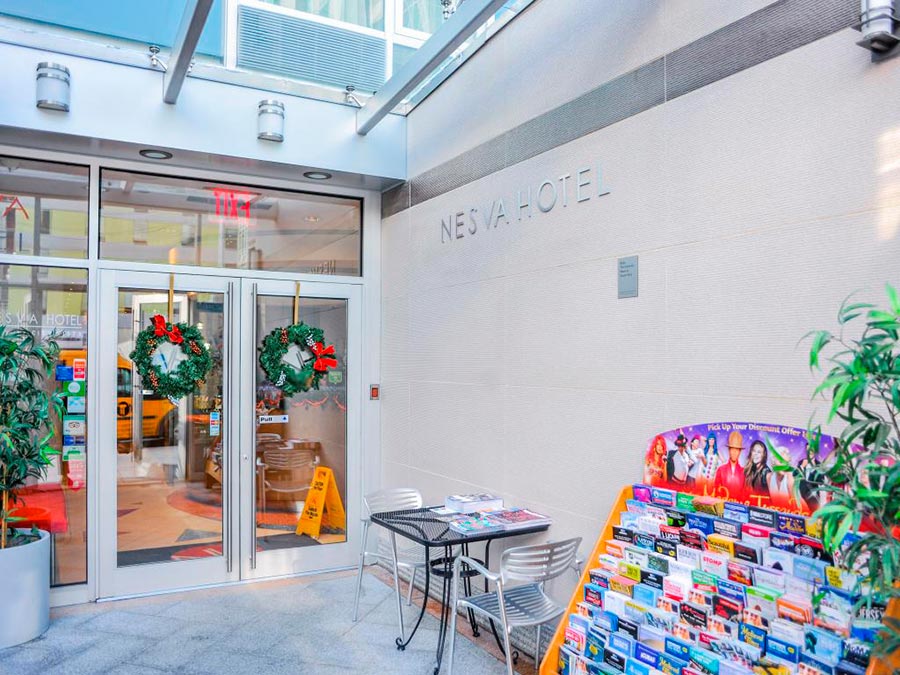 LaGuardia is also the only one of the city's three airports with no hotels. A few hotels are on the other side of Grand Central Parkway, but they are not the most convenient for those who want to visit the rest of the city.
The best place to stay is somewhere along one of the subway lines that connect to the M60 or Q70 bus routes. Many hotels around Queensborough Plaza, including the Hilton Garden Inn, Courtyard by Marriott, Nesva Hotel, and Giorgio Hotel, are priced below $100 per night. There are also boutique hotels in the area, such as the Boro Hotel, with an industrial atmosphere and rooms cost $150 per night.
Downtown Manhattan hotels will be convenient to get to from LaGuardia Airport on the Q70 train and bus. We recommend the CitizenM New York Times Hotel as an inexpensive option ($150 per night) and the Knickerbocker near Times Square. Subway stops are usually located near the more expensive and luxurious hotels.
Where to eat?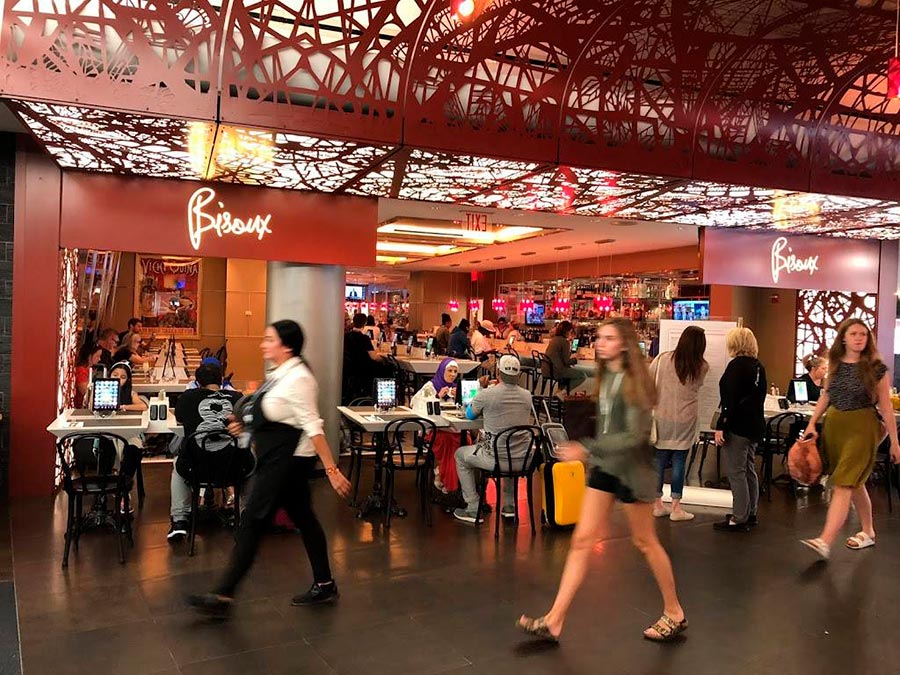 In recent years, the number of establishments in the airport has increased, but they are still few. For example, there are only two cafes at Marine Air Terminal. However, here are a few of the best restaurants on the airport grounds:
The Biergarten. It's a bar with an extensive selection of beers chosen by Brooklyn Brewery brewer Garrett Oliver. It also serves German sandwiches and snacks. It's probably the best place to stay at LaGuardia Airport, and the food is surprisingly good. Location: Terminal C, security post at Food Court.
Bisoux. As part of Delta's cooking project in Terminal D, Riad Nasr and Lee Hanson opened this cafe a few years ago. Croque-monsieur and croque-madame are among the gourmet menu items available here. Location: Terminal D, security post, gate D10.
Cotto. This lounge was opened in collaboration with celebrity chef Michael White. It serves appetizers, paninis, pasta, and pizza. Coffee and toast are also available. Location: Terminal C, Gate C30.