It's nothing new that everyone wants to travel profitably. Most likely, you already compare airlines before choosing the best deals… But what about comparing airports?
ParkingNearAirports' team has analyzed the US Department of Transportation's list of the busiest airports in the country to find out which one is ready to offer its customers the most affordable airfares. It should be noted that the price could vary depending on the time of year and the demand. You can always check out all the current proposals on the websites, such as Cheapflights and Skyscanner.
Among the 25 most crowded airports in the United States, the following 3 are the cheapest ones for flights. If you're willing to learn how some of your local airports surpass their competitors, use this link to see a full list of the 431 busiest American airports and their average fees. And we're starting!
1. Baltimore Washington International Airport, Maryland (BWI)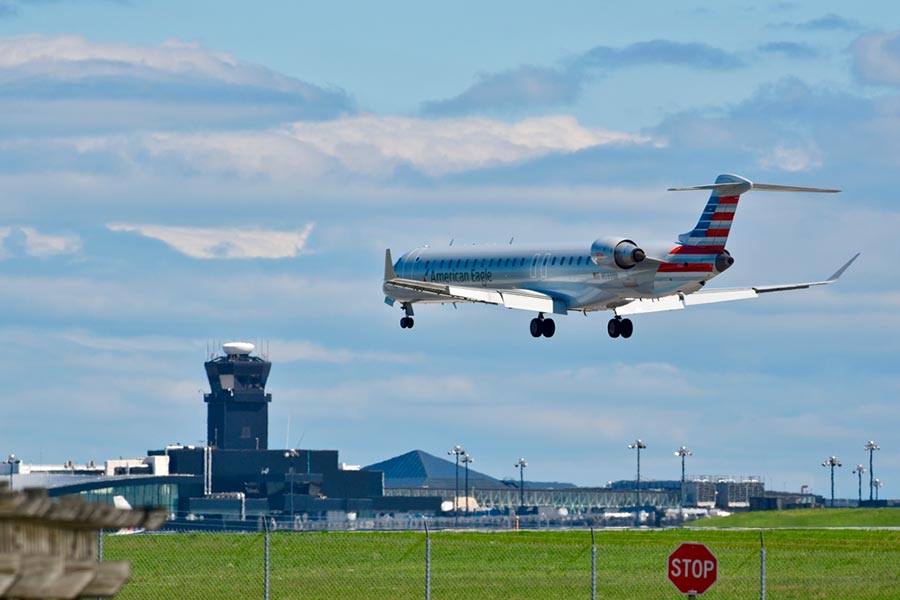 Source – Shutterstock. An American Airlines jet preparing to land at the Baltimore Washington International Airport
Direct connection to the Baltimore-Washington, D.C. metropolitan area is provided by the Baltimore/Washington International Thurgood Marshall Airport. It's hardly surprising that it's the 22nd busiest airport in the nation given its prime location. According to the US Bureau of Transportation Statistics, the airport has an average airfare of $305.90 and offers exceptional travel fares, some for under $100. This location will likely provide a better value than its nearby rivals, the Ronald Reagan Washington National Airport, and the Washington Dulles International Airport.
2. Denver International Airport, Colorado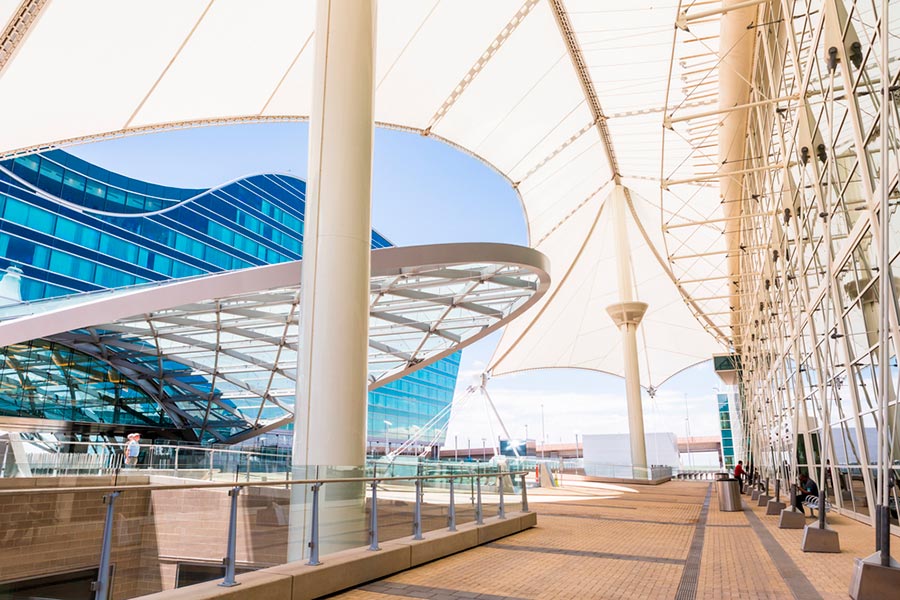 Source – Shutterstock. An exciting view of the Denver International Airport
The obvious choice for travel in the Rocky Mountain region of the United States is the Denver International Airport. Denver has more than 190 nonstop routes and 23 carriers, so the cost of flying there is lower than you may think. Even though it's currently the third busiest airport in the nation, the reported average airfare is only $303.82. If your travel schedule is open, you can locate under-$100 Denver ticket specials. Denver had previously been rated the "Best US Airport for Art" by USA Today if you need to kill a little extra time before your flight.
3. Orlando International Airport, Florida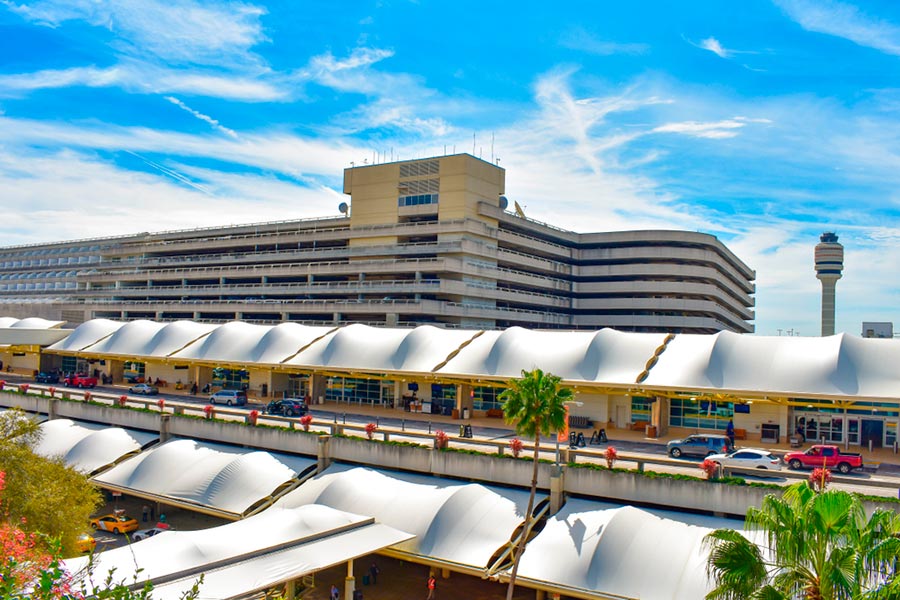 Source – Shutterstock. Panoramic view of Terminal A, parking building and partial view of Air Traffic Control Tower at Orlando International Airport
It's not surprising that Orlando International Airport is the busiest airport in Florida and the seventh busiest airport in the United States given the number of popular tourist attractions in Central Florida, such as Disney World and Universal Studios theme parks. This airport is an ideal option for convenience while visiting the area because it's only six miles from the city center. Fortunately for Sunshine State travelers, the average airfare for an Orlando departure is $248.19, as reported by the US Bureau of Transportation Statistics. Visit Cheapflights to find out more about the best times to depart from Orlando, as well as some fantastic offers, some of which are priced as low as $75.
Did you know that you can travel even more cheaply and conveniently?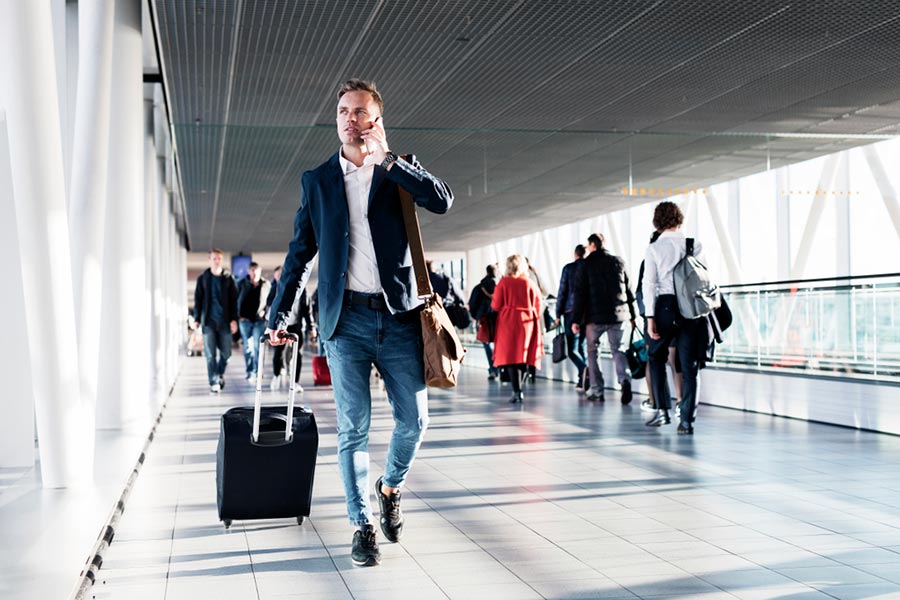 Source – Shutterstock. A businessman talking on the phone and walking around the airport
In addition to the information about the most budget-friendly airports in the country, we would also like to convey other useful information on traveling – it will be actually handy for those who prefer doing this by air.
If you use your own car to reach the airport, you know it is critical to park it safely for the duration of your trip. Almost every airport has special on-site parking for this purpose. However, travelers aren't ready to spend a lot of money at the beginning of their trip, as this option is pretty costly. So what should we do then?
Our booking platform, ParkingNearAirports.io, offers travelers online reservations for parking just outside airports that are affordable and convenient. Our experienced team is dedicated to providing travelers parking options at over 100 airports in the US and Canada. The app allows customers to search and compare parking rates at up to 70 percent savings compared to the cost of on-site parking at all major airports.
What is actually off-site parking, and which advantages has this parking type, you may ask? So let's take a closer look at this question.
First of all, off-site parking is much cheaper. So you can save money and then spend the most considerable amount on the things you really want to try or see while traveling.
Secondly, off-site parking services are faster. It might seem that it's faster to park your car at the airport, but that's not always the case. Off-site parking offers you the following convenience: when you drive directly up to the entrance, a staff member pulls your luggage out of your vehicle and loads it into the shuttle. Then they park your car for you. After your baggage is loaded, you can take your seat in the shuttle, which will bring you and your bags to the airport. It is a hassle-free option that is usually faster.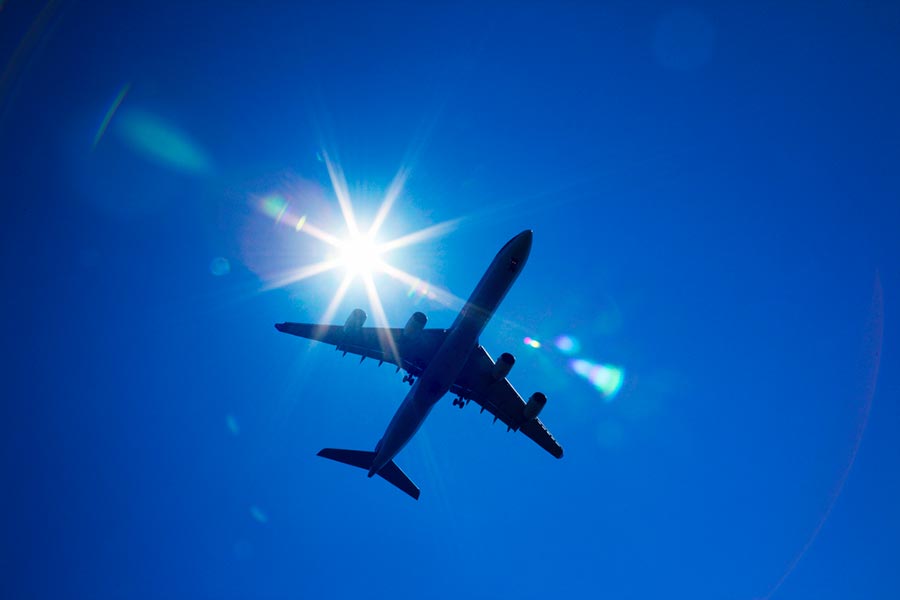 Source – Shutterstock. A plane is flying in the sky
Thirdly, it's much more convenient. People are always stressed before the trip, as there are many things you should keep in mind. Not to be late when taking off, fighting traffic, finding a parking place, wondering how long the shuttle service will take, and more can leave you annoyed before you step foot inside the airport. If you choose off-site parking, you are using the assistance of a private company that caters to travelers' needs. Such services can make your trip much more comfortable when you arrive at the airport and return home.
With ParkingNearAirports.io, it takes just a few clicks within the application to reserve a parking spot. Upon arrival at off-airport parking, customers receive a booking confirmation and a guaranteed parking spot. The app helps customers find the most convenient airport parking lots. If plans change, cancellations are hassle-free and refundable.
We also offer you services for top cruise ports in Florida, Louisiana, Maryland, New Jersey, and Texas.
Let's look at an example. Imagine that you live in Denver, Colorado. If you're planning a trip to Baltimore, Maryland, you can choose
cheap parking near DIA
. If you're coming from Baltimore, the situation is the same - you can use an affordable
BWI daily parking shuttle
. So it depends just on where you are flying from.
On our official website, you can find the best deals,
airport parking rates
, and other information connected with parking near US and Canadian airports.