Nowadays, there is a delusion that introverts are quiet, socially inept people who prefer spending time at home. And that's actually not true! Introverts love traveling and exploring, but they just prefer to take in things on their own terms and at their own pace. While they're happy to have an opportunity for solitude and reflection, they like exciting events and interaction with locals and other tourists as well.
Multiple travel destinations provide something for any type of temperament, so pretty often, we need to choose particular attractions and activities that meet all of our needs. However, below you'll see the 3 best places that are ideal for introverts, no matter if you prefer traveling solo or with a like-minded friend. So let's not waste time and take a closer look at them!
1. Sedona, Arizona, USA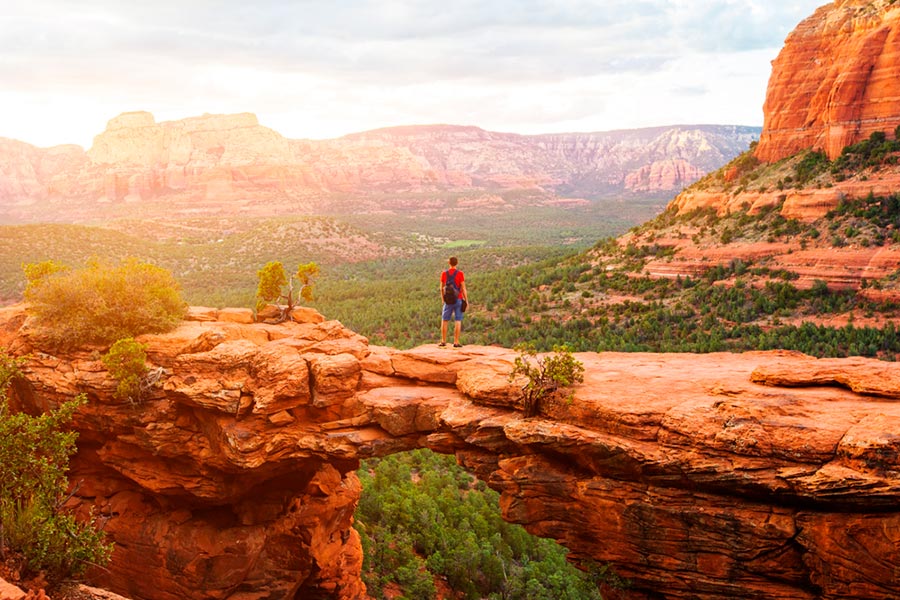 Source – Shutterstock. Journey to Devil Bridge Trail. A hiker with backpack enjoying the view – Sedona, Arizona, USA
Sedona, which is famous for its breathtaking red rock scenery and energy vortexes, has a particularly relaxing yet energetic influence on its visitors. The region, which is rarely crowded, has a variety of things to do, but the most well-liked one is simply hiking one of the many paths and taking in the magnificent surroundings at your own leisure. Go outside early in the morning to see the sunrise or stay outside late in the day to watch a sunset for an added dose of solitude and magic. You may relax with a bottle of wine over a fire pit at night or go stargazing. There are lots of yoga, meditation, and healing retreats available if you like structured activities – these are actually great for introverts.
2. Iceland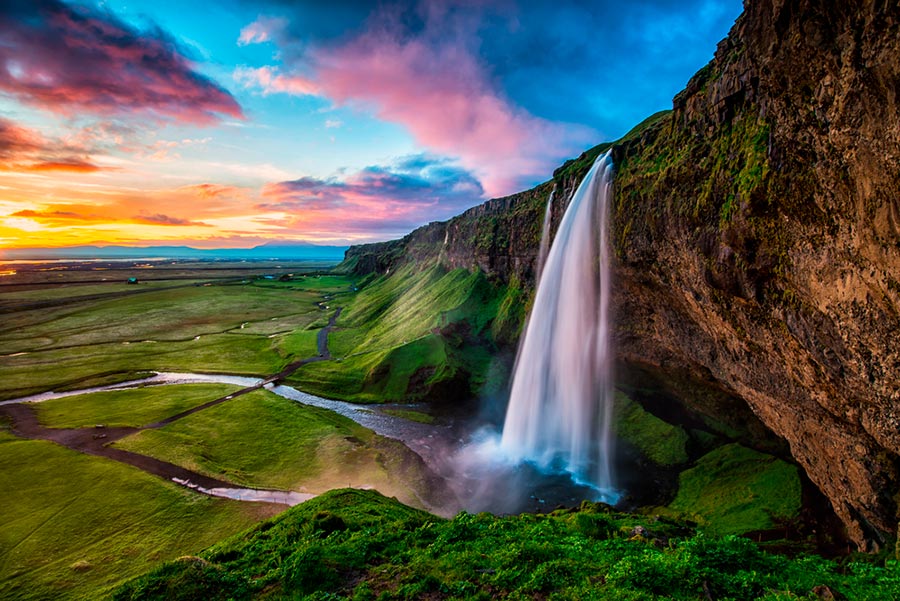 Source – Shutterstock. An impressive landscape of Iceland
On this list, Iceland is most likely an expected applicant, but for good cause. This state is still quite secluded with plenty of options to get lost and avoid the throng, despite its enormously growing tourist popularity over the past few years. Its natural features, which are ideally suited for outdoor enthusiasts, include breathtaking landscapes dotted with hiking paths, roaring white glacial rivers with numerous waterfalls, black volcanic desert sands, and hot springs. The possibility of seeing the Northern Lights is another object of desire. Even further evidence that introverts would feel at home in Iceland is provided by the fact that it is ranked as one of the top ten most introverted nations on the planet.
3. Paris, France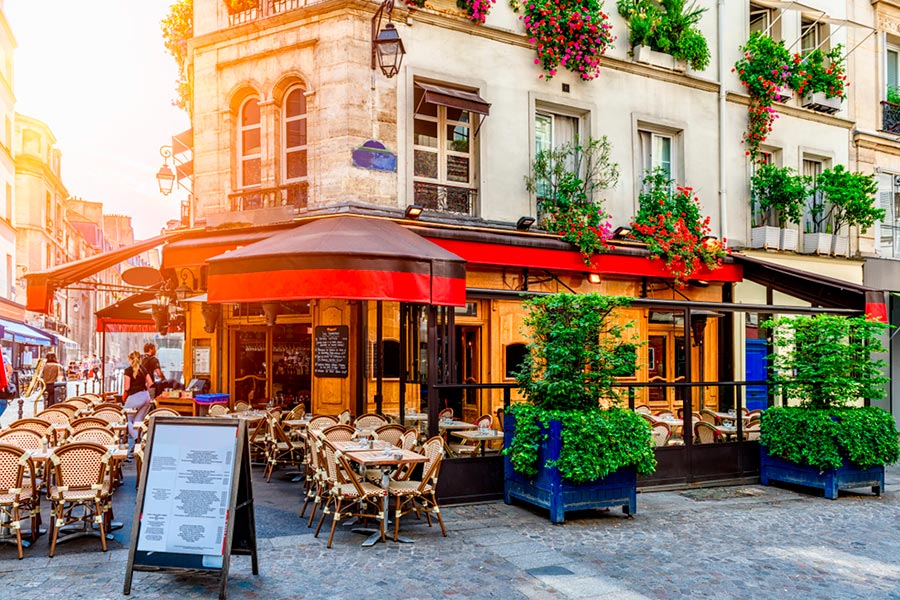 Source – Shutterstock. A cozy street with cafe tables in Paris, France
Paris, one of the world's most popular tourist destinations and a city bursting with unending activity, may not seem like the ideal place for introverted tourists. Consider leisurely strolls along the Seine, a picnic in the Champ de Mars or Luxembourg Gardens, or a small-group cycling tour of the city that takes in some of its historical monuments. Stay in an apartment or one of the more intimate boutique hotels. Spend as much time as you like exploring one of the city's amazing museums, quaint districts, or antique shops. Watch people while reading a book on a bench or enjoying a pain au chocolat at one of the city's charming cafes. The French capital has the unique ability to make you feel either miles away and silently reflecting in your own world, or alive and present. Oui oui!
ParkingNearAirports' team has also prepared for you some helpful tips to let you travel in full comfort!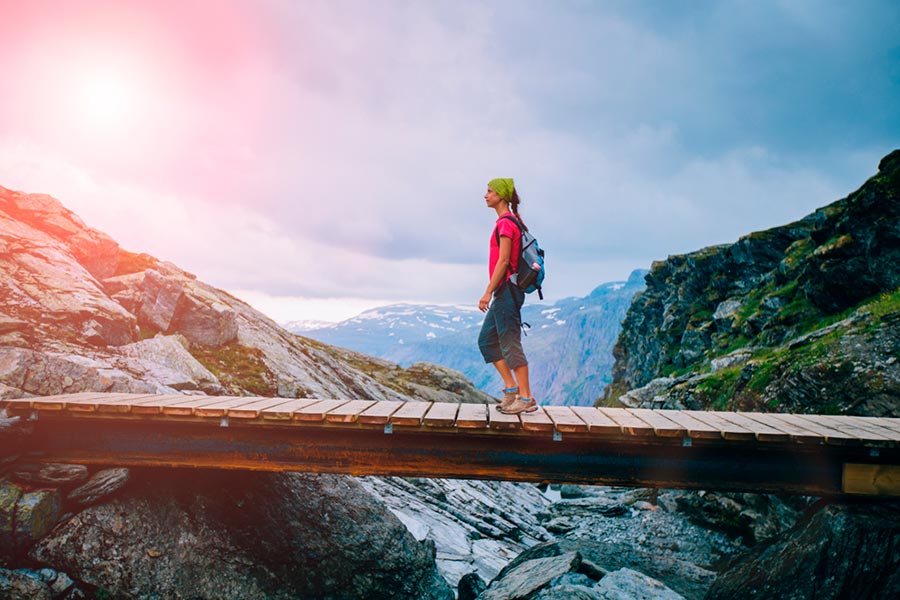 Source – Shutterstock. Young woman traveler with backpacker and bandana going on wooden bridge in cliff during her trip
It's pretty clear that everyone wants to save as much money as possible and get excellent services at the same time, especially while traveling. Prefer to get to the airport by your own car? If so, please draw special attention to this part of the article.
We suppose you have used to choose on-site parking if you prefer to get to the airport by your own vehicle. Most people think that it's much more convenient and faster, as it's the nearest area to the place a plane is flying from. However, they probably forget that this type of parking is too costly. Besides, you will have to face the following unpleasant moments:
You will need to find a spot in a crowded lot,
You will need to carry the luggage all the way down the parking lot,
You must pay expensive fees with no service.
Sounds terrible, right? Is there any solution in such a situation, you may ask? We're happy to say – of course, there is one! If you choose to use the services provided by off-site parking, you won't definitely regret it. So let's take a closer look at this parking type.
What is actually off-site parking?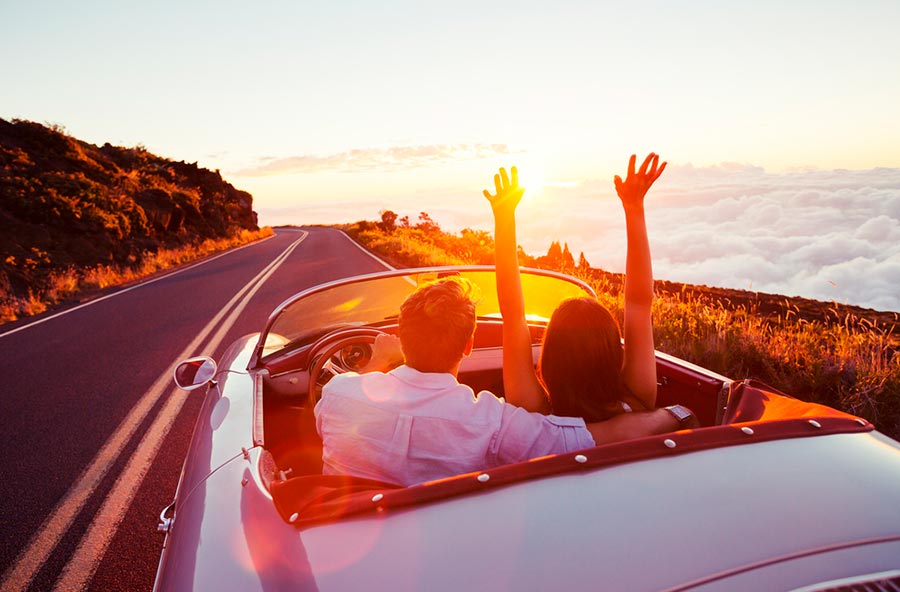 Source – Shutterstock. Young couple enjoying the sunset in a vintage sports car
Obviously, no one wants to face all of such difficulties we described above, and you can easily avoid them if you choose an off-site parking option. So let's take a look at how it works.
When you come to the entrance, the staff member pulls your baggage out of your car and loads it to the shuttle, which will take your bags and you later to the airport you're flying from. Then they will find a parking spot and park your car there for you.
Please don't worry about the few miles, which usually separate the parking lot and the airport. Off-site parking usually provides free shuttles to and from the airport for its customers. Thanks to this, you have no worries about getting stuck in traffic on the way to the airport during the peak times. So all you need to do is choose the best time for you and inform the parking lot staff.
In addition, this type of parking is much cheaper, and this is good news, as nobody wants to waste money. Therefore, off-site parking is the perfect option to receive excellent service and save money at the same time.
You can find the best deals right here!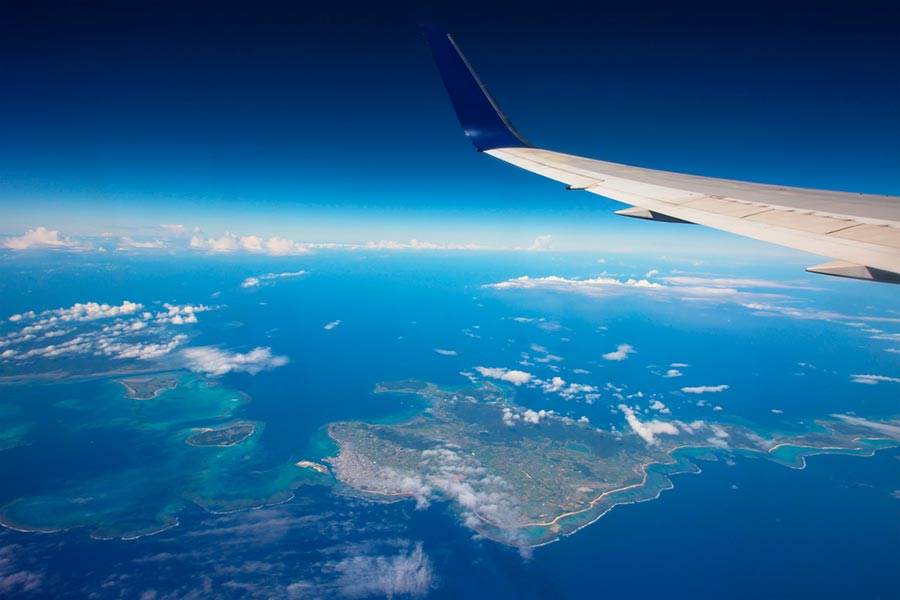 Source – Shutterstock. Wing of airplane above many islands from window
If you're looking for the best deals for airports, you're in the right place.
We are glad to inform you that our booking platform, ParkingNearAirports.io, offers the best prices on airport car parking and bundles hotel and parking packages. Besides, we provide the services for top cruise ports in Florida, Louisiana, Maryland, New Jersey, and Texas.
Our partners are the most reliable parking providers outside the major airports in the United States. We offer their services for passengers who are looking for safe and secure parking for their vehicles.
In addition, we can arrange valet parking, self-parking, or a vehicle to pick you up from the hotel to the terminal and vice versa. Just let us know the dates, choose your preferred services, and we'll get it done for you.
It only takes a few minutes to make a reservation. Get the most affordable rates and experience hassle-free off-site parking.
To understand it better, we would like to give you an example. If your trip starts in Arizona, you can use the services of cheap
Sky Harbor covered parking
. If you're flying from the Los Angeles International Airport, you can choose affordable
parking around LAX
. So it just depends on the place you're leaving from.
Also, ParkingNearAirports.io offers its customers special
airport parking reservations coupons
. With the help of these coupons, you can make the price for parking even two times less. So don't forget to use them to save as much money as possible.
You can find all the necessary and helpful information connected with the off-site airport parking on our official website. Enjoy traveling!