Hardly anyone knows that not only such well-known giants as Paris, New York, and Rome can offer travelers different culture, history, and culinary delights. If you take your besties with you when taking your following trip, you'll be able to share with them the experience of sleeping in a desert, indulging in a spa retreat, or walking along deserted beaches while exploring the most underappreciated destinations worldwide.
Sounds cool, right? Then pack your suitcase and call your friends – we start our adventure right now!
1. Taipei, Taiwan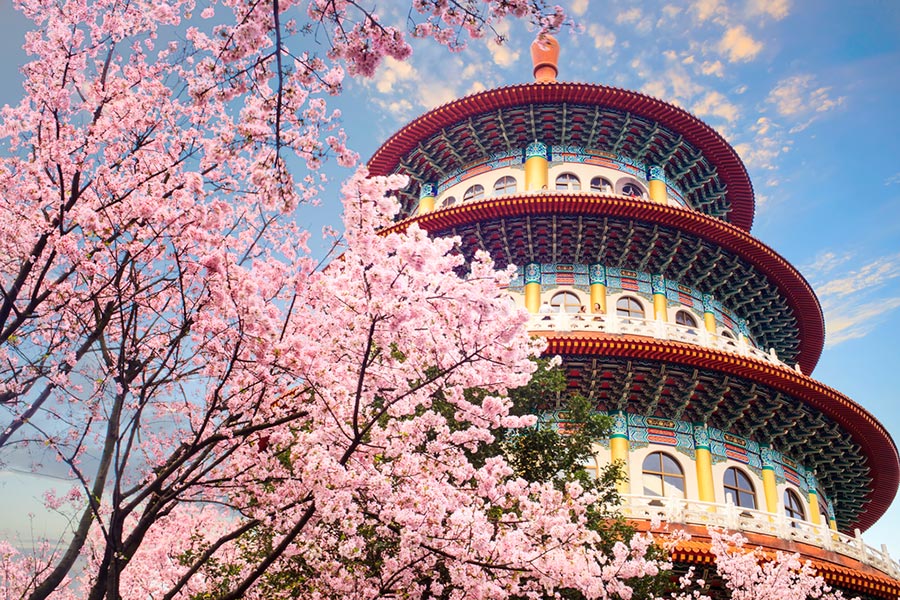 Source – Shutterstock. Sakura garden with beautiful sky in Taipei, Taiwan
With your homies, explore the stalls at one of the vibrant night markets that dot Taiwan's welcoming city and take on Taipei's impressive food scene. The natives here frequently eat out since splurging on street food is both delicious and affordable. Eating all of Taipei is a respectable ambition with its scrumptious bowls of beef noodles, crunchy scallion pancakes, and plates of flavorful tofu. Hike Elephant Mountain, a short and sweet mile-long set of stone steps that reveals the city's famed skyline, to burn off the calories.
2. Sedona, Arizona, USA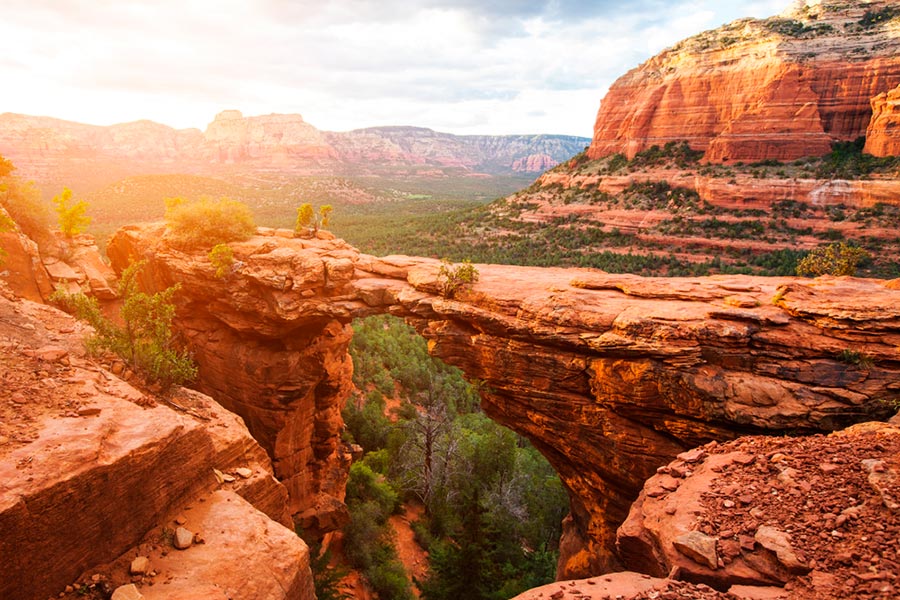 Source – Shutterstock. Scenic view of Sedona, Arizona, USA
Sedona is a location for spiritual experiences. It's nestled among spectacular red-rock buttes and jammed between high canyon walls. This desert city is thought to contain several vortexes and is located about 120 miles north of Phoenix. Healers and spiritual seekers from around the world travel here to access the energy. Go on a voyage of self-discovery and spiritual healing by visiting Mii Amo with your closest friends, a destination spa located at the base of Sedona's Boynton Canyon where the Earth's energy is intensely concentrated.
3. Strasbourg, France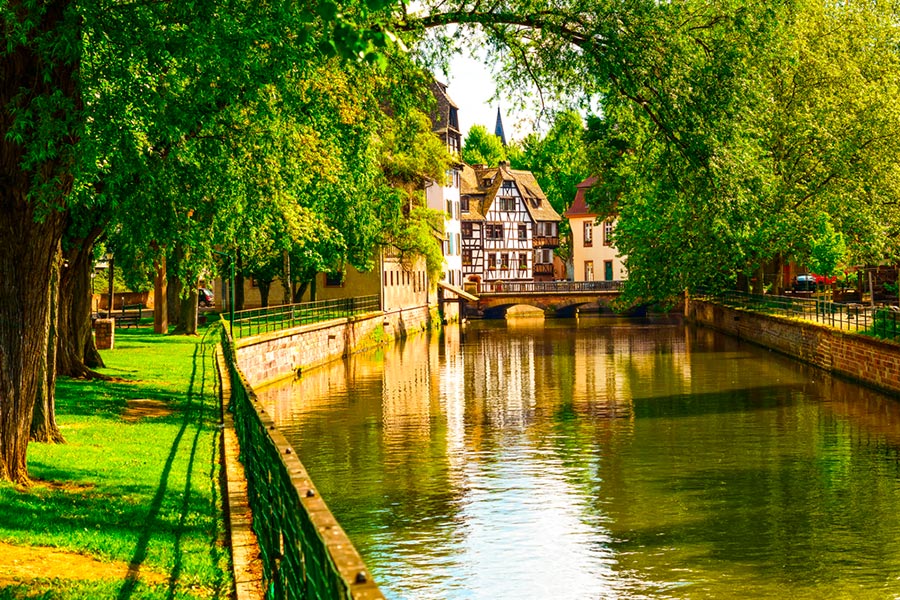 Source – Shutterstock. Strasbourg, France – a water canal at La Petite France

A rich cultural center in the heart of Alsace, charming Strasbourg is located on the French-German border some 300 miles east of Paris. Strasbourg has a romantic, old-world feel because of its illustrious medieval heritage, but as the home of the European Parliament, it also represents a contemporary identity. Explore the winding streets of La Petite France, a district with amusingly crooked homes lining a system of waterways, and then take a tour of the glass European Parliament for a contemporary perspective on the city.
4. Pilsen, Czech Republic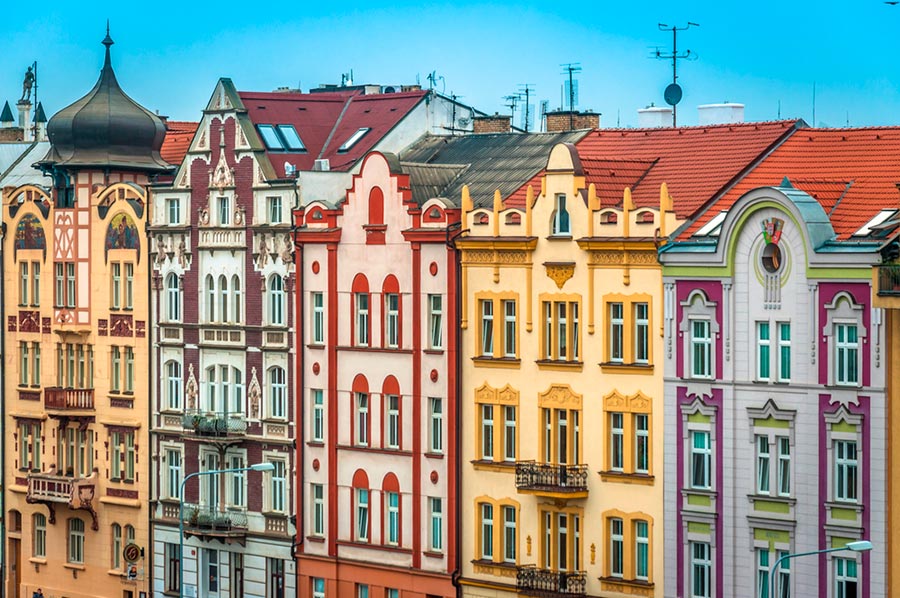 Source – Shutterstock. The colorful houses of Pilsen, Czech Republic

Pilsen proves to be a deserving destination for all beer lovers, despite being frequently overlooked in favor of the romantic Czech capital of Prague. If you and your friends enjoy lager, a visit to the Pilsner Urquell brewery is a necessity. Western Bohemia's largest city is where the beloved Pilsner was created in 1842. Visit Pilsen's one and only beer spa next, where you may indulge in the regional brew before enjoying a calming massage and revitalizing steam bath.
5. Ambergris Caye, Belize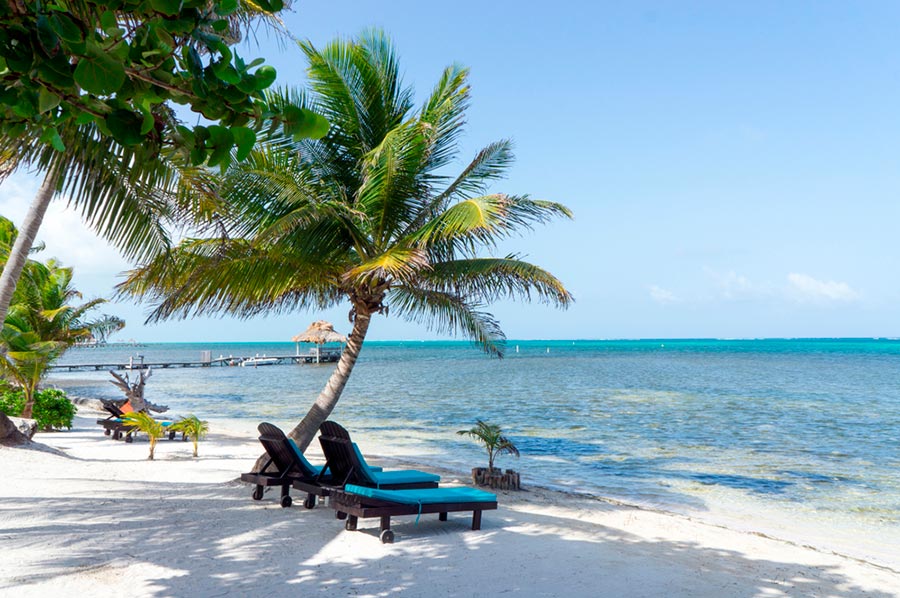 Source – Shutterstock. Ambergris Caye, Belize – an incredibly beautiful beach

Without going over budget, are you and your friends looking for that tropical vacation? Go to Ambergris Caye in Belize, a remote island paradise where you may improve your tan while holding a drink in your hand. Alternate between relaxing on the beach and snorkeling the Belize Barrier Reef throughout the day. Hire a sailboat to cruise you around the island throughout the day, and then visit Palmilla Restaurant for mojitos at night.
ParkingNearAirport's team helps – know some life hacks and travel with your friends profitably and conveniently!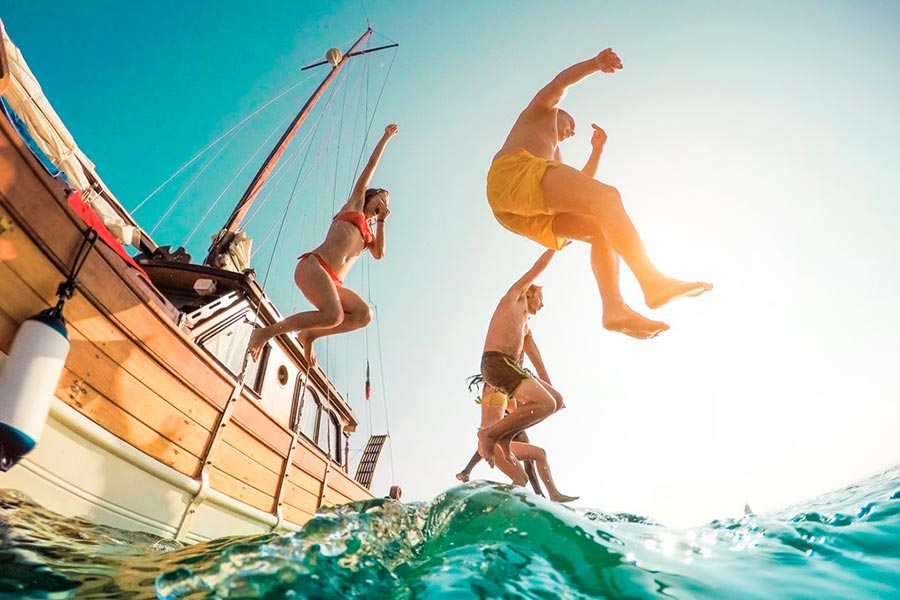 Source – Shutterstock. Happy friends dive from a sailboat into the sea

Have you ever heard something about off-site parking? If not, we recommend you take a closer look at this part of the article, as this information will be handy for those who prefer to travel by air and get to the airport by their own car.
Most people suppose that parking at the airport is the fastest and most convenient option for them. However, it's not actually true. We'll explain to you why.
To be true, being in a terminal parking lot isn't convenient at all. Although on-site airport parking is the nearest place where you can leave your vehicle for the period of a trip, you can face the following difficulties:
You will need to find a spot in a crowded lot,
You will need to carry the luggage all the way through the parking lot,
You must pay expensive fees without great service.
Sounds not good, right? However, we found an excellent solution for you - in this case, off-site parking can become a savior for you. So if you're trying to find a parking spot with great service nearby the airport you're flying from and don't want to leave there the most significant part of your budget, pay attention to this option.
How does it work?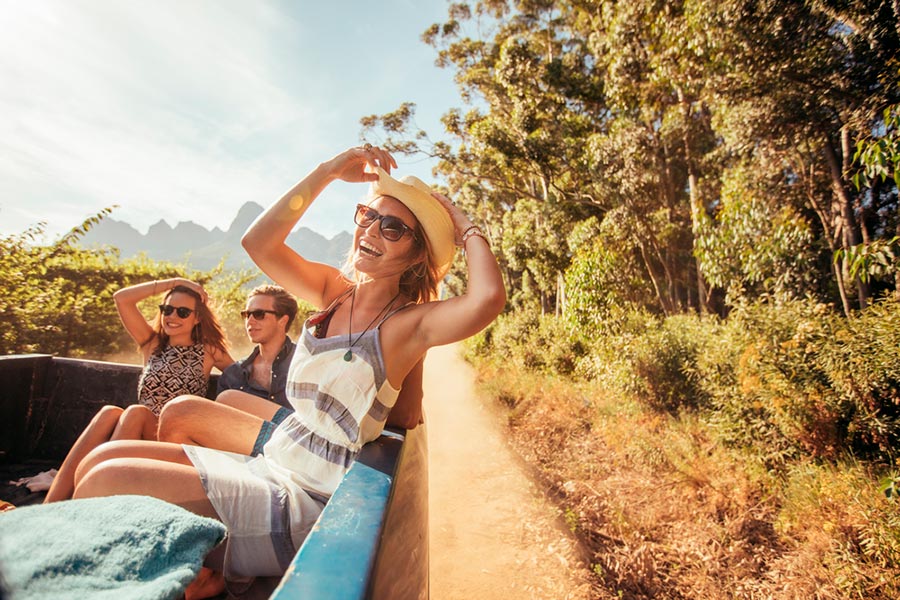 Source – Shutterstock. Young people enjoy the car ride

Obviously, people who chose a car as a way to get to the airport want to leave their vehicle safely while traveling and not to face the problems we described above. So what can off-site airport parking offer its customers?
Although a few miles usually separate such parking from the airport, you shouldn't worry about this. Off-site parking provides free shuttles going back and forth between the parking lot and the airport. Thanks to this, it removes any worries about getting stuck in traffic on the way to the airport during peak times. So all you need to do is choose the best time for you and inform the parking lot staff.
How does it work? Actually, everything is straightforward: when you come to the entrance, the staff will remove your luggage from your car and load it onto the shuttle, which will take you and your bags to the terminal. Then, the vehicle will be parked securely.
In addition, this type of parking is much cheaper, and this is good news, as nobody wants to waste money. Therefore, off-site parking is the perfect option to receive excellent service and save money at the same time.
Want to find some great offers? You don't need to go somewhere - just find it right here!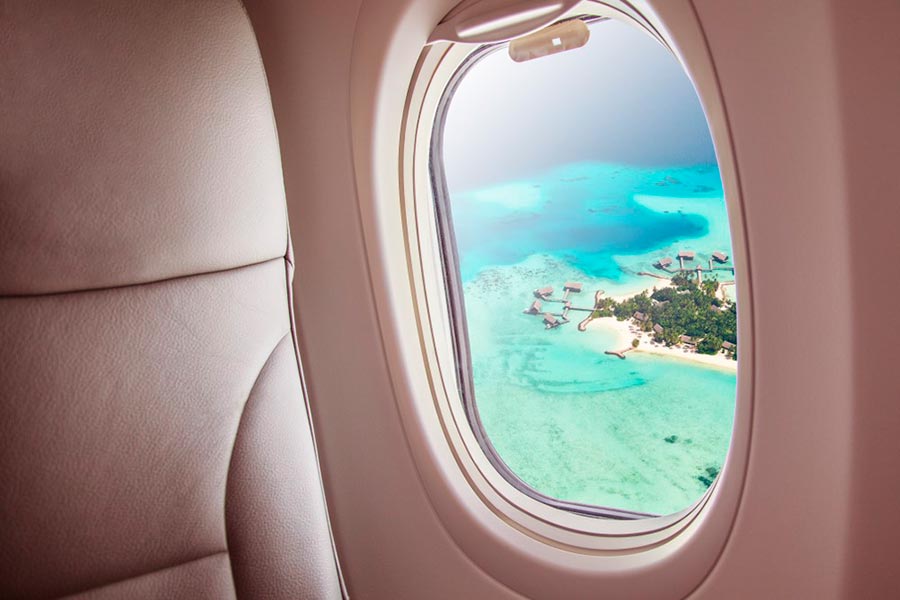 Source – Shutterstock. An impressive view from a plane flying over an island

We're glad to inform you that you can find this solution right here. Our booking platform, ParkingNearAirports.io, offers the best prices on airport car parking and bundles hotel and parking packages. Besides, we provide the services for top cruise ports in Florida, Louisiana, Maryland, New Jersey, and Texas.
Our platform allows you to reserve a parking spot through a few clicks within the application. As a result, customers receive a booking confirmation and a guaranteed parking spot upon arrival at the off-airport lot. Besides, if plans change, you can cancel hassle-free and receive a refund.
To understand it better, we would like to give you an example. Let's imagine that you live in Houston, Texas. If you're planning a trip to Sedona, Arizona, you can use the services of cheap
off-site parking Bush Airport
. If you're coming from Arizona, the situation is the same - you can choose affordable
Sky Harbor off-site parking
. So it just depends on the place you're flying from.
Also, ParkingNearAirports.io offers its customers special
airport parking reservations coupons
. With the help of these coupons, you can make the price for parking even two times less. So don't forget to use them to save as much money as possible.
You can find all the necessary and helpful information connected with the off-site airport parking on our official website. Enjoy traveling!