If a traveler is planning a trip to one of the most expensive towns worldwide, they're looking for some creative ways for reining in expenditures to make the vacation affordable. One of the travel areas where your expenses can increase quickly is actually food. In the event that you're heading to giants, such as Copenhagen, Tokyo, Sydney, Paris, or Zurich, better take a look at our tips below that will definitely help you to avoid overpaying. So let's get to it!
1. Invest in Lunch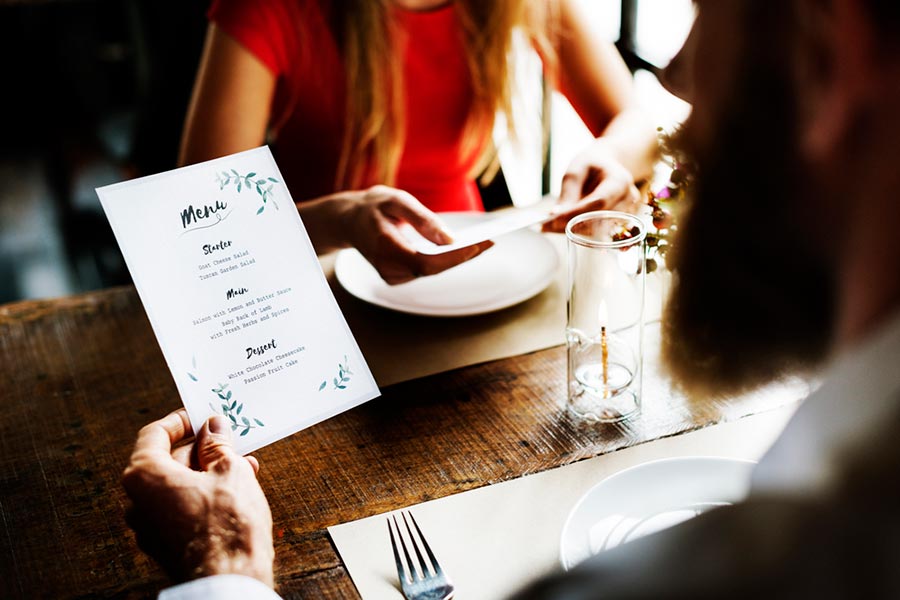 Source – Shutterstock. A couple looking at a menu during lunch
Look at the lunch menu options if you have your eye on a pricey meal at a nice restaurant but are worried about the cost. Restaurants frequently offer a substantial lunch spread for far less than you would pay for a dinner reservation in towns like Tokyo. However, because most locals are competing for the same reservation times, you should book early.
2. Find a Buffet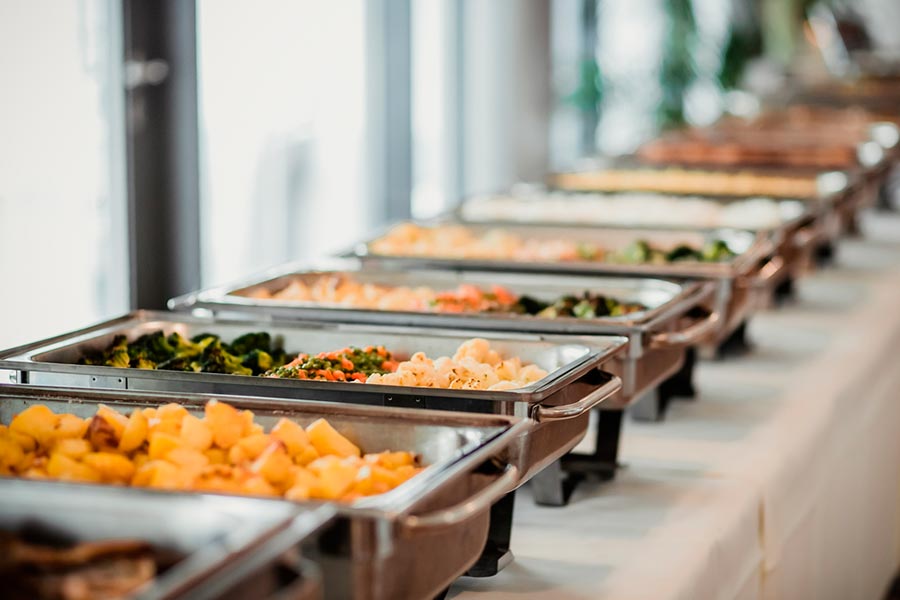 Source – Shutterstock. Tasty food in the buffet – view from the side
Although buffets occasionally receive a poor rap, they're well-liked all across the world. Buffet restaurants are a common and effective way to reduce dining expenses in pricey cities like Copenhagen. You won't necessarily be sacrificing quality either because there are so many nutritious options available, like salads, vegetables, meat, and fish.
3. Make a Snack Pack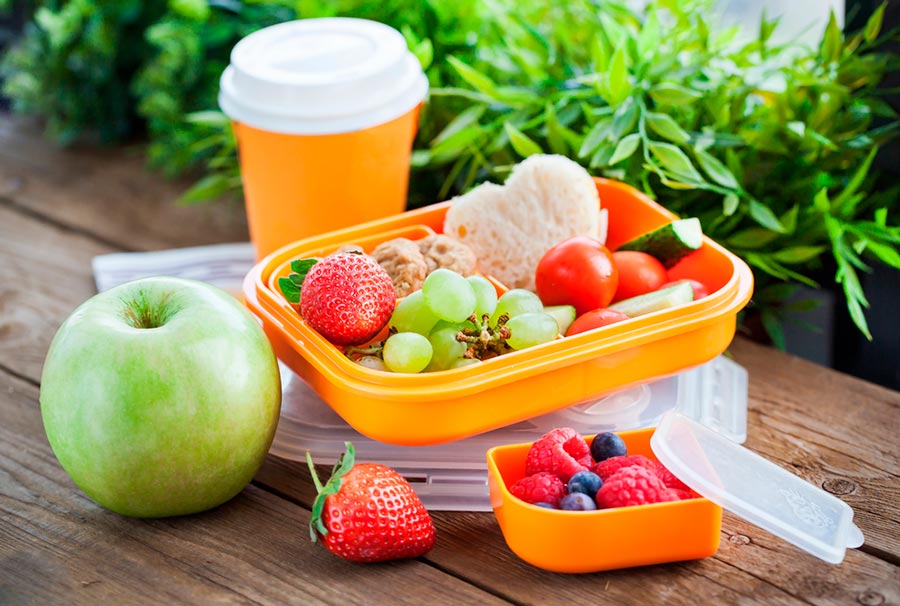 Source – Shutterstock. Lunch box with sandwich, cookies, fresh fruits, and vegetables
In some situations, purchasing snacks in pricey locations might result in daily spending equivalent to an additional dinner. Before leaving home, make room in your suitcase by choosing non-perishable food to keep in your hotel and carry with you as you travel. However, make sure you aren't bringing anything that's not allowed, such as fresh fruit, dried meats, etc. Put a granola bar in your bag and you'll always have something to reach for when you get hungry in between meals.
4. Explore the Benefits Listed on the Tourist Cards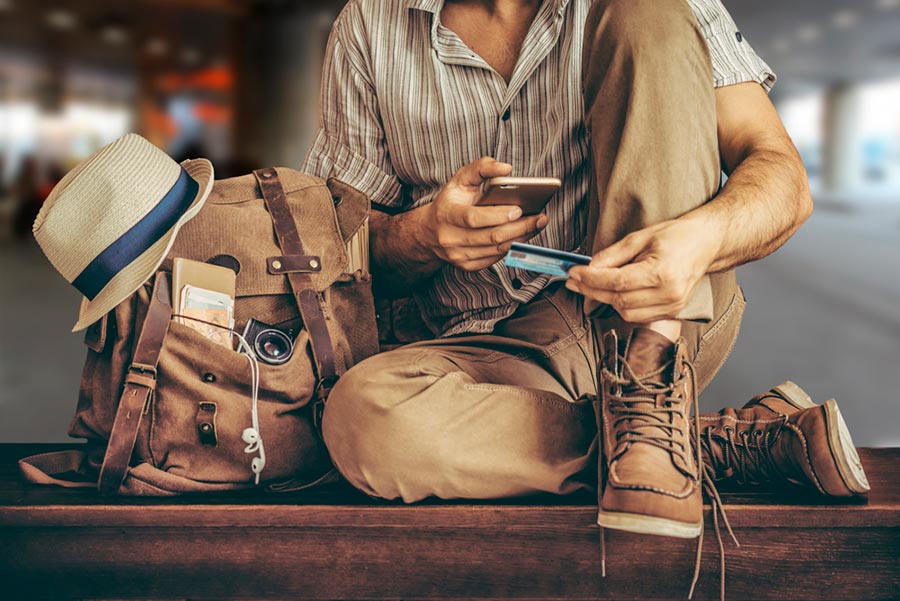 Source – Shutterstock. Man holding a special tourist card
Numerous cities provide discounted or free access to a wide range of attractions with city passes or tourist cards. You might be surprised to learn that many of these also come with meal discounts. In many situations, participating restaurants offer discounts ranging from 10% to 20%.
5. Reserve a Hotel Room with Breakfast Included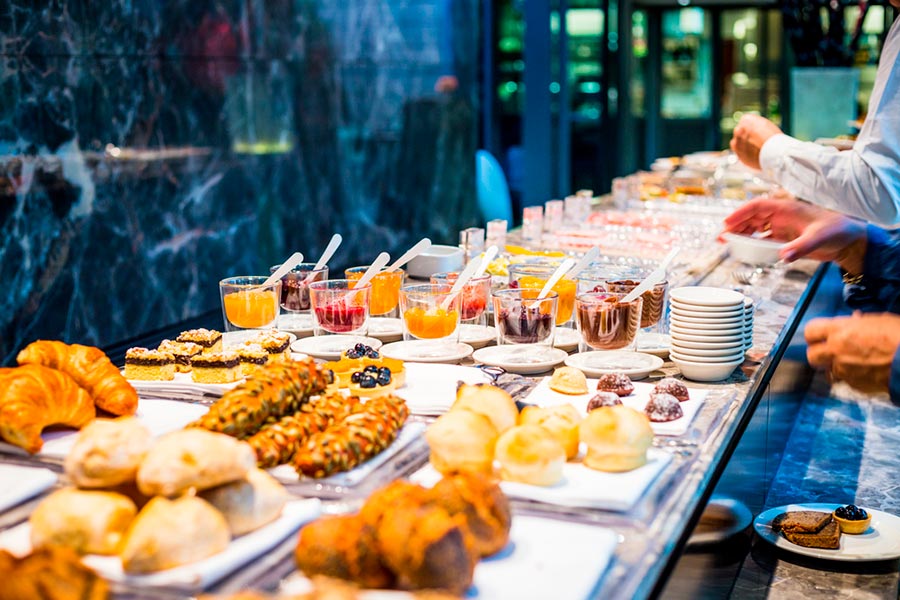 Source – Shutterstock. Buffet lunch in a hotel with breakfast included
You may start your day off right with a satisfying meal if you find a housing package that includes a complimentary breakfast. Be sure to compare the prices of the various rooms because some booking websites may be offering deals that include breakfast for the same price. Some hotels might only have a basic continental breakfast, while others may have extensive buffets that include made-to-order omelets and other dishes.
Save money on airport parking together with ParkingNearAirports.io as well!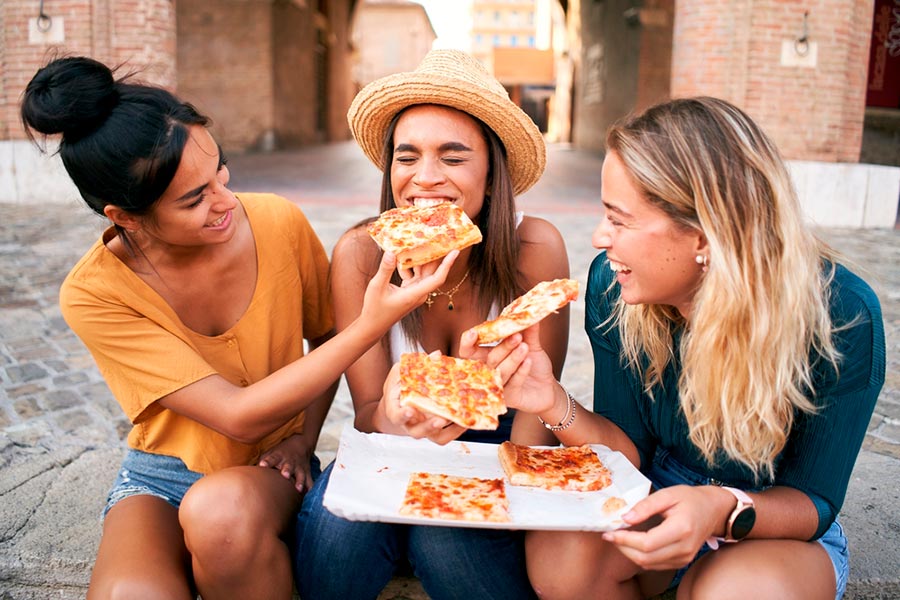 Source – Shutterstock. Happy girlfriends eating pizza street food at the city
In addition to our recommendations on how to save money while buying meals overseas, we would also like to give you one more helpful tip – this information will be actually handy for those who prefer to travel by air.
If you get to the airport by car, you always need to find a good parking space for your vehicle to leave for the period of a trip. In most cases, airports have special on-site parking for that purpose. However, such a parking lot is pretty costly most of the time, and people aren't ready to spend a lot of money at the beginning of a trip. So is there any solution?
The best way to solve this problem is to choose off-site parking. Why, you may ask? We will explain.
There are many reasons which can prove the benefit of this parking type. Here are some of them:
Affordable Rates. Depending on the duration of your trip, you can choose between short-term and long-term airport parking. Anyway, an off-site airport is much cheaper, so you can save your money and spend the most considerable amount on things you really want to see or try while traveling.
Fast service. In contrast with on-site airport parking, which can take quite a long time, off-site parking offers you the convenience of driving directly to the entrance and having a staff member pull your luggage out of your vehicle and load it into the shuttle. Then they will park your car for you. After your baggage is loaded, you can take your seat in the shuttle, which will bring you and your bags to the airport. It is a hassle-free option that is usually faster.
Convenience. When people travel, they may be stressed about making it to the airport on time. If you use off-site parking, you will definitely make your travel experience more convenient, as you use the service of a private company. Even though you may be able to park on-site at the airport in a short-term or long-term airport parking lot, consider using an off-site parking lot service.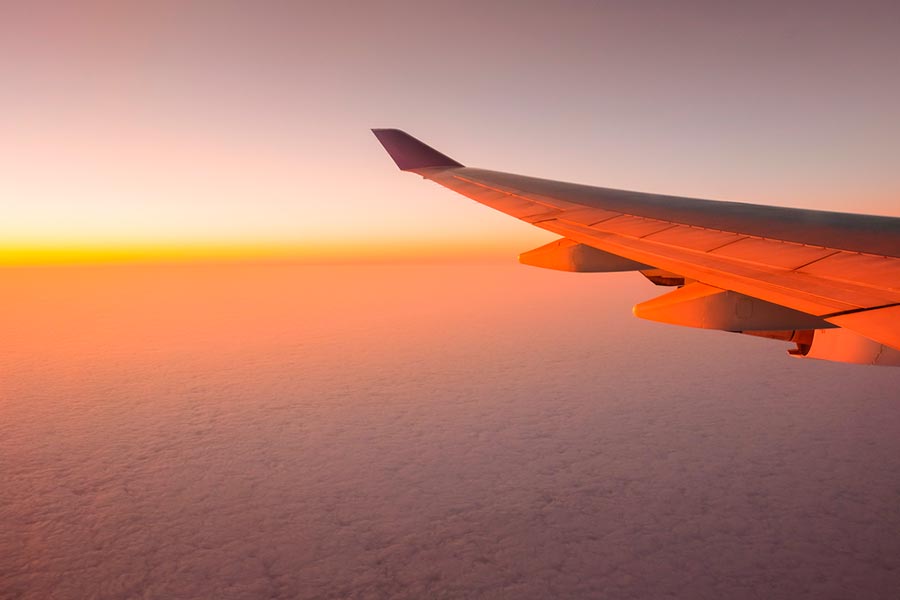 Source – Shutterstock. Airplane wing in flight from window with sunset sky
We are glad to say that our booking platform, ParkingNearAirports.io, offers travelers online reservations for parking just outside airports that are convenient and affordable. Our experienced team is dedicated to providing travelers parking options at over 100 airports in the U.S. and Canada. The app allows customers to search and compare parking rates at up to 70 percent savings compared to the cost of on-site parking at all major airports.
With our platform, it only takes a few clicks in the app to reserve a parking spot. Guests receive a booking confirmation and a guaranteed parking space upon arrival at the off-airport parking. In addition, the app helps customers locate the most convenient lots to the airport. Cancellations are easy if plans change with hassle-free, refundable cancellations.
Besides this, we also offer services for top cruise ports in Florida, Louisiana, Maryland, New Jersey, and Texas.
Now let's take a good example. Imagine that you're planning a trip to Zurich, Switzerland. So if you're flying from New York City, New York, you can use cheap
LGA off-airport parking
. If you're coming from Richmond, Virginia, you can choose affordable
parking near RIC Airport
. It just depends on the place you're flying from.
You can always find everything you need on our official website: the best deals for parking near U.S. and Canadian airports,
airport parking charges per day
, and much more.