Moving away from New York City is a bit challenging – actually, there is enough to do in the city, starting from the lights of Times Square and finishing with the pubs in Brooklyn or the secret eateries dotted throughout the boroughs. However, if you're a frequent traveler to the Big Apple and want to learn more about what lies outside the town, continue reading – below you'll find the top 3 day trips out of New York City that we recommend. So let's not waste time and check!
1. Philadelphia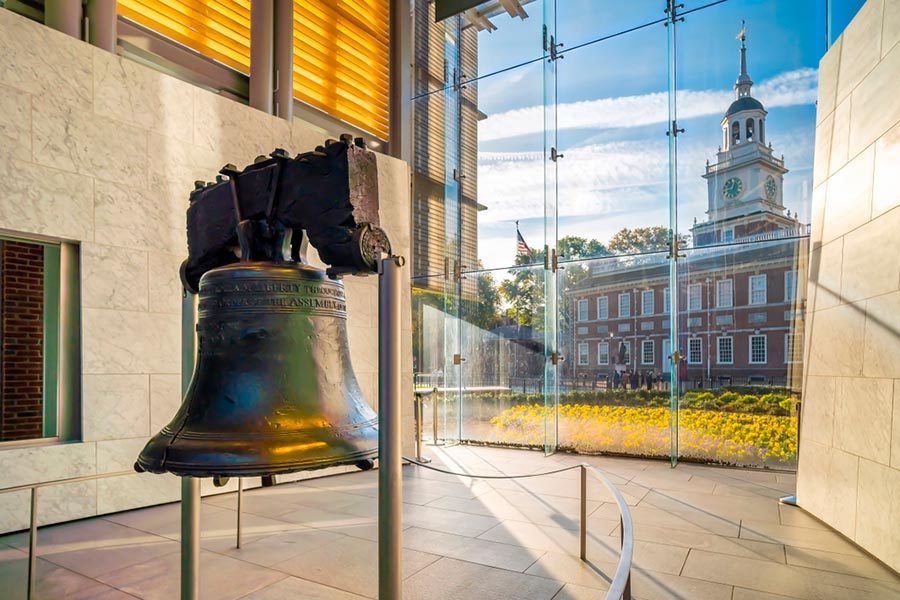 Source – Shutterstock. Liberty Bell – an old symbol of American freedom – in Philadelphia Pennsylvania, USA
By Amtrak, it takes around an hour to get from Manhattan's Penn Station to Philadelphia, making it accessible as a day trip. Make a visit to Independence Hall first thing in the morning. There, in 1776, the Declaration of Independence was written and signed, followed a few years later by the constitution. Next, check off the famous Liberty Bell before going to Reading Terminal Market, America's first farmers' market, to get some food. Spend the afternoon at the Franklin Institute, one of the top science museums in the nation. Before boarding your train back to New York, you just have enough time to dash up Rocky's steps and get a Philly cheesesteak.
2. Fire Island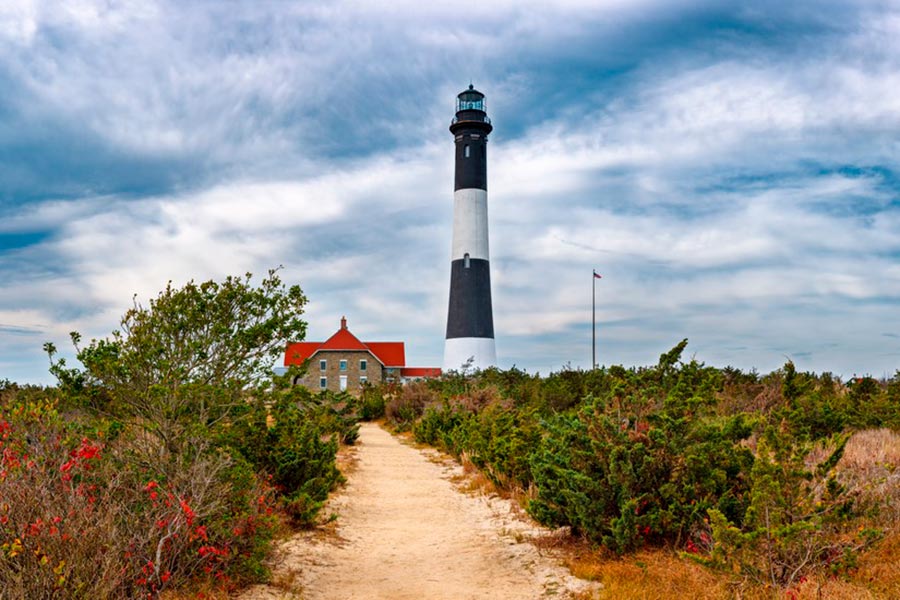 Source – Shutterstock. Fire Island Lighthouse with stormy skies and colors of fall foliage – Fire Island, USA
If you only have a day to spare, it would be overly ambitious to plan a trip to the Hamptons; instead, consider visiting Fire Island. The 26 miles of dunes and beaches that make up the Fire Island National Seashore are protected by the federal government, even though Brooklyn has Coney Island and Queens has The Rockaways. Highlights include climbing the historic Fire Island Lighthouse, built in 1858, at the end of Robert Moses State Park, and the boardwalk trek through the region known as Sunken Forest. From Sayville, Bay Shore, and Patchogue on Long Island, ferries run to the car-free Fire Island. To connect, take the LIRR out of New York City.
3. Old Greenwich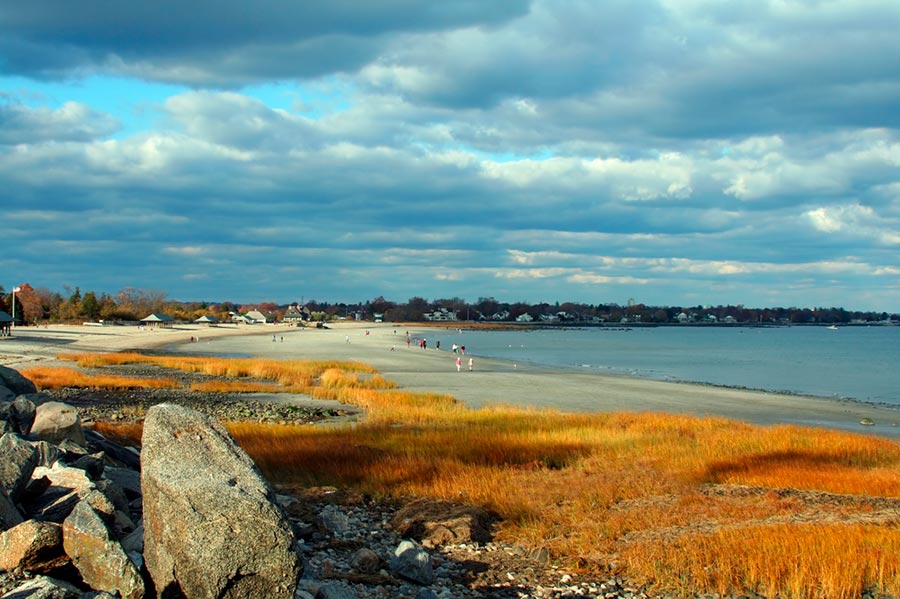 Source – Shutterstock. Tod's Point, Old Greenwich – Connecticut, USA
The affluent village of Old Greenwich features one of Connecticut's most attractive main streets and is conveniently located along Metro North's New Haven commuter route. Built in 1894 and included in the National Register of Historic Places in 1989 is the Old Greenwich Railroad Station.
Sweet Pea's Baking Company, which is worth the drive from New York City in and of itself, offers the basics for a picnic and coffee to go. Hike to the best beach in the area – a long, thin stretch of sand starting at the southwest corner of the community. Although it's now officially known as Greenwich Point Park, some residents still call it Tod's Point in honor of a banker who formerly had a house there.
Choose us and make your following journey much more convenient!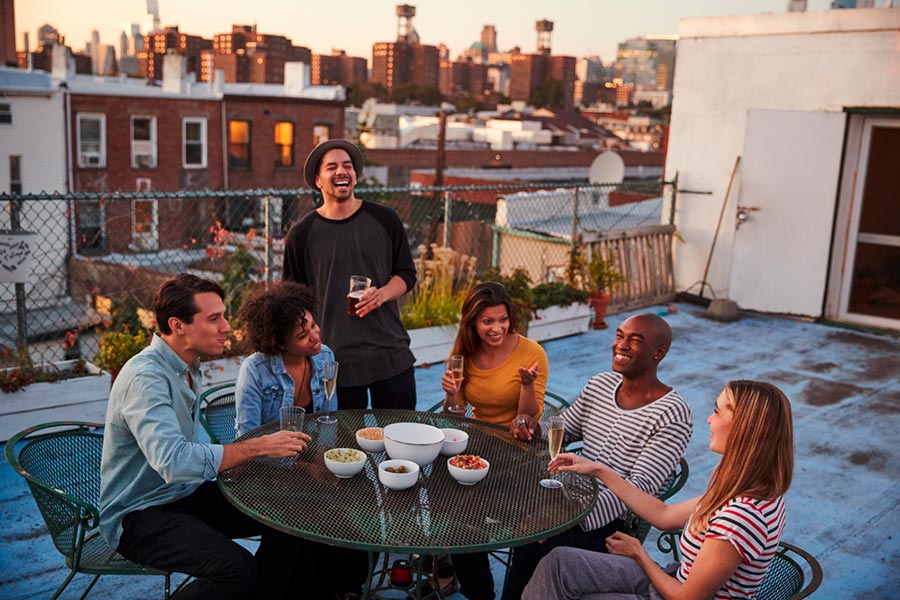 Source – Shutterstock. Six adult friends enjoying a party on a New York rooftop
You might be surprised about this fact because most people are confident that on-site parking is the best choice when you're traveling by air. But, actually, it's not true, and we'll explain why.
People who prefer to get to the airport by car think that it's the most convenient option since on-site parking is the nearest place to the airport where it's possible to park a vehicle safely for the period of a trip. However, they make a huge mistake, as there is a big chance to face many following difficulties:
You will need to find a spot in a crowded lot,
You will need to carry the luggage all the way through the parking lot,
You must pay expensive fees without great service, and much more.
Sounds not so good, right? But there is one great solution in this situation – an off-site parking option!
The off-site parking service has many advantages, which will definitely convince you to change your choice during the next trip:
First of all, it's much cheaper. On-site parking can become too costly for you, as the price for such a parking type might equal half the value of the whole trip. The cost of the off-site parking, in turn, will be not so high, offering alongside free shuttles going back and forth between the parking lot and the airport.
Secondly, it's much faster. By choosing an on-site parking option, you'll be needed to find a free spot in a crowded lot, which takes a lot of time. However, by selecting an off-site parking option, you'll be able to drive directly to the entrance, where staff members will help you to pull your luggage out of your vehicle and load it into the shuttle, as well as park your car securely for you. Finally, a free shuttle will bring you and your bags to the airport.
Thirdly, it's much more convenient. No more worries about being late to the airport and your flight – the off-site parking is a hassle-free option that is usually faster. Since you use the services of a private company, people want to be sure you're satisfied with the quality and comfort of the services provided, so you don't need to wrack your brain about the quick path to the airport anymore.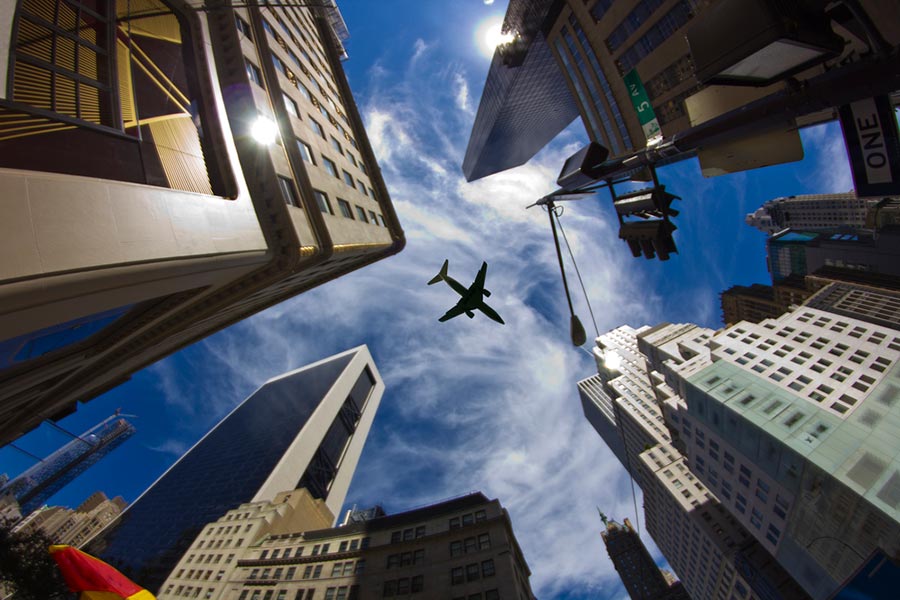 Source – Shutterstock. A jet plane flying over skyscrapers – New York City, New York
As for the companies that provide the best off-site parking services, we've prepared an ideal option for you. Our booking platform, ParkingNearAirports.io, built excellent relationships with many parking lot operators to leave customers satisfied and their cars – safe. Furthermore, it doesn't matter what the airport you're flying from is – on our easy-to-navigate website,
https://parkingnearairports.io/
, you'll find the best deals for all the major airports and cruise ports in the United States and Canada.
To understand it better, we can give you an example. Let's imagine that you live in NYC, New York and plan to visit Philadelphia, Pennsylvania. Then, you can use the services of affordable
parking near New York LaGuardia Airport
. If you're flying from Philadelphia, the situation is the same – choose cheap
off-site parking Philadelphia Airport
. So, as you can understand, everything works simply.
By the way, on our website, you can find all the required information about the advantages of off-site parking,
airport parking charges per day
, and others. So travel profitably and enjoy your following trip together with us!