Bright yellow Spirit Airlines (NYSE: SAVE) aircraft are arriving at Norfolk International Airport (ORF) as part of the new fleet. Beginning in March 2023, the airline will provide low-cost, daily flights for people in southeast Virginia to enjoy the Florida sun in Fort Lauderdale (FLL) and Orlando (MCO).
Spirit Airlines Senior Vice President and Chief Marketing Officer Bobby Schroeter stated the following:
"It's terrific to bring More Go to Norfolk with daily, nonstop flights to a delightful pair of sites in Florida, with exciting possibilities for connections to Latin America and the Caribbean. Our Florida guests will enjoy the historical sights, museums, and festivals that Coastal Virginia has to offer, and our Norfolk guests will love our Signature Service mixed with our low fares."
By providing the exclusive daily nonstop service from Norfolk to Fort Lauderdale, Spirit is making flying to South Florida notably effortless. Visitors to Orlando can connect to many foreign locations in the Caribbean and Latin America, including Puerto Rico. Spirit will begin serving Norfolk as its second Virginia Airport, in addition to its 2018 operations in Richmond (RIC).
Spirit Airlines choosing Norfolk International Airport as their entry point into southeast Virginia is a vote of confidence in the area, according to Mark Perryman, president and chief executive officer of the Norfolk Airport Authority.
"This summer saw record-breaking passenger demand, and 2022 is expected to surpass all previous years in the airport's 84-year existence. Spirit's brand-new service from Norfolk to two of our biggest markets – Orlando and Fort Lauderdale – will be warmly welcomed by the locals, and we predict significant growth."
Flying often with Spirit Airlines? Join PNA as well and always travel in complete comfort!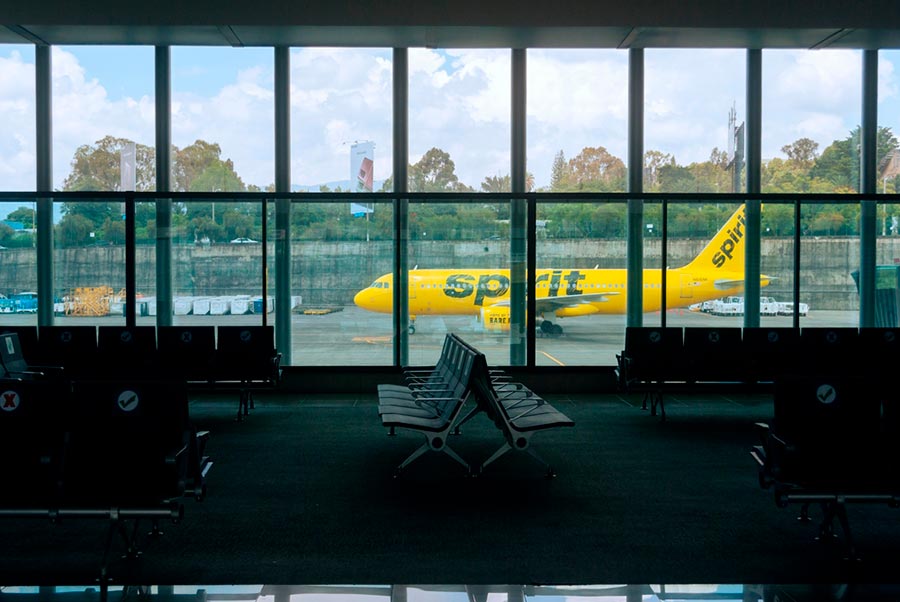 Source – Shutterstock. The first international flight entering Guatemala of the Spirit airline from Miami
In addition to the up-to-date news about the major US air carrier, Spirit Airlines, and its launch of a new daily service, we would also like to give you one helpful tip – this information will be actually handy for those who prefer to travel by air.
If you get to the airport by car, you always need to find a good parking space for your vehicle to leave for the period of a trip. In most cases, airports have special on-site parking for that purpose. However, such a parking lot is pretty costly most of the time, and people aren't ready to spend a lot of money at the beginning of a trip. So is there any solution?
The best way to solve this problem is to choose off-site parking. Why, you may ask? We will explain.
There are many reasons which can prove the benefit of this parking type. Here are some of them:
Affordable Rates. Depending on the duration of your trip, you can choose between short-term and long-term airport parking. Anyway, an off-site airport is much cheaper, so you can save your money and spend the most considerable amount on things you really want to see or try while traveling.
Fast service. In contrast with on-site airport parking, which can take quite a long time, off-site parking offers you the convenience of driving directly to the entrance and having a staff member pull your luggage out of your vehicle and load it into the shuttle. Then they will park your car for you. After your baggage is loaded, you can take your seat in the shuttle, which will bring you and your bags to the airport. It is a hassle-free option that is usually faster.
Convenience. When people travel, they may be stressed about making it to the airport on time. If you use off-site parking, you will definitely make your travel experience more convenient, as you use the service of a private company. Even though you may be able to park on-site at the airport in a short-term or long-term airport parking lot, consider using an off-site parking lot service.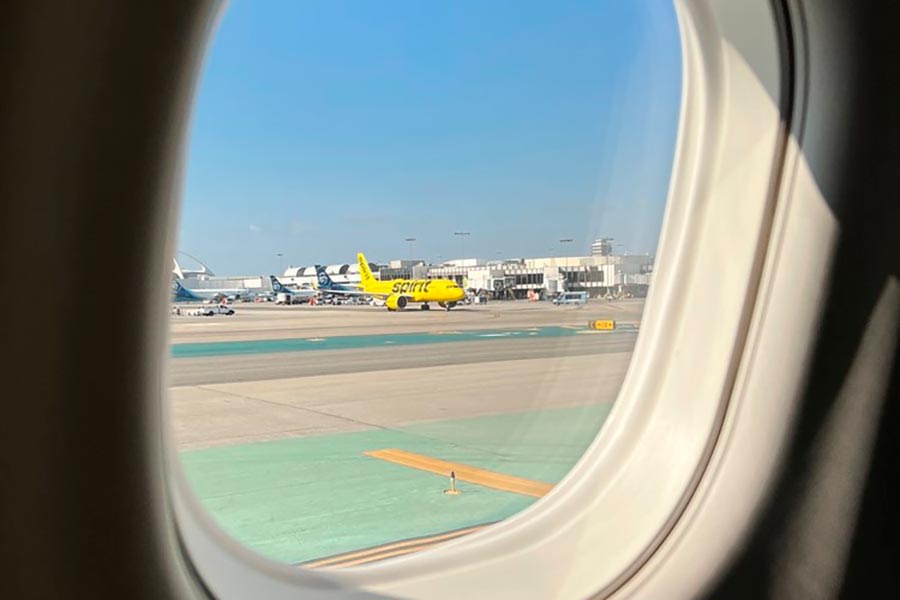 Source – Shutterstock. Bright yellow Spirit Airlines jet at Los Angeles International Airport, seen through a window of another passenger aircraft
We are glad to say that our booking platform, ParkingNearAirports.io, offers travelers online reservations for parking just outside airports that are convenient and affordable. Our experienced team is dedicated to providing travelers parking options at over 100 airports in the US and Canada. The app allows customers to search and compare parking rates at up to 70 percent savings compared to the cost of on-site parking at all major airports.
With our platform, it only takes a few clicks in the app to reserve a parking spot. Guests receive a booking confirmation and a guaranteed parking space upon arrival at the off-airport parking. In addition, the app helps customers locate the most convenient lots to the airport. Cancellations are easy if plans change with hassle-free, refundable cancellations.
Besides this, we also offer services for top cruise ports in Florida, Louisiana, Maryland, New Jersey, and Texas.
Now let's take a good example. Imagine that you're planning a trip to Norfolk, Virginia. This state is located in the eastern US. So if you're flying from Orlando, Florida, you can use cheap
parking near MCO
. If you're coming from Fort Lauderdale, you can choose affordable
off-airport parking FLL
. It just depends on the place you're flying from.
You can always find everything you need on our official website: the best deals for parking near US and Canadian airports,
airport parking deals
, and much more.