Summertime has a unique power that makes us wish it will never end. We all have our favorite things to do when the weather is good and the sunlight is shining, whether it be a long weekend, the sunset on the beach, or a drink by the poolside. Some fortunate places get to extend the fun of summer all year long. Check out these 3 warm-weather locations where summer never seems to end if you want more of it. Let's get to the point!
1. Fort-de-France, Martinique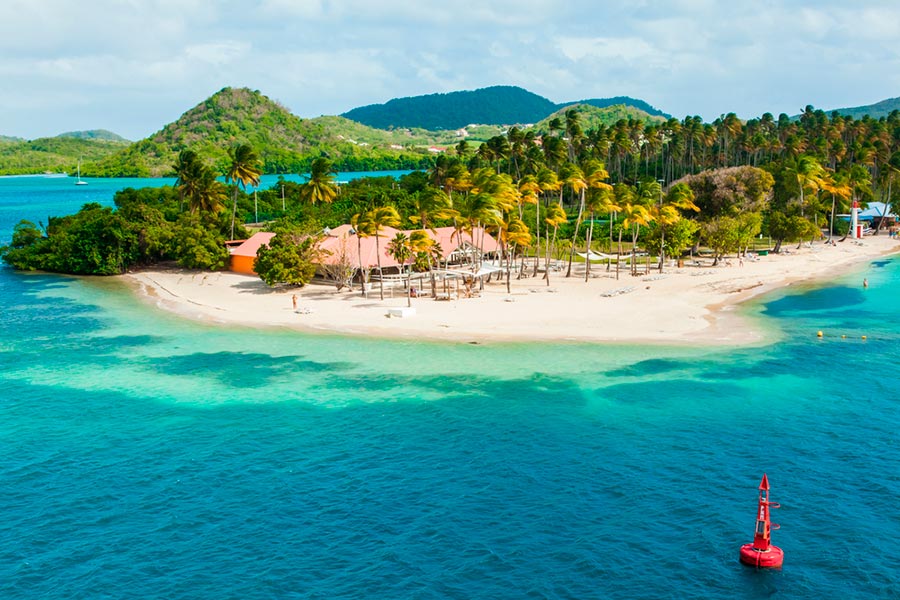 Source – Shutterstock. Beaches with turquoise water and palm trees – the Caribbean island of Martinique
The Caribbean island of
Martinique, which is tropical, enjoys mild weather all year round with typical highs of 70 to 90 degrees Fahrenheit. Between the well-known tourist islands of Dominica and Saint Lucia, Martinique is located at the southernmost point of the Lesser Antilles. Due to the island's long history of French influence and the fact that it's still an administrative region of France, French is the official language of Martinique. In addition to the island's beautiful beaches, Mount Pelée, an active volcano, is a must-see attraction. No need to be concerned; since its eruption in 1932, it has been inactive. Any nature enthusiast would enjoy a day trek to the volcano because it offers a magnificent landscape.
2. Nosy Be Island, Madagascar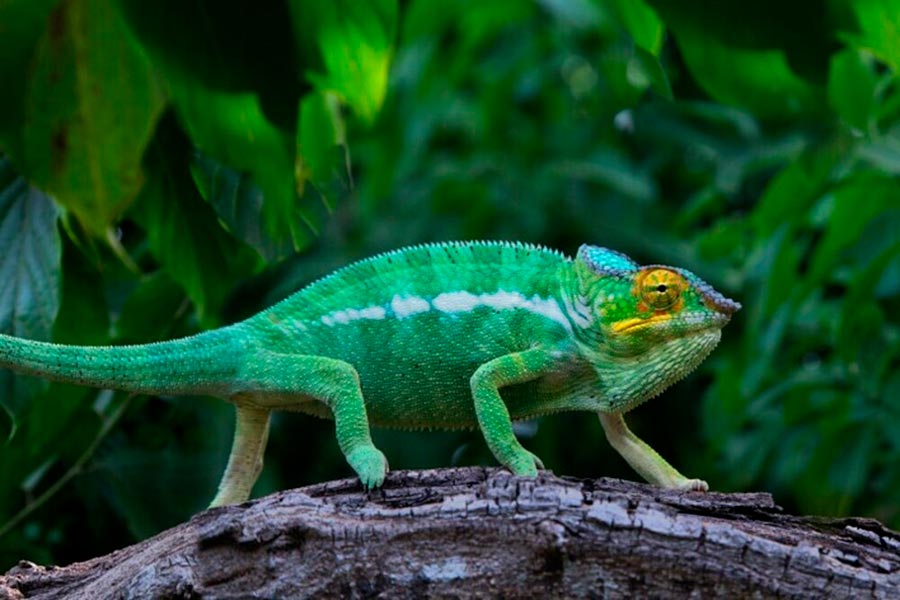 Source – Shutterstock. Green chameleon in jungle Lokobe Reserve, Nosy Be, Madagascar
Nosy Be is an island in the Indian Ocean off the coast of Madagascar. This island is surrounded by nature and is a great getaway destination any time of year with typical daily temperatures in the 80s. Nosy Be is home to numerous kinds of lemurs, chameleons, geckos, and other exotic wildlife, just like its neighbor Madagascar. Visit the
Lokobe Nature Reserve
to see these indigenous species once in a lifetime. These calm blue waters, surrounded by smaller islands and coral reefs, provide thrilling encounters with sea turtles and other marine creatures. Despite the island's rough terrain, there are many different lodging options along its western coast, including opulent hotels and open-air beach huts.
3. Casablanca, Morocco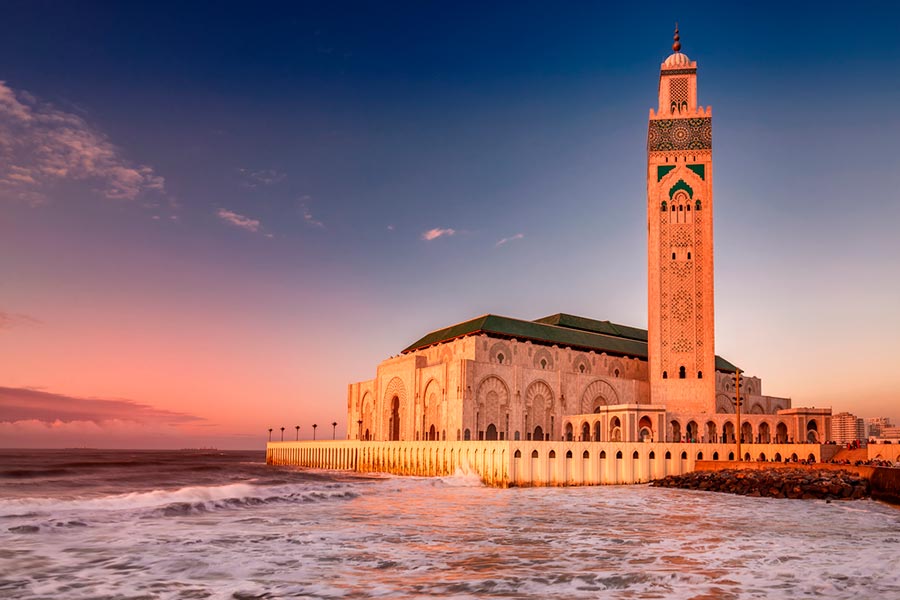 Source – Shutterstock. An impressive view of Hassan II Mosque – the largest mosque in Casablanca, Morocco
For tourists seeking pleasant weather and bustling culture, Casablanca is a terrific choice. Casablanca, a Moroccan port city on the Atlantic Ocean, is known for its magnificent Moorish architecture and spectacular sunsets. There is not much difference in the weather, with pleasant winters and warm summer temperatures in the 80s. Visit the intricate
Hassan II Mosque
, sample authentic Moroccan cuisine, or take a sunny stroll through a neighborhood market. The vibrant hues and patterns of regional textiles and architecture create a joyful and energetic atmosphere. Make reservations at
Rick's Cafe
, a charming eatery modeled after the 1942 movie
Casablanca
, for an unforgettable supper.
Travel affordably and conveniently together with us – ParkingNearAirports.io!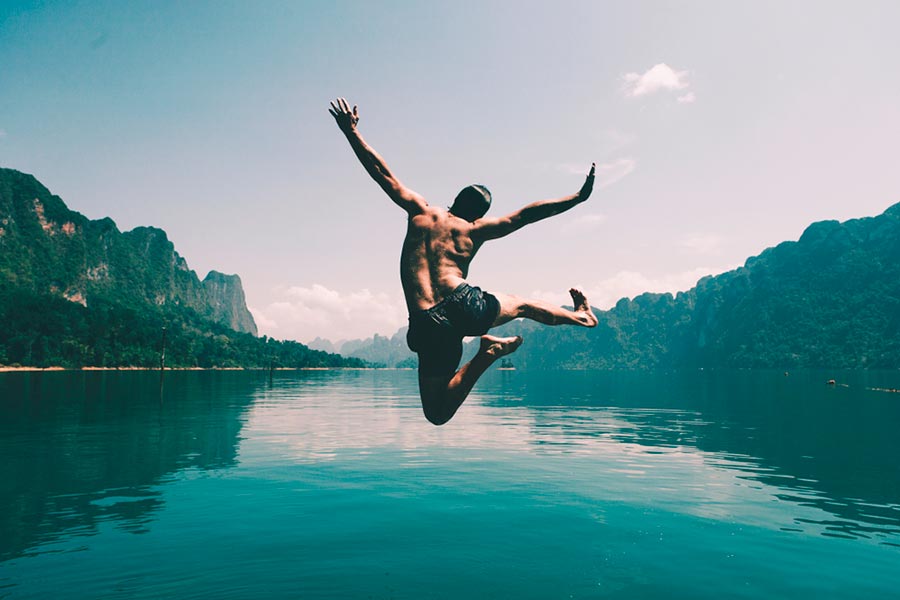 Source – Shutterstock. A man jumping with joy by the lake – the summer concept
Traveling worldwide shouldn't be something tiring – conversely, that's the time you can enjoy both the amazing landscapes of our Earth and joint activities with your loved ones. Nevertheless, things don't always go as planned, and we're at risk to face some challenges even at such an enjoyable moment. One such problem is actually airport parking, specifically its price. Let's have a look at the situation a bit closer.
If you used to get to the airport you're flying from by your own car, you probably know what we're talking about – the question of parking cost arises every time. You'll be definitely shocked – even though most US airports provide travelers with on-site parking, which allows them to leave their vehicles for their entire journey there, such a parking type is unfairly overpriced. Choosing this parking option, your next trip just might cost you a fortune. And that's not even considering it's complicated to find a free parking spot for your car. Since nobody wants to waste money and travel inconveniently, there begs the following question: is there actually any solution?
And we're happy to say – yes, there is one!
What is off-site parking and why is it worth choosing this option exactly?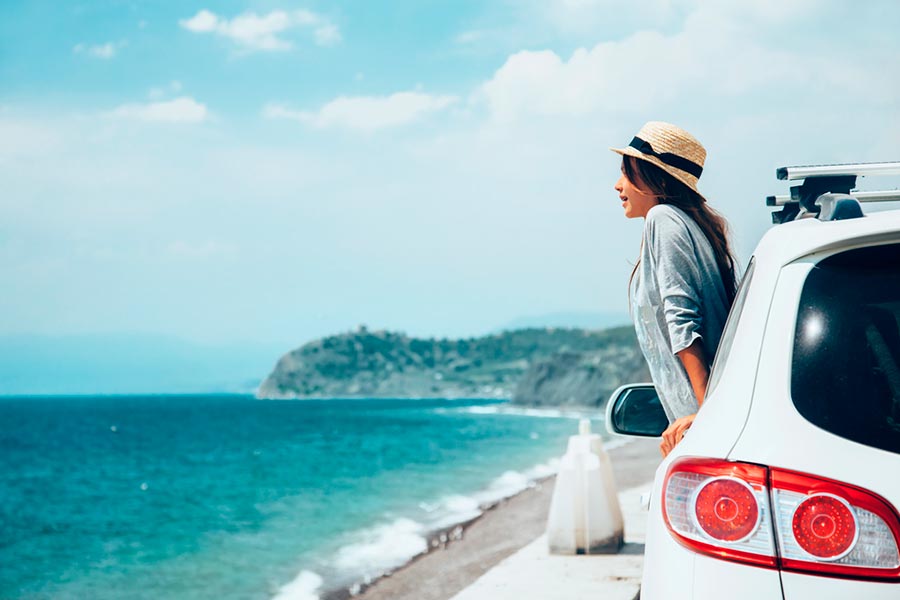 Source – Shutterstock. A young woman enjoying a summer car ride while traveling
Your best solution is already here – off-site parking lots that are just a few miles from the airport. Our smart booking platform with easy-to-use interface, ParkingNearAirports.io, helps our clients to select off-site airport parking lots with the most affordable rates, along with high-quality service. In addition, we offer the services for the major US cruise ports that are located in Florida, Louisiana, Maryland, New Jersey, and Texas as well.
Why choose an off-site parking option? The answer is pretty straightforward – it's cheap and convenient. Using our services, first of all, you'll avoid the following difficulties you might face while getting to the airport you're departing from:
Crowded parking lots,
Carrying the luggage all the way through the parking lot,
Expensive fees without great service, and much more.
Everything works simply as well: after you've driven to the entrance, you'll be met by a parking lot staff who will take your luggage from your vehicle and load it onto the shuttle, which will take you and your bags to the airport terminal. Then, your car will be securely parked at the parking lot itself.
By the way, free shuttles going back and forth between the parking lot and the airport terminals are available 24/7. All that's required of you is to make a call and inform staff about the time suitable for you.
Forget about all the nightmares by choosing ParkingNearAirports.io!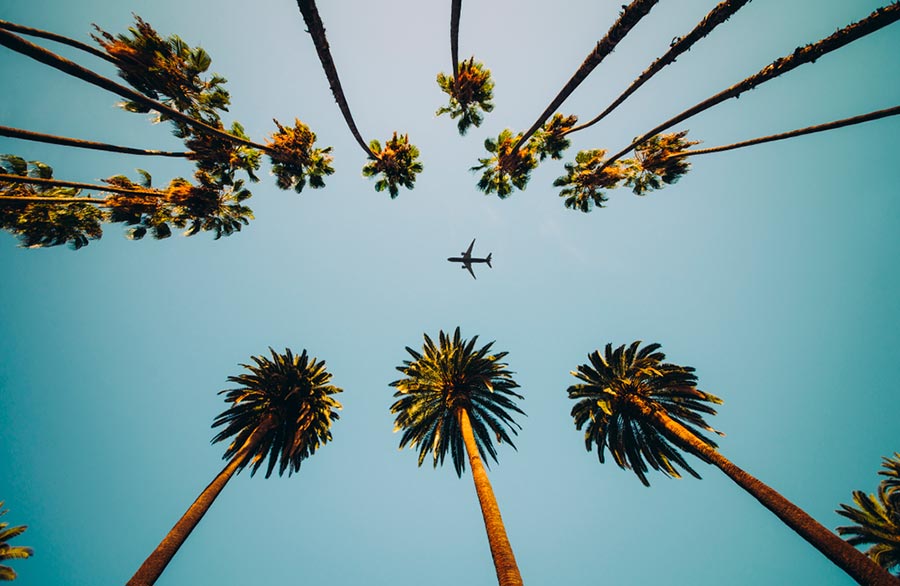 Source – Shutterstock. An airplane flying over palm trees on a sunny day
For better understanding, we'd like to give you a good example.
Let's imagine that you live in Chicago, Illinois. If you're going to visit Fort-de-France, Martinique, use the services of affordable
off-site parking ORD
. In the event that you're flying from Baltimore, Maryland, choose
cheap parking near BWI
. As you can see, everything just depends on the place where your journey begins.
Our friendly platform also provides travelers with special
airport parking coupons
that can make the price almost two times less. And that's without taking into account that our services will cost you up to 70% less at all! So don't forget to monitor all the updates and use them while booking!
Making a reservation is easy with us – it's possible to complete the process through a few clicks on our website. Besides, if your plans change, you can cancel hassle-free and get a refund.
If you still have any questions, turn to our easy-to-navigate website – there, you'll find all the required info connected with the off-site parking. Airport parking, along with its pricing, provided by the majority of US airports, is a true nightmare, but if you know the place, your life can be much easier. Let yourself travel in full comfort right now – Park Smart & Choose Convenience together with us! And have a nice trip!