You'll probably agree that life is costly, especially if you love to travel. However, in other locations, living expenses are so outrageous that it's difficult for the average person to visit without engaging in some extremely responsible and frugal habits. Do you believe you have what it takes to succeed in some of the most costly cities in the United States? To learn more about what to expect in the most expensive areas in the country before making the decision, see our small list below. So let's not waste time and get to the point!
1. New York City, New York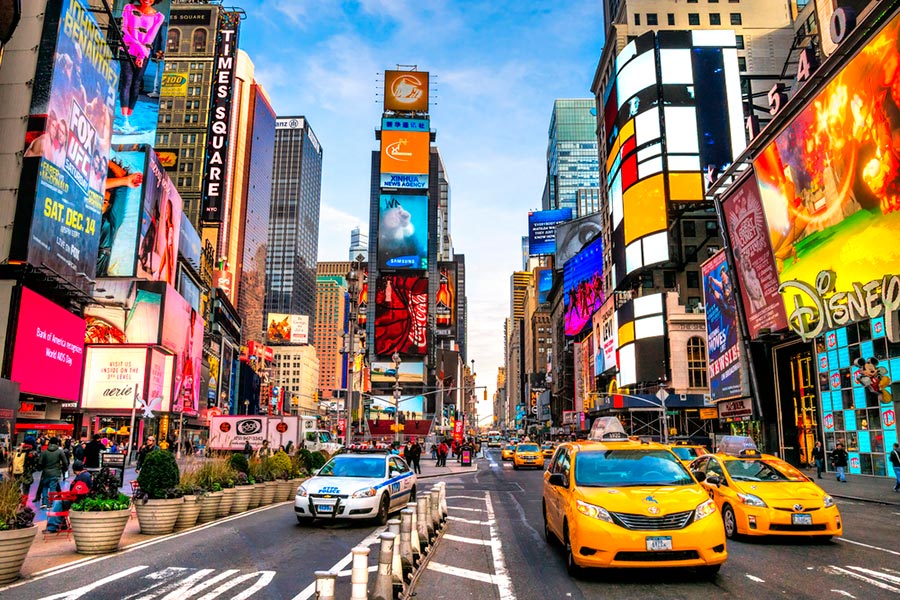 Source – Shutterstock. Times Square – a busy tourist intersection of neon art and commerce and an iconic street of NYC, New York, USA
The Big Apple is the country's humming entertainment center and is known for providing the US with the hottest restaurants, an ultra-sophisticated art and culture scene, and more monthly events than some states see in a year. However, be sure to bring some cash to the table because all that bling and glamor comes at a cost. The cost of living in this little island city is approximately double the national average, according to
Business Insider. The average monthly rent is extremely expensive, coming in at roughly $3,600. Owning a car in this metropolis adds to the cost, as parking costs hundreds of dollars a month, and insurance – thousands yearly.
Even if all you want to do is visit, be prepared to pay. The cost of a three-night stay averages
$773
, and food costs are likely to be close to $500. Manhattan is one of the most populated cities in the United States despite its exorbitant costs. We also doubt that this city will ever come in last in a popularity contest given its boundless energy.
2. San Francisco, California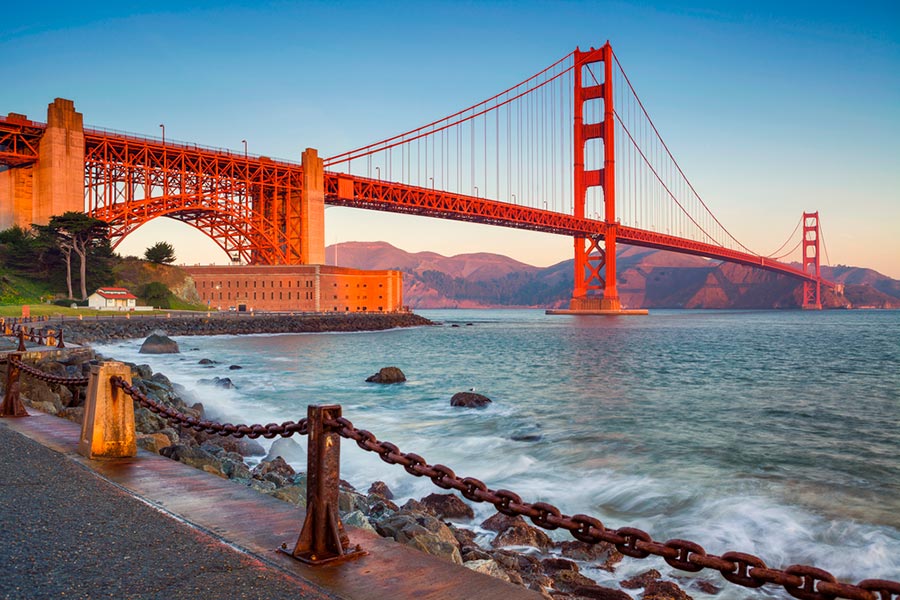 Source – Shutterstock. The well-known bridge in San Francisco, California during the sunrise
California is expensive – everyone is aware of that. But San Francisco goes above and beyond what everyone thinks "expensive" means. First off, according to
SmartAsset
, the property market experienced a significant upswing, with the average home price rising from $544,000 in 2012 to $734,000 in 2014. That is a 36% growth in just 24 months. And don't fall for the fallacy that renting is any better. With a price of nearly
$4,500
, the general estimate for an ordinary two-bedroom surpasses several New York City areas. Why would anyone choose to reside in such a pompous, expensive place, then? Regarding variety and open-mindedness, San Francisco is an unrivaled anyplace in the country.
San Francisco, despite its unassailable "hippie" reputation, is home to some of the country's top eateries, bars, and historical and architectural landmarks, as well as a renownedly steep topography that makes a living here unlike anywhere else on the globe. This makes it a fantastic destination as well, even though after paying for lodging and meals, your budget will still be limited. Even while a three-night accommodation can be had for about $463,
dinners can be up to $80
for two people at a mid-range restaurant.
Travel across your homeland at ease together with us – ParkingNearAirports.io!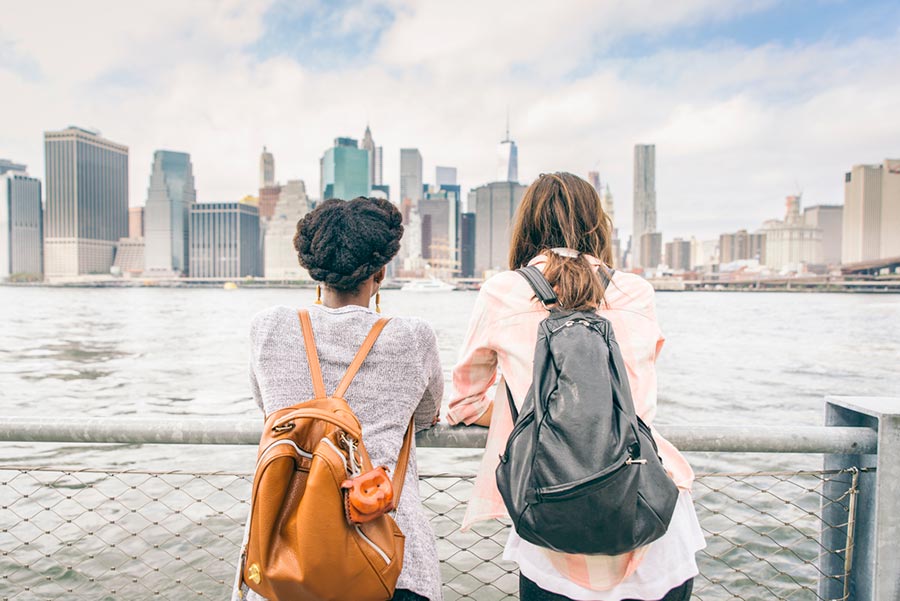 Source – Shutterstock. Two young girls leaning on a railing and looking out over the cityscape – NYC, New York
Traveling worldwide shouldn't be something tiring – conversely, that's the time you can enjoy both the amazing landscapes of our Earth and joint activities with your loved ones. Nevertheless, things don't always go as planned, and we're at risk to face some challenges even at such an enjoyable moment. One such problem is actually airport parking, specifically its price. Let's have a look at the situation a bit closer.
If you used to get to the airport you're flying from by your own car, you probably know what we're talking about – the question of parking cost arises every time. You'll be definitely shocked – even though most US airports provide travelers with on-site parking, which allows them to leave their vehicles for their entire journey there, such a parking type is unfairly overpriced. Choosing this parking option, your next trip just might cost you a fortune. And that's not even considering it's complicated to find a free parking spot for your car. Since nobody wants to waste money and travel inconveniently, there begs the following question: is there actually any solution?
And we're happy to say – yes, there is one!
What is off-site parking and why is it worth choosing this option exactly?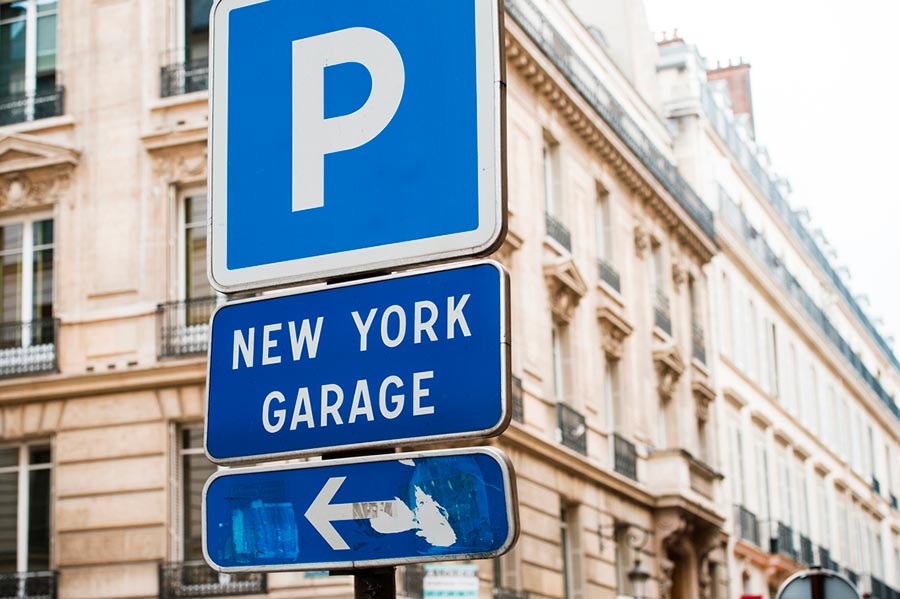 Source – Shutterstock. New York Garage parking area in the heart of the city with beautiful luxury buildings in the background
Your best solution is already here – off-site parking lots that are just a few miles from the airport. Our smart booking platform with easy-to-use interface, ParkingNearAirports.io, helps our clients to select off-site airport parking lots with the most affordable rates, along with high-quality service. In addition, we offer the services for the major US cruise ports that are located in Florida, Louisiana, Maryland, New Jersey, and Texas as well.
Why choose an off-site parking option? The answer is pretty straightforward – it's cheap and convenient. Using our services, first of all, you'll avoid the following difficulties you might face while getting to the airport you're departing from:
Crowded parking lots,
Carrying the luggage all the way through the parking lot,
Expensive fees without great service, and much more.
Everything works simply as well: after you've driven to the entrance, you'll be met by a parking lot staff who will take your luggage from your vehicle and load it onto the shuttle, which will take you and your bags to the airport terminal. Then, your car will be securely parked at the parking lot itself.
By the way, free shuttles going back and forth between the parking lot and the airport terminals are available 24/7. All that's required of you is to make a call and inform staff about the time suitable for you.
Forget about all the nightmares by choosing ParkingNearAirports.io!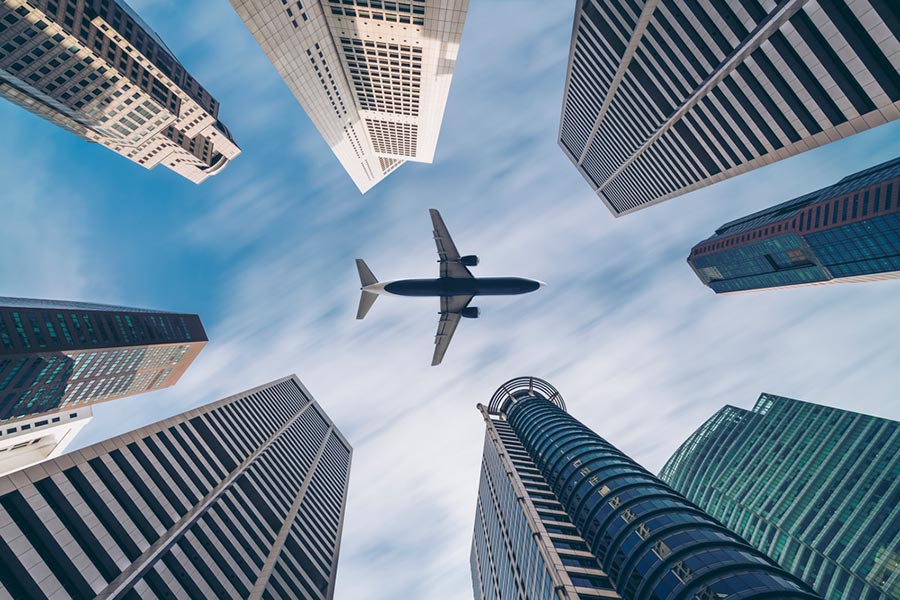 Source – Shutterstock. Aircraft traveling over city buildings and high-rise skyscrapers
For better understanding, we'd like to give you a good example.
Let's imagine that you live in New York City, New York. If you're going to visit San Francisco, California, use the services of affordable off-site
LGA parking with shuttle
. In the event that you're flying from San Francisco, choose
cheap long-term parking SFO
. As you can see, everything just depends on the place where your journey begins.
Our friendly platform also provides travelers with special
airport parking coupons
that can make the price almost two times less. And that's without taking into account that our services will cost you up to 70% less at all! So don't forget to monitor all the updates and use them while booking!
Making a reservation is easy with us – it's possible to complete the process through a few clicks on our website. Besides, if your plans change, you can cancel hassle-free and get a refund.
If you still have any questions, turn to our easy-to-navigate website – there, you'll find all the required info connected with the off-site parking. Airport parking, along with its pricing, provided by the majority of US airports, is a true nightmare, but if you know the place, your life can be much easier. Let yourself travel in full comfort right now – Park Smart & Choose Convenience together with us! And have a nice trip!