You don't have to go very far to find some magic – actually, there are a lot of locations inside the United States that evoke the atmosphere of a fairytale, including real castles, quaint villages, and areas inspired by folklore. Continue reading to learn about 5 fairytale places you can visit right here in America if you want to add some sparkle, joy, or intrigue to your travels. Let's get started!
1. Crater Lake, Oregon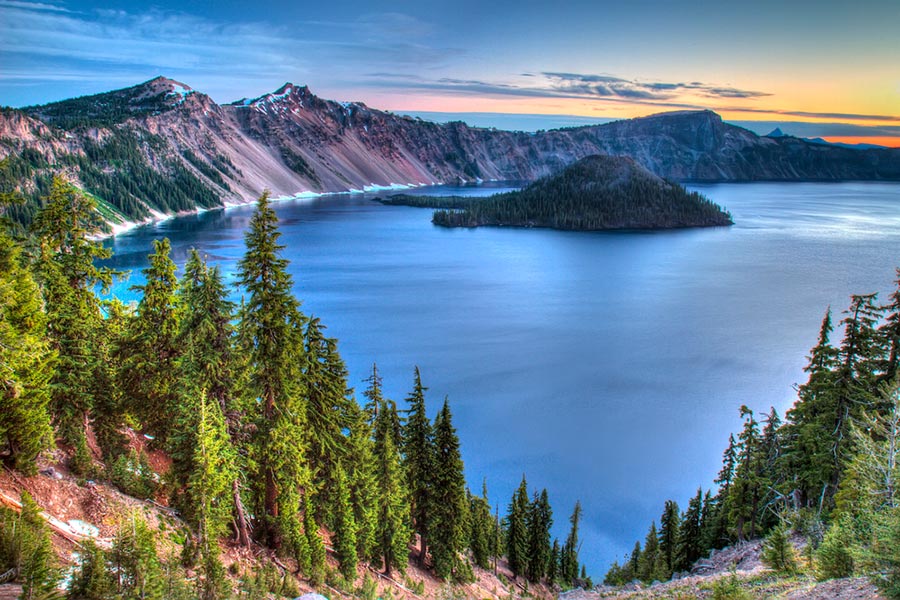 Source – Shutterstock. Sunrise on Crater Lake – Oregon, USA
It feels strange to see Crater Lake in person, but did you know the famous geological wonder is actually based on a legend? The Klamath tribe of Native Americans in southern Oregon has preserved an oral narrative concerning the creation of the lake that dates back 7,000 years. The lake was allegedly created during a conflict between two opposing worlds,
according to Klamath legend. The tradition goes on to say that gazing upon the lake could result in an early demise. Crater Lake is a natural beauty that you won't want to miss, so it's fortunate that many people have seen it and survived to tell the tale.
2. Ice Castles, Utah
Source – Shutterstock. Amazing sunrise behind ice formations – Utah, USA
The epitome of a winter paradise is the
Ice Castles
in Midway, Utah. It seems like entering a Frozen-style storybook when you visit these enormous, hand-made icicle forts, which makes them family-friendly. Children will enjoy sliding down the icy slides and discovering the frozen fissures. The magnificence of the blue icicles and the nocturnal light display will mesmerize adults. No matter your age, the weather will be chilly, so prepare properly.
3. Boldt Castle, New York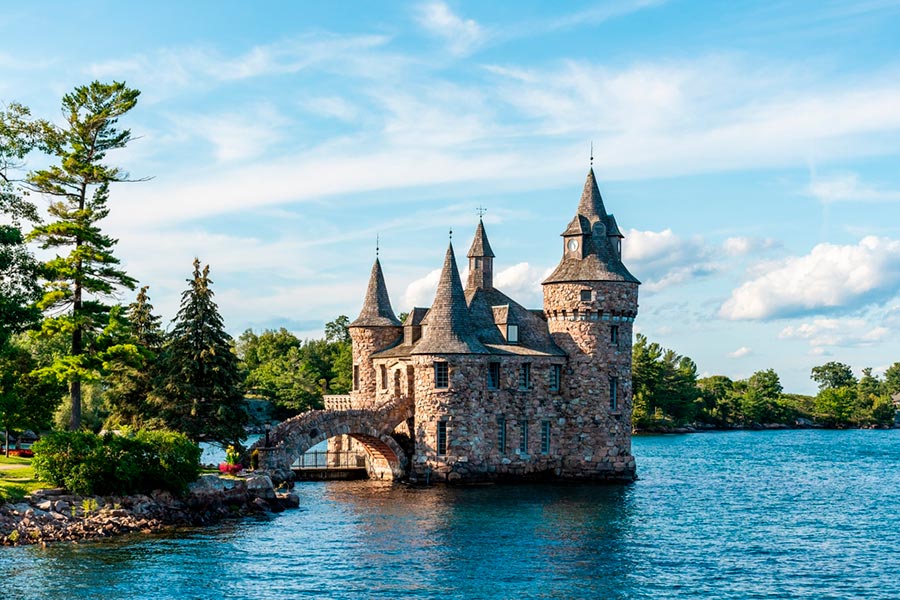 Source – Shutterstock. Beautiful view of the Boldt Castle in the Thousand Islands region
In addition to having a fantasy appearance,
Boldt Castle
is also built on a fairytale romance. The castle was designed by George C. Boldt as a romantic getaway on the St. Lawrence River for his devoted wife Louise. Mrs. Boldt unexpectedly passed away before the house was done, proving that not all fairytales have happy ends. Construction was stopped at Mr. Boldt's request, and the lovely estate sat unoccupied for 73 years. On a more positive note, the castle was restored for public use in the 1970s, and today visitors are welcome to view the building and its surroundings.
4. Pipiwai Trail, Hawaii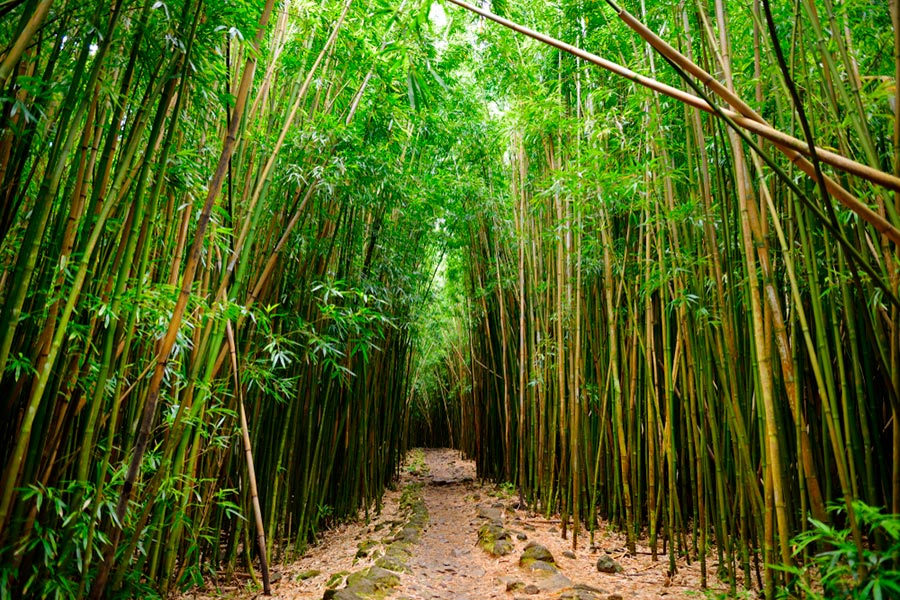 Source – Shutterstock. Path through dense bamboo forest, leading to famous Waimoku Falls – popular Pipiwai Trail in Haleakala National Park on Maui, Hawaii, USA
Pipiwai Trail
, which is situated in Haleakala National Park on the island of Maui, is quite magnificent. The two-mile walk meanders through waterfalls, crosses footbridges, and travels through a forest. A gigantic banyan tree that looks like it belongs in a fairy tale and the ethereal bamboo forest that stretches towards the sky are both excellent photo options. Waimoku Falls, a 400-foot-high waterfall that flows over a sheer rock cliff, is where the trek comes to a conclusion. You will undoubtedly feel far away from home after this hike but in the greatest way.
5. Skagit Valley, Washington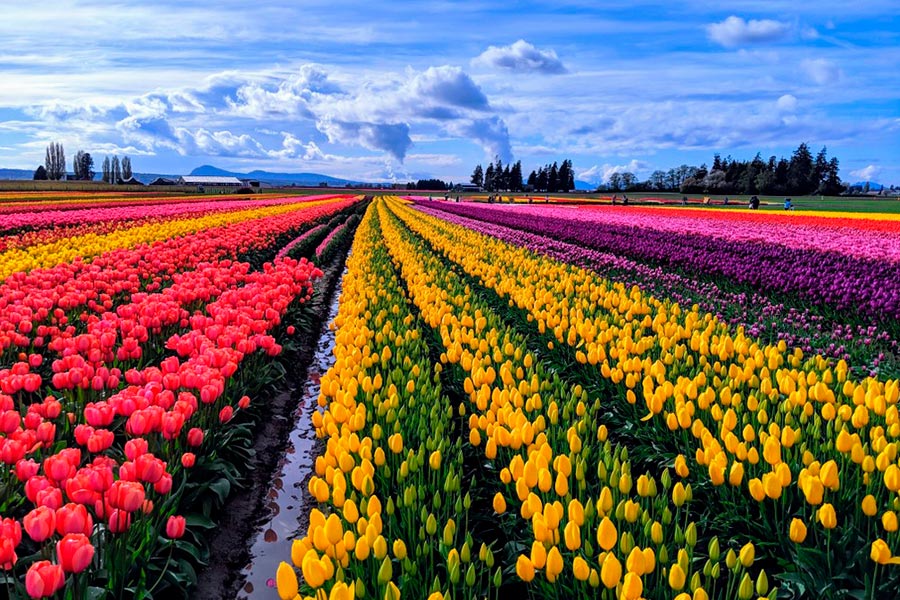 Source – Shutterstock. Spring pastel colors in Skagit Valley tulip fields – Washington, USA
If strolling through tulip fields in bloom isn't already on your bucket list, it should be. The
Skagit Valley Tulip Festival
, which takes place every April, transforms the region of northern Washington into a rainbow. Whether you love flowers or not, you'll feel as though you've struck gold when you see the area's vivid blooms and towering peaks. If you have the time, the festival offers a variety of entertaining events during the entire month, including bike tours, barbecues, and chili cook-offs. Touring well-known farms like
RoozenGaarde
and
Tulip Town
is also recommended but be prepared for crowded weekends.
Travel around the world at ease together with us – ParkingNearAirports.io!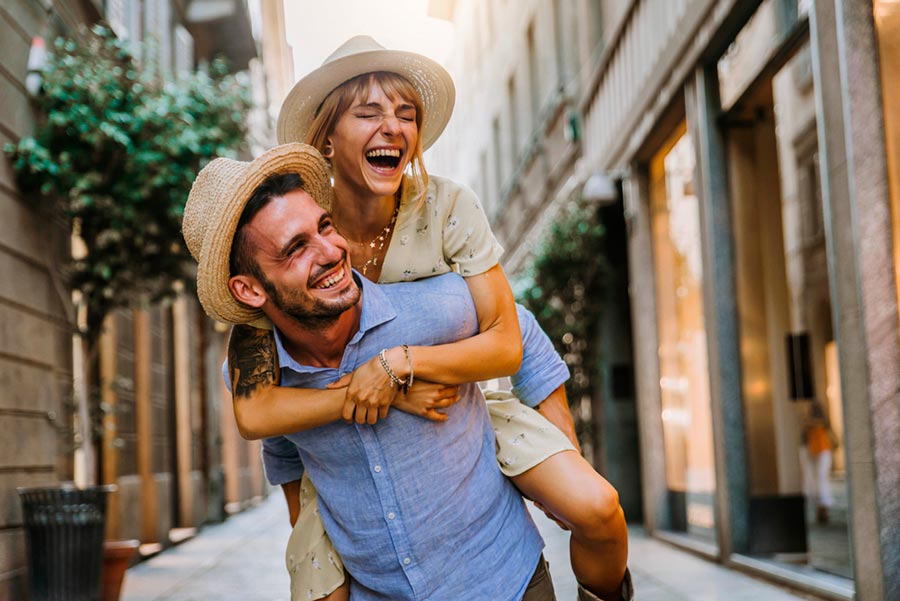 Source – Shutterstock. A couple of tourists having fun walking on a city street during a holiday
Traveling worldwide shouldn't be something tiring – conversely, that's the time you can enjoy both the amazing landscapes of our Earth and joint activities with your loved ones. Nevertheless, things don't always go as planned, and we're at risk to face some challenges even at such an enjoyable moment. One such problem is actually airport parking, specifically its price. Let's have a look at the situation a bit closer.
If you used to get to the airport you're flying from by your own car, you probably know what we're talking about – the question of parking cost arises every time. You'll be definitely shocked – even though most US airports provide travelers with on-site parking, which allows them to leave their vehicles for their entire journey there, such a parking type is unfairly overpriced. Choosing this parking option, your next trip just might cost you a fortune. And that's not even considering it's complicated to find a free parking spot for your car. Since nobody wants to waste money and travel inconveniently, there begs the following question: is there actually any solution?
And we're happy to say – yes, there is one!
What is off-site parking and why is it worth choosing this option exactly?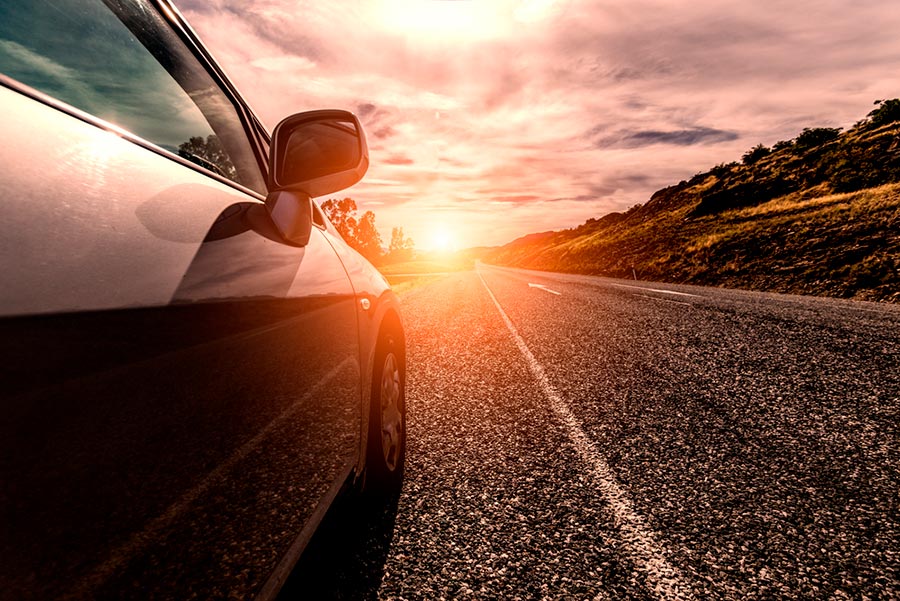 Source – Shutterstock. Driving on the road in sunny weather – summer vacations
Your best solution is already here – off-site parking lots that are just a few miles from the airport. Our smart booking platform with easy-to-use interface, ParkingNearAirports.io, helps our clients to select off-site airport parking lots with the most affordable rates, along with high-quality service. In addition, we offer the services for the major US cruise ports that are located in Florida, Louisiana, Maryland, New Jersey, and Texas as well.
Why choose an off-site parking option? The answer is pretty straightforward – it's cheap and convenient. Using our services, first of all, you'll avoid the following difficulties you might face while getting to the airport you're departing from:
Crowded parking lots,
Carrying the luggage all the way through the parking lot,
Expensive fees without great service, and much more.
Everything works simply as well: after you've driven to the entrance, you'll be met by a parking lot staff who will take your luggage from your vehicle and load it onto the shuttle, which will take you and your bags to the airport terminal. Then, your car will be securely parked at the parking lot itself.
By the way, free shuttles going back and forth between the parking lot and the airport terminals are available 24/7. All that's required of you is to make a call and inform staff about the time suitable for you.
Forget about all the nightmares by choosing ParkingNearAirports.io!
Source – Shutterstock. A teenage boy runs through the meadow in the rays of the setting sun
For better understanding, we'd like to give you a good example.
Let's imagine that you live in Portland, Oregon. If you're going to visit NYC, New York, use the services of affordable
PDX remote parking
. In the event that you're flying from New York City, choose cheap
parking near Buffalo Airport
. As you can see, everything just depends on the place where your journey begins.
Our friendly platform also provides travelers with special
airport parking reservations coupons
that can make the price almost two times less. And that's without taking into account that our services will cost you up to 70% less at all! So don't forget to monitor all the updates and use them while booking!
Making a reservation is easy with us – it's possible to complete the process through a few clicks on our website. Besides, if your plans change, you can cancel hassle-free and get a refund.
If you still have any questions, turn to our easy-to-navigate website – there, you'll find all the required info connected with the off-site parking. Airport parking, along with its pricing, provided by the majority of US airports, is a true nightmare, but if you know the place, your life can be much easier. Let yourself travel in full comfort right now – Park Smart & Choose Convenience together with us! And have a nice trip!