Hot springs have been revered for their therapeutic properties for centuries. These natural wonders have been attracting travelers from all over the world who seek relaxation, rejuvenation, and healing. If you're looking for a unique vacation experience, a hot springs resort might just be what you need. Below, you'll find the 3 best hot springs resorts all over the world. Let's get to the point!
What options should you consider next time?
1. Tabacon Thermal Resort & Spa, Costa Rica
Nestled in the heart of the Costa Rican rainforest, Tabacon Thermal Resort & Spa is a luxurious resort that offers guests an unforgettable experience. The resort features natural hot springs, waterfalls, and lush gardens, providing a stunning backdrop for relaxation and rejuvenation.
The hot springs at Tabacon are fed by the Arenal Volcano, which is located nearby. The mineral-rich water is said to have healing properties that can alleviate muscle and joint pain, improve circulation, and promote relaxation. Guests can soak in the natural pools, take a dip in the refreshing waterfalls, or indulge in a range of spa treatments.
The resort also offers a range of activities, including guided rainforest walks, zip-lining, and white-water rafting. With its stunning natural beauty, luxurious accommodations, and world-class amenities, Tabacon Thermal Resort & Spa is the perfect destination for a hot springs vacation.
2. Terme di Saturnia, Tuscany, Italy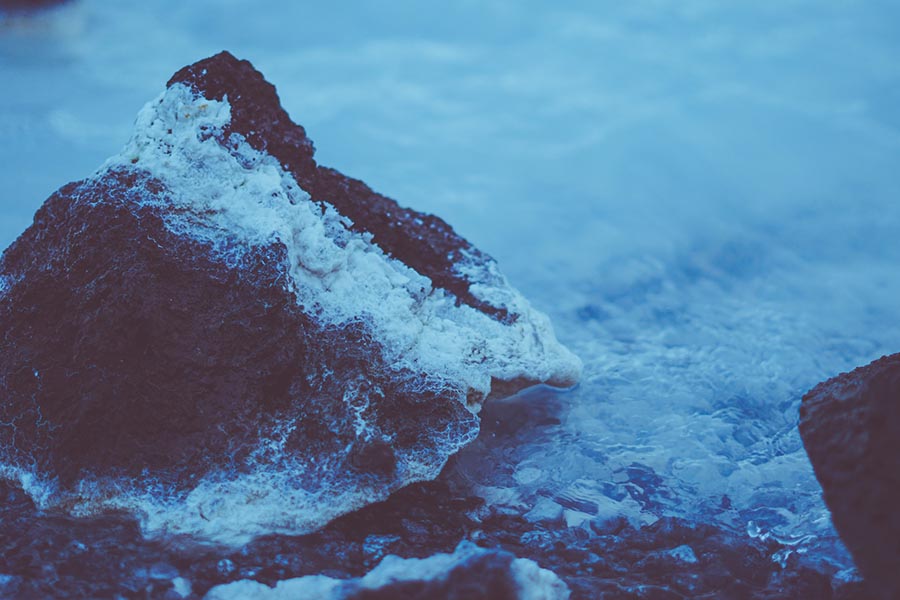 Source: Joe Broadbent/Unsplash
Located in the heart of Tuscany, Terme di Saturnia is a hot springs resort that has been attracting visitors for thousands of years. The resort features natural hot springs that are rich in sulfur and other minerals, which are said to have healing properties that can alleviate skin conditions, respiratory problems, and digestive disorders.

The hot springs at Terme di Saturnia flow into a series of cascading pools that are surrounded by beautiful gardens and rolling hills. The resort also features a range of spa treatments, including massages, facials, and body scrubs.
In addition to its therapeutic benefits, Terme di Saturnia is also renowned for its exquisite cuisine and world-class wines. The resort features a range of restaurants that serve traditional Tuscan dishes made with fresh, locally sourced ingredients.
3. Blue Lagoon, Iceland
Located in the heart of Iceland's rugged lava fields, the Blue Lagoon is one of the most iconic hot springs resorts in the world. The resort features a large geothermal pool that is filled with mineral-rich water that is heated by the nearby volcanic activity.
The water at the Blue Lagoon is rich in silica, algae, and other minerals, which are said to have therapeutic properties that can help improve skin conditions, alleviate joint pain, and promote relaxation. Guests can soak in the warm water, indulge in a range of spa treatments, or simply admire the stunning natural surroundings.
The resort also features a range of restaurants, bars, and shops, where guests can sample traditional Icelandic cuisine, sip on locally brewed beer, or purchase souvenirs to take home.
Enjoy your vacation fully by choosing our smart booking platform – ParkingNearAirports.io!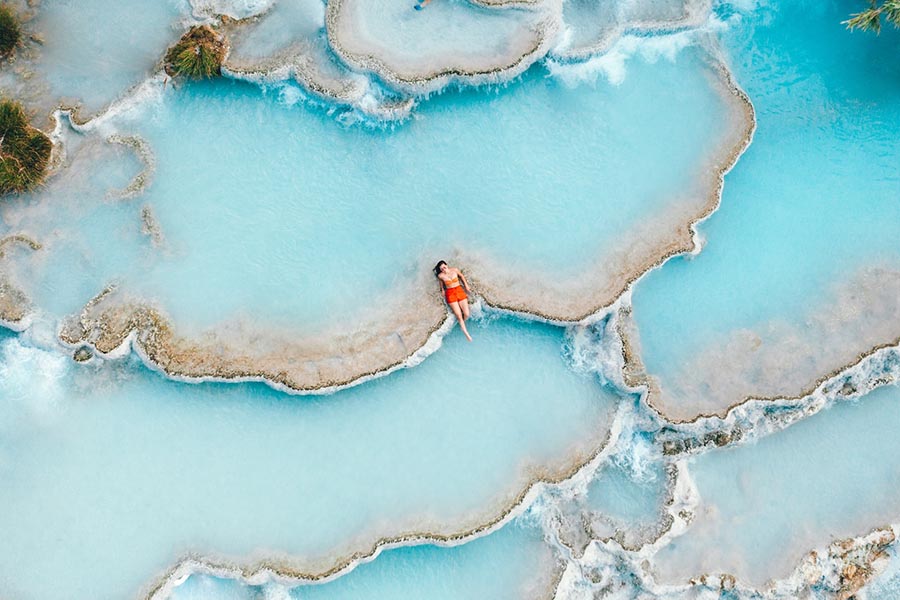 Source: Spencer Davis/Unsplash
Traveling worldwide shouldn't be something tiring – conversely, that's the time you can enjoy both the amazing landscapes of our Earth and joint activities with your loved ones. Nevertheless, things don't always go as planned, and we're at risk to face some challenges even at such an enjoyable moment. One such problem is actually airport parking, specifically its price. Let's have a look at the situation a bit closer.
If you used to get to the airport you're flying from by your own car, you probably know what we're talking about – the question of parking cost arises every time. You'll be definitely shocked – even though most US airports provide travelers with on-site parking, which allows them to leave their vehicles for their entire journey there, such a parking type is unfairly overpriced. Choosing this parking option, your next trip just might cost you a fortune. And that's not even considering it's complicated to find a free parking spot for your car. Since nobody wants to waste money and travel inconveniently, there begs the following question: is there actually any solution?
And we're happy to say – yes, there is one!
What is off-site parking and why is it worth choosing this option exactly?
Source: Erik Odiin/Unsplash
Your best solution is already here – off-site parking lots that are just a few miles from the airport. Our smart booking platform with easy-to-use interface, ParkingNearAirports.io, helps our clients to select off-site airport parking lots with the most affordable rates, along with high-quality service. In addition, we offer the services for the major US cruise ports that are located in Florida, Louisiana, Maryland, New Jersey, and Texas as well.
Why choose an off-site parking option? The answer is pretty straightforward – it's cheap and convenient. Using our services, first of all, you'll avoid the following difficulties you might face while getting to the airport you're departing from:
Crowded parking lots,
Carrying the luggage all the way through the parking lot,
Expensive fees without great service, and much more.
Everything works simply as well: after you've driven to the entrance, you'll be met by a parking lot staff who will take your luggage from your vehicle and load it onto the shuttle, which will take you and your bags to the airport terminal. Then, your car will be securely parked at the parking lot itself.
By the way, free shuttles going back and forth between the parking lot and the airport terminals are available 24/7. All that's required of you is to make a call and inform staff about the time suitable for you.
Forget about all the nightmares by choosing ParkingNearAirports.io!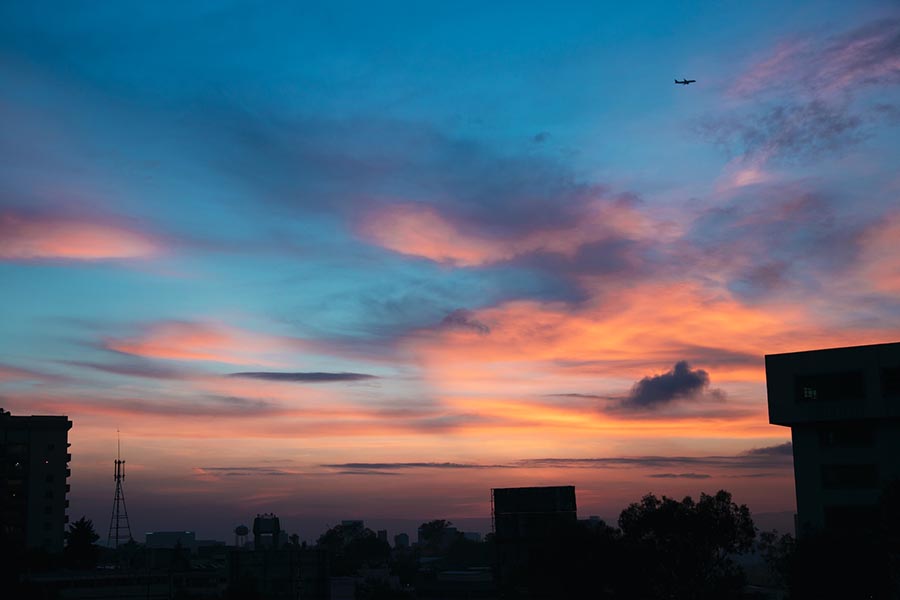 Source: Dan Aragón/Unsplash
For better understanding, we'd like to give you a good example.
Let's imagine that you live in Atlanta, Georgia, USA. If you're going to visit Tuscany, Italy, use the services of affordable off-site parking Atlanta Airport. In the event that you're flying from Baltimore, Maryland, choose cheap parking near BWI. As you can see, everything just depends on the place where your journey begins.
Our friendly platform also provides travelers with special airport parking coupons that can make the price almost two times less. And that's without taking into account that our services will cost you up to 70% less at all! So don't forget to monitor all the updates and use them while booking!
Making a reservation is easy with us – it's possible to complete the process through a few clicks on our website. Besides, if your plans change, you can cancel hassle-free and get a refund.
If you still have any questions, turn to our easy-to-navigate website – there, you'll find all the required info connected with the off-site parking. Airport parking, along with its pricing, provided by the majority of US airports, is a true nightmare, but if you know the place, your life can be much easier. Let yourself travel in full comfort right now – Park Smart & Choose Convenience together with us! And have a nice trip!